Hiking, lots of shopping, attending a soccer game, and visiting a world-class museum are among some of the best things to do in Monterrey, Mexico. This northern capital is bustling and has it all!
Not to be confused with Monterey, California, this Mexican city is located in the northern part of Mexico. Those living on the eastern Texas border can easily make it a day trip. It only takes them two or three hours to get there. In fact, many Mexicans living on the American side do this on a regular basis.
Monterrey may not be a famous destination like Mexico City or Cancun, but it has lots of cool things to offer everyone. Let's see what you can do here, shall we?
Visit Parque Fundidora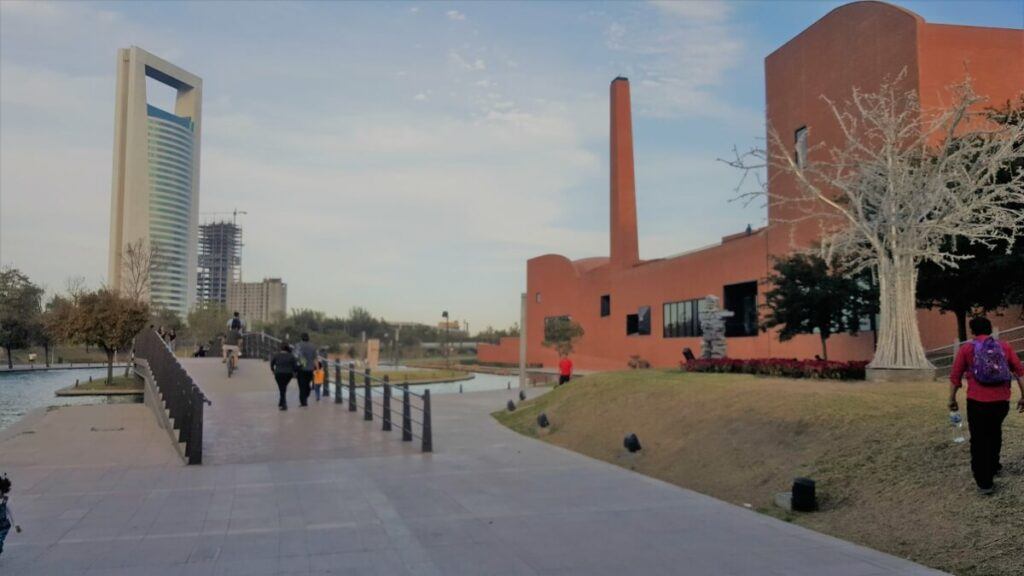 A former steel factory, Parque Fundidora is a must when visiting Monterrey. The park is conveniently located near the downtown area and offers lots of activities for the whole family.
There are playgrounds, bike trails, workout stations, food stands, artificial lakes, an indie theater, a skating rink, an aviary, and a few museums. You can go walking, rent a bike or a paddleboat, and spend a whole day of fun! It's the perfect spot to spend a whole day with your family or date.
If you'd like to learn more about Parque Fundidora, I wrote a post about it. You can check it out here.
Visit Paseo Santa Lucía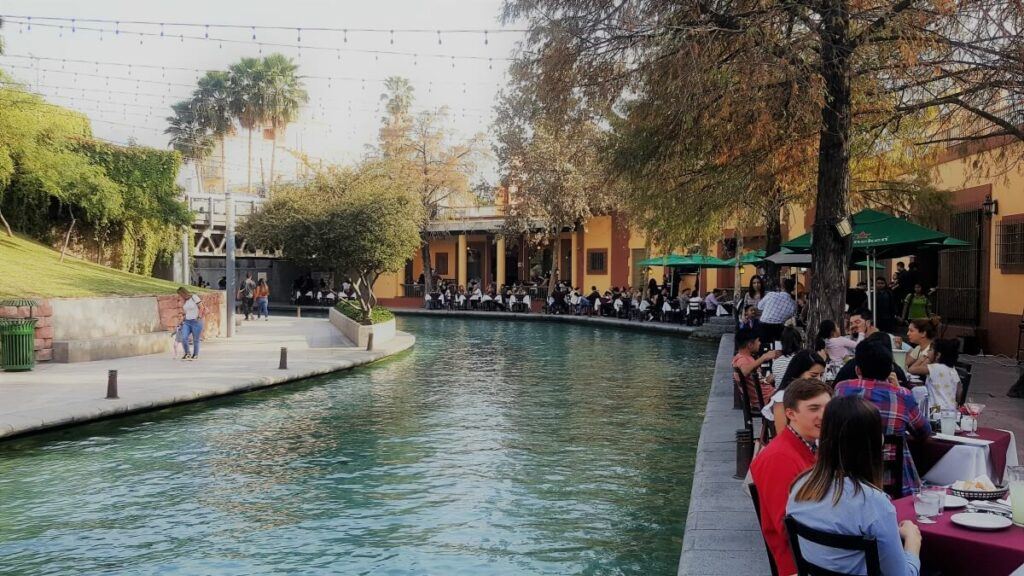 Right next to Parque Fundidora, you can find this beautiful riverwalk. Reminiscent of the San Antonio River Walk in San Antonio, Texas, this artificial river stretches for 1.55 miles (2.49 km) and is 3.93 ft (1.2 m) deep.
There are cafes and restaurants along the river where you can grab a bite or drink some wine or coffee. The area along the river is beautifully decorated and illuminated at night. Many couples love to eat here and rightfully so.
You can also find beautiful murals painted by local artists. Don't forget to bring your phone or camera to take lots of pictures.
If walking is too much for you, you can ride a boat either at Parque Fundidora or at the other extreme by the Macroplaza.
One of the best times to visit is around Christmas. They decorate the place with Santa Clauses, snowmen, and other Christmas figures. It looks awesome at night!
Visit the Macroplaza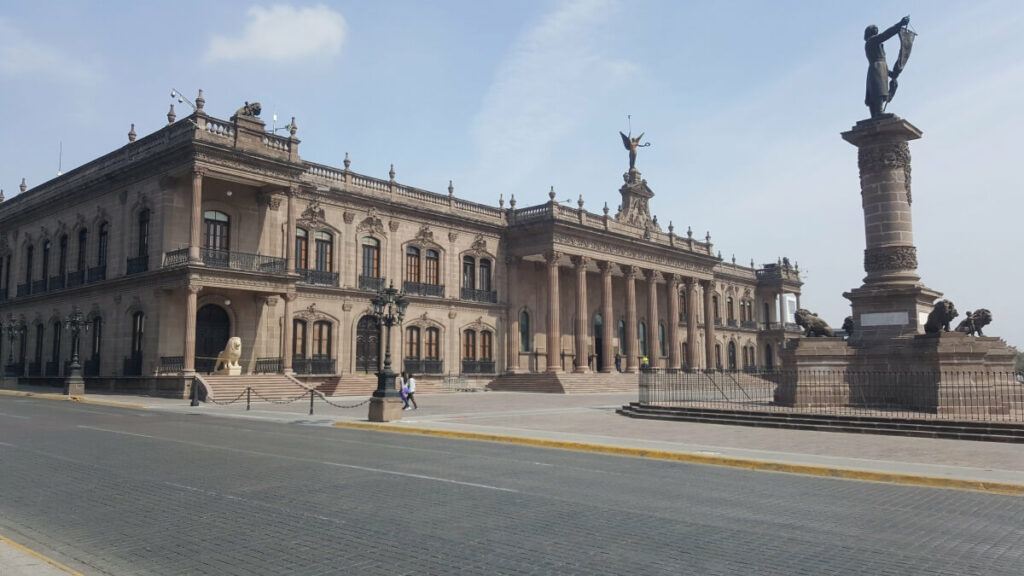 The Macroplaza is connected to Parque Fundidora by Paseo Santa Lucía. It is the largest plaza of its kind in Mexico and the fifth-largest in the world. It hosts smaller plazas, gardens, and several monuments.
This plaza is located in the heart of the Historic Center of Monterrey. There are several famous, historical buildings either inside or around it like the Palacio de Gobierno (Government Palace), the Biblioteca Fray Servando Teresa de Mier (a public library), the Teatro de la Ciudad, the Cathedral of Monterrey, among others.
Lots of locals head over on September 15 to celebrate Mexico's independence as the governor yells "Viva Mexico!" (Long live Mexico!).
Visit a Museum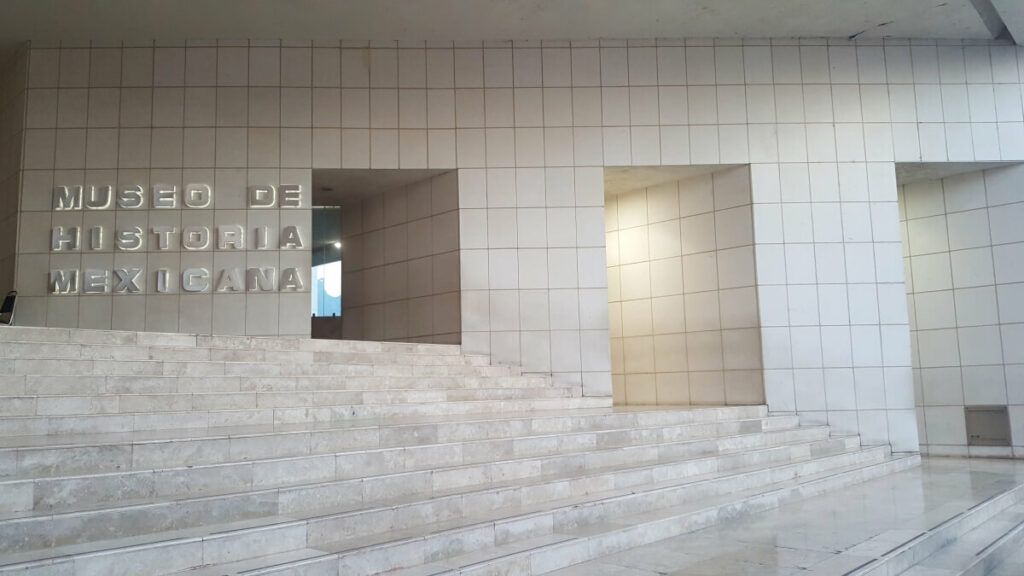 There are several interesting museums in Monterrey. You can find both permanent and temporary exhibitions of all kinds. Most of them are located in the downtown area around the Macroplaza. I recommend you check out the following museums:
Museo de Arte Contemporáneo (MARCO): contemporary art exhibitions showing paintings and sculptures of Mexican and international artists.
Museo del Noreste (MUNE): exhibitions showing the history of the northeastern states of Nuevo León, Coahuila, and Tamaulipas, as well as the once Mexican Texas.
Museo de Historia Mexicana: hosts over 1,200 historic pieces ranging from the pre-Hispanic period up to the 20th century.
Museo del Palacio: more than 400 pieces including artwork, historical documents, photos, and clothing of Nuevo León.
Museo Metropolitano de Monterrey: over 300 historical pieces distributed in four rooms.
Museo del Dulce: exhibition showcasing the culture of sweets in Nuevo León. Includes tastings.
Museo Estatal de Culturas Populares: one of the oldest buildings in Monterrey that showcases artistic expressions from the region.
Insider tip: You can visit Museo de Historia Mexicana, Museo del Noreste, and Museo del Palacio with the same ticket.
Visit Barrio Antiguo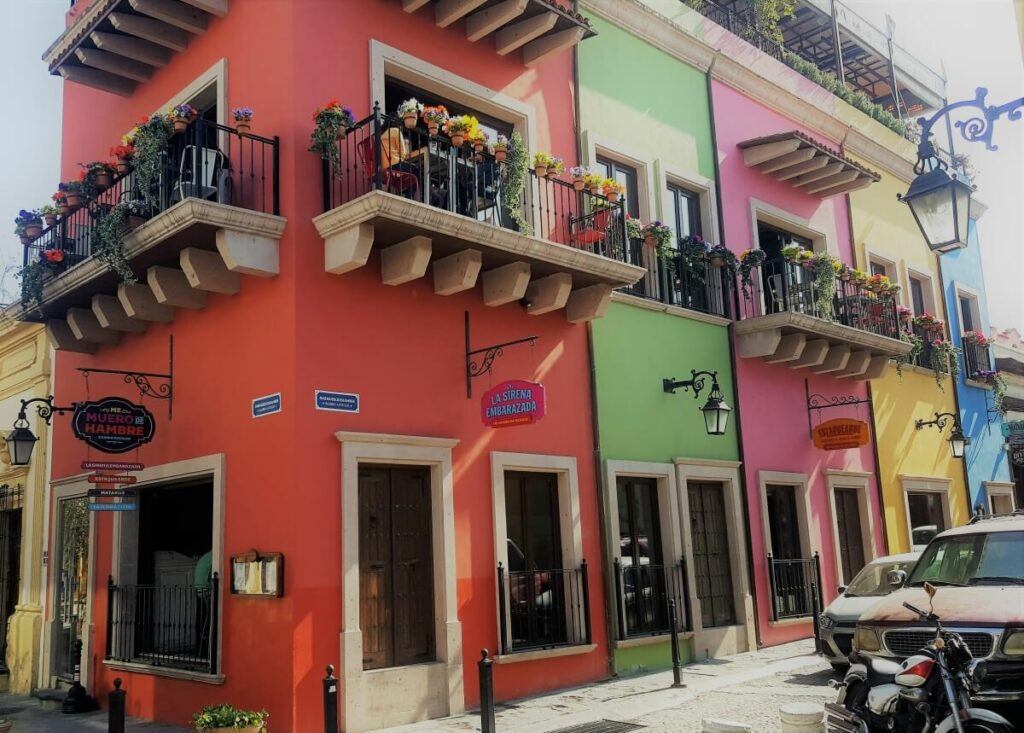 Barrio Antiguo is one of the oldest neighborhoods in Monterrey. It was rescued a few years ago and currently hosts coffee shops, restaurants, bars, antique shops, and art galleries.
There are old houses with colorful facades where brides and quinceañeras love to do their photoshoots.
A market sets up shop on weekends. You can find antiquities and lots of cool things! There are also musicians and artists on site. The place has a hipster, laidback touch. You're going to love it.
At night, the place takes on a new light as the bars and night clubs welcome visitors. This is the place to go party at night. Of course, only if you're into that.
Whether you visit by day or night, don't forget to stop by this old, beautiful neighborhood.
Visit Mirador del Obispado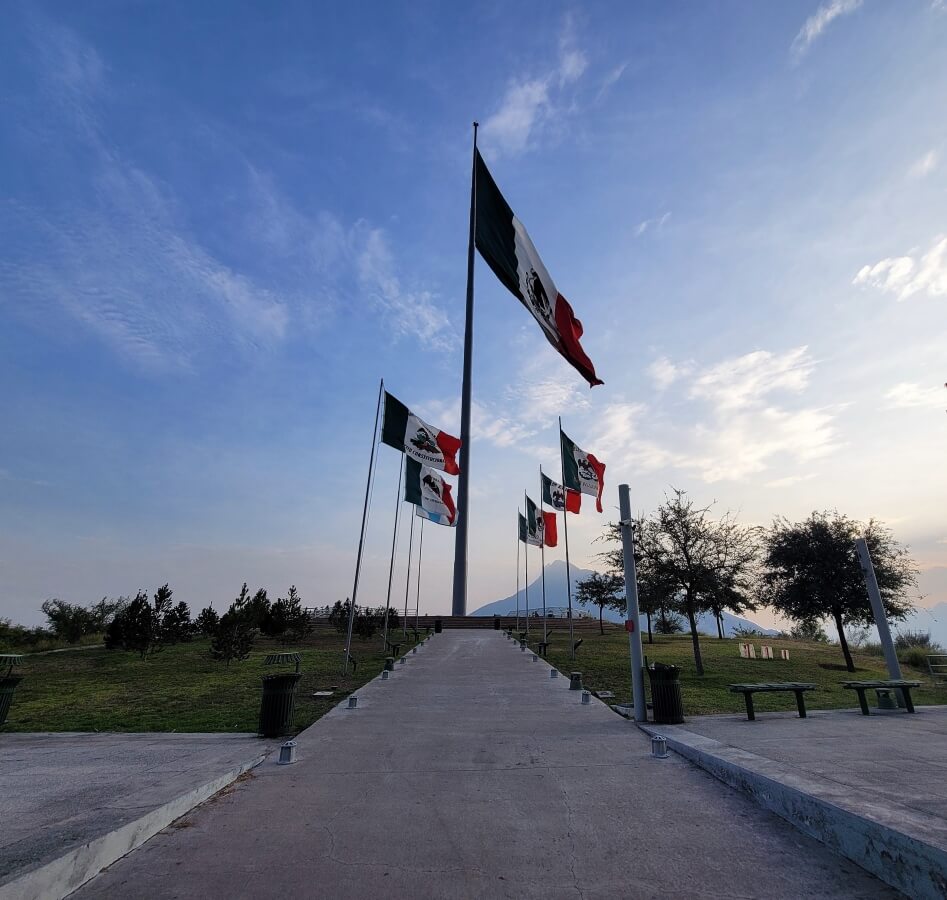 You can get a spectacular view of the city from atop the Mirador del Obispado. The observation deck consists of a huge esplanade with a 328-ft high Mexican flag in the middle of it.
The flag is there most of the time, but they take it down when it's too windy or raining too much. Just keep that in mind when you visit.
There's also a museum on site. The building was a church and a fortress. It was occupied during the American invasion of 1848. The museum closes early, but you can visit the observation deck at night. The city looks more beautiful by then. Don't miss out!
Go Hiking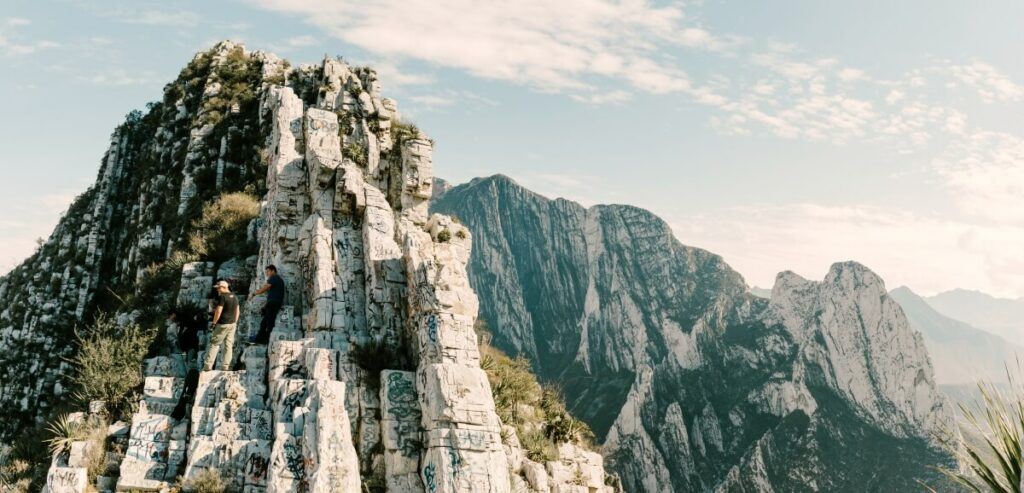 Monterrey is known as La Ciudad de las Montañas (City of Mountains) due to the many large mountains/hills that surround it. The most famous mountain is Cerro de la Silla, but there are many more. You don't even have to leave the city or go too far. Some of the best places to go hiking are:
Cerro de la Silla
Cerro del Topo Chico
Cerro de las Mitras
Chipinque
La Huasteca
La Estanzuela
Many locals climb to the mountain top early to watch the sunrise. Just grab some comfortable shoes and head over to one of the many mountains in the city. You can even have a picnic while you're there, but make sure to pick up your trash.
Go Shopping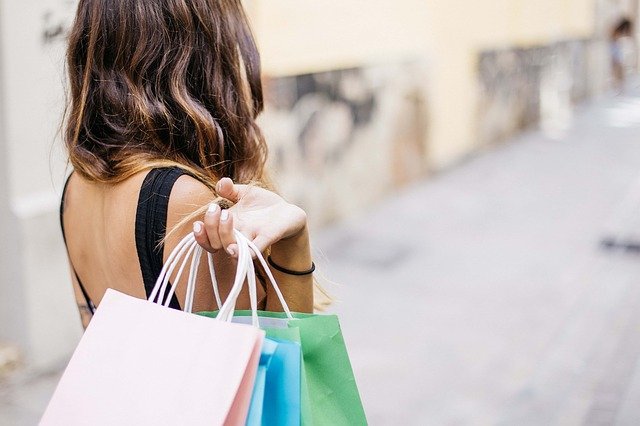 There are shopping plazas and malls all over Monterrey. Locals love to go shopping, especially during those hot summer days. You can find all kinds of things at different price ranges.
If you'd like to take a break, just head over to the food court to grab a bite or catch a movie.
Some of the best places to go shopping are:
Galerías Monterrey
Galerías Valle Oriente
Plaza Cumbres
Nuevo Sur
Esfera Fashion Mall
Paseo San Pedro
Paseo La Fe
Paseo Tec
Pabellón M
Fashion Drive
Plaza Fiesta San Agustín
Interplaza Shoptown
Catch a Game

Mexicans, but Regios particularly, love soccer. There are two local teams: Rayados and Tigres. There's a lot of competition between the two teams. They're part of the local culture.
The games are usually held on Saturdays. But don't wait until the last minute or you risk not finding a ticket. They sell up fast.
Monterrey soccer fans are hardcore fans. They arrive at the stadium early since soccer is not only about the game. There are music shows, raffles, contests, and entertainment for the whole family.
No matter which stadium you visit, you will have a blast. The ambiance is like no other. No wonder Monterrey fans are considered the best in Mexico.
You can also catch a baseball game but be advised that baseball is not as big of a deal as soccer.
Visit Mercado Juárez
Mercado Juárez is an indoor market in the downtown area. It has been in operation for 100+ years. Inside, you can find all kinds of things: vegetables, dairy products, meat, traditional sweets, herbs, household items, clothes, and much more!
This is the place to go if you want to buy Mexican souvenirs. Many vendors are willing to negotiate their prices, so it's better if you speak Spanish. Make sure to bring cash with you since credit cards are not usually accepted.
You might also want to go if you want to eat authentic Mexican food. There are many cheap eateries inside the market.
Eat Carne Asada or Cabrito
Carne asada (barbecued meat) and cabrito (kid) are staples in Monterrey. Locals eat them both on special occasions and for no reason as well. They're the perfect excuse to get together with family or friends to celebrate a birthday, watch a game, or simply hang out.
You can find them easily in town. Some of the most famous restaurants are:
El Rey del Cabrito
El Gran Pastor
El Gran San Carlos
El Pipiripau
Los Cabritos Alameda
You didn't visit Monterrey if you didn't eat cabrito or carne asada when you set a foot in town. Try them out. They're delicious!
Go to Villa de Santiago Nearby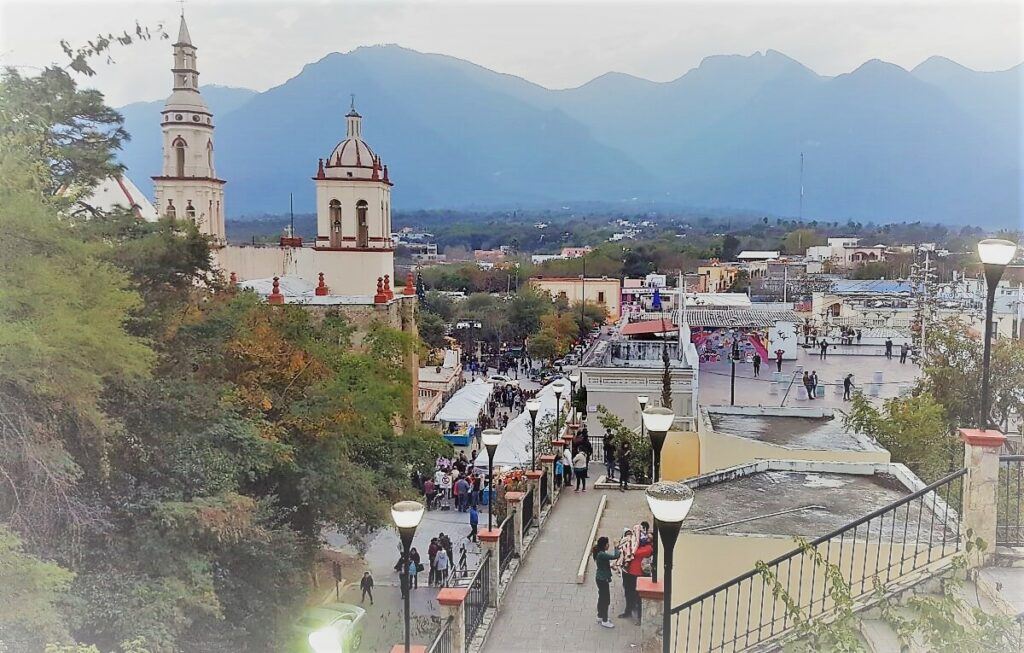 Villa de Santiago, simply known as Santiago, is a pueblo mágico less than an hour away from downtown Monterrey. Locals and visitors head over there when they want to escape the hustle and bustle.
Santiago is surrounded by nature. You can find waterfalls, underground rivers, caves, and mountains. If you're into extreme sports, you'll love it here. If that's not your thing, you can go fishing or kayaking. No worries.
One of the most famous spots in the Presa de la Boca, a dam. Locals go there to ride boats and horses and eat delicious seafood.
The Historic Center is charming and gets crowded on weekends. There are many restaurants around the main square. The food options include Mexican, Italian, and Spanish dishes.
On the way between Monterrey and Santiago, you will pass by Los Cavazos. Here you can buy all sorts of handicrafts and eat delicious food, too. Most of the restaurants in this area are buffet-style unlike the ones in the Historic Center.
Final Thoughts
As you can see, there are plenty of activities to do in Monterrey. Whether you're into nature, adventure, gastronomy, or cultural experiences, there is something in store for you.
Make sure to add Monterrey to your travel bucket list. You won't regret that decision.
I hope you found this useful. As always, feel free to leave your questions and comments in the comments section below, and I will be more than glad to help. Bon voyage!
Book your trip now!
Book your flight
The first thing you have to do is find cheap flights. But where do you find those? There are many search engines, but the one I highly recommend is Skyscanner. Here you can compare fares from all over the world and pick the one that suits you best.
Book your accommodation
The next thing you have to do is secure your lodging. Whether you prefer a hostel, a guesthouse, a B&B, or a hotel, you can find them all on Booking. You can find lodging of all kinds ranging from cheap to expensive and somewhere in between. Many people have scored good deals using it.
Book a tour
In some places, you might want to hire a tour. Not all places are equally accessible to visit by oneself. It helps enormously when you visit with a local guide who can show you around and answer any questions you might have…all in your native language. My to-go place is Viator as they offer tours of all kinds and have a presence all over the world.
Rent a car
Public transportation is usually cheaper than renting a car, but it's sometimes more complicated and time-consuming. That's a reality. In some cases, it's more convenient to rent a car. My recommendation is Rentalcars.com. Here you can compare rates and choose the one that fits you best.
Get travel insurance
Never travel without a travel insurance policy, especially during these days! Travel insurance can literally save your life. My personal recommendations are World Nomads and Insured Nomads. Both companies cover COVID-19 related incidents, which is crucial these days.
More resources
Just click on the "Plan your trip" tab at the top of this page, and you will find more resources like getting Mexican insurance for your foreign car, buying travel accessories, and learning Spanish. And, of course, don't forget to check back often to read about more tips on Mexico travel.