Parque Fundidora (or Fundidora Park like some foreigners know it) is Monterrey's largest urban park and a must-visit while in Monterrey. The former steel factory was transformed into a large park visited by people of all ages every day of the year.
You can easily spend a whole day touring its facilities. There is always something going on, whether a concert, cultural activities, sports, you name it.
Let's see what there is to do and if it's worth the hype.
Ride a Bike
There is a bike track that covers the whole park. You can bring your bike or you can rent one on-site.
Their rental service is named Todos en Bici and is located on the side along Avenida Madero. They charge 35 pesos per hour (a little less than 2 dollars). You will need a photo id to rent a bike.
They're open Monday through Sunday from 10 a.m. to 10 p.m. You can check their Facebook site for more info.
Riding a bike is an excellent way to tour the park facilities. You will see a lot of green spaces, fountains, plazas, buildings, and people. Plus, you will burn some calories.
Sweat It Out
There is another track for joggers. You can see many people jogging or walking in the morning or evening. It's a great way to get a good workout while you're on vacation.
Many people go skating as well. You have to bring your skates though. As far as I know, they don't rent skates, only bikes.
There are also several workout stations throughout the park. You can work out for free. No gym membership is needed. Isn't that great?
Ride a Boat
There is a lake where you can rent a paddleboat. You can see lots of couples having a date or families just having fun.
There are many ducks in the area. I always enjoy watching them while they swim or play in the water. It feels as if you are in the woods. Just sit on a bench and relax.
You can find a skating track around the lake. It's a nice way to tour the area and do some exercise.
Go Ice Skating
Inside the park facilities, there is a skating rink where you can practice your skills.
Admission is 10 pesos and access to the skating rink is 120 per session (price includes skates rental). There are 3 sessions Monday through Friday starting at 3 p.m. Each session is 1 hour and 15 minutes long. On Saturdays and Sundays, there is 1 extra session starting at 1 p.m.
You can check here for more information.
Play Something
You can bring your ball or Frisbee and play with your kids or friends. There are many green spaces throughout the park where you can play.
There are also several playgrounds throughout the park for your kids to run, climb, slide, etc. They'll have a blast.
You will find Loroventura inside the park. It's an aviary where in addition to watching birds, you can also ride a boat, watch some dinosaurs, or do zip lining.
Have a Cultural Experience
There are several art centers in the park. Among these we could mention:
Escuela Adolfo Prieto. It's an art school with subjects like dancing, music, theater, plastic arts, cinema, photography, etc. Don't be fooled though. There are workshops and book clubs for the general public as well.
Centro de las Artes.  This building hosts a theater, a photo library, a movie theater, and 2 art galleries.
Niños Conarte. Its main objective is to include people with disabilities, promote reading and artistic education. This is an excellent option if you're visiting with kids.
Muscera. This is a wax museum. You can even learn how to make a wax figure.
Horno 3. One of Parque Fundidora's main attractions. You can take a look at their galleries and get an idea of what it was like when the steel factory was in operation. You can also get to the top of the ex chimney and get a fantastic view of the park.
There are also temporary exhibits and social/cultural events you can attend all year long. The venues that host them include:
Centro de Exposiciones Nave Lewis
Nave Generadores
Nave Mitsubishi
Pabellon Sopladores
Admire Your Surroundings
Throughout the park, you will find several sculptures of different kinds and sizes. You will have the perfect opportunity to look at some cool pieces of art and take a lot of pictures.
There are also many fountains where you will be able to cool off a little. You can't get in, but just feeling the breeze helps cool down a bit. Remember Monterrey can be really hot during the summer.
Take a slow walk, look at the trees and people playing and having fun. Or just sit down on a bench under a tree and enjoy a good book.
Catch a Movie
Inside the Centro de las Artes, you will find the Cineteca. Forget about commercial blockbusters. You will only find indie films. They have specific seasons where they show French, German or Japanese films. It varies throughout the year, so make sure to check what's showing.
You can buy popcorn, chips, coffee, coke, or a few other things in their cafeteria. Prices are not as expensive as commercial movie theaters.
Just a word of advice: unlike other movie theaters, the time marked on your ticket is the actual time the movie starts. If your ticket reads 6 p.m., the movie starts at 6 p.m. Don't think it will start 15 or 20 minutes after the time marked on your ticket. There are no movie previews or commercials before the movie starts.
Grab a Bite
Throughout the park, you will find several concession stands, vending machines, and restaurants. If you just want a snack, you can get some nachos, chips, cookies, or a coke. However, if you're really hungry, you can try out one of the several restaurants in the park.
If you're on a date, I recommend El Lingote. It's a very nice restaurant on top of Horno 3. You will get a nice view of the park and the Cerro de la Silla in the background. It's more on the expensive side, but it's totally worth it.
However, if you're visiting with family or are on a tight budget, you can have a picnic. Outside food and drinks are allowed except alcohol. This is a family-friendly place.
By all means, if you bring your food/drinks, please don't litter.
Do a Photo Shoot
It may sound like a cliché, but take a lot of pictures! You won't have time to put your camera/phone down. There are sculptures, fountains, plazas, lakes, and remains of the ex-steel factory all over the place. You will find plenty of excellent photo opportunities!
Because of its versatile, cool facilities, Parque Fundidora is a favorite destination for photoshoots of all kinds: weddings, quinceañeras, class photos, etc.
Keep in mind if you're planning on having a professional photo/video shoot, you will need a special permit from management. This includes the use of drones.
Attend a Special Event
Parque Fundidora hosts several events of all kinds: music festivals, food festivals, marathons, light displays, to name a few.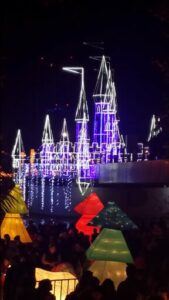 Some of these events include:
Tecate Pal Norte. Music festival featuring music from northern Mexico.
Machaca Fest. Music, art, and norteño traditional festival. It mainly focuses on Spanish rock.
Tecate Live Out. International music festival similar to Austin, Texas music festivals.
Oktoberfest. Just like any other beer festival in the world.
Festival del Gordo. Food festivals with lots of food trucks and delicious food.
Luztopia.  Light display decorating castles, animals, and many other cools things. You can see this during the Christmas season.
La Feria Monterrey. Carnival with rides, monster trucks, food, a beer garden and lots of fun for the whole family.
Check Parque Fundidora's website or the local newspapers for more info.
Important Information/Tips
Parque Fundidora is open 365 days a year from 6 a.m. to 10 p.m.
Admission to the park is free. However, some activities like museums are extra.
Bring cash. It's not always possible to pay by card.
There are several access points to the park and parking is plentiful. Parking is 20 pesos per hour, 100 pesos maximum.
Other transportation options include Uber, metro (Parque Fundidora or Y Griega stations) and Turibus.
No sound equipment or musical instruments allowed.
No pets allowed except for service animals.
Conclusion
Are you still thinking about whether you should go? If you are, honestly I don't know what else I can do to convince you. As you can see, there are plenty of activities for everyone. Whether you just want to take a stroll, visit a museum or relax, then this is the place to go.
Parque Fundidora is Monterrey's lung. It's amazing how they transformed a factory into a very cool park like this. Is it worth the hype? I would say it is.
As always, feel free to comment or leave any questions below. See you soon!
Book your trip now!
Book your flight
The first thing you have to do is find cheap flights. But where do you find those? There are many search engines, but the one I highly recommend is Skyscanner. Here you can compare fares from all over the world and pick the one that suits you best.
Book your accommodation
The next thing you have to do is secure your lodging. Whether you prefer a hostel, a guesthouse, a B&B, or a hotel, you can find them all on Booking. You can find lodging of all kinds ranging from cheap to expensive and somewhere in between. Many people have scored good deals using it.
Another popular option is Hostelworld. This website focuses on hostels as opposed to hotels.
Book a tour
In some places, you might want to hire a tour. Not all places are equally accessible to visit by oneself. It helps enormously when you visit with a local guide who can show you around and answer any questions you might have…all in your native language. My to-go place is Viator as they offer tours of all kinds and have a presence all over the world.
Rent a car
Public transportation is usually cheaper than renting a car, but it's sometimes more complicated and time-consuming. That's a reality. In some cases, it's more convenient to rent a car. My recommendation is Rentalcars.com. Here you can compare rates and choose the one that fits you best.
Book your bus tickets
You can save money by booking bus tickets online. My favorite site to do this is Busbud.
Get travel insurance
Never travel without a travel insurance policy, especially during these days! Travel insurance can save your life. My recommendations are World Nomads and Insured Nomads. Both companies cover COVID-19 related incidents, which is crucial these days.
More resources
Just click on the "Plan your trip" tab at the top of this page, and you will find more resources like getting Mexican insurance for your foreign car, buying travel accessories, and learning Spanish. And, of course, don't forget to check back often to read about more tips on Mexico travel.