Have you ever heard of magical towns in Mexico? Chances are 50/50. I'm not talking about ghost towns or haunted places, but rather a government initiative. To promote tourism within the country, the Mexican government launched a program called "Pueblos Mágicos" (Magical Towns) back in 2001. This program has proved to be very popular both among domestic and international travelers. The current list includes 121 destinations and continues growing every year as new places are being added.
What Is a Pueblo Mágico?
According to the Mexican Tourism Secretariat's website, a pueblo mágico is a locality that has symbolic attributes, legends, history, transcendental facts, "everydayness", in other words, magic that emanates from each one of its social/cultural expressions. Each pueblo mágico is different from one another and has its own charm or magic. It's an important component of Mexico's identity and one of the main objectives of this program is to reevaluate these places' significance and share them with the world.
This program has been successful at such a level that governments from other countries like Colombia, Argentina, and Spain created similar programs and asked the Mexican government for advice.
Do They Have to Meet any Criteria?
Yes, they do. Not any town can become a pueblo mágico. To become one, they have to apply to become part of the program. They must have a population of no less than 20,000 people, be located no more than 124 miles away from a city with a good connectivity, have a formally constituted committee, present long-term economic/development plans, provide efficient health/security infrastructures, demonstrate why they should receive the designation as pueblo mágico (what makes them unique), among other requirements.
Once they receive the designation, they must comply with several standards to not lose it. It has happened before. If they lose their designation, they have to reapply and start the process all over again.
Importance of Pueblos Mágicos
Pueblos Mágicos are tourism boosters. They have placed these small towns/villages on the map. Many people didn't even know they existed. Tourism has grown, jobs are being created, their rich culture is being shared and overall their economies have improved.
People used to only think of Cancún or Mexico City when they heard "Mexico". Now, thanks to Pueblos Mágicos many domestic and international tourists are visiting these places and rediscovering Mexico's true essence. Each pueblo mágico has a lot to offer everyone, be it museums, natural attractions, archaeological sites, delicious regional cuisine, traditions, festivals, etc. Mexicans are starting to connect themselves with their roots and foreigners are allowed to experience Mexican culture at its finest.
What Is There to Do Anyway?
The options are endless. Are you a foodie? You can visit any pueblo mágico and enjoy delicious dishes from each region. Do you like cultural festivals? Try San Cristóbal de las Casas in Chiapas. Do you like nature? Then visit the Bacalar lagoon with seven colors or the world's tallest monolith in Bernal, Querétaro. Do you want to buy a special handcrafted decoration item? You can do that in virtually any pueblo mágico. Some specialize in wood, while others specialize in clay. You won't have enough space in your suitcase to pack everything up.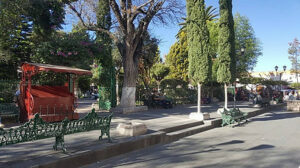 Each pueblo mágico has a main square. You can start there. There are always churches and other historic buildings/monuments in the area that might interest you. You can also visit the local market or eat authentic food at one of the many restaurants there. Pueblos mágicos have a charm to them hard to describe. It's a totally different vibe from big cities or even other small towns. I love sitting at the plaza and watch people walking by or engaging themselves in lively conversations. I love the aroma of freshly baked bread coming from the bakery. Regional dances and other artistic expressions are so fun and enriching to watch as well. It's a good opportunity to immerse yourself in another culture and enjoy an ambiance you don't get in other places.
Pueblos mágicos have become so famous that even TV and Hollywood producers film their shows/films there. Have you seen The Mexican, with Brad Pitt and Julia Roberts? Well, it was shot in a small mountain town in central Mexico. You didn't know that, right? And just like that, numerous telenovelas and movies have been shot in different pueblos mágicos. I don't know about you, but all those facts amaze me. That in itself could be a good reason to visit them.
You can easily spend a whole day at a pueblo mágico. Actually, one day won't be enough. I remember visiting Coatepec and the coffee tour I took lasted around 7 hours. You can stay at one of the boutique hotels or ex haciendas in the area and continue your trip the next day. If you prefer, you can make it a one-day thing traveling from your base city. Let's say you're staying in Querétaro City but you want to visit Bernal or Tequisquiapan. The trip to either destination takes around 1 hour. Since it's a short drive you have time to leave early in the morning and come back at night. Or you can make a circuit as I do. I visit one pueblo mágico one day, then another one the next day and so on.
Most Visited Pueblos Mágicos
The first towns to receive this title were Huasca de Ocampo, Mexcaltitlán, Tepoztlán, and Real de Catorce. There are currently 121 pueblos mágicos and the list continues growing.
Most places are located in central/south Mexico. The top ten of most visited pueblos mágicos in 2018 is: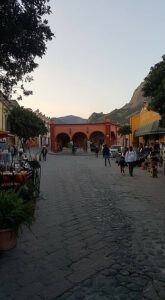 Orizaba, Veracruz. Rumors have it that the emblematic Palacio de Hierro (Steel Palace) was designed by Gustave Eiffel, who designed the Eiffel Tower in Paris.
Álamos, Sonora. Birthplace of Mexican diva María Félix.
Atlixco, Puebla. Charming town on the outskirts of Popocatépetl volcano.
Zacatlán de las Manzanas, Puebla. Nature all around and apples, apples, apples! Hence, the name.
Bacalar, Quintana Roo. Kayak riding or swimming in the beautiful Cenote Azul.
Bernal, Querétaro. A picturesque town with the Peña (the world's tallest monolith) as background.
Pátzcuaro, Michoacán. Colonial city with peculiar traditions. You will love Dia de Muertos here.
Cuetzalan, Puebla. Fog, pebbled streets, and coffee.
Cuatro Ciénegas, Coahuila. Crystalline-water pond in the middle of the desert and white dunes. Great for photos.
Huauchinango, Puebla. Rappelling, horseback riding, boat riding. Delicious trouts too!
Final Thoughts
I'm in love with pueblos mágicos. I always try to visit one when I'm on vacation. It's not that hard since there's usually one close to a major city. I'm always amazed by all I can find. They are all so different from one another. I have a bucket list of the next ones I want to visit. It's so hard to decide because I want to visit them all.
What about you? Have you visited any of these places? If not, what are you waiting for? I bet you'll love them as much as I do. Let me know in the comments below. I hope you have a magical experience.