The Tulum archaeological site is one of the most famous in Mexico after Chichén Itzá and Teotihuacán. It's located in the Yucatán Peninsula and is visited by both domestic and international tourists alike.
Although Tulum is not as big as other Maya sites, it's equally as impressive and is a must when visiting Mexican archaeological sites. Unlike other sites, its beauty is engulfed by the Caribbean Sea. 
Let's find out what there is to do, how we can get there, and some tips for your next trip. Ready?
Tulum or Tulum?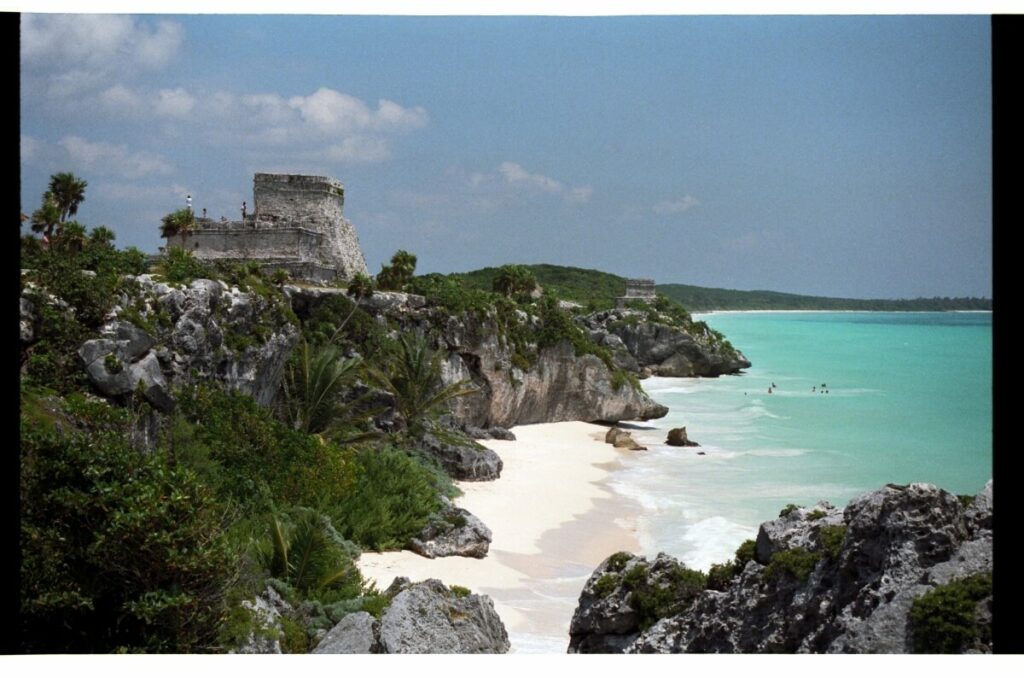 Before going any further, it's important to explain something. If you google Tulum, you will find several references about it. 
For starters, there is a town named Tulum, which, by the way, is one of Mexico's 121 pueblos mágicos. It's one of the three towns in Quintana Roo with that designation.
On the other hand, there is an archaeological site bearing the same name. For purposes of this post, we will focus on the archaeological site. 
What's Special About Tulum?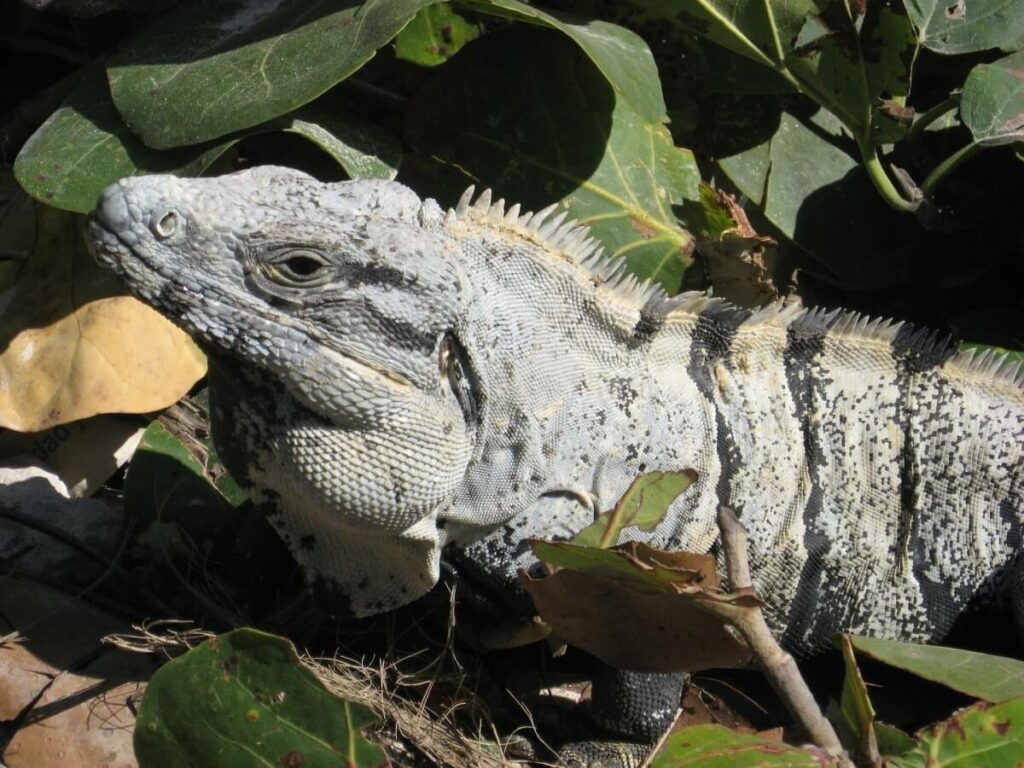 To begin with, Tulum is the only archaeological site located right next to the beach. No other site in Mexico can boast of that. 
You can visit Tulum, explore the Maya ruins, and then hit the beach. How does that sound?
Since it's located in the Yucatán Peninsula, it's in the middle of the jungle with palm trees and lots of other green plants. Oh, did I mention there are tons of huge iguanas on-site? They're the masters of the place.
A Little History
Tulum was a major Maya walled city. It served as a major port in the Yucatán Peninsula. It flourished between the 13th and 15th centuries.
The ruins occupy land in the now state of Quintana Roo in the southeastern portion of Mexico.
Diseases brought from Europe seem to have been the main cause of the decline of the city. The Maya had managed to survive for 70 years during the Spanish occupation, but eventually, they abandoned the city by the end of the 16th century.
It was rediscovered in 1840 by José Gálvez, but it wasn't until 1981 that the government allowed public access.
Description of the Site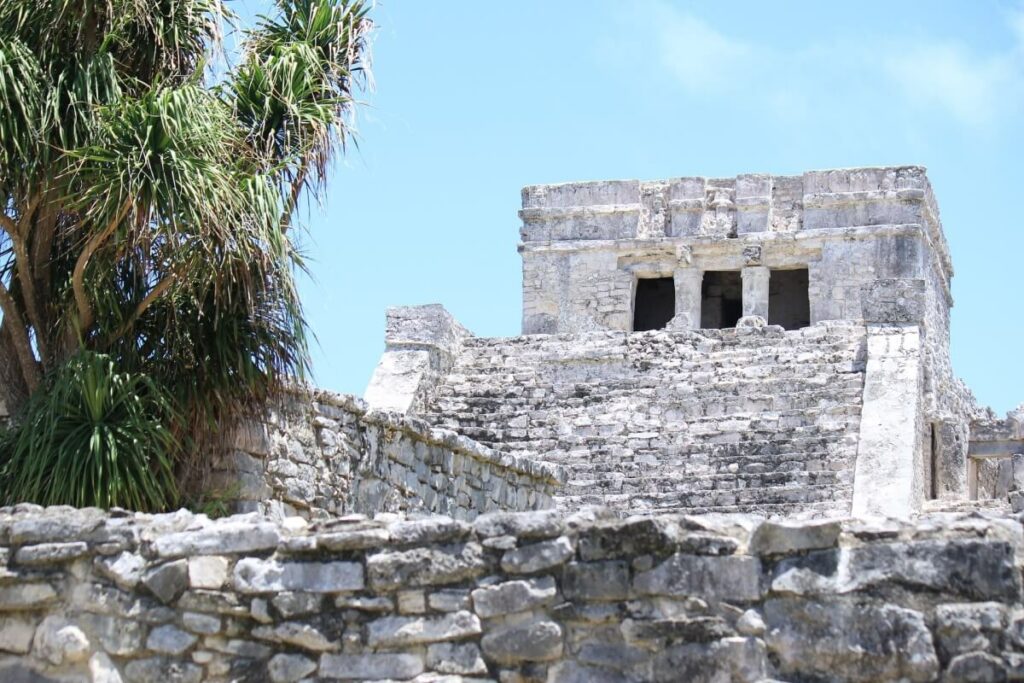 Tulum was built on a bluff facing the Caribbean Sea. Experts believe it was formerly called Zama, which means City of Dawn. The name Tulum is more recent and means wall. As a matter of fact, Tulum was one of the few Maya walled cities.  
Just like Chichén Itzá, it was built in honor of Kukulcán, the Maya god of wind. Speaking of its architecture, there are three major structures:
El Castillo. This structure served two purposes: it was the main temple and a lighthouse. It's probably Tulum's most impressive structure. 
Temple of the Frescoes. The facade of the temple is decorated with figurines of the Maya Venus, the diving god. The temple also served as an observatory.
Temple of the Descending God. This temple consists of a single room built on top of another temple. Its name is derived from the relief above the door, which is a sculpture with wings, a headdress, and an object in his hands.
How to Get There
The two closest airports are the Cancún airport and the Cozumel airport. Cancún is about 80 miles (130 km) away, and the trip will take you a little less than two hours. Cozumel is 49 miles (80 km) away, and the trip takes around two hours.
Depending on your preferences, you can choose either airport. Just keep in mind that if you fly to Cozumel, you will need to cross by ferry, which is more of a hassle. The route from Cancún doesn't involve any sea travel.
The cheapest option would be taking an ADO bus from either Playa del Carmen or Cancún. The only drawback is they leave you at the entrance of the site which is 1 km away. You can check ADO's website for more information on schedules and prices.
Another option would be hiring a tour with a local agency. There are several of them. That may be more convenient for you.
Renting a car could be another option, but consider what other activities you want to do and what places you want to visit. Do the math first and then decide if it's worth it.
A Few Tips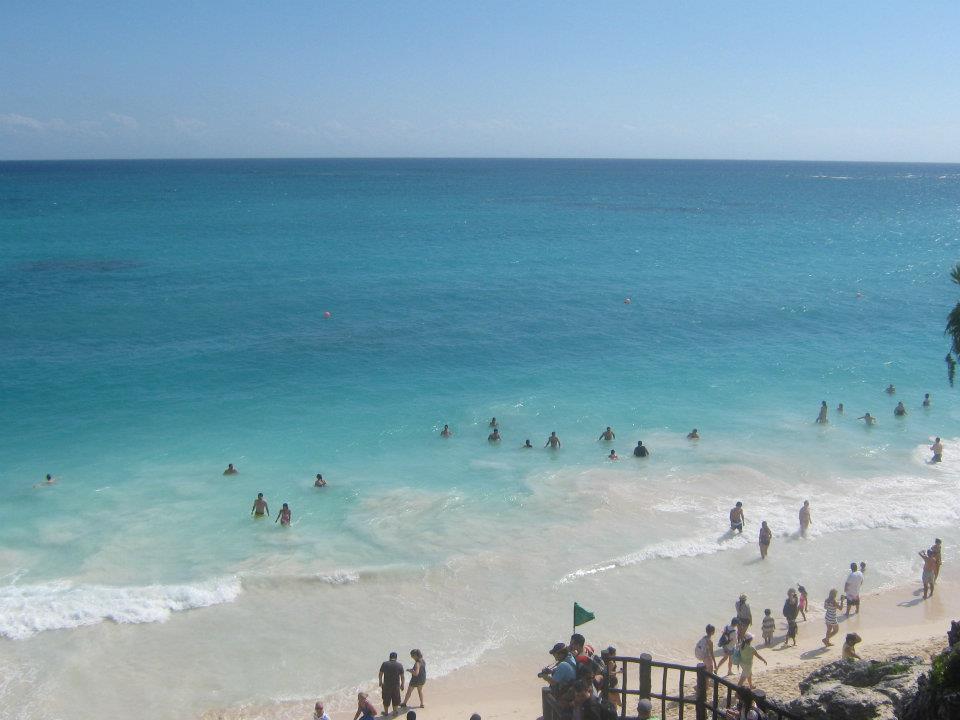 The site is open Monday through Sunday from 8 a.m. to 5 p.m. No one is allowed entry after 4:30 p.m.

General admission is 80 pesos ($3.50). No dollars or euros accepted.

If you don't want to be pressed for time, your best bet is either taking a bus/van or driving. You can easily spend a whole day there.

Wear comfortable shoes. I've seen one or two girls with heels. You will do a lot of walking, so being comfortable is important.

Wear comfortable clothes. It's super hot during the summer. Don't forget to put on sunscreen and repellent. Oh, and don't forget your swimsuit if you want to hit the beach at the end.

The beach right in front of the ruins is the most popular. The good thing is the beach stretches for a good distance. You can either walk to a more secluded area or take a taxi at the site entrance.

Try to get there as early as possible to avoid the sun rays and the crowds. 

If possible, avoid visiting on weekends, which tend to see large crowds.

No food is allowed inside, but you can bring a bottle of water. 

The best time to visit in terms of weather is the period between December and April.

We recommend staying in the town of Tulum at least for a day. It's strategically located in the Riviera Maya with easy access to major cities such as Cancún and Playa del Carmen as well as

cenotes

, natural reserves, and other archaeological sites.
Conclusion
The Tulum archaeological site is a must when visiting the Riviera Maya. You can make it a one-day excursion or plan a longer stay in the town of Tulum.
Although this site is not as big as others in Mexico, it's one of the most impressive and beautiful ones. No other site can boast of such a magnificent view as Tulum with the Caribbean Sea as its background.
Tulum is not that far from major tourist destinations such as Cancún. Access is easy, and transportation options include buses, vans, and tours.
Have you visited Tulum yet? Did you like it? Let me know in the comments below. Please don't forget to share this article if you found it useful. See you soon!
Book your trip now!
Book your flight
The first thing you have to do is find cheap flights. But where do you find those? There are many search engines, but the one I highly recommend is Skyscanner. Here you can compare fares from all over the world and pick the one that suits you best.
Book your accommodation
The next thing you have to do is secure your lodging. Whether you prefer a hostel, a guesthouse, a B&B, or a hotel, you can find them all on Booking. You can find lodging of all kinds ranging from cheap to expensive and somewhere in between. Many people have scored good deals using it.
Another popular option is Hostelworld. This website focuses on hostels as opposed to hotels.
Book a tour
In some places, you might want to hire a tour. Not all places are equally accessible to visit by oneself. It helps enormously when you visit with a local guide who can show you around and answer any questions you might have…all in your native language. My to-go place is Viator as they offer tours of all kinds and have a presence all over the world.
Rent a car
Public transportation is usually cheaper than renting a car, but it's sometimes more complicated and time-consuming. That's a reality. In some cases, it's more convenient to rent a car. My recommendation is Rentalcars.com. Here you can compare rates and choose the one that fits you best.
Book your bus tickets
You can save money by booking bus tickets online. My favorite site to do this is Busbud.
Get travel insurance
Never travel without a travel insurance policy, especially during these days! Travel insurance can save your life. My recommendations are World Nomads and Insured Nomads. Both companies cover COVID-19 related incidents, which is crucial these days.
More resources
Just click on the "Plan your trip" tab at the top of this page, and you will find more resources like getting Mexican insurance for your foreign car, buying travel accessories, and learning Spanish. And, of course, don't forget to check back often to read about more tips on Mexico travel.