If you have been following my site for some time, you should know I'm a fan of archaeological sites. Those places are beyond me. I've always considered myself to be a history buff. I love collecting details from past civilizations, particularly those from Mexico.
The southeast of Mexico is full of such places. I'd love to share them with you. That's why I came up with a list of the best Mayan ruins in Mexico. This is just my opinion; some people may differ. Without much further ado, let's get started!
Table of Contents
But First, Let's Clarify Something
Before jumping right in, I would like to clarify a common misconception about the term "Mayan". The words "Mayan" and "Maya" are not synonymous nor can they be used interchangeably. The term Mayan refers specifically to the language, whereas Maya refers to the people, culture, or places. So, you could say that the Maya speak Mayan. Yes, there's no need to distinguish between the singular and plural forms.
Okay, that was an eye-opener. Even I made that mistake in the past. Just keep it in mind for future reference.
Who Were the Maya?
I'm not going to bore you with a load of details, but it's important to have some context. Well, first of all, I would like to point out that the Maya do not use such term among themselves; it's of more recent usage. They refer to themselves by language bonds or ethnicity instead. Something similar happened with the Aztecs.
There is some controversy as to when to Maya civilization started, but many experts agree it was around the year 2500 B.C. They gradually started to populate the southeastern portion of the country, including the modern states of Yucatan, Quintana Roo, Campeche, Chiapas, and Tabasco. They also inhabited portions of Guatemala, Belize, and Honduras in Central America.
The Maya were very smart people and excelled in mathematics, engineering, and astronomy, among other sciences. They were thought to be pacific people, but recent evidence suggests quite the opposite. You may have seen them featured on Mel Gibson's Apocalypto, which sparked some controversy.
Okay, the Best Maya Sites Are…
Did you know there are over 4,000 Maya sites in Latin America, many of them in Mexico? And there are yet more sites to be discovered. That's impressive, isn't it?
I have a bucket list of Maya places I want to visit in the future. I will share it with you in another post. The truth is, there are so many sites that you would need to spend a lot of time in Mexico to explore them all! Some of them are isolated and it can be hard to access them, so that adds to the difficulty.
Honestly, it's hard to give a ranking list, but these are the best Maya ruins in my opinion. Oh, and just for the record, I've visited all of them, so I'm talking from experience. Check them out!
Chichén Itzá: Enchanter of the Water
The Chichén Itzá site is probably the most well-known in the whole country. It draws millions of international tourists from all over the world every year. Its icon, the Kukulcán pyramid, is known by many, at least on photos.
Chichén Itzá is located in the eastern portion of Yucatán. It was once a huge city and one of the most important in Mesoamerica. It features different architectural styles such as the Puuc and Chenes styles.
Some of the busiest seasons are the dates around the Spring and Autumn equinoxes. In the late afternoon, the sun casts shades on the pyramid steps at an angle that creates the illusion of a serpent crawling down. This is no coincidence since Kukulcán, the most important Maya deity, had the shape of a serpent.
You cannot climb to the top of the pyramids, but It's a must when visiting the Yucatán Peninsula. You won't want to miss out.
The closest major cities are Mérida (119 km or 74 miles) and Cancún (197 km or 122 miles). Many people make it a day trip from those places, but I recommend staying in the small town of Valladolid. There are many cenotes in the area and other activities for nature lovers.
Hours: Monday to Sunday, 8 a.m. to 5 p.m.
Admission: 571 MXN ($28.55).
Tulum: The Maya Wall
Maybe not as impressive as Chichén Itzá, Tulum was another major Maya settlement. It was a walled city and one of the last Maya settlements.
Tulum is located along the Riviera Maya coast, making it a perfect day trip from Cancún and nearby areas. You can do Tulum and Chichén Itzá on a single day if you wanted to, although I don't recommend it.
The Tulum site is not very big, but it's still worth a visit. There is a rock tunnel you need to cross to enter the site. Another peculiarity is it's full of iguanas. They're everywhere!
Perhaps what makes Tulum unique is the fact that it's the only archaeological site right next to the beach. No other site in Mexico has that.
Hours: Monday to Sunday, 9 a.m. to 4:15 p.m.
Admission: 85 MXN ($4.25).
Uxmal: Thrice Built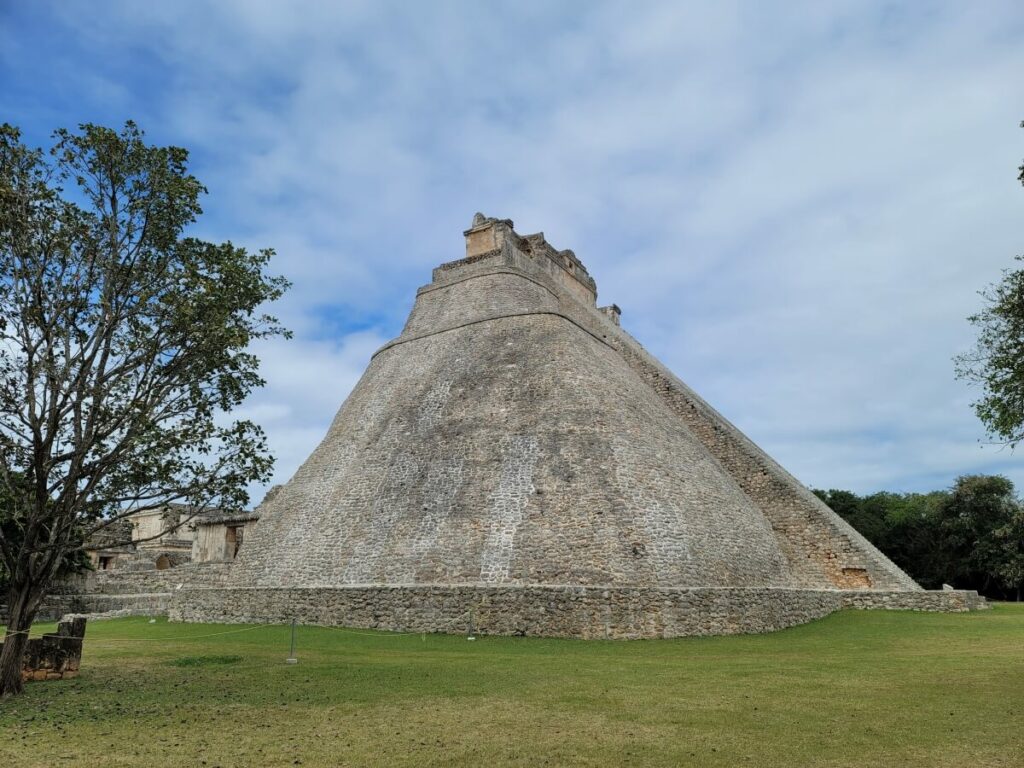 Uxmal is considered one of the most important Maya archaeological sites in Mexico along with Palenque, Calakmul, and Chichén Itzá. It boasts a Puuc style which is considered one of the finest in the Maya world. Due to its cultural and historical significance, UNESCO named it a World Heritage Site.
Unlike other Maya sites, Uxmal was not built following a geometric pattern. Instead, they organized everything in relation to astronomical phenomena, such as the rising and setting of Venus. The Maya in Uxmal had extensive knowledge of astronomy.
The most important building is the Pyramid of the Magician. It is not square like those of Chichén Itzá but instead, it's kind of oval. Other important buildings are the Governor's Palace, the Nunnery Quadrangle (take time to admire the beautiful details here), and the Ballcourt.
Uxmal is located 62 km (38 miles) south of Mérida. It is not as busy as Chichén Itzá or Tulum, so if you're trying to escape the crowds, this is a good option.
Hours: Monday to Sunday, 8 a.m. to 5 p.m.
Admission: 494 MXN ($24.70).
Palenque: Big Water
Located in the southern state of Chiapas, Palenque was a medium-sized site. It was named a UNESCO Heritage Site in 1987. Only less than 10% of its territory has been explored by archaeologists.
The Temple of Inscriptions is perhaps the most significant building on-site. It records 180 years of the city's history and was built by King Pakal's son. King Pakal's tomb rests inside, too. It was possible to access by special request, but authorities decided to stop visits.
Even though it's not one of the largest Maya sites discovered, it boasts beautiful architecture. You will love the sense of peace and tranquility that permeates the air.
The closest major city is Villahermosa (146 km or 91 miles), although most people visit from San Cristóbal de las Casas, which is farther.
Hours: Monday to Sunday, 8:30 a.m. to 5 p.m.
Admission: 85 MXN ($4.25).
Calakmul: City of the Two Adjacent Pyramids
In my opinion, this is one of the most underrated Maya sites today. It's probably due to its isolated location right in the heart of the tropical forests of Campeche. Access to the site is a little bit complicated, so you won't see many tourists like you would in other Maya sites.
You can easily spend hours exploring the site. The good thing is, you can still climb to the top of the pyramids! It's not possible to do that in Chichén Itzá, for example. You will be rewarded with a magnificent view of your surroundings.
The site is strongly connected with nature. You can even run into jaguars! Take advantage of this opportunity and disconnect from social media and the Internet. Admire the scenery and take as many photos as you can.
This is by far my favorite Maya site until now. I went there in August of last year, and I am planning to return soon. You have to go at least once in your life.
The closest major cities are Campeche City (304 km or 189 miles) and Chetumal (235 km or 202 miles).
I will write an in-depth article on Calakmul shortly.
Hours: Monday to Sunday, 9 a.m. to 5 p.m.
Admission: 203 MXN ($10.15). You have to pay 50 MXN at the first booth, 68 MXN at the second booth, and finally 85 MXN at the main entrance.
==>Click here to tour any of the Maya sites above!<==
To Wrap Up
There you have it. As mentioned earlier, there are many sites to explore in Mexico. It's amazing how you can evoke the past by revisiting these magnificent places. I can never get enough of them and I'm sure you won't, either.
Have you visited any of them yet? If you happen to be in any of the southeastern states, try to visit at least one of the sites. You won't regret it.
If you have already been, what are your favorite sites? Which ones would you add or remove from the list? I'd love to know. Feel free to comment below. See you soon!
Book your trip now!
Book your flight
The first thing you have to do is find cheap flights. But where do you find those? There are many search engines, but the one I highly recommend is Skyscanner. Here you can compare fares from all over the world and pick the one that suits you best.
Book your accommodation
The next thing you have to do is secure your lodging. Whether you prefer a hostel, a guesthouse, a B&B, or a hotel, you can find them all on Booking. You can find lodging of all kinds ranging from cheap to expensive and somewhere in between. Many people have scored good deals using it.
Another popular option is Hostelworld. This website focuses on hostels as opposed to hotels.
Book a tour
In some places, you might want to hire a tour. Not all places are equally accessible to visit by oneself. It helps enormously when you visit with a local guide who can show you around and answer any questions you might have…all in your native language. My to-go place is Viator as they offer tours of all kinds and have a presence all over the world.
Rent a car
Public transportation is usually cheaper than renting a car, but it's sometimes more complicated and time-consuming. That's a reality. In some cases, it's more convenient to rent a car. My recommendation is Rentalcars.com. Here you can compare rates and choose the one that fits you best.
Book your bus tickets
You can save money by booking bus tickets online. My favorite site to do this is Busbud.
Get travel insurance
Never travel without a travel insurance policy, especially during these days! Travel insurance can save your life. My recommendations are World Nomads and Insured Nomads. Both companies cover COVID-19 related incidents, which is crucial these days.
More resources
Just click on the "Plan your trip" tab at the top of this page, and you will find more resources like getting Mexican insurance for your foreign car, buying travel accessories, and learning Spanish. And, of course, don't forget to check back often to read about more tips on Mexico travel.