Tropical rainforests, beautiful waterfalls, impressive archaeological sites, charming towns…this southern Mexican state has so much to offer everyone! There are so many places to visit in Chiapas Mexico that you will have a hard time deciding where to start your journey.
Chiapas has been on the savvy travelers' radar as of late, just like Oaxaca. Truth be told, the states in the southern region of the country are out of this world. The tourism offers are numerous, catering to all kinds of travelers. Both national and international tourists visit Chiapas every year to admire its natural wonders and escape from the hustle and bustle of city life.
Would you like to learn more? Today we will go over some places you can visit. I'm sure you'll fall in love with them and will want to return soon. Let's get started!
Table of Contents
Tuxtla Gutiérrez
No visit to Chiapas is complete without visiting its capital. Although Tuxtla Gutiérrez is the state capital, it's not a big city. It doesn't have impressive buildings either like Mexico City or some other Mexican cities, but it has a charm of its own.
There are a few museums worth visiting, notably, the Museo de la Ciudad, where you will learn about the history of the city since its founding; the Museo de la Marimba (did you know the modern double keyboard marimba was invented in Chiapas?); and the Museo del Café (Chiapas is Mexico's top coffee producer).
Other attractions include the zoo (with endemic species like quetzals, macaws, and jaguars), a botanical garden, and a small amusement park with paddle boats and horse rides.
When visiting, don't forget to swing by the cathedral. It boasts a neo-Classical style and has a tower with a carillon of 48 bells. It rings automatically every hour to accompany a mechanical procession of the 12 Apostles.
Another place you shouldn't miss is the Parque de la Marimba. It's a small plaza in the downtown area where locals gather to dance every night around 6 p.m. If you're not into dancing, you can just watch. It's a nice experience.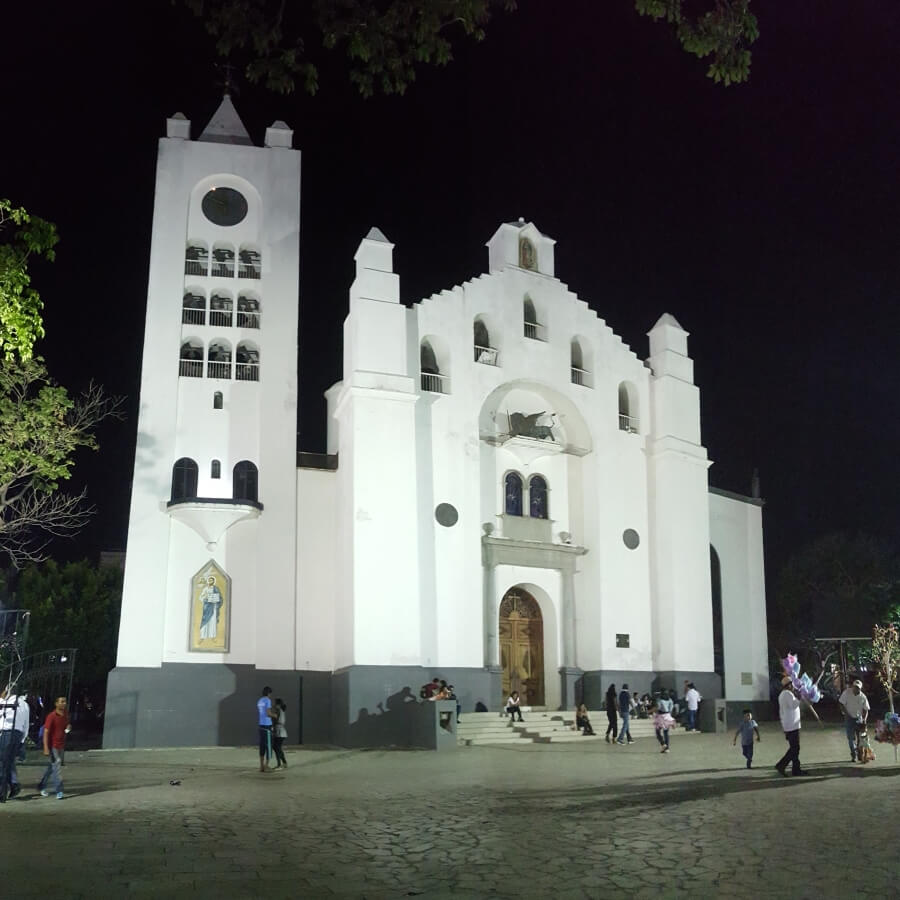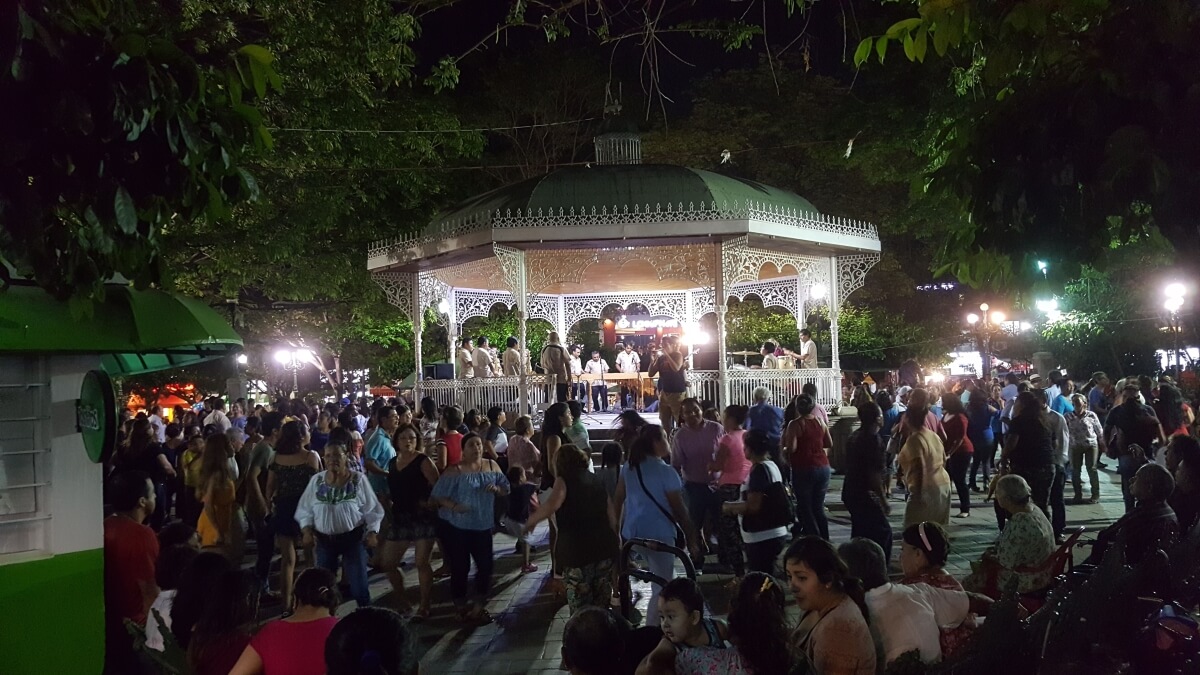 Cañón del Sumidero and Chiapa de Corzo
This is one of Chiapas' most famous landmarks. The canyon is surrounded by a national park and is split in half by the Grijalva River. There are four docks where you can ride a motorboat to tour the river. If you're lucky, you can see some crocodiles, monkeys, and birds on your way.
Five observation decks overlook the canyon. The views are spectacular, especially from the highest deck at 3,280 feet.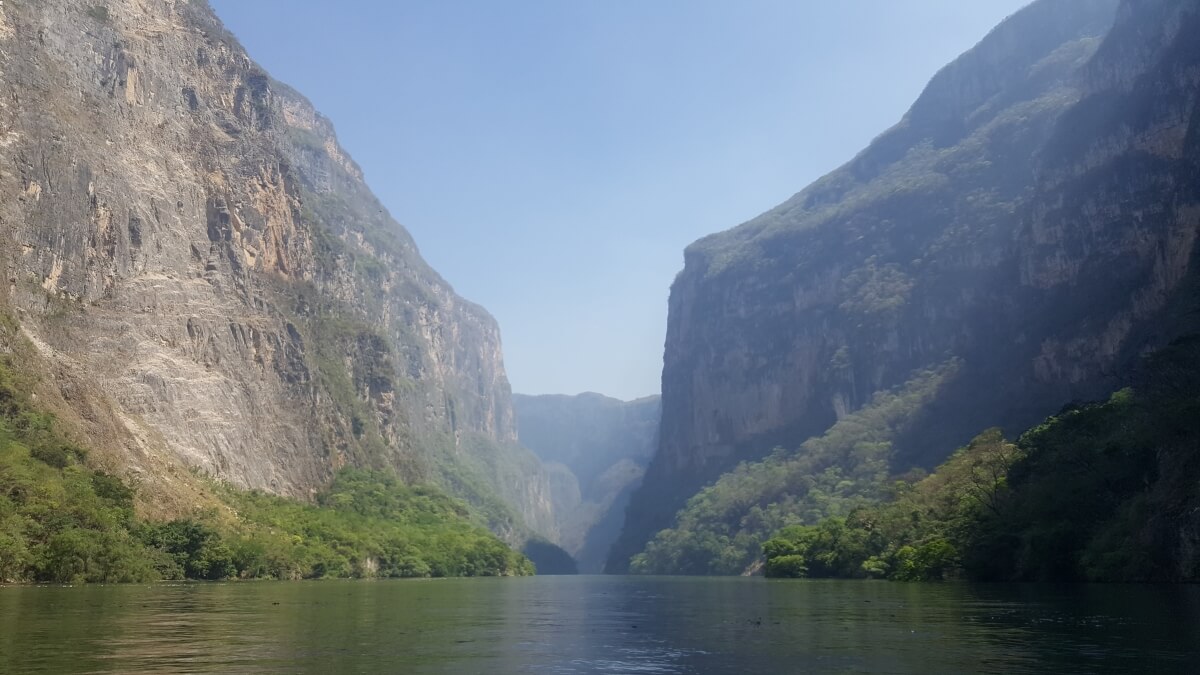 The canyon is located in a small town called Chiapa de Corzo. It's one of the 100+ pueblos mágicos in Mexico.
The town has a beautiful plaza with a Mudéjar fountain (known by locals as La Pila), a clock tower that was built in the 1950s, and La Pochota kapok tree, where according to tradition, the Spanish town was founded in the 16th century.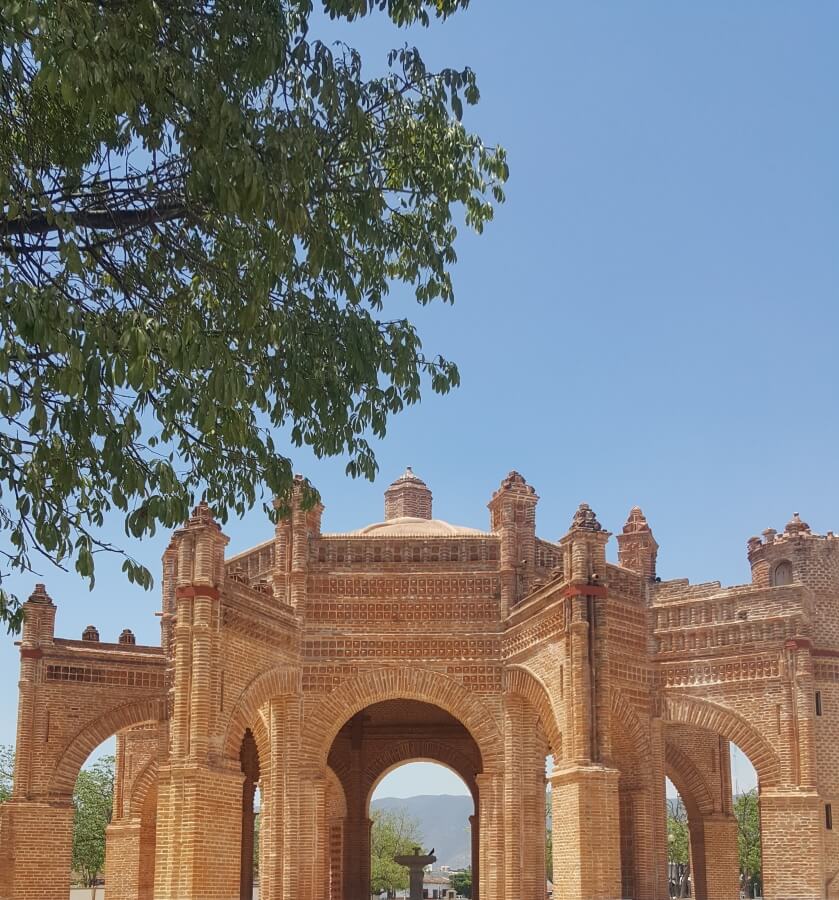 If you want to buy some handmade souvenirs, this is a great place to do it. You can buy wooden masks, colorful dresses, amber jewelry, and other handicrafts. Everything is top quality, and the prices are not as high as other tourist destinations.
Other attractions include the church, the ex-convent, the local market, and a small archeological site.
One of the best times to visit is La Fiesta de Enero, also known as La Fiesta Grande de Chiapa, which is held on January 8-23 every year. The festival is famous for the parachicos (a group of masked dancers), parades, fireworks, and traditional regional dishes.
San Cristóbal de las Casas
Simply known as San Cristóbal or San Cris, this is probably the most visited town in Chiapas. It receives millions of tourists every year, not only from Mexico but from all over the world.
San Cristóbal's streets are lined with colorful buildings. The city center is home to a beautiful, yellow cathedral that boasts a Baroque style; the Templo/Ex-convento de Santo Domingo; a beautiful plaza where local musicians play every evening; and the city hall with its Tuscan arches.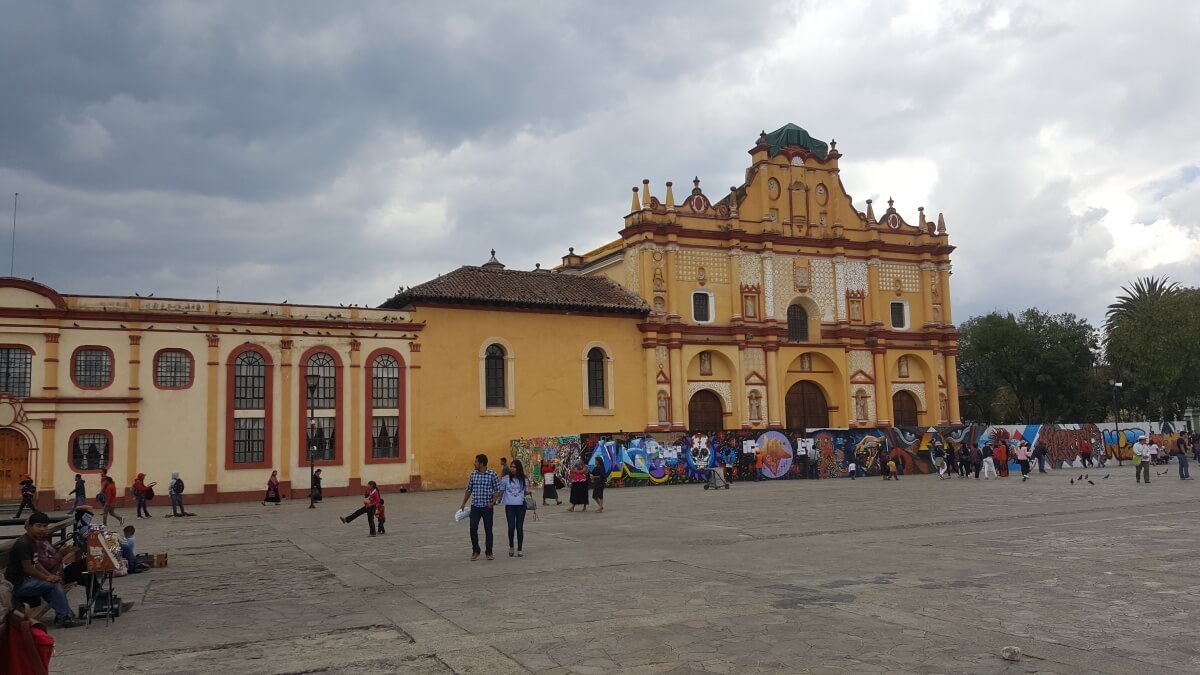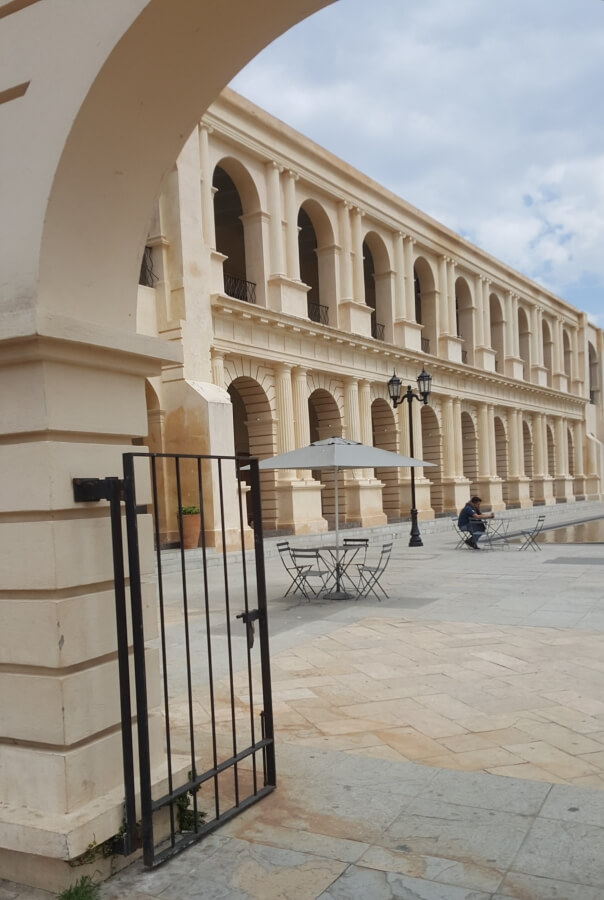 Even though San Cristóbal is a small town, it has several museums you can visit. For instance, you can visit the Museo del Ámbar (amber is a popular gemstone in Chiapas), the Casa del Jade, the Museo de Trajes Regionales Sergio Castro (here you can see a display of regional clothes), the Museo de Historia y Curiosidades, the Museo de la Medicina Maya, and the Centro Cultural de Altos de Chiapas.
The town is full of art and folklore. You can find people selling clothes, painting/drawing, playing regional music, singing, dancing, etc. on the street. It's Mexico at its finest.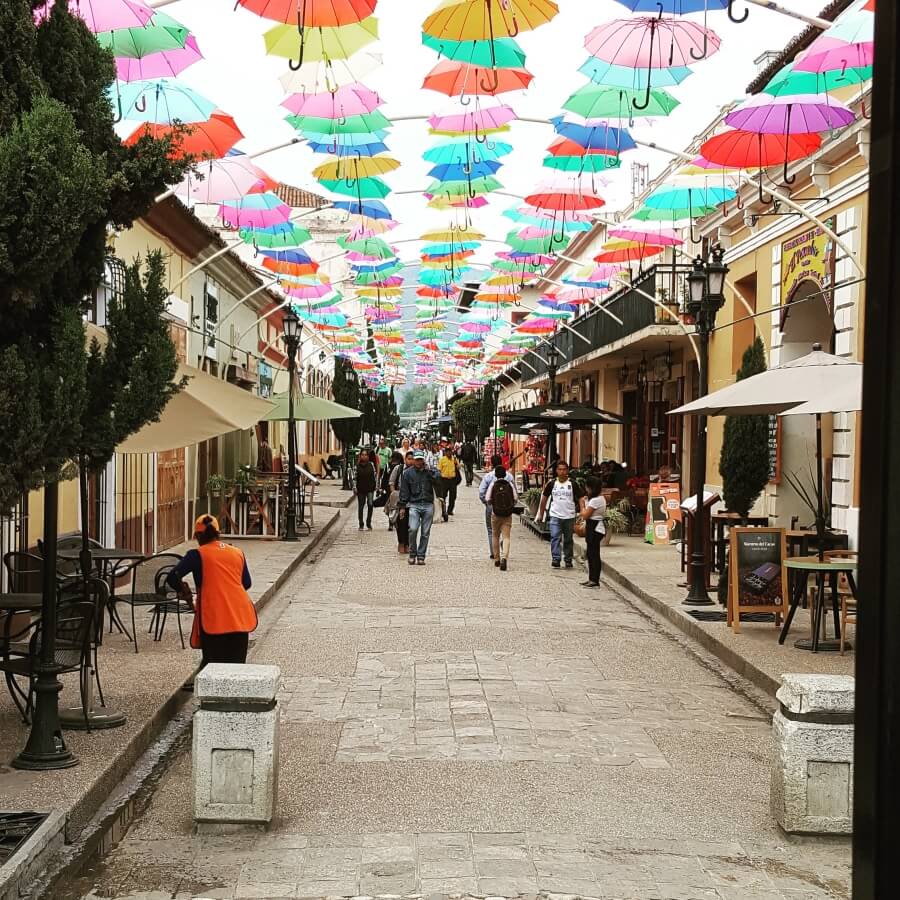 The list of eating options is huge. You can find restaurants of all kinds: Mexican, Argentinian, Italian, Thai, Korean, American, Spanish, Mediterranean, among others. There are options for all budgets and preferences. Don't forget to stop at one of the many coffee shops there are in town. Chiapas coffee is delicious!
If you're traveling on a budget, there are several hostels where you can stay. Since it's an important tourist destination, you'll meet people from other countries for sure and you might even become friends. That's the magic of this destination.
Many people base themselves here to explore the state. It's strategically located and is the most convenient option when visiting Chiapas.
San Juan Chamula and Zinacantán
San Juan Chamula is a surreal place. It's mainly inhabited by Tzotzils. They have quite peculiar beliefs. Their religion is a combination of Catholicism and witchcraft. Inside the main church, they make animal sacrifices. The church is only lit with candles day and night, and there is something indescribable in the air. Don't even think of using your camera here as photos are strictly forbidden. By the way, did you know this is the only Catholic church in Mexico that does not have a priest?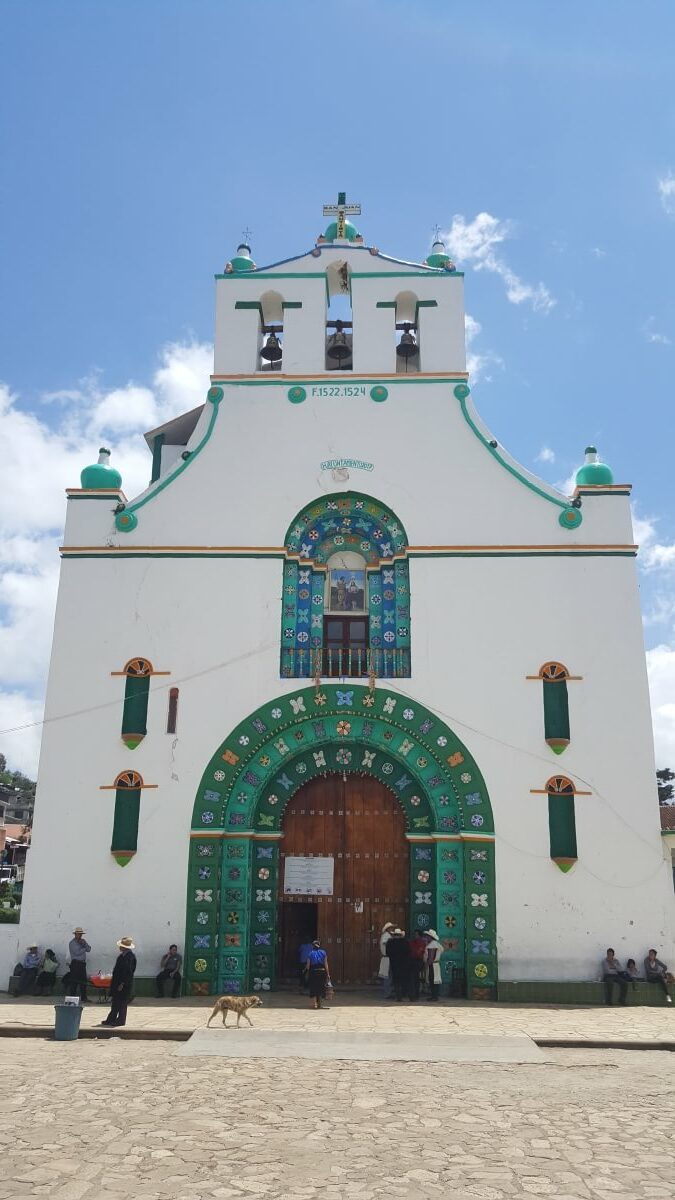 Another famous attraction in San Juan Chamula is the cemetery. There are no gravestones, only crosses of different colors for different people. For example, there are black crosses for adults, white for children, green for teenagers, and blue for people who served the church.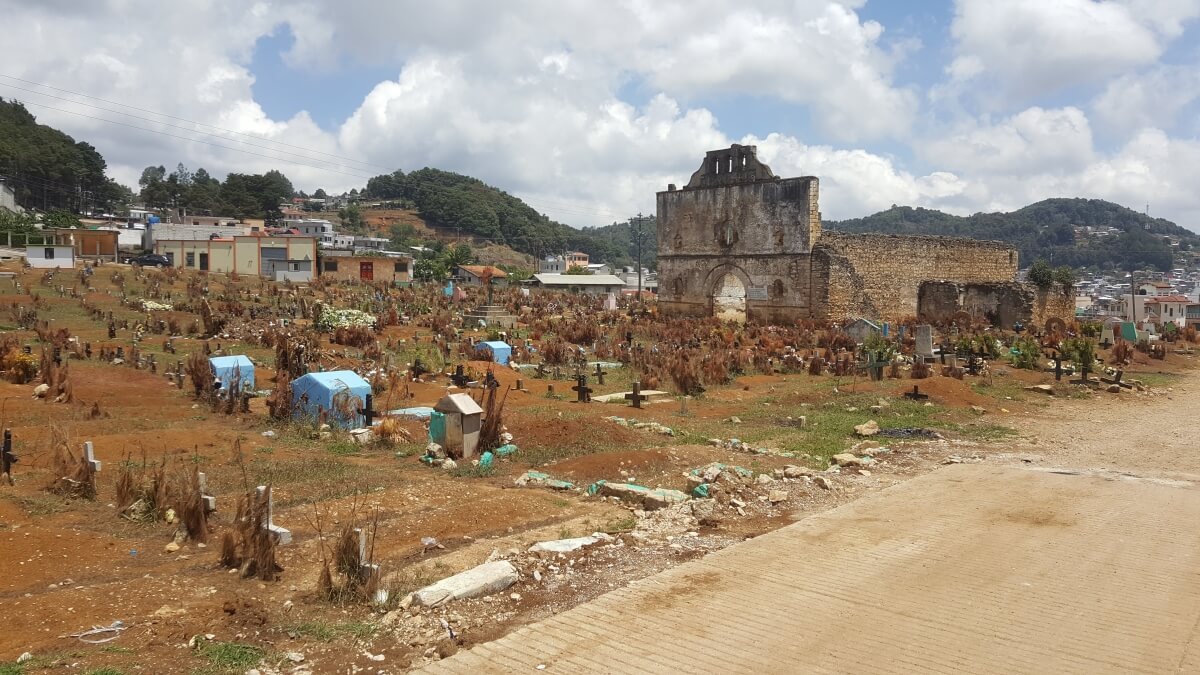 Not too far away, you will find Zinacantán. This small town is famous for its colorful fabrics and clothing. You can find shawls, dresses, blouses, skirts, and other clothing items. Many locals make them by hand, and it is their only source of income. The people here tend to be friendlier than the ones in San Juan Chamula. If you'd like to buy some regional clothing, this is the place.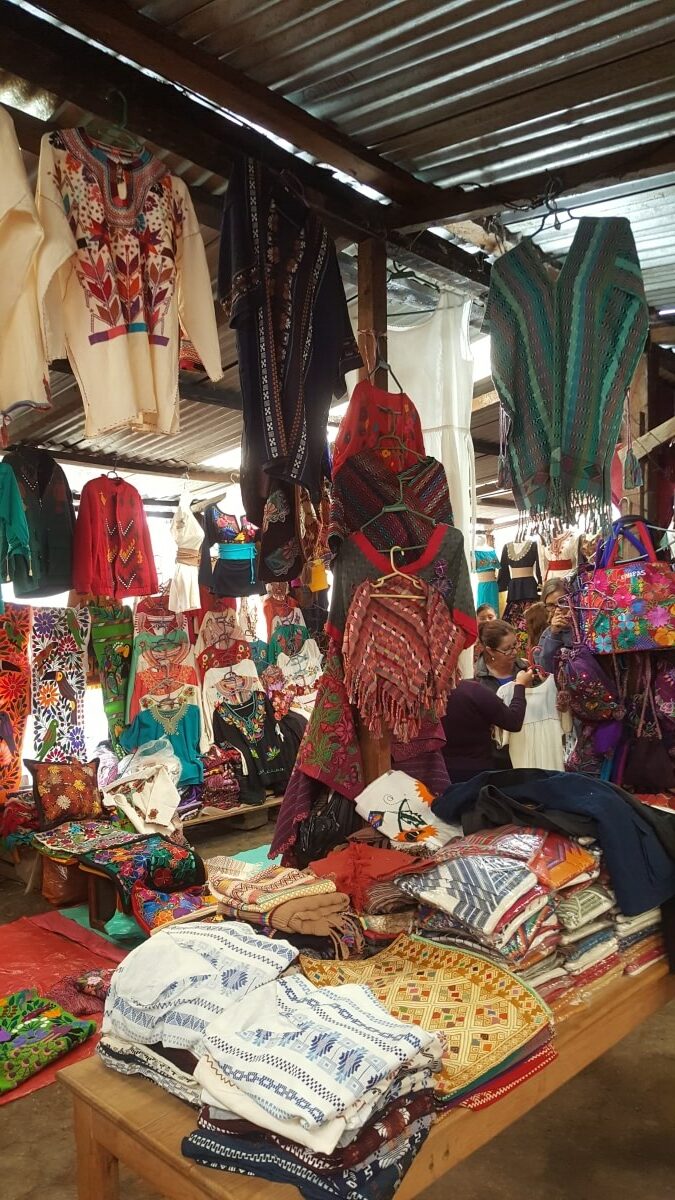 You can visit both San Juan Chamula and Zinacantán on the same day. In fact, many tourists make it a day trip from San Cristóbal as they're only 30 minutes away.
Palenque and Other Archaeological Sites
The most famous archaeological site is Palenque in northeastern Chiapas. Its importance is such that it was named a World Heritage Site by UNESCO in 1987. The most famous building is the Templo de las Inscripciones with three rock panels inside that tell the story of the city and its governors.
Palenque is in the middle of the jungle. You can practice trekking and look at the flora and fauna. There are jaguars and monkeys in the area. Make sure to bring your camera!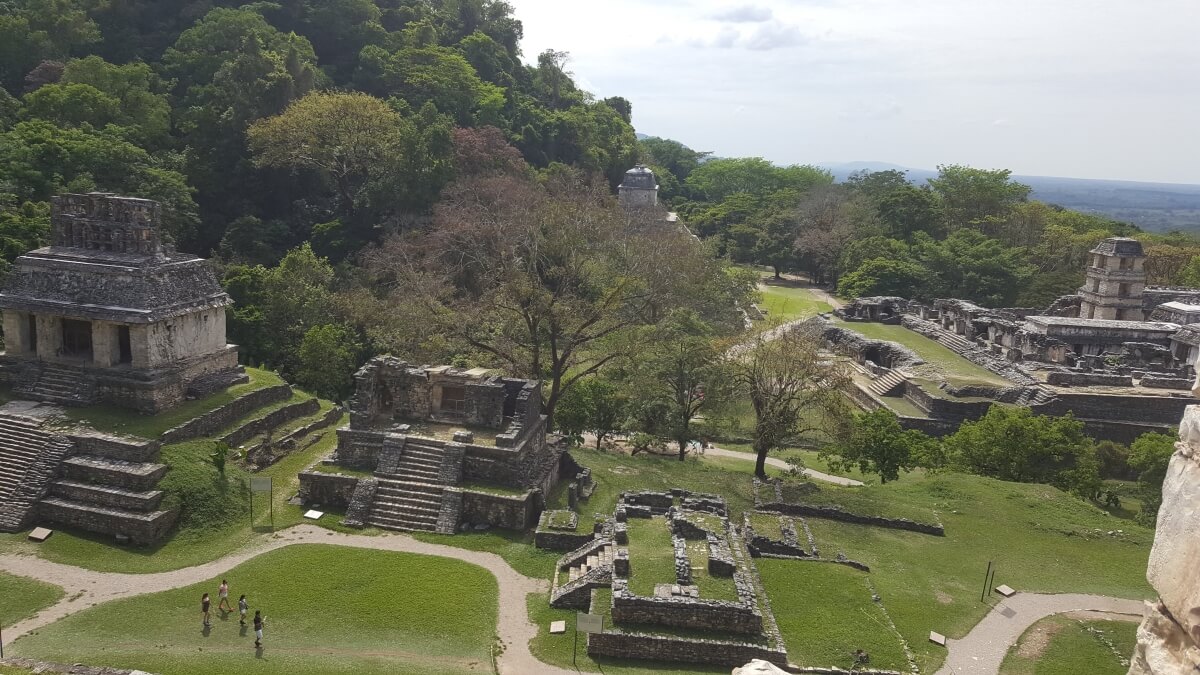 On the way to Palenque, you will pass by another important site: Bonampak. It is located in the heart of the Selva Lacandona and is famous for its colorful murals.
Yaxchilán is another site you have to visit. It is located on the border between Mexico and Guatemala. To get there, you have to cross the Usumacinta River by boat. The site is home to several beautiful Maya buildings, steles, altars, and inscriptions. Visiting is quite an experience.
Toniná is located in the heart of the Selva Lacandona and hosts the tallest structure in all of Mexico at 246 feet.
Chinkultic hosts several buildings with hieroglyphics in their interior and is surrounded by a cenote and a couple of lagoons. Ideal to cool down after so much walking!
Other smaller but equally beautiful sites include Izapa, Lagartero, and Tenam-puente close to the southeastern border with Guatemala and Iglesia Vieja in the southwest of the state.
Below is a map for your convenience.
Waterfalls
Chiapas has a lot of waterfalls, especially on the eastern side of the state. The good thing is that you can swim in most of them. Just be advised that the water is a little cool or even cold depending on the season of the year you visit. I don't recommend you get inside unless you are a strong swimmer. There are clear postings to warn you about dangerous areas.
Okay, so where are all these waterfalls? Glad you asked. There are several of them around the Palenque area: Agua Azul, Misol-Ha, Sombrillas, Roberto Barrios, Welib Hå, and Motiepa. The color of the water varies between blue, turquoise, and green.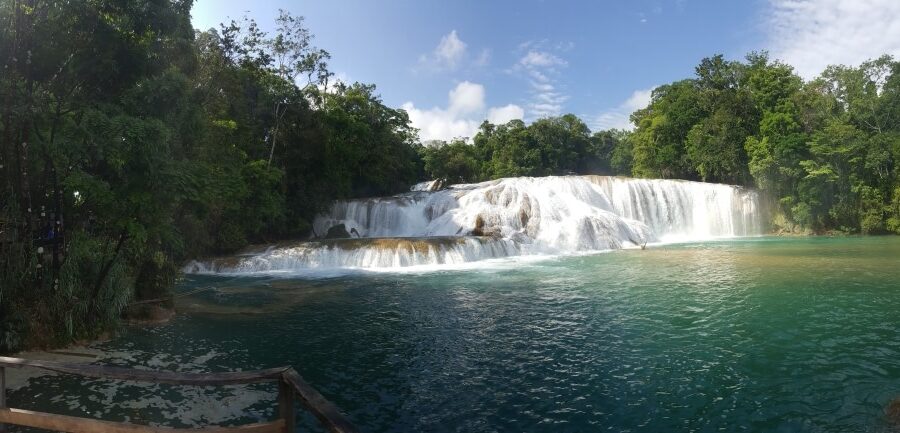 Moving eastward toward the Guatemalan border, you will find Las Golondrinas and Las Nubes.
Some of the most famous waterfalls are located inside the parque ecoturístico El Chiflón: Alas de ángel, Suspiro, and Velo de novia. This park is less than an hour away from Comitán in southern Chiapas.
Moving westward toward Oaxaca you can find El Chorreadero and El Aguacero. As you can see, there are plenty of waterfalls to visit in Chiapas!
Below is a map for your convenience.
Best Time to Visit
Most of Chiapas is warm to hot all year round. However, some areas like San Cristóbal experience cooler temperatures. Bring a light sweater/jacket regardless of the time you visit as mornings and evenings are chilly.
The rainy season runs from May to October. The weather is hot and humid, with the highest temperatures in May and June. Be prepared to sweat a lot if you visit around those dates.
Having said that, the best time to visit Chiapas is between January and May. The weather is mild, and the chances of rain are low.
If you want to visit during important cultural or religious events, then you have to visit on the following dates:
Feria Chiapas in early December.
Fiesta Grande de Enero in mid-January.
Feria Internacional de Tapachula from late February to mid-March.
Feria de la Primavera y de la Paz in mid-April
Carnaval Zoque Coiteco on the Sunday before Ash Wednesday.
How to Get to Chiapas
Ángel Albino Corzo International Airport is the main airport of the region and handles air traffic for Chiapa de Corzo, Tuxtla Gutiérrez, San Cristóbal de las Casas, and the rest of central Chiapas. There are direct flights from Mexico City, Monterrey, Guadalajara, Tijuana, Mérida, Puebla City, and Cancún. If flying in from abroad, you will have to take a connecting flight in Mexico City.
Once you get to Chiapas, you can continue your journey by bus or car. It's a beautiful state, and the views are incredible.
==>> Click here to find the best flight deals!! <<==
Some of the major bus companies that serve Chiapas are Autobuses FYPSA, Autobuses TITANIUM, and ADO.
How to Move Around
To get to San Cristóbal from the airport, you can take an OCC bus. That will cost you around 250 pesos ($12.50), and the ride takes around 45 minutes. A taxi will cost you twice as much.
Many people ride combis (a type of van) to move between towns. Depending on the distance, they can charge between 10 and 50 pesos ($0.50-$2.50) on average.
Uber barely started operating in Chiapas in October 2021, but there has been strong opposition against it. I recommend you do yourself a favor and avoid any trouble.
Last but not least, you can rent a car. There are several options at the airport to choose from.
Where to Stay in Chiapas
There are many lodging options to choose from, especially in San Cristóbal. There are nice hotels, B&Bs, hostels, and even camping sites if that's your thing.
San Cristóbal is strategically located and is a good base to make day trips out of. Of course, if you intend to move further east or south, you will have to modify your plans. Other good home base options are Palenque, Comitán, and Tapachula.
I recommend using Booking to score a good deal wherever you want to stay.
What to Eat in Chiapas
The gastronomy in Chiapas is delicious! You can't leave without having tried some of the following:
Cochito horneado. Pork meat marinated with spices and then baked. Served with beans and rice.
Sopa de pan. Made with baguette-style bread, plantain, raisins, hard-boiled eggs, green beans, and spices.
Tamales. Stuffed with different fillings like corn, chipilín (a leafy green similar to spinach), saffron, or a combination of several ingredients like plantain, almonds, olives, and raisins.
Queso relleno. Stringed cheese stuffed with pork meat and covered in a salsa made of tomato, olives, and sweet pepper.
Chipilín con bolitas. A soup made of chipilín, corn dough, lard, corn, tomato, queso fresco, and cream.
Chalupas coletas. Tostadas with beans, beets, carrots, pork loin, spices, and aged cheese.
Mole chiapaneco. Not as famous as mole poblano or mole oaxaqueño, but mole is also made in Chiapas. Made of chile ancho, raisins, sweet bread, plantain, and chicken/turkey broth.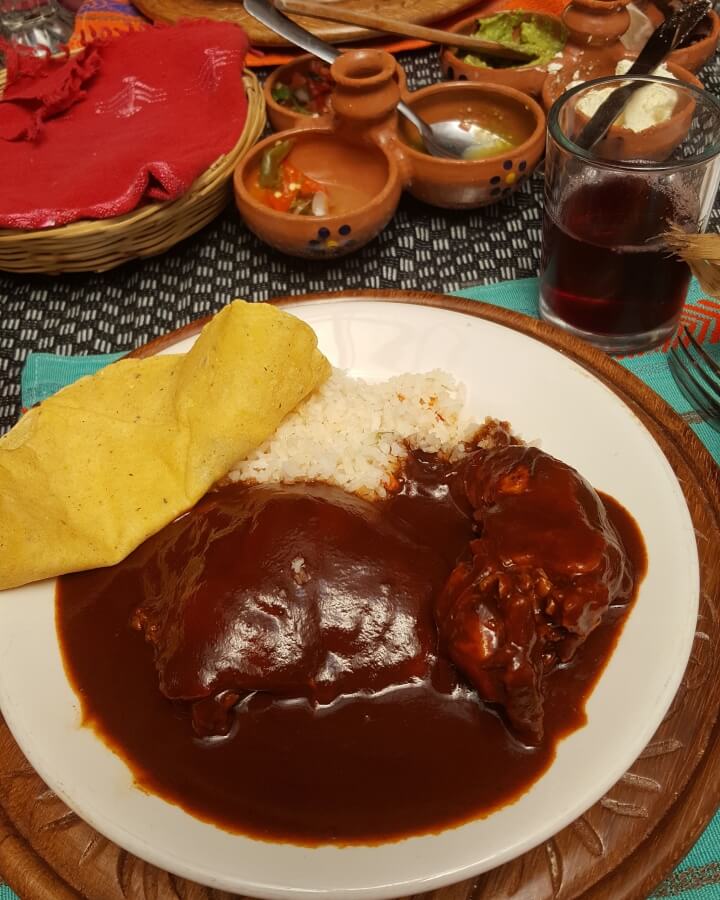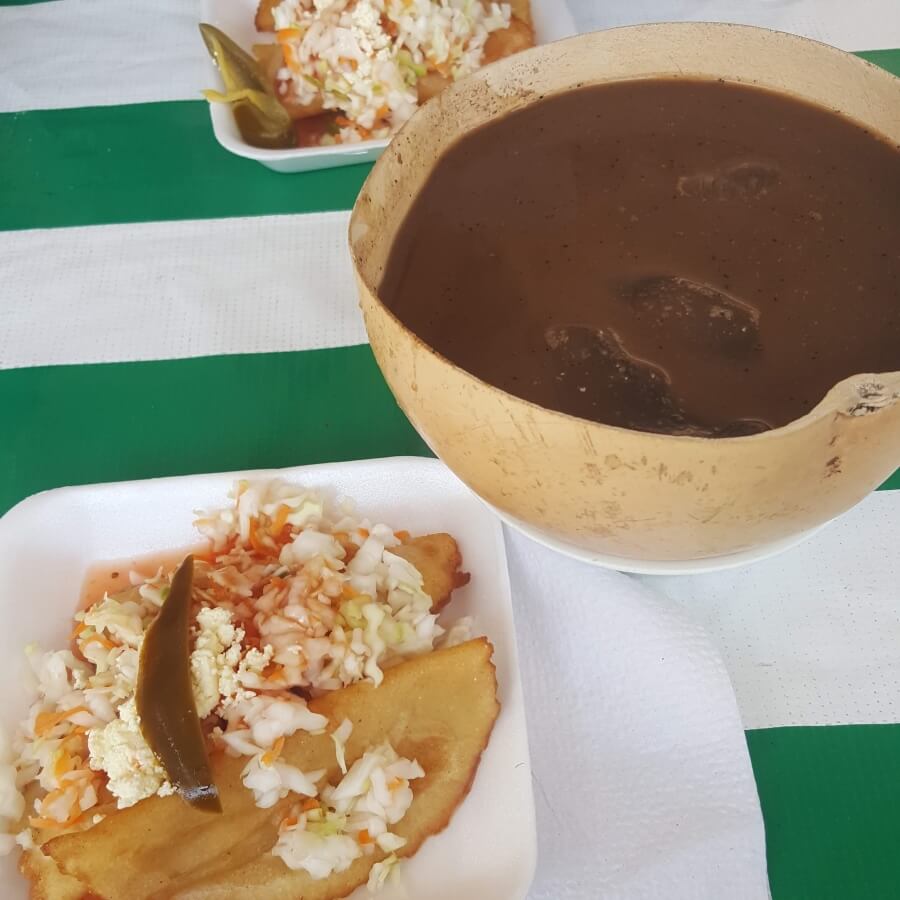 To gulf down all the dishes above, how about some pozol (a drink made from cocoa and fermented corn dough), some tascalate (a drink made from a mixture of maize, chocolate, ground pine nuts, achiote, vanilla, and sugar), or some pox (a liquor made of corn, sugar cane, and wheat)? Oh, and don't forget to drink some local coffee!
The best places to eat traditional dishes at affordable prices are the local markets and food stands. You can never go wrong with them.
Suggested Budgets
If you're backpacking, you're looking at around 950 pesos ($47.50) per day. This includes accommodation at a hostel/cheap hotel, a combination of street food and home-cooked food, local transportation, and a few attractions per day (museums, parks, etc).
A mid-range budget is around 1,850 pesos ($92.50) per day. This includes accommodation at a 2-star hotel/Airbnb, cheap restaurants, a few more attractions than the backpacker budget, and a taxi if need be.
Finally, if you don't want to limit yourself, then a luxury budget will cost you at least 4,600 pesos ($230) per day. This includes staying at a 4-star hotel, eating at nice restaurants, taking taxis everywhere, and taking tours/guided trips.
Keep in mind these figures are just estimates. Some days you will spend less, while others you will spend more. This will give you a foundation to plan your budget and adjust it as necessary.
For your convenience, I created a table comparing the budgets we mentioned above. The prices are in Mexican pesos ($1 = 20 pesos).
| | | | | | |
| --- | --- | --- | --- | --- | --- |
| | Lodging | Meals | Transportation | Attractions | Average Cost Per Day |
| Backpacker | 200 | 250 | 100 | 400 | 950 |
| Mid-range | 600 | 450 | 200 | 600 | 1,850 |
| Luxury | 1,500 | 1,500 | 400 | 1,200 | 4,600 |
Tips for Saving Money
If you'd like to save some money when visiting Chiapas, you can try some of the following:
Stay at a hostel or use Couchsurfing (an app that connects travelers looking for free lodging). You can also look for volunteer opportunities.
Eat street food. Food stands are easy to find and are an affordable option. And don't forget the local markets! They offer the best authentic food at excellent prices.
Walk and use public transportation as much as possible.
Look for free walking tours online. You just have to tip your guide at the end of the tour.
If you're looking for free activities, then visit the churches, ex-convents, and parks. There are also free activities at the different main squares of each town, especially on weekends.
How to Stay Safe
The area around Tuxtla Gutiérrez, Chiapa de Corzo, and San Cristóbal is safe for the most part. However, you have to be careful when visiting Palenque. Do not drive between San Cristóbal and Palenque. There have been numerous reports of unfortunate incidents on the way there, especially around Ocosingo. Roadblocks are common, and locals ask for money to let you pass. In some rare cases, they have mugged drivers and/or forced them out of their vehicles.
The best way to visit Palenque is either by hiring a tour as they have a no-aggression agreement with locals or driving around Villahermosa. This will take you more time, but it's safer. Do not drive at night under any circumstances. There are potholes, the roads are not well lit, and some areas are not known for being safe at night.
Download any maps you will need as some areas have a spotty signal or no signal at all.
Do not take photographs of people without their permission, especially in Chamula. And do not flirt with the girls there as the local men can get aggressive.
Always follow the rules, and you will be fine. If in doubt, do as the locals do.
If you ever find yourself in an emergency, you can dial 911 or 066.
Remember that tap water is not safe to drink in Mexico. Always buy bottled water or use a water filter.
You may want to see your doctor and ask him if you need any special immunizations before traveling, just to be on the safe side. Always wear repellent, especially in jungle areas.
Don't forget to buy travel insurance! You never know what can go wrong.
Apps to Download
To make the most out of your visit, I recommend downloading the following apps:
VisitChiapas. The official travel guide by the state government.
Google Maps. Find driving directions and download maps for offline use.
Google Translate. If you don't speak fluent Spanish, then make sure you have this app.
TravelSAFE. Connect to an emergency hotline by just pressing the SOS button.
MyCurrency. Find the latest exchange rate to know how much something is costing you.
Tripadvisor. Learn about other travelers' experiences and recommendations for hotels, restaurants, and other places in town.
Busbud. Find bus schedules (when traveling to other cities) and book cheaper tickets online.
Travello. Find other travelers on the road and make new friends.
A Few Additional Tips
Make sure to always carry some cash as not all places accept credit cards. Preferably, bring pesos as dollars may not be accepted or the exchange rate may be too low.
Some street vendors are too insistent when trying to sell their merchandise. If you don't want anything, just say no. Be kind but firm.
Learn some Spanish. Not too many people speak English outside of San Cristóbal.
Many travel agencies offer tours all over Chiapas. If you're concerned about driving here, this is a viable option. Local companies know the ins and outs, especially when dealing with locals. You're better off with them.
Conclusion
Chiapas has it all! No matter how long you stay, you will have a good time. There is so much to do and see: charming towns, archaeological sites, waterfalls, jungles, good food…Whether you are into art, fun, adventure, or something in between, you will find something to do for sure.
Millions of people have visited Chiapas and have fallen in love with it. You will never know what it's like if you never visit. I hope you do it sometime.
This may not be the best time to travel (we all know why, no need to tell), but that doesn't mean we can't start making some itineraries for our next trip. Is this something you would add to your bucket list?
I hope you found this useful. As always, feel free to leave your questions and comments in the section below, and I will be more than glad to help with whatever I can. Bon voyage!
Book your trip now!
Book your flight
The first thing you have to do is find cheap flights. But where do you find those? There are many search engines, but the one I highly recommend is Skyscanner. Here you can compare fares from all over the world and pick the one that suits you best.
Book your accommodation
The next thing you have to do is secure your lodging. Whether you prefer a hostel, a guesthouse, a B&B, or a hotel, you can find them all on Booking. You can find lodging of all kinds ranging from cheap to expensive and somewhere in between. Many people have scored good deals using it.
Another popular option is Hostelworld. This website focuses on hostels as opposed to hotels.
Book a tour
In some places, you might want to hire a tour. Not all places are equally accessible to visit by oneself. It helps enormously when you visit with a local guide who can show you around and answer any questions you might have…all in your native language. My to-go place is Viator as they offer tours of all kinds and have a presence all over the world.
Rent a car
Public transportation is usually cheaper than renting a car, but it's sometimes more complicated and time-consuming. That's a reality. In some cases, it's more convenient to rent a car. My recommendation is Rentalcars.com. Here you can compare rates and choose the one that fits you best.
Book your bus tickets
You can save money by booking bus tickets online. My favorite site to do this is Busbud.
Get travel insurance
Never travel without a travel insurance policy, especially during these days! Travel insurance can save your life. My recommendations are World Nomads and Insured Nomads. Both companies cover COVID-19 related incidents, which is crucial these days.
More resources
Just click on the "Plan your trip" tab at the top of this page, and you will find more resources like getting Mexican insurance for your foreign car, buying travel accessories, and learning Spanish. And, of course, don't forget to check back often to read about more tips on Mexico travel.