Located in the southeast of Mexico, Mérida, Yucatán is probably the most well-known city in the region. Known as the "White City" (nothing to do with the White race but rather the architecture in Mérida, Spain), Mérida has been named Mexico's safest city and the proof is many Americans and Canadians moved and continue living there. No wonder it's also one of Mexico's most visited destinations. Mérida is a city of contrasts: on the one hand, it possesses a strong Mayan heritage, while on the other it also has a developed infrastructure like any modern city of the world. Its Mayan roots can be seen in its cuisine, language, living style and culture in general. You should check it out.
How to Get There
Mérida is served by Manuel Crescencio Rejón International Airport. It's really close to the city center, around 7 km (4.35 miles) or 13 minutes. It's on the top ten list of Mexico's busiest airports. Inbound/outbound domestic flights include Mexico City, Guadalajara, Monterrey, and other major cities, while international flights include Havana, Houston, Miami, and Toronto.
Mérida is located about 307 km (190 miles) from Cancún. Due to its proximity, many tourists visit Mérida by land. It's a good alternative if you're visiting the region and want to escape the hustle from that beach city.
Soak in the Architecture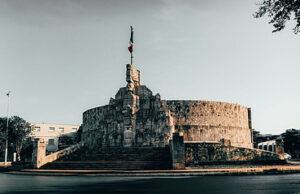 One of the musts while visiting is walking along Paseo Montejo. It's Mérida's longest boulevard and it's filled with beautiful mansions from Colonial times. Take your time to stroll around and admire the beautiful architecture of the city. You will see lots of white buildings and understand why it's called "the White City".
As you walk along Paseo Montejo, you will eventually reach the Monumento a la Patria. It's a really impressive monument with Mayan motifs in the middle of the boulevard. There you will see different moments from Mexico and Mérida's history. Don't forget to take your selfie.
Another cool activity is calandria (carriages drawn by horses) tours. You can hire these in the city center. You will be able to see the city from another perspective and catch your breath after a lot of walking. You will walk a lot. So be prepared.
If carriages aren't your thing, there are also bus tours available. Just look for the Turibús. You can take it in front of the cathedral or the hotel zone right outside the Holiday Inn. Kids are 50 pesos (2.5 USD) and adults are 120 pesos (6 USD). It runs every day of the week.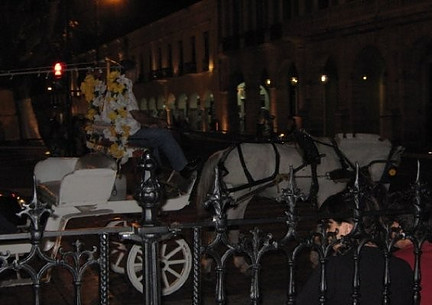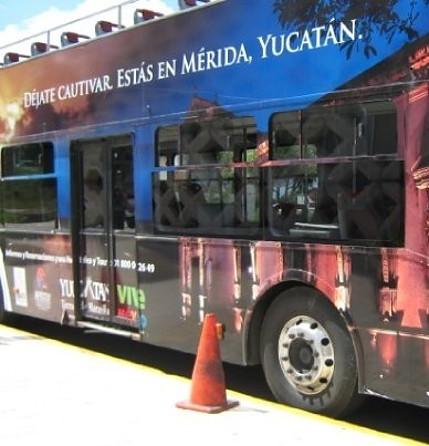 While in the city center, you have to visit the Cathedral of Saint Ildefonso. I prefer to visit by night as the illumination gives it a totally different look from the day time. However, you can visit both during the day and at night and take cool pictures to compare. You don't want to miss out!
There are several fascinating buildings throughout the city center. These buildings include Palacio Cantón, Palacio de Montejo, Museo Macay and several churches. Some of them include museums, so if you're a history buff, you might want to check these out.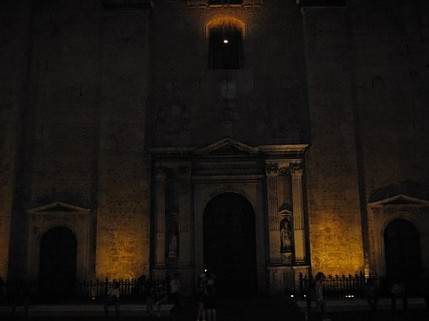 Explore the Mayan Ruins
Does Chichén Itzá tell you something? I know it probably does. It's one of, if not the most, visited Mayan sites by both domestic and foreign tourists alike. These pyramids are particularly attractive among American and European tourists. It's hard to imagine how Mayans created these incredible structures without the technology we have today. You will be amazed by the details and all the facts you will get to know during your visit.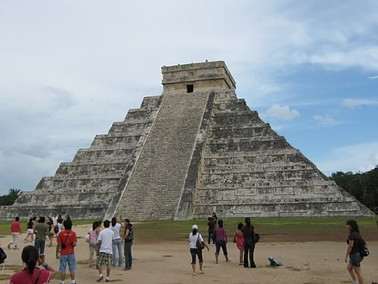 Chichén Itzá is located about 120 km (75 miles) from Mérida. This trip takes about 1.5 hours.
Now, let me give you one tip you might not know. Avoid going on Sundays. Why? All Archaeological sites have free admission on Sundays for Mexican citizens. If you visit on a Sunday, you will always see a large crowd. To avoid this, you might want to choose another day of the week, but if you don't mind the crowds, then dismiss my tip.
Chichén Itzá is in the Yucatán Peninsula, which means humidity. Wear light clothes, sunscreen, sunglasses and a hat to protect yourself from the sun. You can also carry a bottle of water to stay hydrated.
It is not necessary to hire a tour with an agency, but I highly recommend you hire a guide on site. When you hire one, you will be able to learn more things than by just reading the information signs of the site. As always, it's up to you.
Swim in a Cenote
Throughout the Yucatán Peninsula, you can find bodies of water called cenotes. These are deep, water-filled sinkholes in limestone which were created when the roof of an underground cavern collapsed. You could say they're natural pools. They all have clear, crisp water where you can dive and swim in. Their water is cold, but after swimming a little, you get used to it.
Cenotes were sacred places for Mayans. They were used by them to perform sacrifices to their gods. There are tours where you can participate in a Mayan ceremony with a shaman before entering the cenote. It's quite an experience.
As far as I know, there are cenotes you can visit on your own, while there are others where you have to hire a tour to get in. Although most visitors I've seen seem all to be part of a large group, I think you'll probably be able to visit on your own. You can ask at your hotel or locals.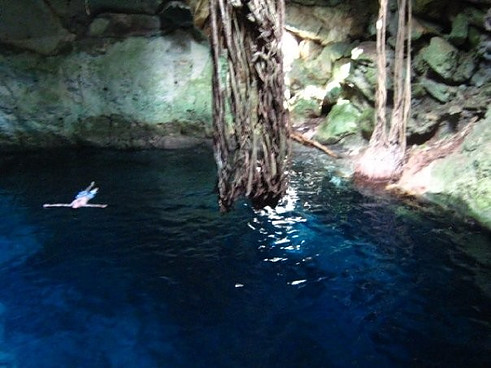 Bird Watching and Beaches in Celestún
About 45 minutes from Mérida, you will reach Celestún, a natural reserve. You can hire a boat tour to see the flamingos which are the main attraction in the area. The water suddenly turns a pink color and that is when you will have run into our winged friends. They will give you a tour around the mangrove swamp where you can see not only flamingos but also other birds like herons and pelicans. It's so relaxing and the perfect opportunity to reconnect with nature.
Not far from Celestún, there are some virgin beaches where you can relax. There are no hotels or fancy restaurants on the beach. You can eat some fresh fish at one of the rustic restaurants there. The beaches are beautiful and they are not crowded like others in the peninsula. You can spend the whole day there. I highly recommend it.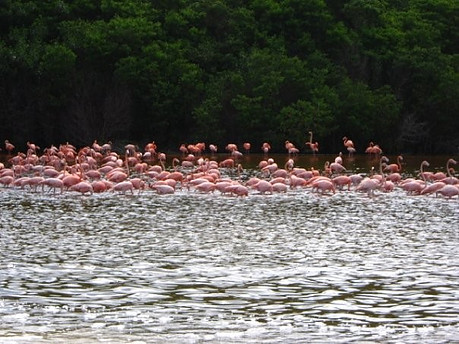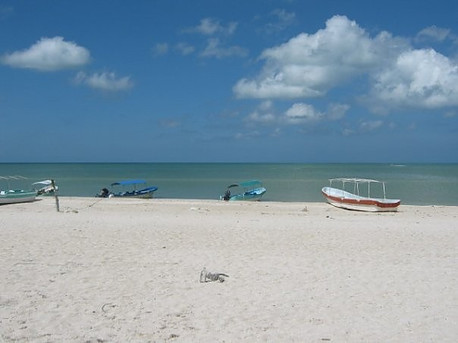 What to Eat
The cuisine from Mérida is varied and delicious. Dishes include cochinita pibil, papadzules, panuchos and sopa de lima. Yucatecan cuisine is a combination of Mayan ingredients with European, Caribbean and Middle Eastern ones. Their main ingredients include pork meat, pumpkin seeds, red onions, oranges, achiote, and the internationally famous habanero pepper. I would say its dishes are very different from others in Mexico. It's probably due to its isolation from the rest of the country.
You can find other types of cuisines like Italian, Cuban and Japanese if that's your preference. However, if you want to eat something authentic from the region, I recommend doing so in one of the various restaurants in the city center like La Chaya Maya. Just be warned that Yucatecan food is spicy. They love their habanero peppers. Not for the faint of heart.
For dessert, try a marquesita, which is similar to a crepe, just a little bit thicker. It's filled with different things, the most popular being stringed cheese and peanut butter. Delicious!
Where to Stay
I recommend Los Aluxes in the city center. It's a nice hotel with all the amenities you expect from a modern hotel: cable TV, free internet, a swimming pool, a restaurant, a bar, a business center, meeting rooms, free parking, laundry service, etc. Its prices are very affordable starting from $40 per night. Its location is very convenient, close to several attractions in the city.
Buy Local Souvenirs
Of course, you can buy a magnet, a key chain or one of those typical souvenirs, but if you want something cooler, I recommend buying something handcrafted. Mérida is famous for hammocks, guayaberas, huipiles (a kind of woman dress), mats, woodwork, pottery, and many other things. There are several stores in the city center where you can buy them. Prices vary, but keep in mind you're getting something that took a lot of hard work to make.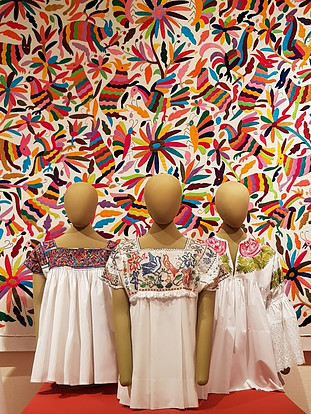 To Wrap Up
Mérida is a nice city with beautiful architecture, a delicious cuisine, a millenary culture, impressive archaeological sites, nature and everything you need to have an excellent time. You can visit solo, with family or friends. You will be able to see how modernity and antiquity converge on every corner you step on. I bet you will want to return over and over again. I do. So, what are you waiting for? Start planning your trip to this incredible location! See you soon!