Guadalajara comes from Arabic وادي الحجارة (wādī al-ḥajārah), meaning "Valley of the Stone" or "Fortress Valley". With a population of over 5 million inhabitants, it is Mexico's second-largest city. It is an important center of finance, business, art, science, technology, and culture. As you can imagine, tourism is another important industry. But what is there to do in Guadalajara? That's a good question, and today we will answer it.
We will also show you the best things to do in Guadalajara so you can start planning your next trip. How much time do we recommend? Well, that depends on several factors, but I'd say 6 days is a good time. Let's see what you can do during 6 days in Guadalajara.
Table of Contents
Day 1: Chapala and Ajijic
Chapala and Ajijic are two small towns about an hour away from Guadalajara. If you fly in, the airport is halfway there. Many locals do this a day trip on weekends. Renting a car is easy and convenient. Here are some things you can do:
Los 3 Potrillos. This hacienda is owned by Mexican singer Vicente Fernández and was open to the general public until recently. While you can no longer visit it, you can still drop by his charro store where you will find lots of items like cowboy shirts, boots, wallets, belts, hats, and other items. Right next to it, there is a nice restaurant where you can eat delicious Mexican dishes. To top it off, they also have live music so you can spend a nice time with your companions.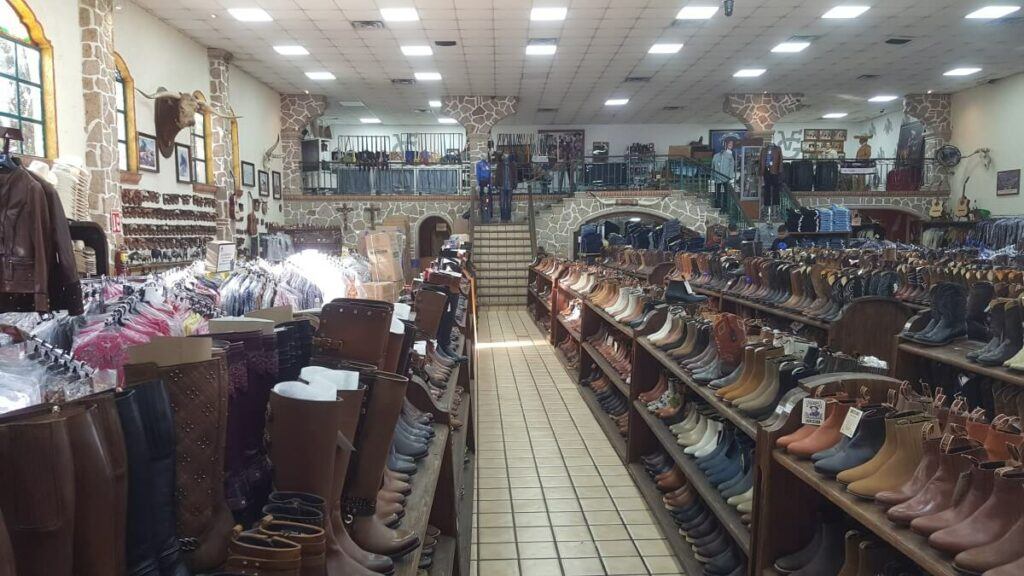 Chapala Old Train Station. This is now the House of Culture, where local kids and teenagers go take art classes and workshops. There are also temporary art exhibits, a nice garden, and an old train that serves as a cool background.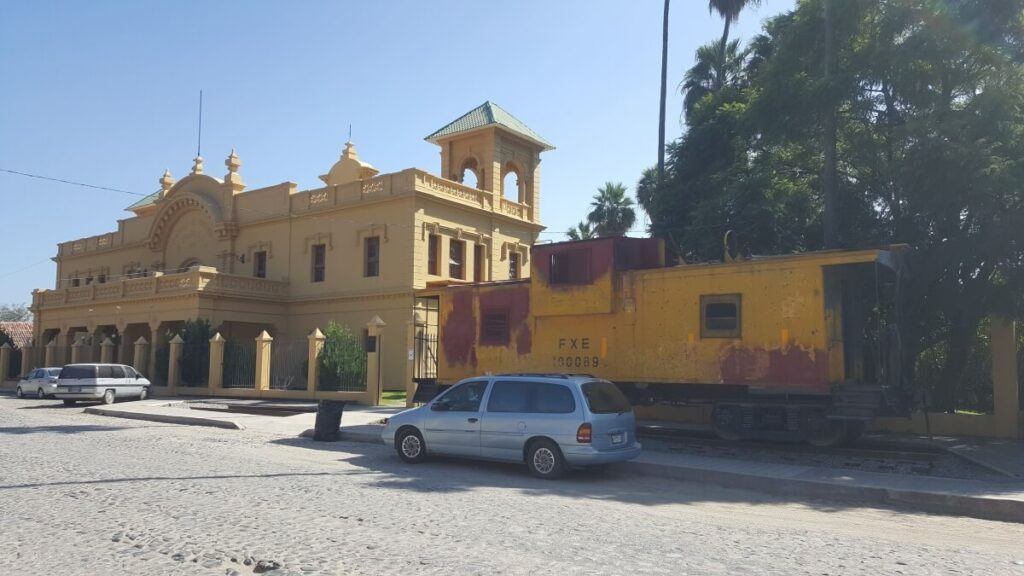 Chapala Lake. This is by far the most popular spot in the area. You can walk along the malecón (seawall), take a boat ride, watch the birds fly, eat at one of the many restaurants nearby, and buy some cool souvenirs.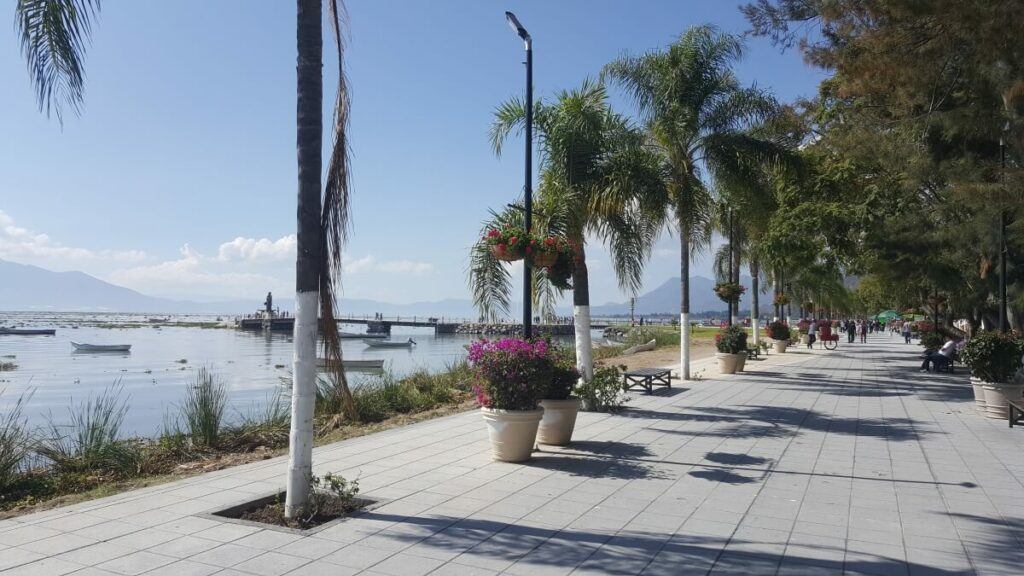 Isla de los Alacranes. This small island is shaped like a scorpion, hence the name. It is a sacred place to the Wixárika, better known as Huichol. They make a pilgrimage to several sites every year, and this is one of the stops along the way. You can see the offerings they leave to their gods as they pass by.
Murals in Ajijic. If you're into street art, then I recommend you head over to Ajijic just a few minutes away from Chapala. This small town was recently included on the list of pueblos mágicos (magical towns) by the Mexican government. Its cobblestone streets along with its colorful buildings and murals make you fall instantly in love.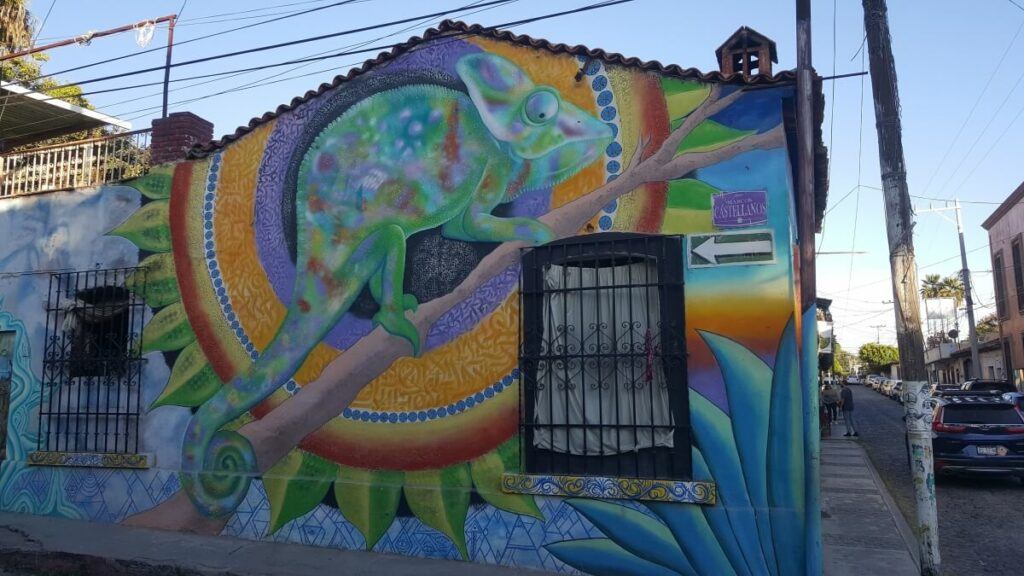 Ajijic Main Square. Locals decorate the main plaza for different festivities like Day of the Dead or Saint Andrew's novenary. There are fireworks, food, drinks, rides, and live music. If you'd like to see this, then you should visit during the last week of November. Regardless of the time of the year, you will always find nice bars and cute coffee shops where you can relax after so much walking.
Ajijic Seawall. Ajijic shares the seawall with Chapala since they're bordering towns. I don't know if it was the perspective or something else, but the sunset in Ajijic is one of the most beautiful I've ever seen. Take some time to walk along the seawall while you drink something refreshing and take lots of cool pictures. Remember the small things are what really matters in life.
Stay at a Cabin. How about staying at a cabin in the woods? A campfire, marshmallows, horror stories, breakfast with nice views of the lake at sunrise? Does that sound good? There are many options available in Ajijic.
Day 2: Tonalá and Tlaquepaque
It's time to continue our journey. This time we will go to Tonalá and Tlaquepaque in the vicinity of Guadalajara. Here are some suggestions:
Tianguis de Tonalá. You can find this street market on Thursdays and Sundays. This is the best place to buy handicrafts of all sorts, especially pottery and blown-glass items. No wonder Tonalá is known as "the land of the artisans". If you're into bargains and negotiating prices, you will love it here.
Visit a shop or factory. You can visit a factory and learn more about the making process of glass items and pottery. Or if you want something more personalized, you can see an artisan working at home. Many tours offer this experience. In the end, you can buy some souvenirs and support the small businesses in town.
Tonalá Main Street. Along Tonaltecas Avenue, you will find a corridor with lots of impressive sculptures. Take your time to walk and admire each sculpture. Don't forget your camera!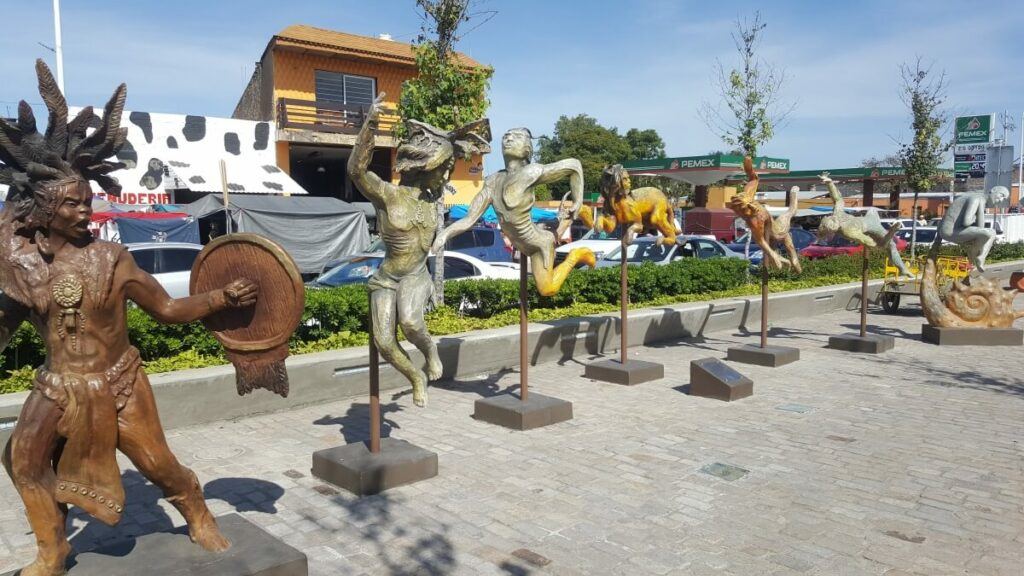 Mercado Municipal Benito Juárez. You must be hungry after so much walking and shopping. Time to eat something delicious. How about some quesadillas, tacos, or gorditas? I recommend you go to the main market in Tlaquepaque. You will love it.
Jardín Hidalgo. This is the main plaza of Tlaquepaque and a gathering place for locals. Why don't you buy a tejuino, a refreshing corn-based drink, and pick a bench to relax? There are a nice kiosk in the middle and a couple of churches around you can visit once you're done.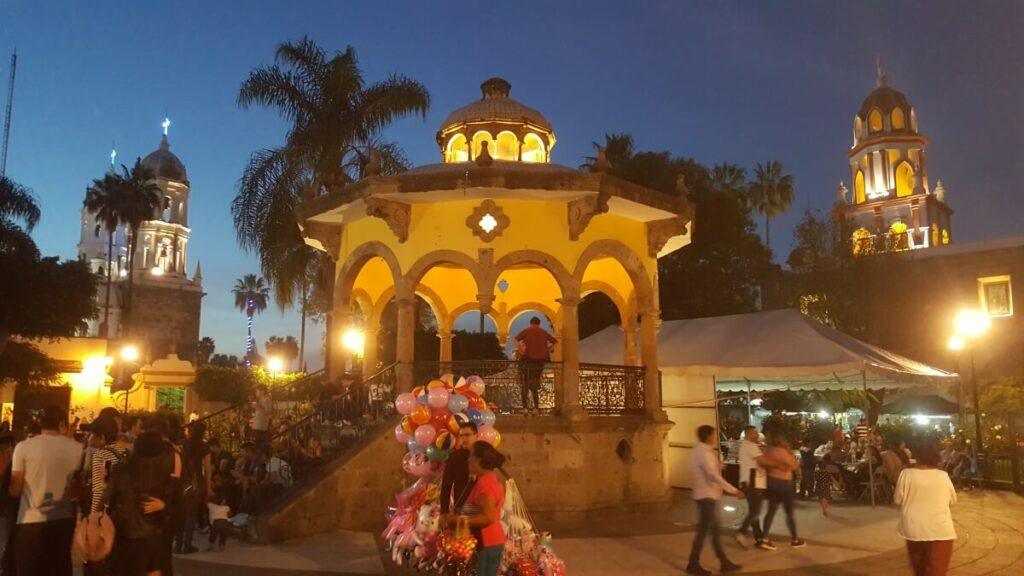 Andador Independencia. You will find this corridor right next to Jardín Hidalgo. It's a colorful place with beautiful decorations, restaurants, coffee shops, and stores where you will find sweets, handicrafts, and other items. One of the most instagrammable places, if you ask me.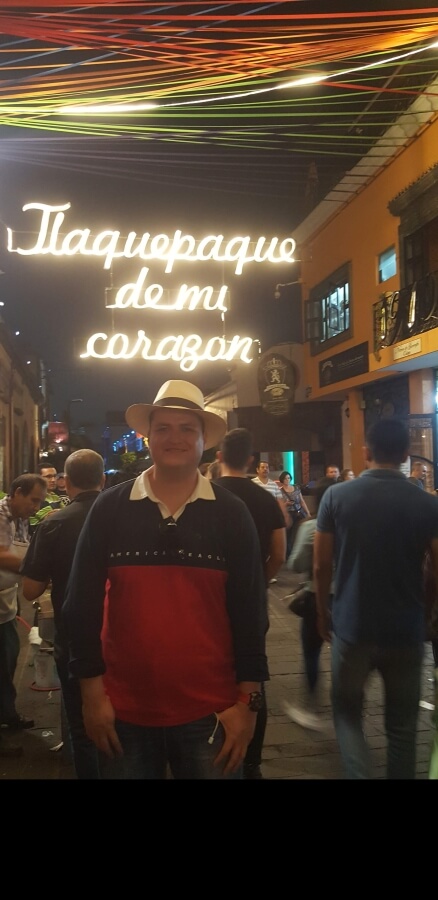 El Parián. Before calling it a day, there is nothing better than tequila and mariachi. This is the place to go party at night. El Parián is a plaza with several restaurants where you can eat, drink, and listen to live mariachi music. The classical drink is the cantarito, a tequila-based cocktail with citric fruits. Don't miss out!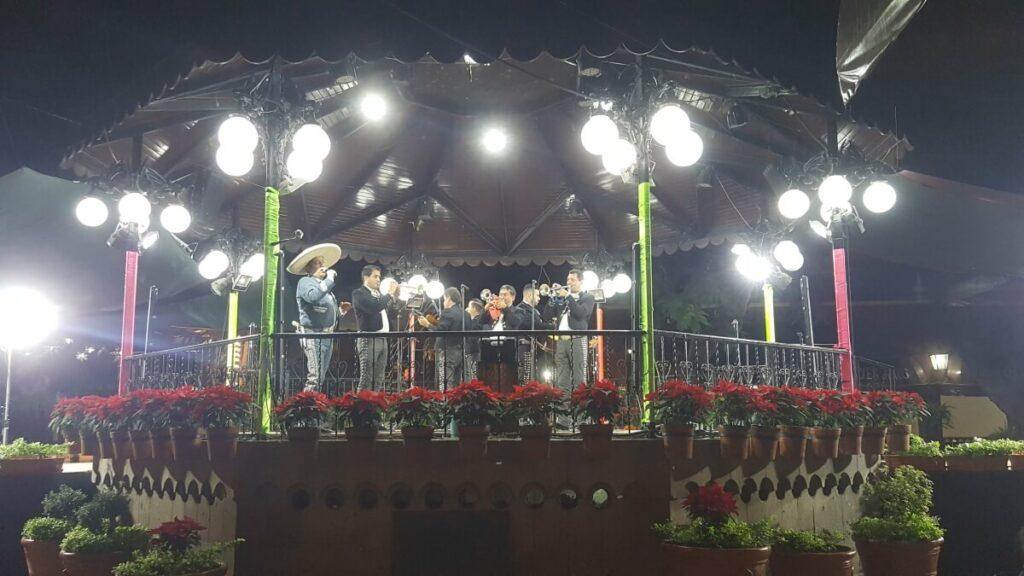 Day 3: Tequila
Speaking of tequila, did you know that its name comes from the town it's produced in? Yes, there's a town in Mexico called Tequila. Here's what you can do there:
Ride Tequila Express Train. This tourist train runs between Guadalajara and Tequila every Saturday. There is live entertainment as well as refreshments on board. It's a little pricey but well worth it.
City Hall. There is a beautiful mural in the center of the patio representing Mayahuel, the goddess of the maguey (the plant tequila is made from). Unfortunately, it was undergoing some renovations when I visited, but you could try your luck.
Templo de la Purísima. This church was built in the 17th century and is dedicated to St. James. It boasts a Neoclassical style and there is a statue inside that was beatified by Pope John Paul II.
Main Plaza. A colorful plaza with trees and benches where locals and visitors alike gather. There is always something going on by day or night.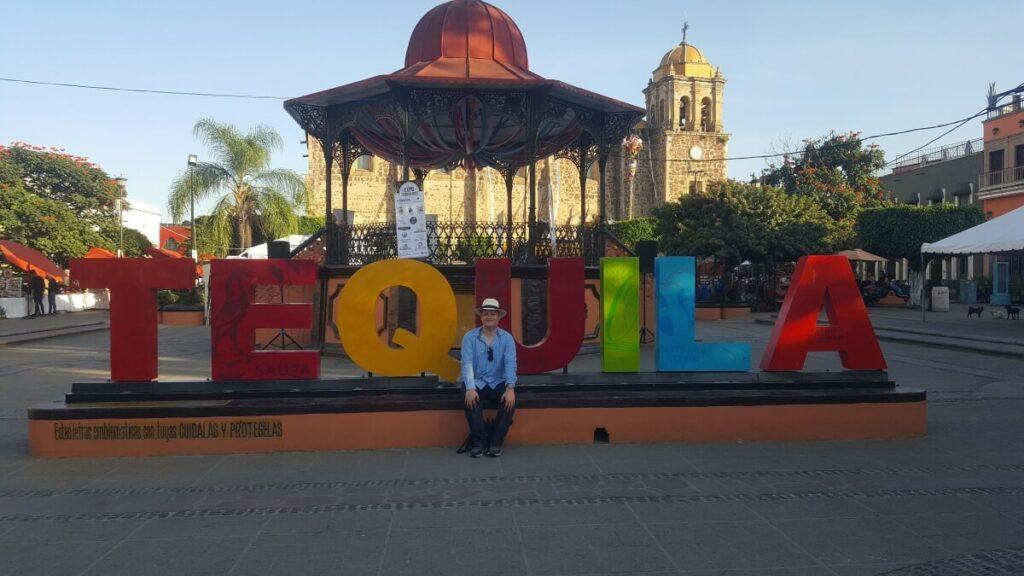 Mundo Cuervo. This is the oldest distillery in the Americas and a must-visit when in town. You can visit an agave plantation, tour the factory to learn about the making process of tequila, and of course, do some tasting at the end.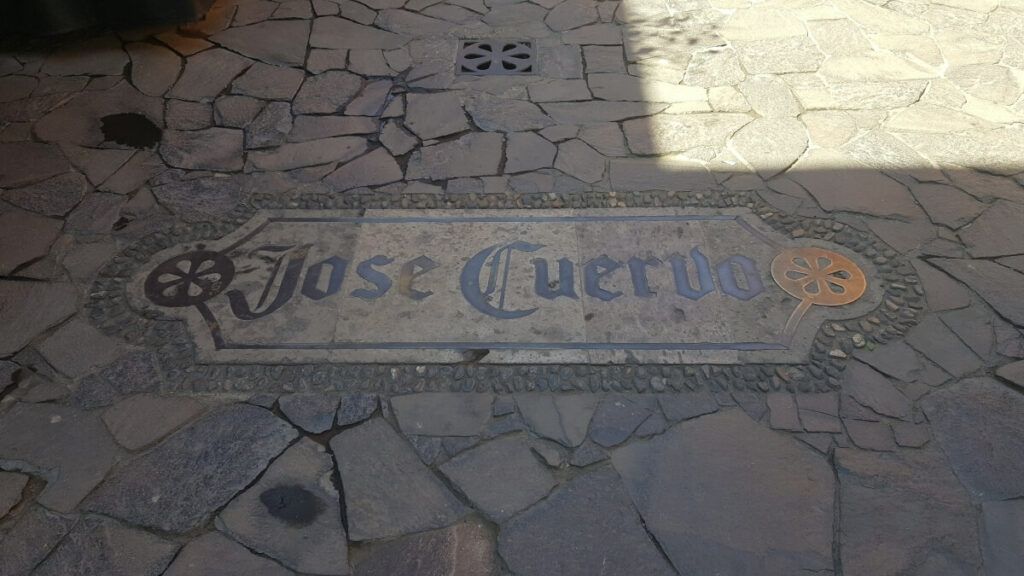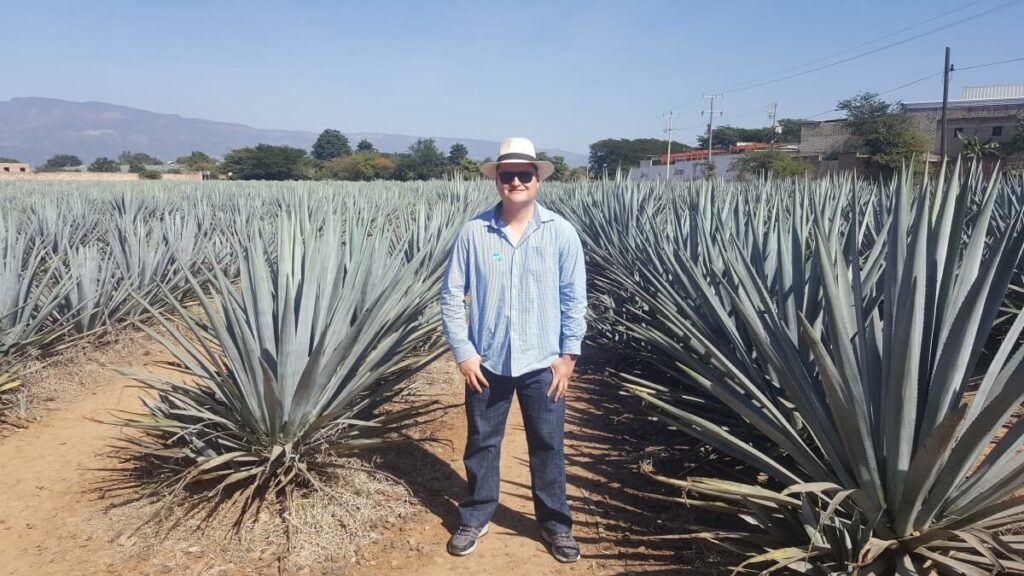 Take a City Tour. Everything revolves around tequila in Tequila, even the vehicles that take you on tours. There are several of them to choose from. You can visit different distilleries besides Mundo Cuervo's.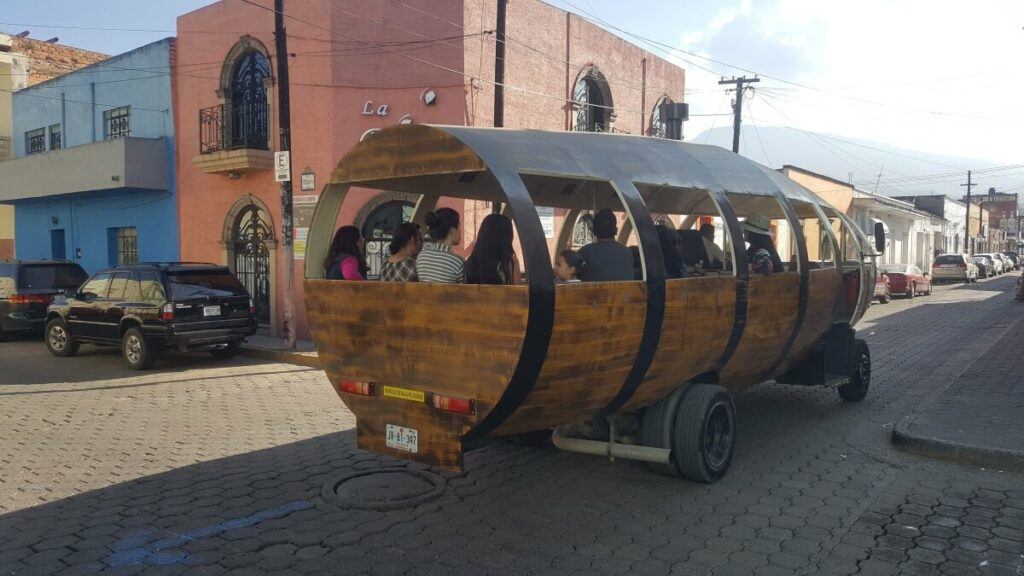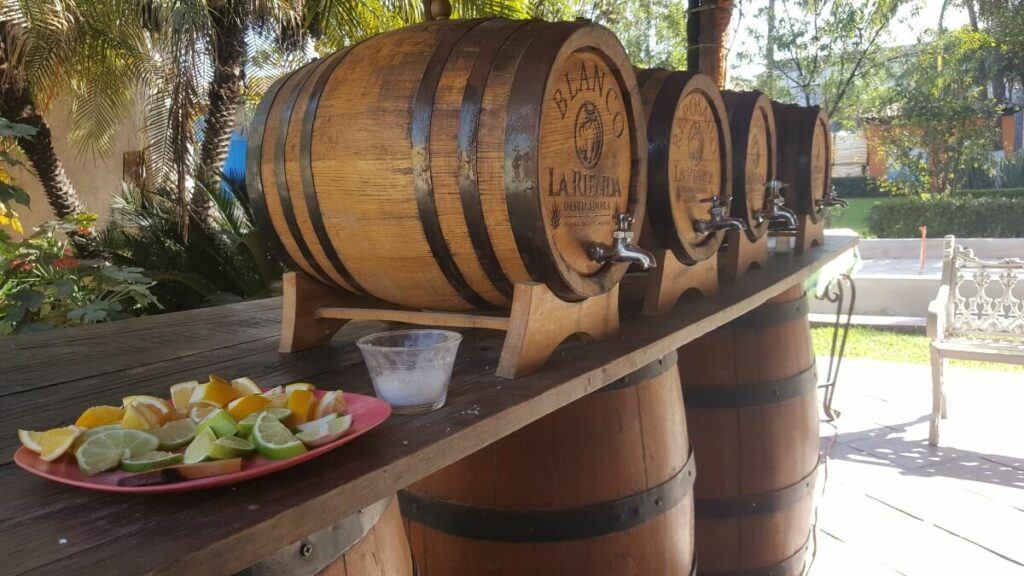 Mercado de Comidas Cleofas Mota. If you'd like to eat something authentic and affordable, this is the place to go. It's right next to the main plaza. You can find all sorts of Mexican dishes like chilaquiles, carne en su jugo, tortas, tacos, etc.
Feria Nacional del Tequila. This is the most important festival in Tequila. It is held every year between November 30 and December 12. There are events throughout town including parades, cockfights, charreadas, fireworks, rides, and mariachi music. One of the best times to visit Tequila!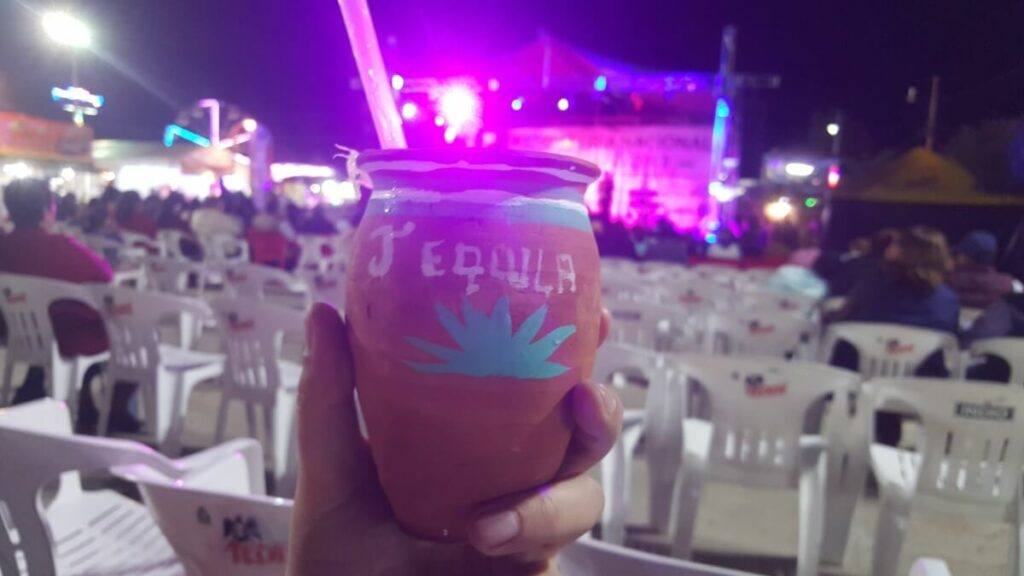 Day 4: Guachimontones and Guadalajara
Guachimontones. This archaeological site is famous for its circular pyramids. How cool is that? I had never heard about such things, but yes, they do exist and they're impressive. You can tour the area on your own, but I recommend hiring a guide if you want to learn the history of the place and everything about it. There is a museum on site that you can visit too.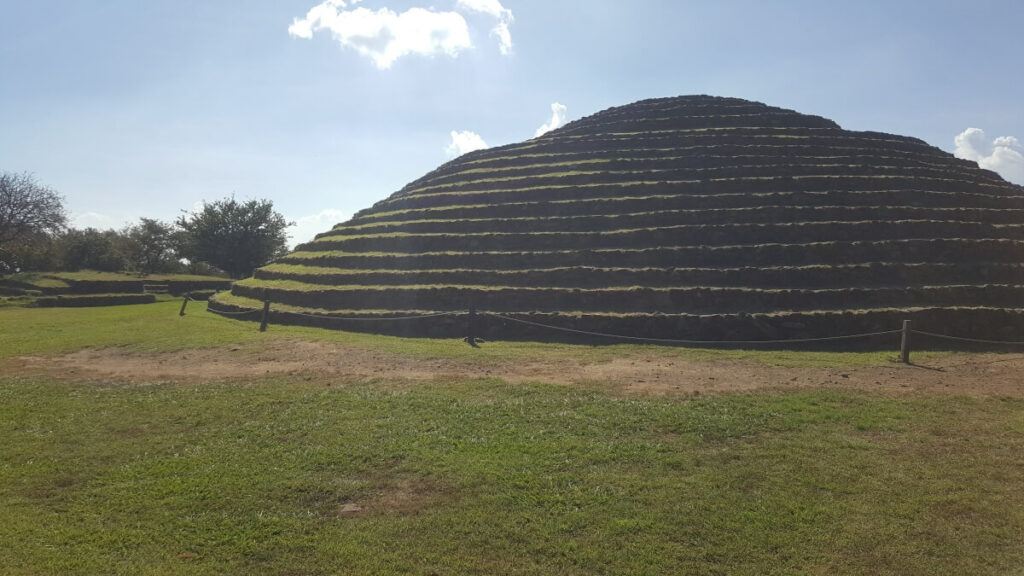 Trying Pre-Hispanic Foods. Are you a foodie? If yes, have you ever tried worms, grasshoppers, and other insects? If you haven't, this is your chance! There is a small restaurant on the way back from Guachimontones where you can try these delicacies.
Teuchitlán. There is not really much to do here, except for a few artisan shops you can visit. I got myself a nice bracelet, and an artisan told me they can show you around if you want.
Arcos Vallarta and the Minerva. Arcos Vallarta is an archway that commemorates the 400th anniversary of Guadalajara. The Minerva is a fountain and is the icon of Guadalajara. It is where locals gather to celebrate a soccer victory, for instance. Both landmarks are located in the modern part of Guadalajara. Besides downtown, this is another excellent area for your stay.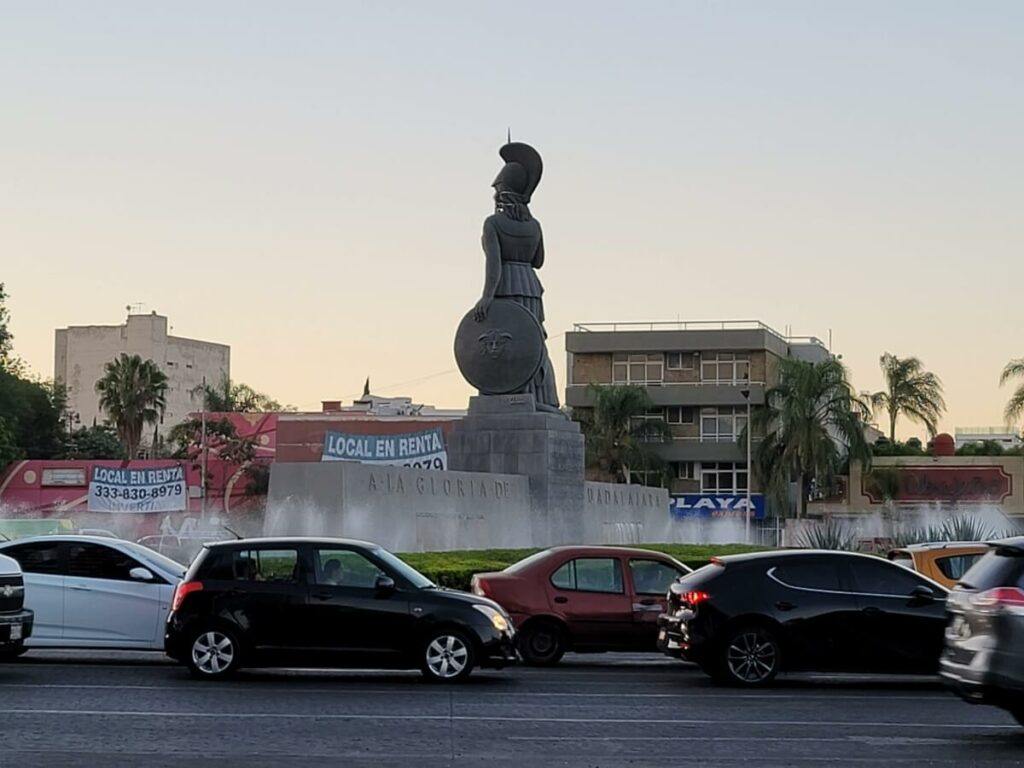 Templo Expiatorio. This beautiful temple in Guadalajara boasts a neo-Gothic style. It was built between 1897 and 1972 and is dedicated to the Blessed Sacrament. A true masterpiece of architecture.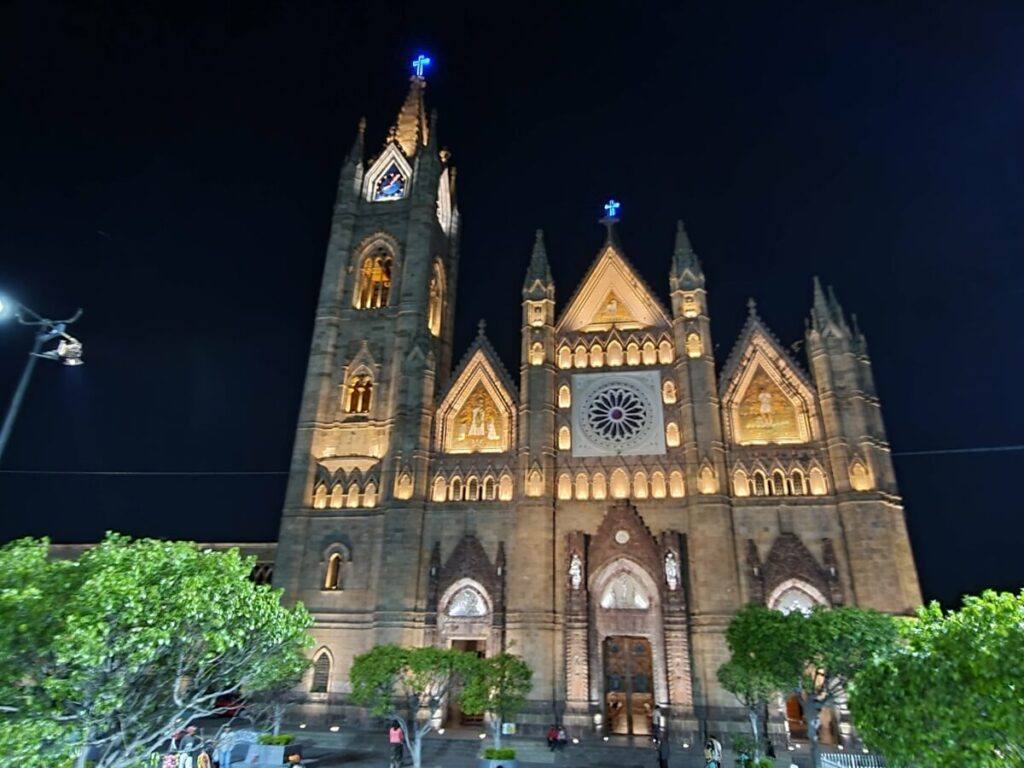 Plaza Expiatorio. Outside the church, there is a plaza with a fountain and benches where locals gather every day of the week. It looks beautiful, especially when lit up at night. If you're looking for a cheap bite, this is the place.
Day 5: Downtown Guadalajara
Main Square. This beautiful plaza is a gathering place for locals. There are trees, benches, statues, and a French kiosk in the center. From music performances to comedy shows, there is always something going on here.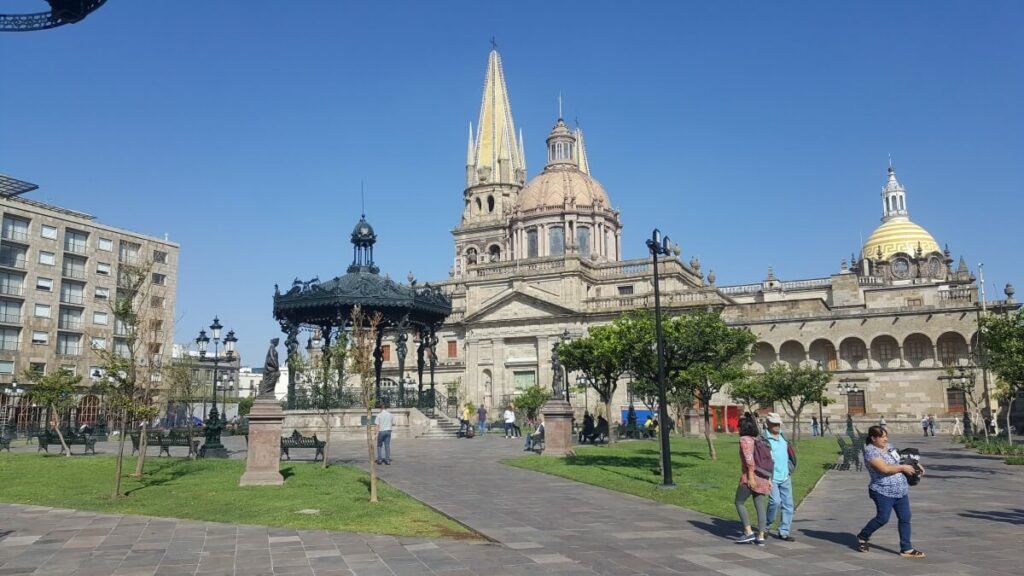 Cathedral. This church boasts a Spanish Renaissance style. It dates back to 1618. It is dedicated to the Assumption of Our Lady. The altar inside is made of marble and silver, and the stained glass came from France.
Museo Regional de Guadalajara. One of the best museums in Guadalajara and a must if you want to learn about the history of the city. The building dates back to the 18th century and houses archaeological and historical artifacts.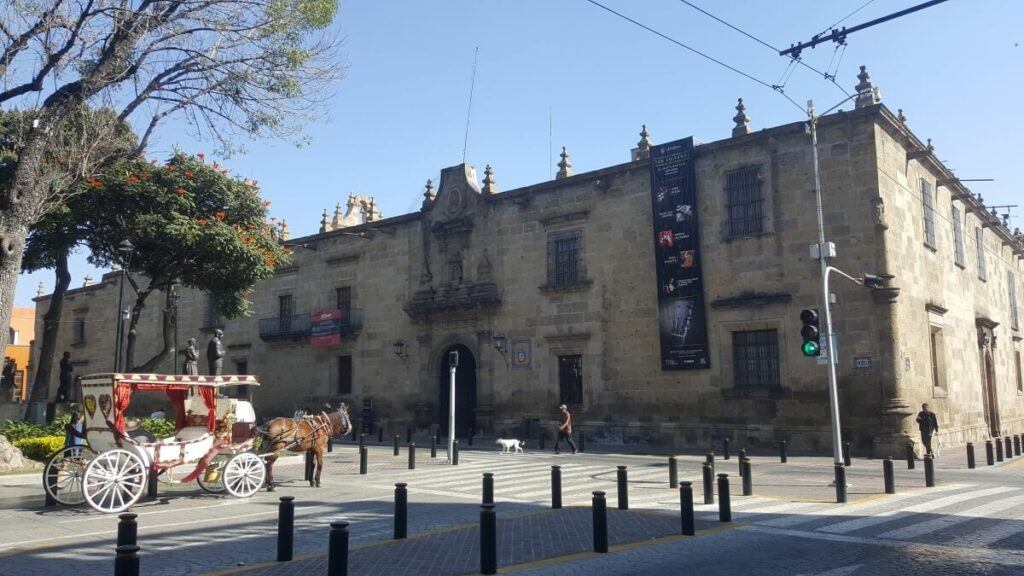 Rotonda de los Jalisciences Ilustres. This landmark is located in the heart of downtown Guadalajara and honors the memory of notable figures of the state of Jalisco. The rotonda is made of quarry and has 17 columns.
Government Palace. This government building hosts a couple of impressive murals depicting the history of Mexico.
Plaza de la  Liberación. This plaza is located behind the cathedral. It's an excellent point to start exploring the city as most attractions are nearby. You can ride a horse-drawn carriage, watch a musical performance, admire the architecture and sculptures, buy snacks, take tons of pictures, or just relax on a bench. One of the best times to visit is spring when the jacaranda trees blossom and everything looks purple.
Teatro Degollado. One of the most beautiful theaters in Mexico. It was inaugurated in 1866 and is still an important venue for artistic events like plays, dances, and operas. If nothing is going on, they can let you enter the theater just to see around.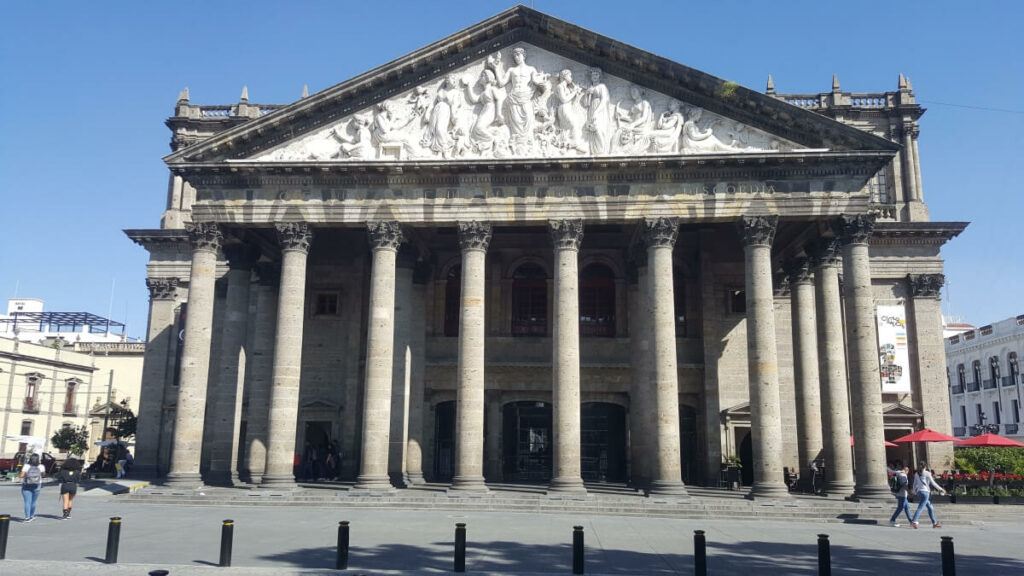 Instituto Cultural Cabañas. If you were to visit just one museum, I recommend you visit this one. This cultural complex hosts temporary and permanent art exhibits, including the impressive frescoes by Mexican artist José Clemente Orozco. Due to its cultural and historic significance, it is part of UNESCO's World Heritage Sites.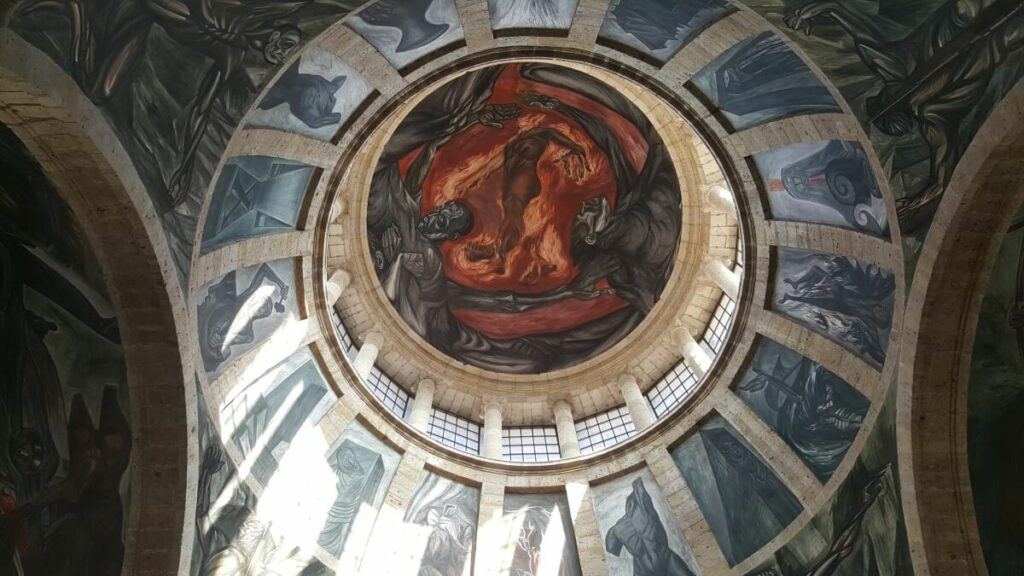 Mercado Libertad San Juan de Dios. Right next to Instituto Cultural Cabañas, you will find this market. It's the largest indoor market in Latin America. You can find everything inside: clothes, toys, handicrafts, souvenirs, and of course, delicious Mexican food. Don't miss the torta ahogada, Guadalajara's signature dish. It's a torta with pork carnitas, beans, and onion covered in a chili sauce.
Paseo Chapultepec. To end the night, head over to Paseo Chapultepec, the chic area of Guadalajara. There you will find plenty of restaurants, coffee shops, bars, and nightclubs to dance the night away. There is a nice corridor in the middle of the avenue, where you can buy handicrafts jewels, among other items. Oh, you can also rent a bike to tour the area if you don't feel like walking.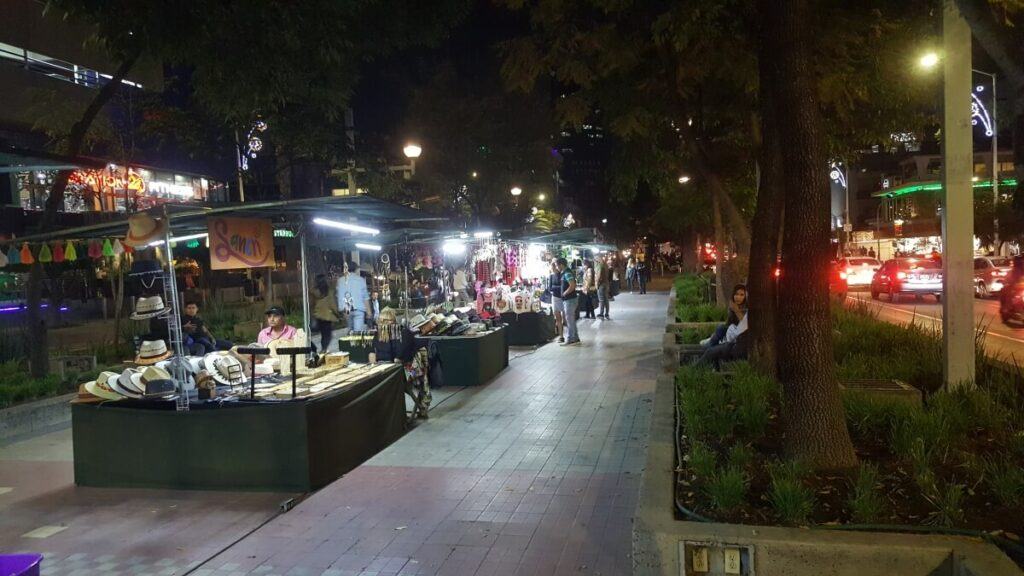 Day 6: Zapopan
This is our last day, so let's make the most of it. Here are some ideas:
Bosque Los Colomos. This is a nice park on the outskirts of Guadalajara. It has several walking paths, picnic areas, and even a Japanese garden. Whether you want to break a sweat or just take a break from the hustle and bustle of the city, then this is the place to go.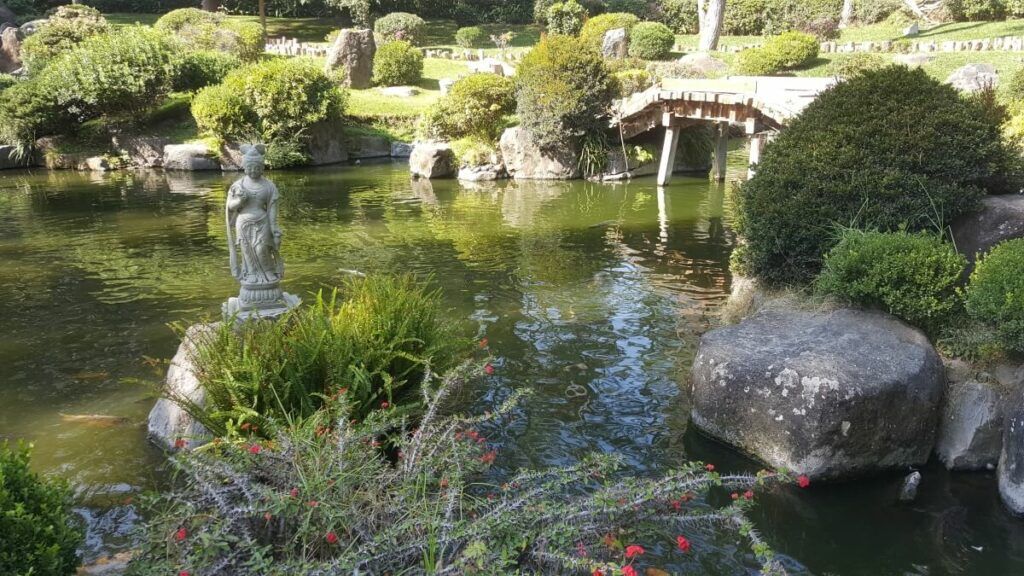 Plaza de las Américas. The main plaza of Zapopan and a gathering place for locals. There are trees, a kiosk, sculptures, and benches where you can relax as people pass by.
Basilica. One of the most visited churches in western Mexico. It was built in the 17th century and is dedicated to Our Lady of Zapopan.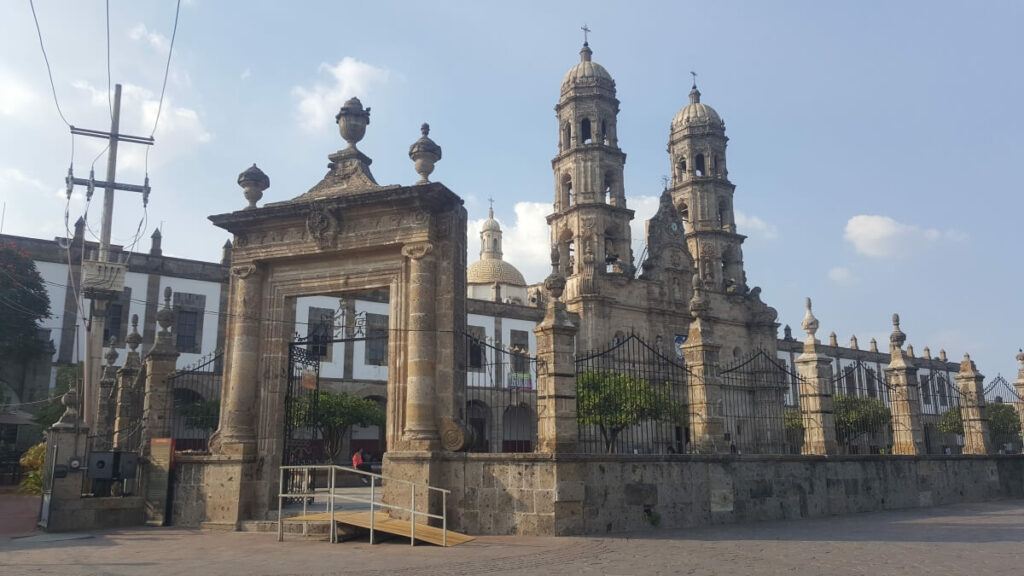 Huichol Museum. A small museum featuring an exhibit about the Huichol culture and a gift shop where you can buy items made by them.
Andador 20 de Noviembre. A beautifully decorated corridor with restaurants, coffee shops, and souvenir shops. If you haven't bought any souvenirs yet, this is your final chance to do it.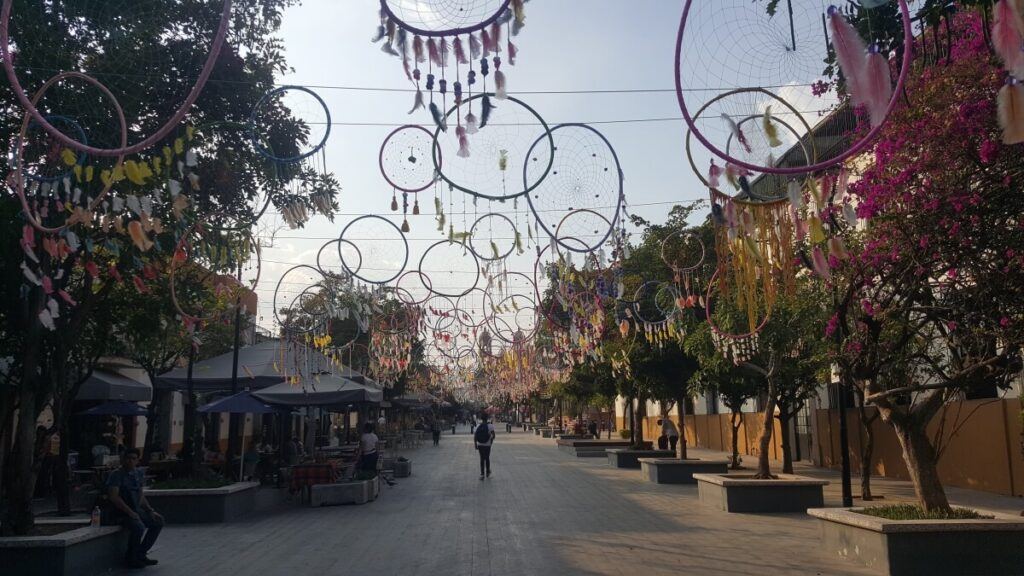 Arcos de Zapopan. A historic monument built to honor the founders of the city.
Fonda de Doña Gabina Escolástica. This two-story restaurant boasts Mexican decor and offers signature dishes like tacos dorados, enchiladas, tostadas de pata, and more. One of the best places in town.
Akron Stadium. If you're lucky and a soccer fan, then you don't want to miss visiting this place. It's one of the most modern stadiums in Latin America and home of Guadalajara FC, better known as Chivas. Mexican soccer matches are out of this world!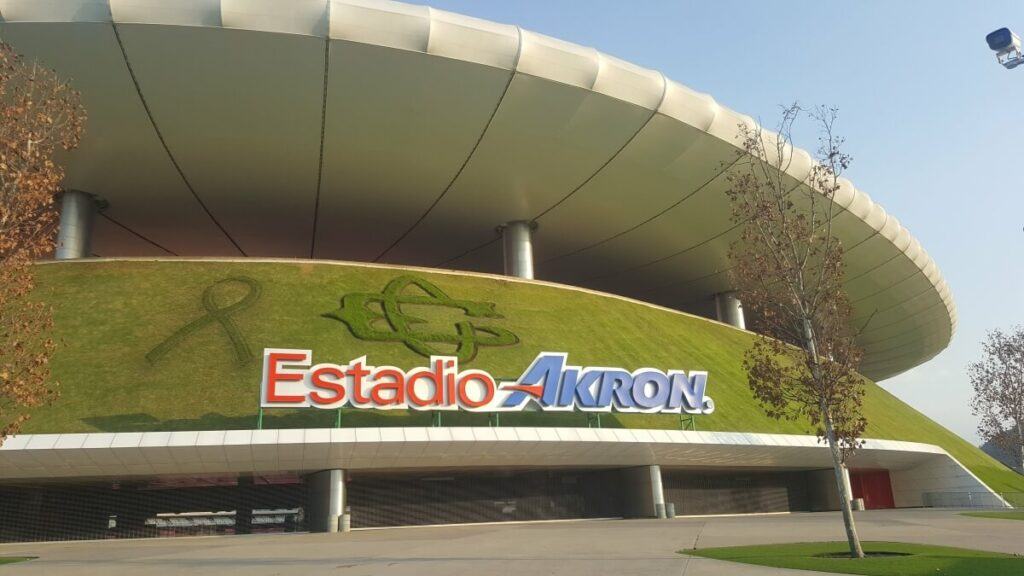 Best Time to Visit
It's always a good time to visit Guadalajara. Summers and winters are mild, making it an ideal place to visit any time of the year. The temperature ranges between 12°C and 35°C (53.6°F – 95°F) most of the year. The rainiest months are July-September, especially August. However, it doesn't rain all day. It's mostly the evening.
There are several cultural events that might interest you. Some of them include:
Guadalajara International Film Festival in March.
Festival Cultural de Mayo in May.
Feria de Tlaquepaque on the second half of June.
Festival de Jazz de Jalisco in July.
Festival Internacional de Mariachi y Charrería in September.
Fiestas de Octubre in October.

Feria Internacional del Libro on the last week of November.

Feria Nacional del Tequila in early December.
How to Get There
Guadalajara is served by Miguel Hidalgo y Costilla International Airport. It is located 23 km (14 miles) from downtown.
All the major Mexican airlines fly into and out of Guadalajara. International destinations include Dallas, Houston, San Antonio, Chicago, Fresno, Los Angeles, San Diego, Memphis, Cincinnati, Phoenix, Atlanta, Miami, Orlando, Las Vegas, Reno, Toledo, Anchorage, Panama City, and Madrid.
Some bus companies that serve Guadalajara are La Línea Autovías, Turistar, ETN, Primera Plus, and Omnibus de México.
How to Move Around
Once at the airport, you have five options to get downtown:
Take a Viva Bus headed to the bus station. The fare is 80 pesos ($4). Check the schedule here.
Walk outside and catch a white and red local bus. It charges only 10 pesos ($0.50), but it's not the best option if you carry too much luggage. There is no space to store it.
Take a taxi. It will charge you between 250 and 400 pesos ($12.50 – $20).
Take Uber. It charges between 150 and 200 pesos ($7.50 – $10). Remember you can't take it inside the airport. You have to walk outside.
Rent a car from one of the many agencies around.
Public transportation is easily accessible and convenient to go everywhere. There are local buses, a trolleybus, and a light rail. On average, the fare is 10 pesos ($0.50). There are also many bike rental stations throughout downtown that charge per hour. All you need is a smartphone and a credit card. You can check this link to learn more about public transportation in the city.
Taxis are metered, but drivers don't always use the meter. Ask the driver to use it or negotiate a rate beforehand. The base fare is around 10 pesos ($0.50) and 7 pesos ($0.35) per kilometer.
Uber is widely available and safe. Other rideshare apps available are Didi and Cabify. They are usually cheaper than Uber.
Where to Stay
The best places to stay are downtown, Chapultepec, and the area around the Minerva. Some places that I recommend due to their location, service, and price are:
Hostal Guadalajara
Olga Querida B&B Hostal
Casa Colores Hostal
La Casita de los Pájaros
Casa Santuario Hotel Boutique
Since Guadalajara is one of Mexico's largest cities, there are plenty of lodging options available. You won't have major trouble finding something that fits your needs.
Where to Eat
There are so many options to choose from that you might feel overwhelmed. Some places I recommend are:
Mercado San Juan de Dios ($). Traditional dishes at unbeatable prices. Address: C. Dionisio Rodríguez 52, San Juan de Dios, 44360 Guadalajara, Jal., Mexico.
Food stalls outside the Templo Expiatorio ($). Hot dogs, burgers, tacos, tamales, elote, a little bit of everything. Visit at night. Address: C. Manuel López Cotilla 935, Col Americana, Americana, 44160 Guadalajara, Jal., Mexico.
Paseo Chapultepec ($-$$). Food stalls and restaurants offering Mexican food, American food, Italian food, cocktails and more. There is something for everyone.
Fonda Doña Gabina Escolástica ($$). A nice place with Mexican decor and traditional Mexican food at reasonable prices. Address: Javier Mina 237, Centro, 45100 Zapopan, Jal., Mexico.
Tortas Ahogadas Las Famosas ($). Some of the best tortas in town. Address: P.º Degollado 82, Zona Centro, 44100 Guadalajara, Jal., Mexico.
Mercado Municipal Benito Juárez ($). Traditional Mexican food at affordable prices. Address: C. Pemex, San Pedrito, 45625 San Pedro Tlaquepaque, Jal., Mexico.
Suggested Budgets
If you're backpacking, you're looking at around 1,050 pesos ($52.50) per day. This includes accommodation at a hostel/cheap hotel, a combination of street food and home-cooked food, local transportation, and a few attractions per day (museums, parks, etc).
A mid-range budget is around 1,950 pesos ($97.50) per day. This includes accommodation at a 2-star hotel/Airbnb, cheap restaurants, a few more attractions than the backpacker budget, and a taxi if need be.
Finally, if you don't want to limit yourself, then a luxury budget will cost you at least 5,100 pesos ($255) per day. This includes staying at a 4-star hotel, eating at nice restaurants, taking taxis/Uber everywhere, and taking tours/guided trips.
Keep in mind these figures are just estimates. Some days you will spend less, while others you will spend more. This will give you a foundation to plan your budget and adjust it as necessary.
For your convenience, I created a table comparing the budgets we mentioned above. The prices are in Mexican pesos ($1 = 20 pesos).
| | | | | | |
| --- | --- | --- | --- | --- | --- |
| | Lodging | Meals | Transportation | Attractions | Average Cost Per Day |
| Backpacker | 300 | 250 | 100 | 400 | 1,050 |
| Mid-range | 700 | 450 | 200 | 600 | 1,950 |
| Luxury | 2,000 | 1,500 | 400 | 1,200 | 5,100 |
Tips for Saving Money
If you'd like to save some money when visiting Guadalajara, you can try some of the following:
Stay at a hostel or use Couchsurfing (an app that connects travelers looking for free lodging).
Eat street food. Food stands are easy to find and are an affordable option. Other excellent options are visiting the city markets or mall food courts.
Walk and/or use public transportation as much as possible.
Although Uber is generally cheaper than taxis, fares can increase considerably due to surge pricing. This usually happens on weekends and weekdays before/after work hours. In that case, a regular taxi might be a better option.
For cheap souvenirs, head over to the city markets.
Look for free walking tours online. You just have to tip your guide at the end of the tour.
Several museums are free. Some of them include the Exconvento del Carmen, MUSA, Museo de Sitio de Palacio de Gobierno, and Casa Museo López Portillo. Others are free on certain days of the week. Such is the case of the Museo de Paleontología on Tuesdays.
During art or cultural festivals, there always free events going on like movie screenings, art exhibitis, or performances.
How to Stay Safe
Considering it's a huge city, Guadalajara is a safe city for the most part. The safest areas are the Historic Center (around the Cathedral), Chapultepec, and the area around the Minerva.
Exercise caution at the area close to Mercado San Juan de Dios and Plaza de los Mariachis. Avoid walking alone at night, especially in dark streets and alleys.
Leave valuables at your hotel. Only bring what you will really need. Never leave your belongings unattended out in public.
Don't take street taxis. Always take taxis de sitio or Uber.
If you ever find yourself in an emergency, you can dial 911.
Tap water is not safe to drink. Use a water filter or buy bottled water instead.
Last but not least, don't forget to buy travel insurance to cover any unforeseen circumstances.
Apps to Download
To make the most out of your visit, I recommend downloading the following apps:
Guadalajara Map and Walks. Free self-guided tours created for your convenience.
MiBici Guadalajara. Find the closest bike rental station to you and pay for it online.
Moovit. Get the ins and out of public transportation. Just enter your origin and destination and find out which bus to take.
Uber. The most important rideshare service in Mexico.
Google Maps. Find driving directions and download maps for offline use.
Parkopedia Parking. Find the nearest garage/parking lot.
Google Translate. If you don't speak fluent Spanish, then make sure you have this app.
TravelSAFE. Connect to an emergency hotline by just pressing the SOS button.
MyCurrency. Find the latest exchange rate to know how much something is costing you.
Tripadvisor. Learn about other travelers' experiences and recommendations for hotels, restaurants, and other places in town.
Busbud. Find bus schedules (when traveling to other cities) and book cheaper tickets online.
Travello. Find other travelers on the road and make new friends.
Conclusion
As you can see, there are plenty of things to do in 6 days in Guadalajara. You will fall in love with this city after your first visit. I know from experience.
I hope you liked this itinerary. Feel free to make changes and/or adjust the activities for each day. That's the fun part of trip planning.
Have you visited Guadalajara? What would you add to the list above? Let me know in the comments below. If you have any questions, please leave them below, and I will answer them as soon as possible. Bon voyage!
Book your trip now!
Book your flight
The first thing you have to do is find cheap flights. But where do you find those? There are many search engines, but the one I highly recommend is Skyscanner. Here you can compare fares from all over the world and pick the one that suits you best.
Book your accommodation
The next thing you have to do is secure your lodging. Whether you prefer a hostel, a guesthouse, a B&B, or a hotel, you can find them all on Booking. You can find lodging of all kinds ranging from cheap to expensive and somewhere in between. Many people have scored good deals using it.
Another popular option is Hostelworld. This website focuses on hostels as opposed to hotels.
Book a tour
In some places, you might want to hire a tour. Not all places are equally accessible to visit by oneself. It helps enormously when you visit with a local guide who can show you around and answer any questions you might have…all in your native language. My to-go place is Viator as they offer tours of all kinds and have a presence all over the world.
Rent a car
Public transportation is usually cheaper than renting a car, but it's sometimes more complicated and time-consuming. That's a reality. In some cases, it's more convenient to rent a car. My recommendation is Rentalcars.com. Here you can compare rates and choose the one that fits you best.
Book your bus tickets
You can save money by booking bus tickets online. My favorite site to do this is Busbud.
Get travel insurance
Never travel without a travel insurance policy, especially during these days! Travel insurance can save your life. My recommendations are World Nomads and Insured Nomads. Both companies cover COVID-19 related incidents, which is crucial these days.
More resources
Just click on the "Plan your trip" tab at the top of this page, and you will find more resources like getting Mexican insurance for your foreign car, buying travel accessories, and learning Spanish. And, of course, don't forget to check back often to read about more tips on Mexico travel.