Located in central Mexico halfway between Mexico City and Guadalajara, Morelia is a truly hidden gem. You don't find too much information about it, and it's often overlooked by international tourists. Most tourists in Morelia are Mexican, so if you're looking for an authentic Mexican experience, this is the place to go.
Morelia is one of the most beautiful colonial cities in Mexico. Walking along its streets is like traveling back in time. It doesn't surprise us that its historic center was named a World Heritage Site by UNESCO in 1991. There are plenty of things to do and see there. That's why today we will share with you a lot of ideas to spend 4 days in Morelia. Let's get started!
Day 1: Morelia's Historic Center
Jardín de las Rosas. I bet you're hungry upon your arrival in Morelia. I recommend you head over to Jardín de las Rosas to eat something. It's a beautiful plaza with gardens, a fountain, restaurants, and cafes. The prices are reasonable, and the views are stunning. We ate at Viandante and really loved it. After your meal, you can sit for a while on one of the benches available or continue with your itinerary.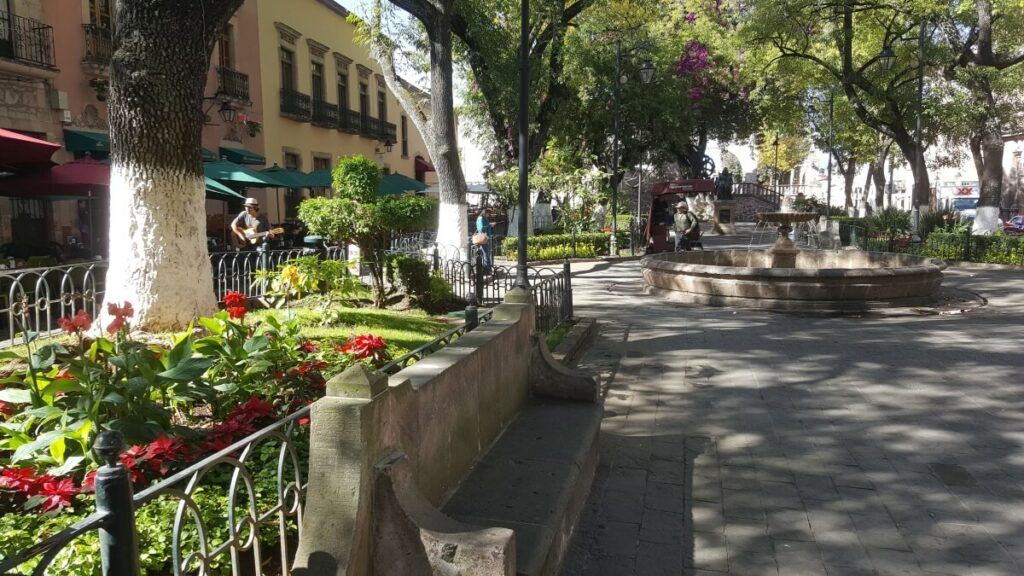 Museo del Estado. Right across the street, you will find this museum. The building dates back to the 18th century and houses artifacts from all over the state. Some of them date back to pre-Hispanic times.
Museo de Arte Colonial. You will find an impressive collection of religious paintings and 100+ Christs.
Templo de Nuestra Señora del Carmen. This is one of the oldest temples in Morelia. It dates back to the late 16th/early 17th centuries. It's notable for its domes, its bell tower, and its interior paintings.
Casa de la Cultura. This building is located behind the Templo de Nuestra Señora del Carmen and was a Carmelite convent many years ago. It is now a cultural center where you can find art workshops, exhibits, concerts, among other cultural activities.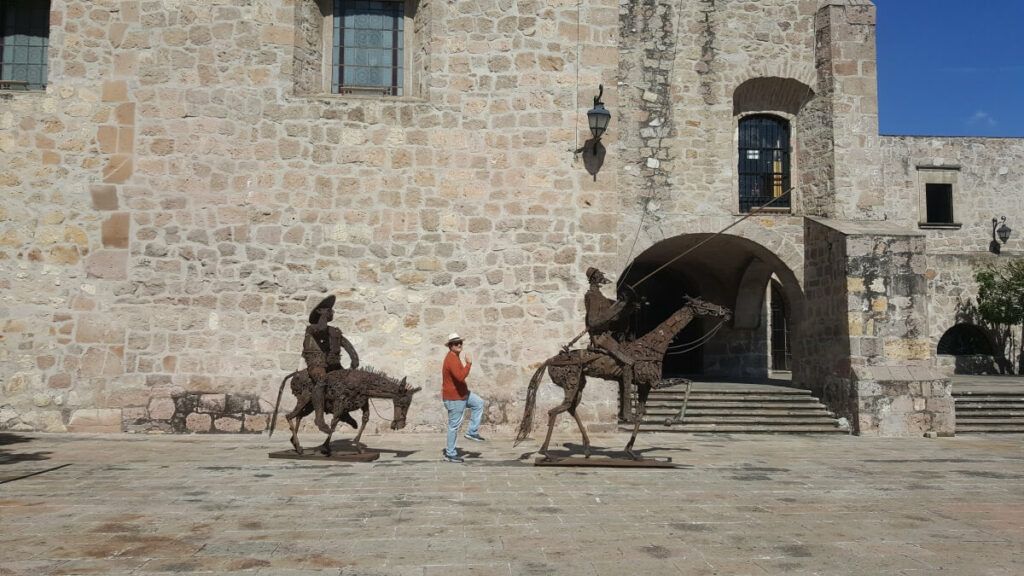 Mercado de Dulces. A large market with lots of candy, handicrafts, and typical clothing. This is the best place to buy souvenirs at good prices.
Palacio Clavijero. If you could only visit one museum in town, I recommend this one. It's a beautiful Baroque building that dates back to the 18th century. It is divided into 8 rooms that house temporary and permanent art exhibits. It's a must when visiting Morelia.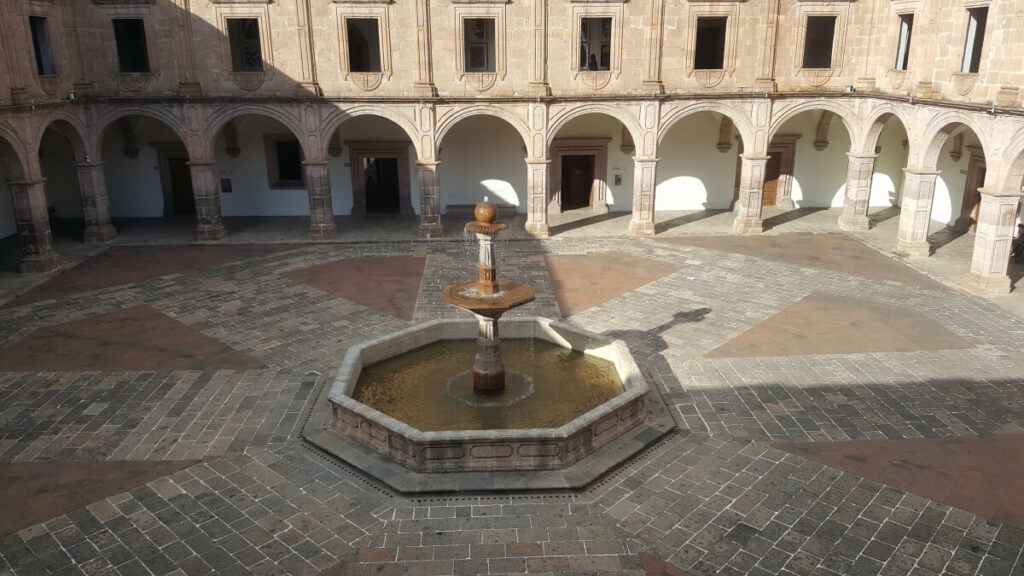 Gazpachos. Morelia locals love a fruit salad named gazpacho. It has nothing to do with the Spanish soup. Instead, this salad has jicama, mango, pineapple, watermelon, onion (yes, you read it right), orange juice, and is topped with Cotija cheese, salt, and ground hot pepper. It's delicious! You can find them all over town, but the ones we tried and can recommend are known as La Cerrada.
Plaza de Armas. The main square is the heart of Morelia and a gathering place for locals. It is beautifully decorated for special occasions like the Day of the Dead and Christmas. Also, you can ride the trolley from here or take a walking tour around town. My favorite tours are legend tours where they act out the stories for you while visiting historic places.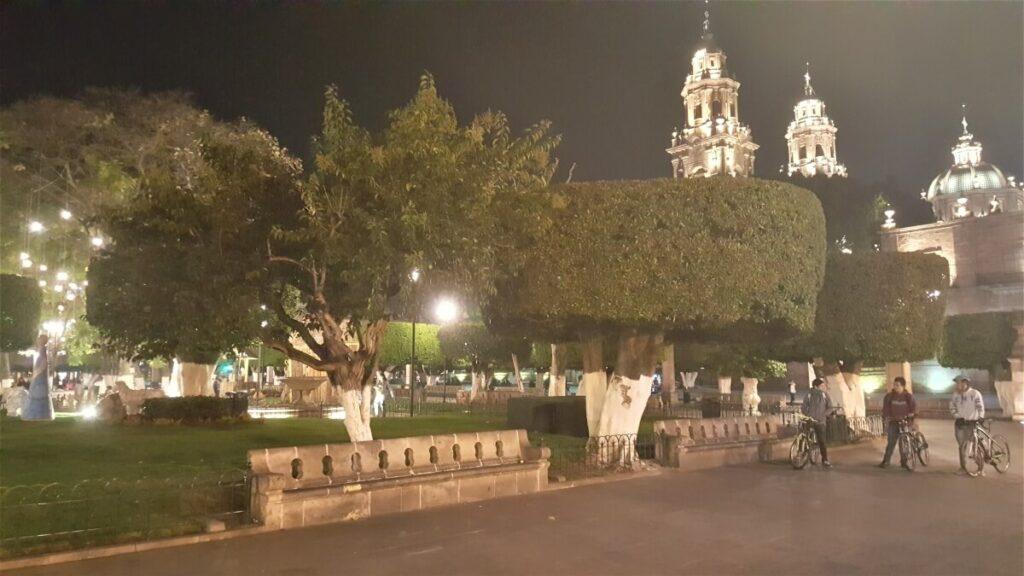 Day 2: Morelia's Historic Center
Aqueduct. Morelia is famous, among other things, for its pink stone aqueduct. It has 253 arches and reaches a maximum height of approximately 30 feet. They stopped using it around 1910.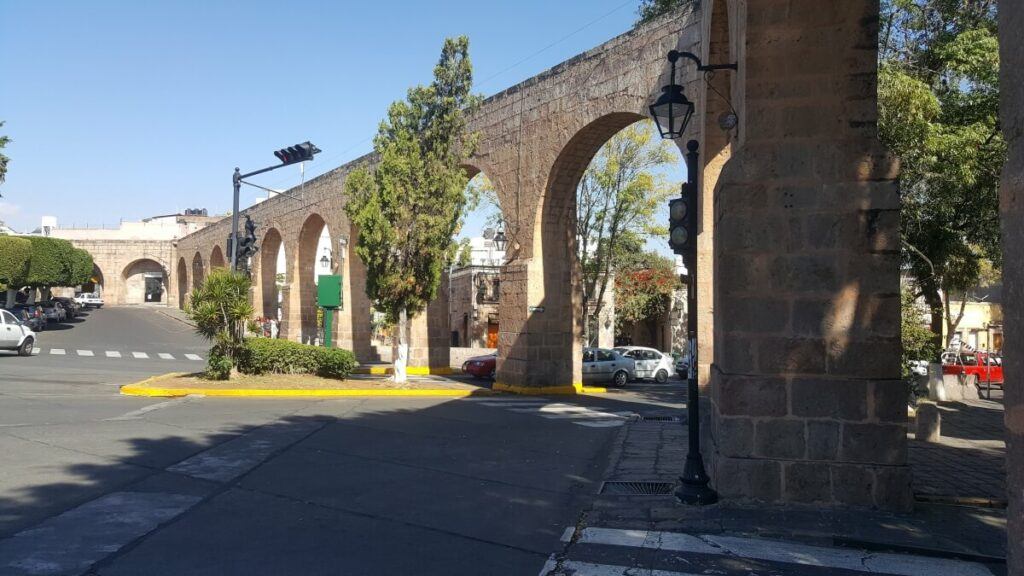 Bosque Cuauhtémoc. If you want to escape a little from the city, you can head over here. There are shady trees and playgrounds for the whole family. Locals visit this place to play soccer, work out, or simply relax.
Plaza Jardín Morelos. This is the largest public square in Morelia. There is a sculpture of Morelos, one of the pioneers of Mexican Independence, in the center. It was designed by the Italian sculptor Giuseppe Inghilleri.
Santuario de Nuestra Señora de Guadalupe. The exterior may be nothing remarkable, but don't let that fool you. The inside is breathtaking. It is one of the most beautiful churches I've ever seen. The interior is decorated in red, pink, and gold tones. It's a true masterpiece.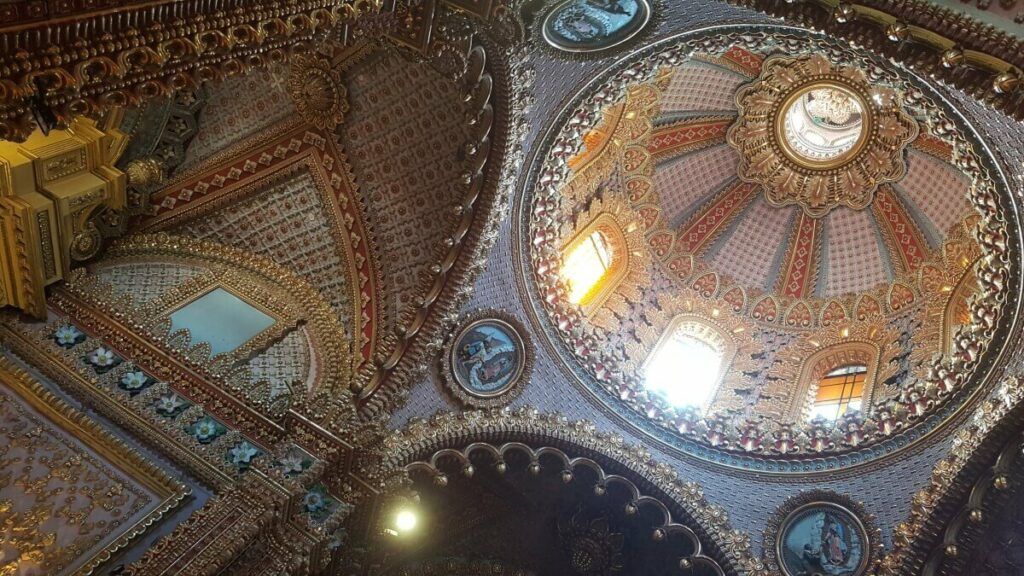 Calzada Fray Antonio de San Miguel. This esplanade leads the way from the previous church to the aqueduct in the Historic Center. It's a nice place to take a stroll. I had to return at night to see it light up. It looks beautiful!
Fuente de las Tarascas. This fountain is a popular landmark in Morelia. It features sculptures of three women holding a basket with fruit This is the perfect spot to take some photos with the fountain and aqueduct as the background.
Callejón del Romance. This alley is popular among local couples. It feels like walking along an old Italian street. You will find plants hanging from the walls as well as pieces of a poem written by a local author. You will find plenty of photo opportunities. At the end of the alley, there are some cafes where you can relax and eat something.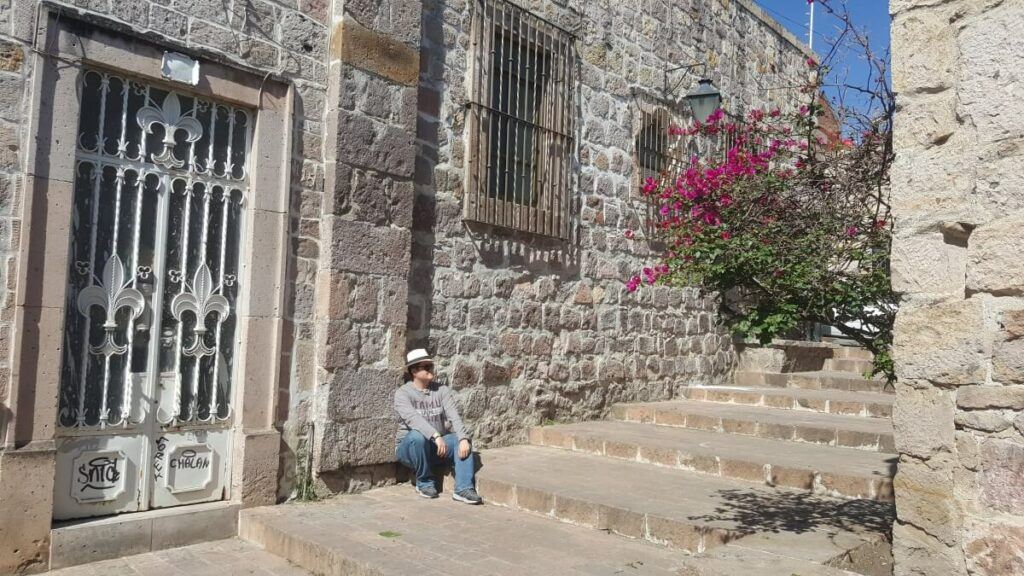 Museo del Dulce. Morelia is famous for its sweets. Both young and old will love this museum. Not only will you learn about the history of local sweets but also about their making process. At the end of the tour, there is a large shop with all kinds of sweets imaginable. If you have a sweet tooth, you don't want to miss out!
Instituto del Artesano Michoacano. This building dates back to the 16th century and was a convent back then. It is now a place dedicated to preserving the arts and traditions of Morelia. You can find exhibits, conferences, workshops, and, of course, buy local handicrafts.
Casa Natal de Morelos. Did you know that Morelia was named after Mexican Independence hero Morelos? You can visit the place where he was born and learn more about his life and contributions to Mexican history.
Cathedral. The iconic cathedral is a work of art. It boasts a Baroque style and has a monumental organ inside. This organ was imported from Germany in 1905 and was the largest organ in the Western Hemisphere at the time.
On Saturdays, you can admire a cool video mapping show on the cathedral's facade. This event takes place every Saturday at 8 p.m. By the way, this show was made by the same company that was in charge of lighting up the Eiffel Tower in Paris. How cool is that?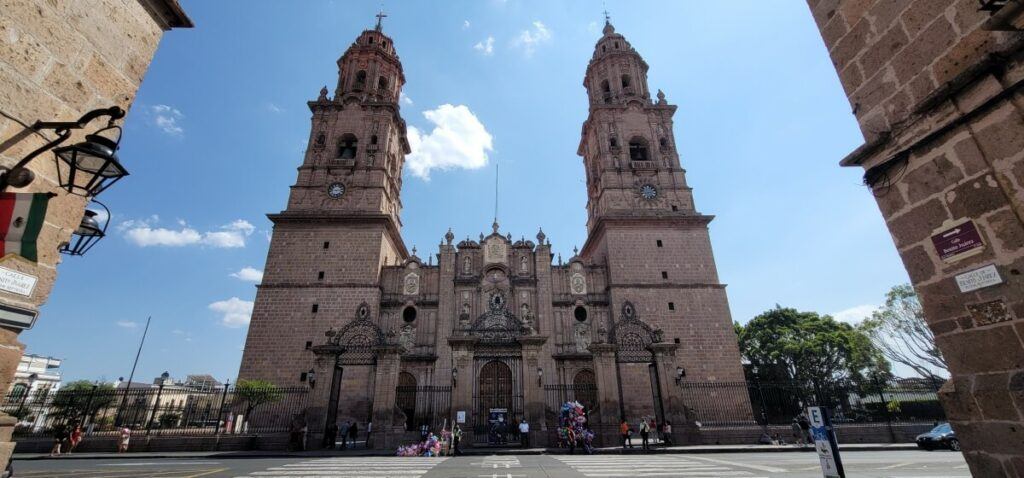 Day 3: Pátzcuaro
From Morelia, you can easily do day trips to two nearby pueblos mágicos: Pátzcuaro and Santa Clara del Cobre. Let's see what you can do in Pátzcuaro:
Templo de San Francisco. This is one of the most visited temples in town. There is a Christ inside that was made of sugar cane and that the way it was shaped and positioned makes it look too real. Some locals claim that it has even moved.
Santuario de Guadalupe. This sanctuary was built by a former slave that was brought from Cuba to Mexico during the 19th century. It is known for its seven sculptures representing seven virtues.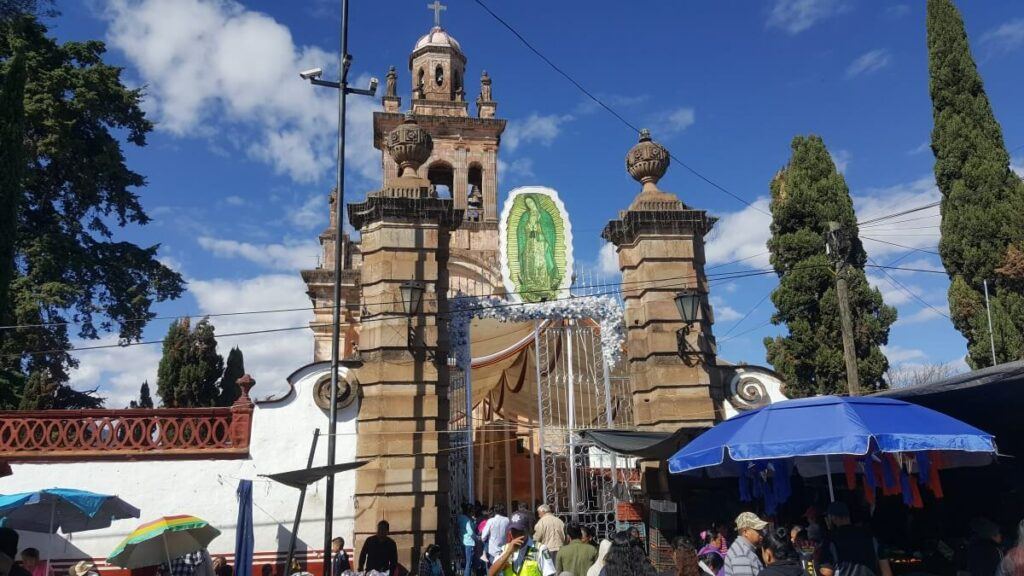 Plaza Gertrudis Bocanegra. Known by the locals as Plaza Chica, this is one of the two main plazas in Pátzcuaro. It's surrounded by hotels and restaurants. On the west side, you will find the local market where you can buy fruits, vegetables, herbs, and traditional clothing.
Basílica de Nuestra Señora de la Salud. This basilica was built on top of a former Purépecha pyramid. It was built during the 16th century. Inside you can find the remains of the first bishop, Don Vasco de Quiroga.
Centro Cultural Antiguo Colegio Jesuita. This former Jesuit college is now a cultural center with permanent and temporary art exhibits. You can also attend art workshops and courses on site.
Templo del Sagrario. This temple was built in the 16th century and boasts a Baroque style. It is an icon in Pátzcuaro. By the way, this is probably the most instagrammable spot all over town. You will see lots of people trying to take the perfect selfie, so it's better to visit early.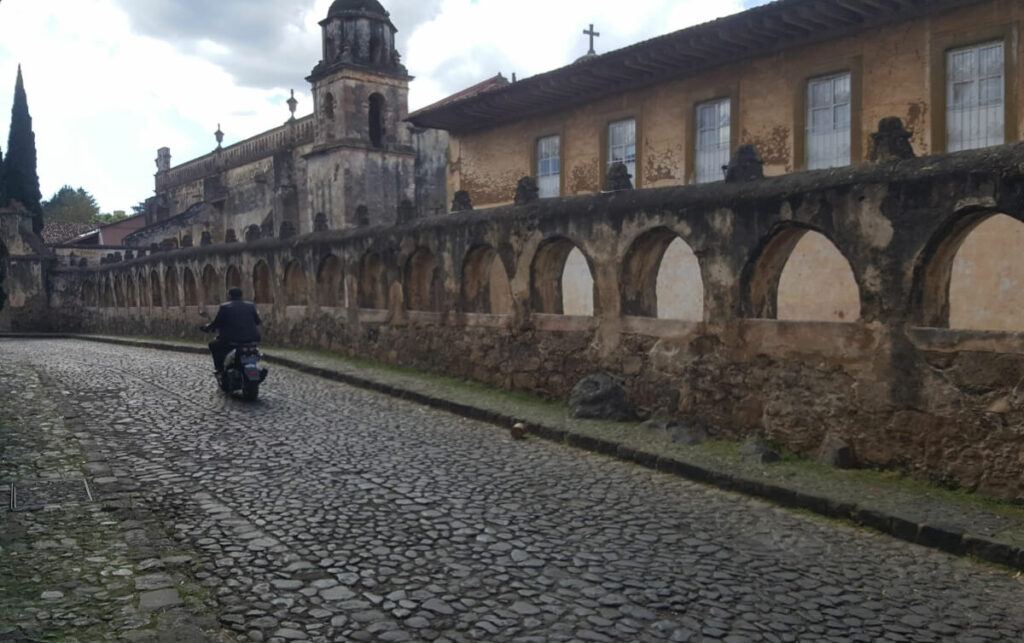 Casa de los Once Patios. This 18th-century building hosts a large crafts market. Although there are only five courtyards left, originally, there were eleven. Only the name remained. There are plenty of photo and shopping opportunities inside.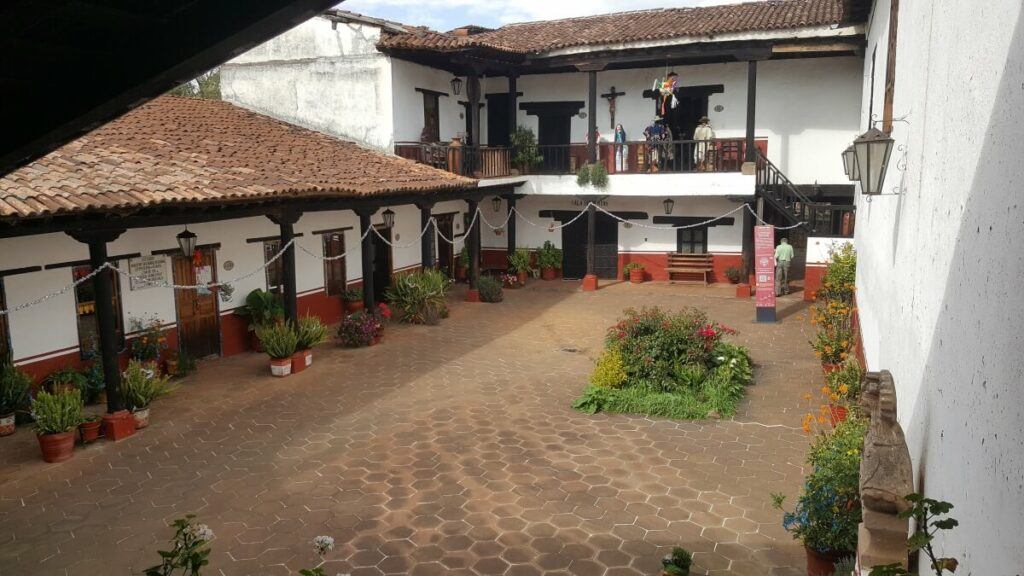 Plaza Vasco de Quiroga. Better known as Plaza Grande, this plaza is a gathering place for locals as well as a location for cultural events. Here you can watch the international dance of the old men (danza de los viejitos), where young men wear old men's masks and dance. This tradition goes back to the Spanish Colony times and was a way to mock the Spanish conquerors anonymously.
By the way, don't forget to try the nieve de pasta! It's some kind of caramelized ice cream. You can find it in front of Plaza Grande. It's delicious!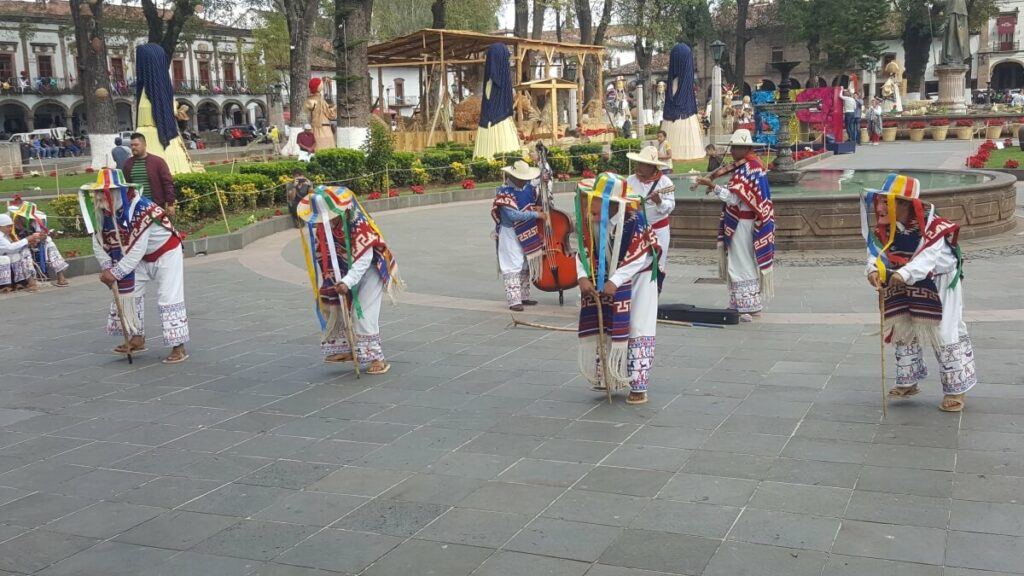 Day 4: Janitzio and Santa Clara del Cobre
This is our last day, so we'd better make the most of it. How about the following?
Pátzcuaro's pier. To go to the island of Janitzio, you have to take a boat. There are several piers at each of the towns surrounding the Lake of Pátzcuaro. However, most people take the boats at Pátzcuaro´s pier (embarcadero). There are several dining and shopping options in the area if you haven't bought anything yet.
Boat to Janitzio. The ride takes approximately 25 minutes. On the way to the island, you will eventually run into the mariposeros. They are fishermen that catch fish by using a butterfly-shaped net, hence the name.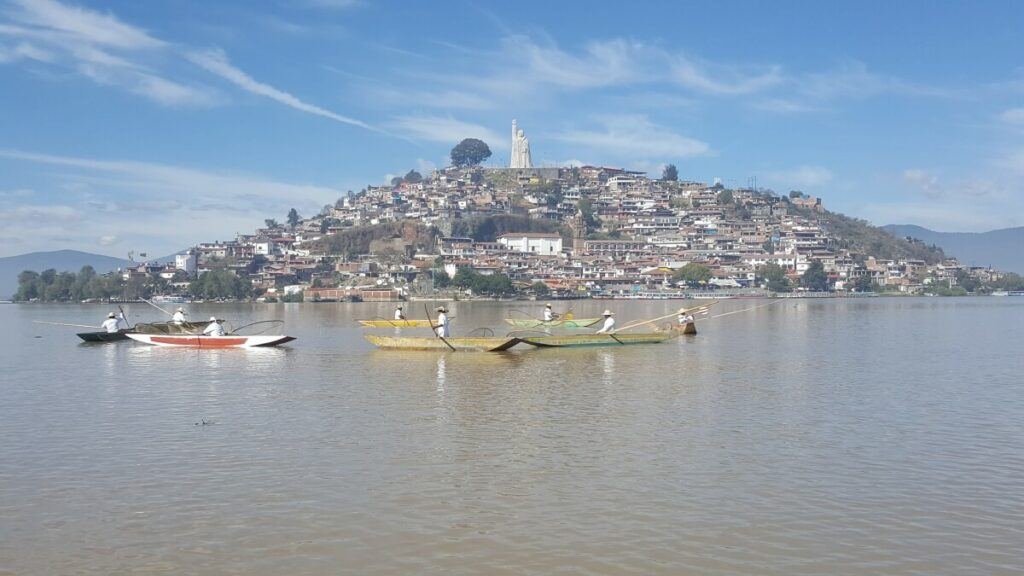 Janitzio Island. This island hosts a large market where you can find food, clothing, and handicrafts. Many tourists visit the local cemetery during the Day of the Dead festivity in November.
Morelos Statue. On top of the island, you will find a giant statue of Morelos. Inside the statue, there is a museum with an observation deck at the very top. There are no elevators, so it can be hard for some people to reach this place.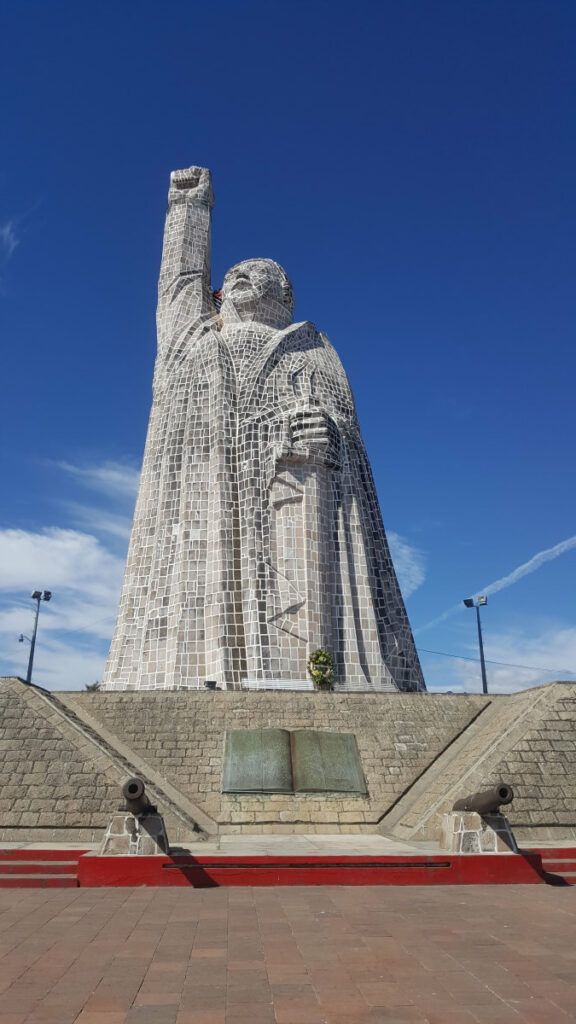 After spending a few hours in Janitzio, it's time to move on. You have to take another boat back to the pier, and from there, take a colectivo to go to Santa Clara del Cobre.
Santa Clara del Cobre takes its name from copper. There are many artisans in town that make different objects with this material.
Museo del Cobre. Our first stop will be the Museo del Cobre or Copper Museum. Here you will learn about the history and importance of coppersmithing in town.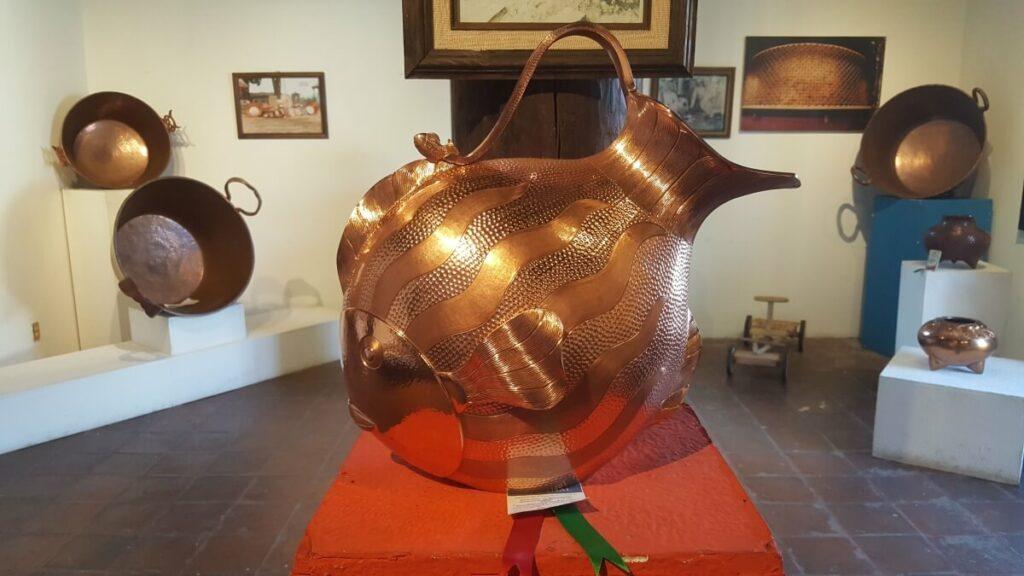 Visit a Coppersmith Shop. There are many places in town where you can buy all sorts of copper products and even watch an artisan at work. It's an interesting and educational experience.
Main Plaza. This is a gathering place for locals and is the heart of the town. There is a large copper casserole where you can take a cool picture.
Templo de la Inmaculada Concepción. This church dates back to the 16th century. It boasts a Baroque style. It is said that this was the place where Pito Pérez told his stories to the writer José Rubén Romero, who published a book about him in 1938.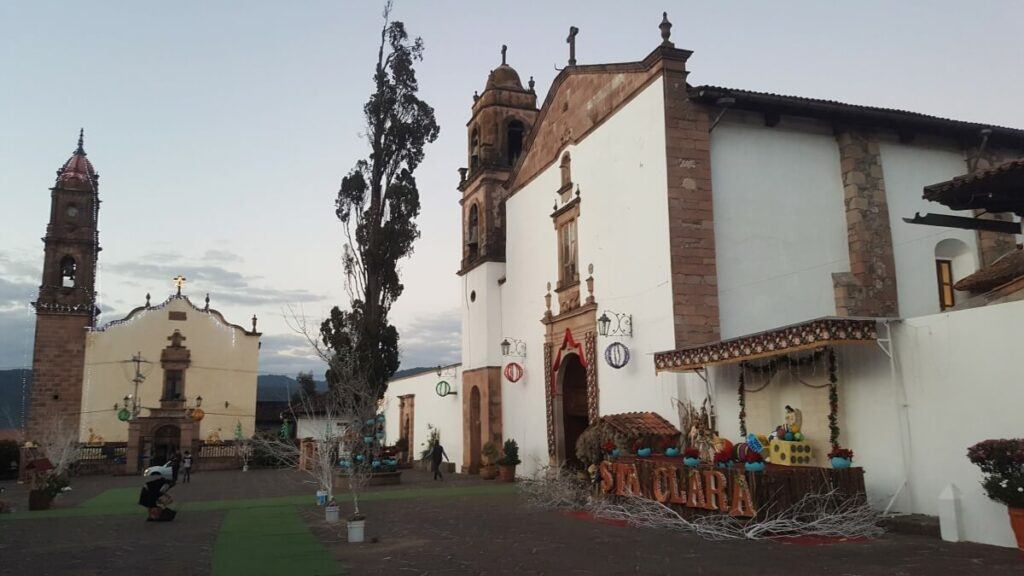 A Few Tips
Morelia started to appear on the radar of international tourists after the release of Disney's Coco. In the past, it was mostly Mexican tourists who visited this place, but that is slowly starting to change. As you can imagine, one of the busiest seasons is Day of the Dead on November 1 and 2. The hotels fill up fast in Morelia, Pátzcuaro, and surrounding towns. If you're planning to visit around those dates, it is highly recommended you book a hotel several months in advance.
Another busy season happens during the months of December-March. Many people visit during this time to witness the arrival of the Monarch butterflies in the forests of Michoacán. By the way, the best time to go see the butterflies is around February, when they're more active.
You don't need to rent a car in Morelia. It is a very walkable city. If need be, you can take the tourist trolley or rent a bike. There is also public transportation available, including Uber.
To visit Pátzcuaro and Santa Clara del Cobre, you can take a second-class bus from the Morelia terminal. The trip takes a little over an hour. Another option is taking a guided tour from a certified agency. This way you won't have to worry about anything.
If you want to have more flexibility and travel at your own pace, then you can rent a car, but I would only recommend it when traveling out of Morelia.
You may be concerned about safety. The media tends to exaggerate the news about Michoacán. Now, I'm not saying nothing bad ever happens there, but at least the area of Morelia and nearby towns is relatively safe. Just stick to toll roads and drive during daylight hours.
Conclusion
There you have it. Your 4 days in Morelia will fly! There are many things to see and do all year round. Whether you're into nature, old traditions, Colonial architecture, history, art, you name it, you will find something interesting for you in Morelia.
Feel free to adjust this itinerary and please let me know if you have any questions about it. I will be more than glad to help.
Morelia is one of my favorite destinations in Mexico. I hope you visit it someday if you haven't. If you have, what would you add to the itinerary? Let me know in the comments section below. Bon voyage!
Book your trip now!
Book your flight
The first thing you have to do is find cheap flights. But where do you find those? There are many search engines, but the one I highly recommend is Skyscanner. Here you can compare fares from all over the world and pick the one that suits you best.
Book your accommodation
The next thing you have to do is secure your lodging. Whether you prefer a hostel, a guesthouse, a B&B, or a hotel, you can find them all on Booking. You can find lodging of all kinds ranging from cheap to expensive and somewhere in between. Many people have scored good deals using it.
Another popular option is Hostelworld. This website focuses on hostels as opposed to hotels.
Book a tour
In some places, you might want to hire a tour. Not all places are equally accessible to visit by oneself. It helps enormously when you visit with a local guide who can show you around and answer any questions you might have…all in your native language. My to-go place is Viator as they offer tours of all kinds and have a presence all over the world.
Rent a car
Public transportation is usually cheaper than renting a car, but it's sometimes more complicated and time-consuming. That's a reality. In some cases, it's more convenient to rent a car. My recommendation is Rentalcars.com. Here you can compare rates and choose the one that fits you best.
Get travel insurance
Never travel without a travel insurance policy, especially during these days! Travel insurance can literally save your life. My personal recommendations are World Nomads and Insured Nomads. Both companies cover COVID-19 related incidents, which is crucial these days.
More resources
Just click on the "Plan your trip" tab at the top of this page, and you will find more resources like getting Mexican insurance for your foreign car, buying travel accessories, and learning Spanish. And, of course, don't forget to check back often to read about more tips on Mexico travel.