Día de Muertos, also known in other countries as Day of the Dead or Día de los Muertos, is a Mexican tradition that is known internationally. It is actually celebrated on two days: November 1 and 2.
You may be familiar with it due to Disney's Coco, but the truth is this tradition is way older. It has gained more attention in recent years, probably since its inscription in UNESCO's list of Intangible Cultural Heritage of Humanity in 2008.
But what is Día de Muertos? What do people do that day? Who observes it? How is it celebrated? Let's answer these and other questions, shall we?
Origin of the Festivity
There is still an ongoing debate regarding the origin of this festivity. On the one hand, some academics believe it is a 20th-century rebranded version of an old Spanish tradition, but most experts agree it dates back to pre-Hispanic times, more precisely around 800 B.C.
Some evidence suggests that Mesoamerican cultures held a festival honoring the dead starting in early August. This festival lasted for one to two months and signaled the end of the harvest season.
During this festival, the Aztecs made food offerings to the Lady of the Dead, who was the queen of Chinamictlan and guardian of Mictlan, the ninth level of the Underworld.
Many Mesoamerican cultures had particular beliefs about death and rebirth, and that's why they buried the departed along with their belongings. They believed the path for the souls of the departed was determined by the kind of death they suffered, not by their behavior while they lived.
When the Spanish learned about these practices, they were shocked. In efforts to convert the people into Catholicism, they changed the dates of the festival to November 1 and 2 so they coincided with All Saints' Day and All Souls' Day.
Día de Muertos as we know it today is a mix of pre-Hispanic and Catholic elements, although the pagan elements are prevalent. The Spanish were not successful in wiping it out. Both Catholics and non-Catholics celebrate it alike ever since.
How Do People Celebrate It?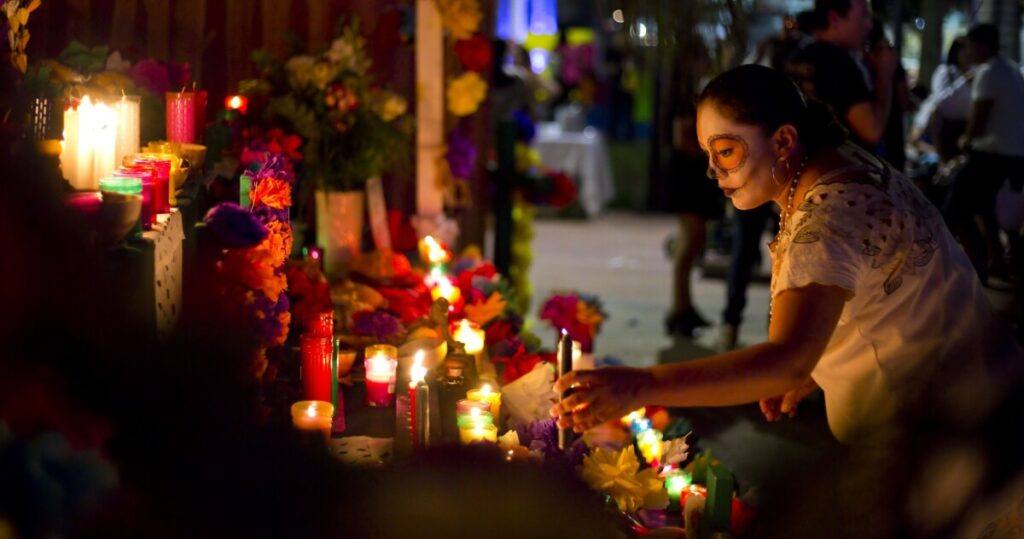 As we mentioned earlier, this celebration is spread out over two days. November 1 has to do with kids, while November 2 is about adults.
Before these dates, many people set up altars (also known as ofrendas) in cemeteries and even in their homes. They decorate them with photos of the departed, flores de cempasúchil (Mexican marigolds), papers of various colors, water, food, candles, and toys, in the case of kids. They also put an ash cross and burning copal incense at the foot of the altar. The cross serves to purify the soul and the incense to scare the evil spirits away.
It is believed that the departed come to visit us during those days. For the long journey from the Underworld, they will need food and water to survive as well as candles to light up their way. Marigolds attract them due to their strong aroma and prevent them from getting lost. As you can see, each element of the altar has a reason for being.
Día de Muertos is not an official holiday, but many companies give their employees this day off or at least let them leave early.
The cemeteries get crowded during those days as people visit to spend time with their loved ones. In some places like Janitzio, Michoacán, the cemetery is open all night long, and many people spend the whole night there. This is the most famous destination if you ever want to experience the said celebration.
In Mexico City, there is a parade every year. It's the largest of its kind in all of Mexico, but due to the ongoing pandemic, it was suspended this year.
Many cities decorate their streets with elements of this festivity. You will see allusive decorations everywhere around those dates. Lots of photo ops if you ask me.
Pan de Muerto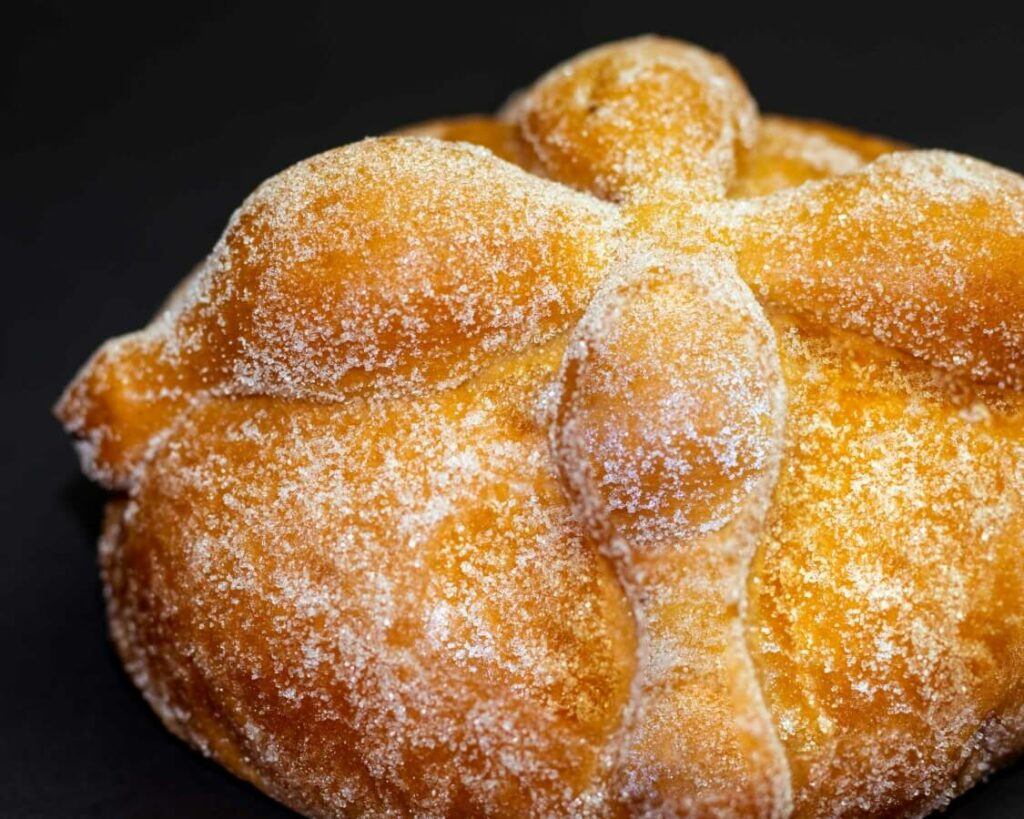 The origin of this bread goes back to pre-Hispanic times too and had to do with human sacrifices. It is said that ancient civilizations offered a princess as a sacrifice to their gods. The priest bit into the heart at the end of the ceremony.
The Spanish did not approve of this and switched the human heart for a type of bread shaped like a heart.
This is the most representative type of bread in this season ever since. Bakeries start selling it weeks or even months before November 1.
Pan de muerto (literally "bread of the dead") is made of wheat flour, eggs, butter, sugar, orange zest, and anise seeds. It is shaped like a heart and is decorated with bones on top. The bones are arrayed in a circular pattern representing the circle of life.
People usually eat it with coffee, hot chocolate, or atole. You won't be able to find it anywhere once the celebration is over as it's a seasonal bread. It is always present in ofrendas.
Calaverita de Azúcar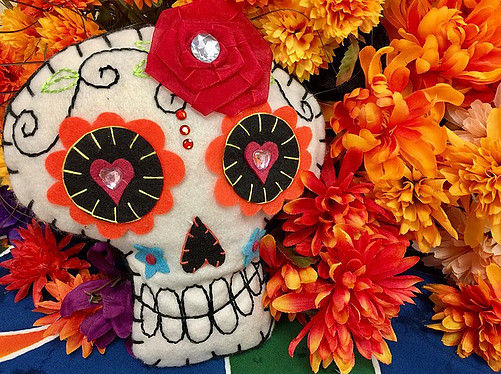 This is a kind of candy made of sugar and is always present in ofrendas. The skulls were served as an offering to Mictlatecuhtli, the god of the Underworld, to ask for the free passing of souls to the world of the living.
The Aztecs and other civilizations kept the skulls of their enemies as a sign of victory. This also played an important role in the sacrifices they offered to their gods, and the tradition continued although in a different form.
La Catrina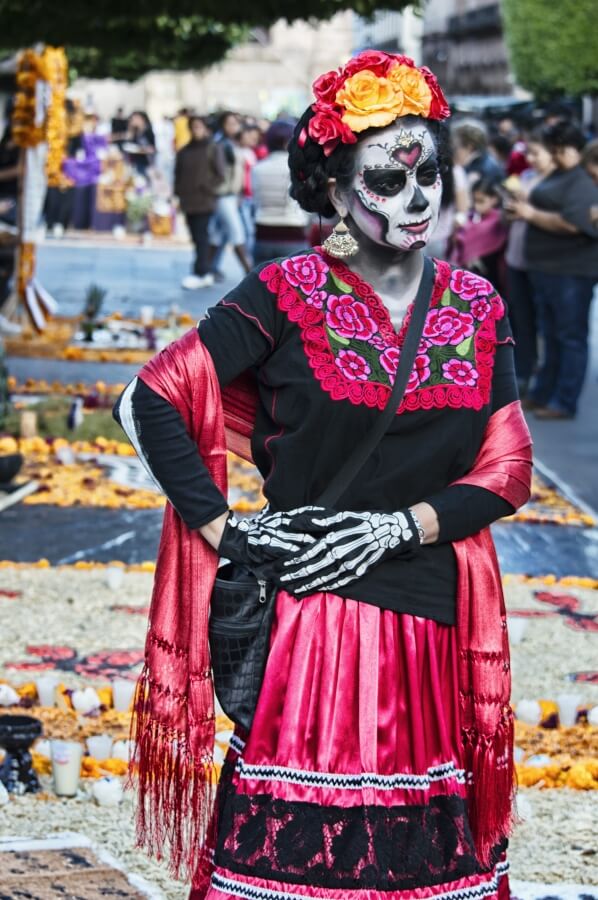 You may have seen this tall, elegant skeleton lady wearing a long dress and a feathered hat. We're talking about La Catrina, one of the most important figures of Día de Muertos.
Do you remember the Lady of the Dead we talked about earlier? Well, she and La Catrina are the same person. It turns out La Catrina is a personification of that goddess by José Guadalupe Posada, a famous artist in the early 20th century.
Posada criticized the society of that time for pretending to be something they weren't. Many people wanted to imitate the European ways in all they did. That's how he conceived the idea of La Catrina. She was rich, elegant, and sophisticated, but she was no better than others. Eventually, all of us will die, and it doesn't matter if you're rich or poor.
The concept of La Catrina was further reinforced by the famous muralist Diego Rivera in the 40s. He immortalized her in one of his murals. By the way, you can see this mural at the Diego Rivera Mural Museum in Mexico City. A must-see when visiting the Mexican capital!
Literary Calaveras
The calavera (literally skull) is a traditional composition in verse. It's a short poem that criticizes or makes fun of someone in a way that suggests they're dead, even though they're alive. They pinpoint people's faults or vices in a funny way. Think of them as humorous epitaphs.
Calaveras are witty, creative, sarcastic, and irreverent. The first ones made fun of politicians and rich people, and that's why they were censored in the beginning. Currently, they allude to not only politicians but also celebrities such as actors, singers, and athletes.
Calaveras are widely popular around the dates of Día de Muertos. They often come accompanied by cartoons of the "departed". You can find these compositions in newspapers or online. There are even contests where you can submit your calavera and have it featured if selected.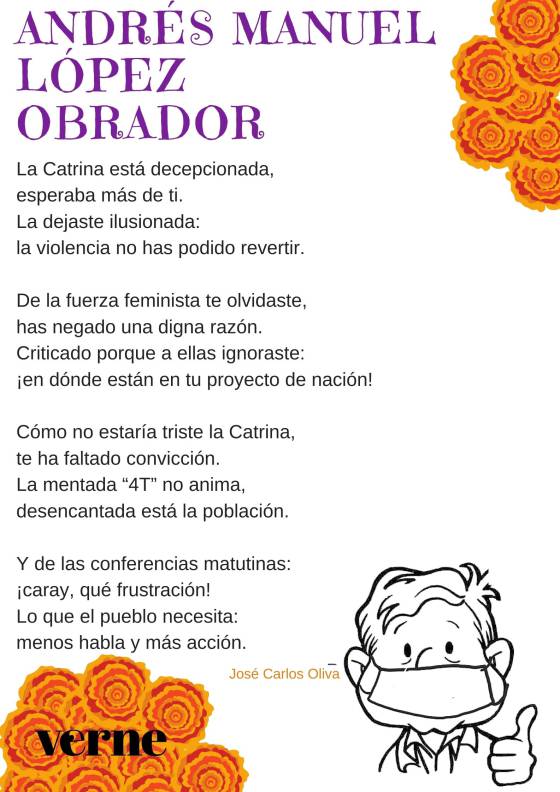 Why Is It Special?
For starters, it's not Mexican Halloween! Many people wrongly believe it's our version of Halloween, but there is nothing further from the truth.
You may wonder what's so special about this day. After all, other countries have similar celebrations. Although Mexico is not the only country with festivities revolving around death, the concept is not as significant in other countries.
The interest in death has waned over the years in other countries, where it is considered old-fashioned. Maybe the spread of liberal ideas has helped in this regard too.
However, in Mexico, it's a whole different story. Instead of waning, this tradition has grown and is stronger than ever. Most Mexicans celebrate it whether they're Catholic or not. It's so deeply ingrained in Mexican society that religion doesn't matter. It's become an element of national identity and pride.
Mexicans don't hesitate to show their pride and share this tradition with the rest of the world. The impact and influence upon society are such that UNESCO deemed it as one of the most important traditions worldwide and something that should be preserved.
Since ancient times, death has not been seen in our society as the end of life but rather a transition to another world. Dia de Muertos is not about solemnity, sadness, or crying for those gone. Instead, it's a special day for us when we can spend time together with our loved ones and honor them, even though they're not a part of this world anymore.
Dia de Muertos is about death and life. It's a celebration, something we look forward to. We laugh about death in its face. It's not that we don't fear it or take it lightly but rather that we accept it as a part of life. It's not the end but a new beginning! For these and many more reasons, Dia de Muertos keeps a special place in our hearts.
We have embraced it and so have many people from around the world. It has been the inspiration for many books, movies, songs, cartoons, marketing campaigns, works of art, etc.
Watch the video of my friend Ford Quarterman for a better illustration.
Final Thoughts
Dia de Muertos is here to stay. Although the Spanish tried to destroy this tradition, it has survived up to our day. It has evolved over the centuries, and many elements of it have changed, but the essence is the same.
We take pride in this tradition and would like to preserve it. Foreigners are mesmerized when they learn about it…and so are we.
We may be a divided nation when it comes to a few things, but this is something that unites us all. It's become a sign of unity and identity.
We love it because it's a happy celebration, even though death is the main element. We are happy people despite the adversities and challenges we face day after day.
Did you know about Dia de Muertos? I hope you understand more about it now. It's a unique tradition in the world.
Let me know your comments and questions below and, as always, I will be more than glad to respond. Thanks for reading and bon voyage!
Book your trip now!
Book your flight
The first thing you have to do is find cheap flights. But where do you find those? There are many search engines, but the one I highly recommend is Skyscanner. Here you can compare fares from all over the world and pick the one that suits you best.
Book your accommodation
The next thing you have to do is secure your lodging. Whether you prefer a hostel, a guesthouse, a B&B, or a hotel, you can find them all on Booking. You can find lodging of all kinds ranging from cheap to expensive and somewhere in between. Many people have scored good deals using it.
Another popular option is Hostelworld. This website focuses on hostels as opposed to hotels.
Book a tour
In some places, you might want to hire a tour. Not all places are equally accessible to visit by oneself. It helps enormously when you visit with a local guide who can show you around and answer any questions you might have…all in your native language. My to-go place is Viator as they offer tours of all kinds and have a presence all over the world.
Rent a car
Public transportation is usually cheaper than renting a car, but it's sometimes more complicated and time-consuming. That's a reality. In some cases, it's more convenient to rent a car. My recommendation is Rentalcars.com. Here you can compare rates and choose the one that fits you best.
Book your bus tickets
You can save money by booking bus tickets online. My favorite site to do this is Busbud.
Get travel insurance
Never travel without a travel insurance policy, especially during these days! Travel insurance can save your life. My recommendations are World Nomads and Insured Nomads. Both companies cover COVID-19 related incidents, which is crucial these days.
More resources
Just click on the "Plan your trip" tab at the top of this page, and you will find more resources like getting Mexican insurance for your foreign car, buying travel accessories, and learning Spanish. And, of course, don't forget to check back often to read about more tips on Mexico travel.