Did you know that each year millions of monarch butterflies leave their summer home in the northeastern U.S. and Canada and migrate to Mexico to spend the winter there? It is one of the greatest and most impressive natural events on Earth. After all, how can such small creatures accomplish such a feat? It is indeed a mystery to scientists.
If you haven't had the wonderful experience of seeing the butterflies in person, you have been missing out on a lot! But don't worry. If you would like to know when and where you can see them, you have come to the right place. In this guide to the monarch butterflies in Mexico, we will tell you everything you need to know to plan your visit. Let's get started!
What Is So Special About the Butterflies?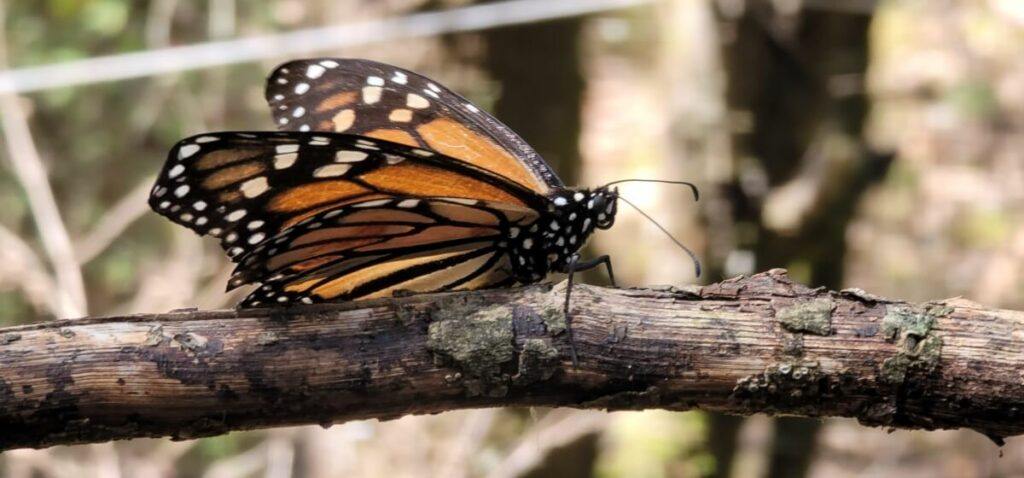 For starters, these beautiful, delicate insects travel around 4,000 km (2,485 miles) for three months to spend the winter in the forests of southwestern Mexico. However, unlike birds and whales, they will not come back. It will take four to five generations to complete the trip back to the U.S. and Canada as their lifespan is just a few weeks long.
Another mystery is how they know their way if they have never been to Mexico before. It's as if they had an internal GPS or something.
And finally, a generation known as Methuselah lives up to eight months, unlike previous generations. This special generation is the one that migrates to Mexico, and then the cycle repeats. Isn't nature amazing?
Best Time to See the Butterflies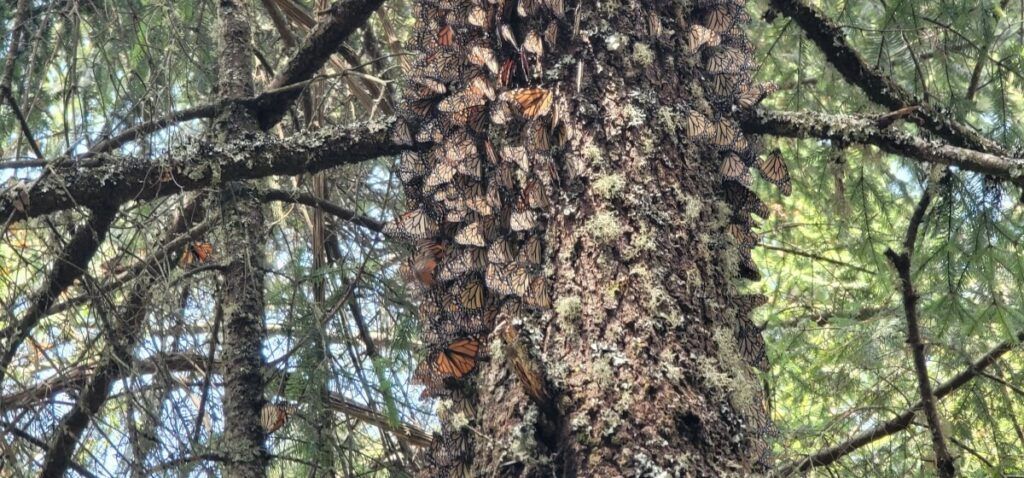 The butterflies start arriving in early November and start leaving in March. The official season to see them at the sanctuaries or national parks is from late November through the end of March. The exact dates may vary a little, so it's a good idea to verify this with the Mexican tourism board.
The migration pattern has been affected over the last few years by climate change. In some years, they have been seen in Mexico as early as October, which is something unusual.
While you can see them between November and March, most people agree the best time to go see them is between early February and mid-March, when the temperature starts rising. December and January are too cold, and the butterflies spend most of the time clustered together on the tree trunks. The second half of March is too late since most of them already left for the north.
Where to Go See the Butterflies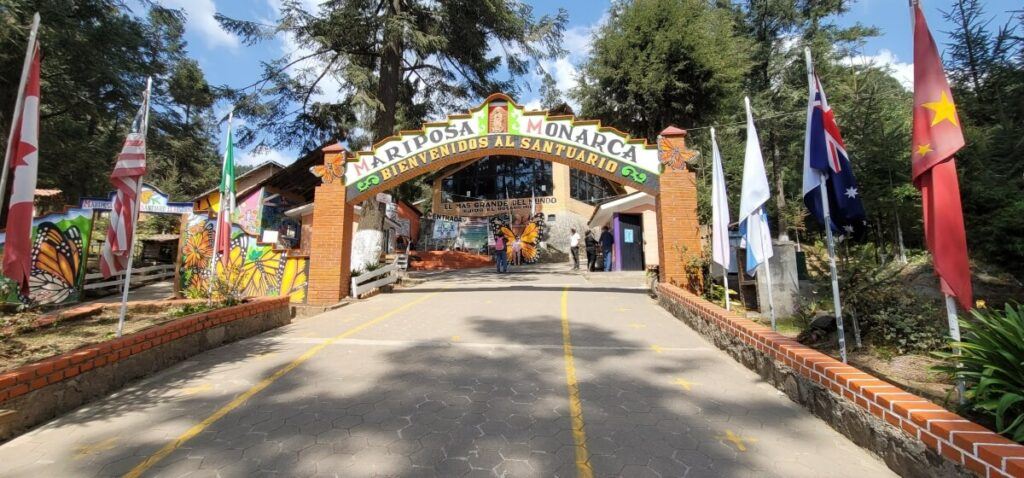 To admire this natural spectacle, you have to head over to southwestern Mexico, most precisely the states of Michoacán and Estado de México. Both states host the Biosphere Reserve, which is divided into several sanctuaries. As of 2021, six sanctuaries are open to the general public:
El Rosario (Michoacán)
Sierra Chincua (Michoacán)
Senguio (Michoacán)
La Mesa (Estado de México)
El Capulín (Estado de México)
San Mateo Almomoloa (Estado de México)
The largest and most visited sanctuary is El Rosario in Michoacán, just a few kilometers away from the magical town of Angangueo.
How to Get to the Sanctuaries
While there is public transportation available, depending on where you go and come from, it can be complicated to get to the sanctuaries. In my case, I was visiting from Monterrey and I found out that after arriving in Morelia, I had to take a bus to Zitácuaro and then another bus or taxi to Angangueo. Once in Angangueo, it was necessary to take a stake truck or taxi to the reserve. It is my understanding there are direct buses between Mexico City and Angangueo, but of course, your route and transportation options will vary depending on your point of origin.
Another option is hiring a tour. You can easily find travel agencies online that offer this tour. They make it a day trip from places like Morelia and Mexico City. But be warned. The trip takes around three hours each way from either location.
The easiest and most convenient option is renting a car. This way, you don't have to worry about bus/tour schedules, and most importantly, you can travel at your own pace and visit other places on the way. If you rent a car, I recommend staying one night in Angangueo and then visiting the sanctuary the following day. Another good option is Valle de Bravo, which is close to other attractions and is a popular weekend getaway destination.
Hours and Pricing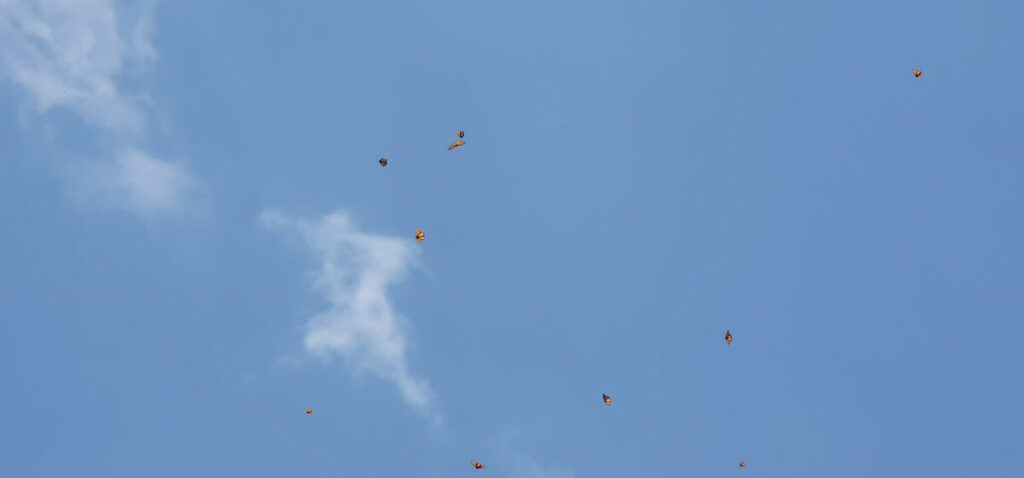 The sanctuaries are open from November through March. Hours vary by location, but generally speaking, they're open Monday to Sunday from 9 a.m. to 5 p.m. This may change due to COVID and government restrictions, so make sure to check the latest information before visiting on your own.
Pricing also varies by location, but expect to pay around 100 pesos ($5) for adults and about 50 pesos ($2.50) for kids. Cash only.
However, if you take a tour, consider they cost 800 pesos or more ($40) per person, and there is always a minimum of people required. Admission is usually included in the price.
Tips for Visiting the Sanctuaries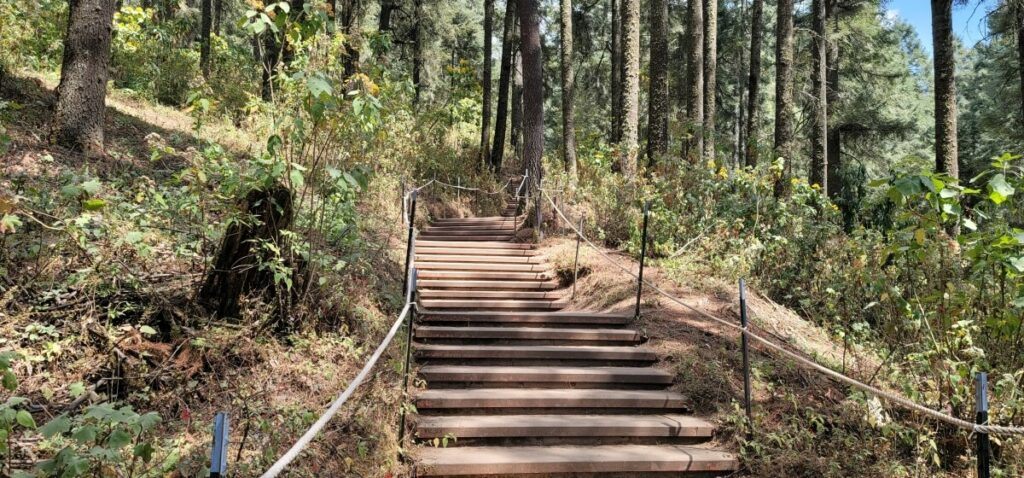 To make the most of your visit to the Monarch butterfly sanctuaries, I recommend you consider the following:
Consult with your physician about visiting if you suffer from heart disease or some other illness. The sanctuaries are located at considerable heights, and this can be bad for your health.
If you're driving, download the map to your phone beforehand. Cell phone reception is spotty along the route, so it's better to be prepared.
The sanctuaries are not wheelchair accessible.
You need to be somewhat in shape to visit the sanctuaries. There are horses for rental, but you will still have to walk up slopes and altitude doesn't help. Alternatively, go to Sierra Chincua where the slopes are not as steep.
It's chilly up there, so consider dressing in layers. Keep in mind you will probably get hot as you climb up the slope. Don't forget to wear comfortable shoes!
Each sanctuary has restrooms and offers handicrafts and food for sale. They only accept cash.
You have to visit on a sunny day to have more chances of seeing the butterflies flying. Otherwise, they spend most of the time on the trees.
Please be respectful of the butterflies. They stand on the ground at times, so be careful not to step on them. Don't touch them as they're too fragile. Don't use flash when taking pictures. Keep silent as much as possible or at least, moderate your voice to avoid scaring them. And please, don't litter!
Conclusion
There you have it. Visiting the butterfly sanctuaries is something you have to do at least once in your life. You won't regret it.
I hope I covered all the information you need. If you have any questions, please leave them below, and I will do my best to answer them as soon as possible. Bon voyage!
Book your trip now!
Book your flight
The first thing you have to do is find cheap flights. But where do you find those? There are many search engines, but the one I highly recommend is Skyscanner. Here you can compare fares from all over the world and pick the one that suits you best.
Book your accommodation
The next thing you have to do is secure your lodging. Whether you prefer a hostel, a guesthouse, a B&B, or a hotel, you can find them all on Booking. You can find lodging of all kinds ranging from cheap to expensive and somewhere in between. Many people have scored good deals using it.
Another popular option is Hostelworld. This website focuses on hostels as opposed to hotels.
Book a tour
In some places, you might want to hire a tour. Not all places are equally accessible to visit by oneself. It helps enormously when you visit with a local guide who can show you around and answer any questions you might have…all in your native language. My to-go place is Viator as they offer tours of all kinds and have a presence all over the world.
Rent a car
Public transportation is usually cheaper than renting a car, but it's sometimes more complicated and time-consuming. That's a reality. In some cases, it's more convenient to rent a car. My recommendation is Rentalcars.com. Here you can compare rates and choose the one that fits you best.
Book your bus tickets
You can save money by booking bus tickets online. My favorite site to do this is Busbud.
Get travel insurance
Never travel without a travel insurance policy, especially these days! Travel insurance can save your life. My recommendations are World Nomads and Insured Nomads. Both companies cover COVID-19 related incidents, which is crucial these days.
More resources
Just click on the "Plan your trip" tab at the top of this page, and you will find more resources like getting Mexican insurance for your foreign car, buying travel accessories, and learning Spanish. And, of course, don't forget to check back often to read more tips on Mexico travel.