Did you know that you can visit a ghost town in Mexico? No? Well, it's possible. All you need to do is head over to Real de Catorce in the mountainous area of San Luis Potosi. The list of the best things to do in Real de Catorce includes many interesting things.
The town has a population of only around 1,000 inhabitants. It was an important mining center, but it was eventually abandoned.
It was one of the first designated magical towns (pueblos mágicos) by the Mexican Secretariat of Tourism. The mysterious atmosphere combined with its antiquity and charm has converted it into one of the most visited small towns in the country. It attracts thousands of visitors each year, not only domestic but foreign ones as well.
History and contemporality merge here into a single entity making this place unique. You will feel like traveling back in time. The spirit from years past permeates the whole town and darkness gives it an eerie look at night.
Let's see what this town holds for us and why we should visit it.
Table of Contents
Mirador (Lookout)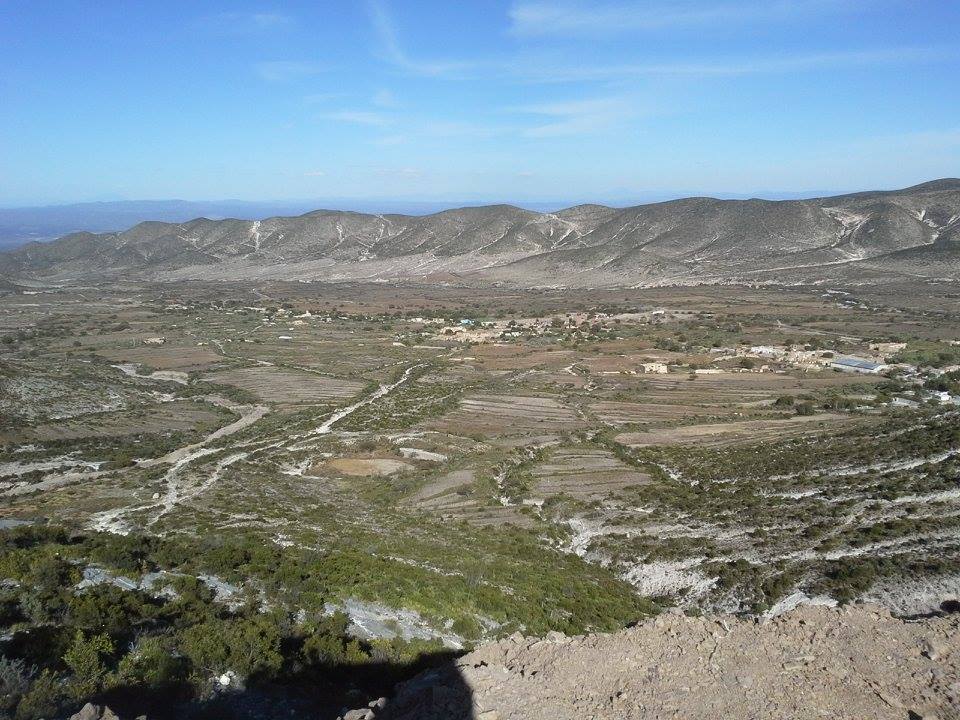 Before reaching the town entrance, you will pass by a lookout point. You will get an impressive view of the valley and mountains around you. I suggest you make a stop here to take in the views and take some cool photos of course. 😉
It is such a serene place. You might run into a local here and engage in a conversation (if you know some Spanish, of course). On my last trip, I ran into a shepherd walking his goats. It's the simple things of life that we should cherish.
There is also a glass-bottomed observation deck in town that I have yet to visit. I've been told it's impressive.
Ogarrio Tunnel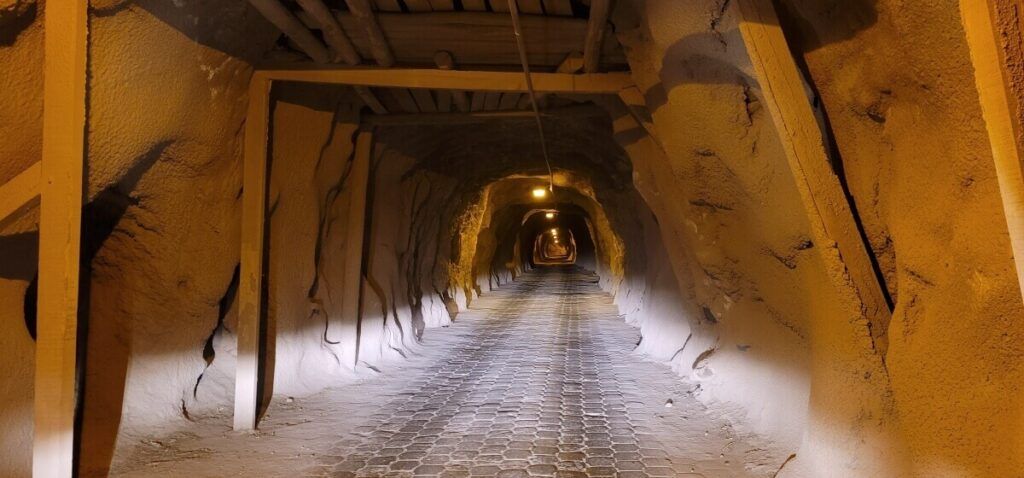 This is one of the only two ways to access Real de Catorce. The other way is only suitable for 4×4 vehicles, though.
While you are crossing this tunnel, you will be enveloped by darkness. It doesn't matter if it's day or night as it's dimly lit all the time. If there are no cars behind you, then you can make a quick stop to take a couple of photos. But be careful. People claim to have seen apparitions in the tunnel.
Inside the tunnel, there is a small chapel dedicated to Saint Francis of Assisi.
On the other side of the tunnel, there is an ample parking lot where you can leave your car. It is my understanding that car traffic is restricted around town.
Templo de la Purísima Concepción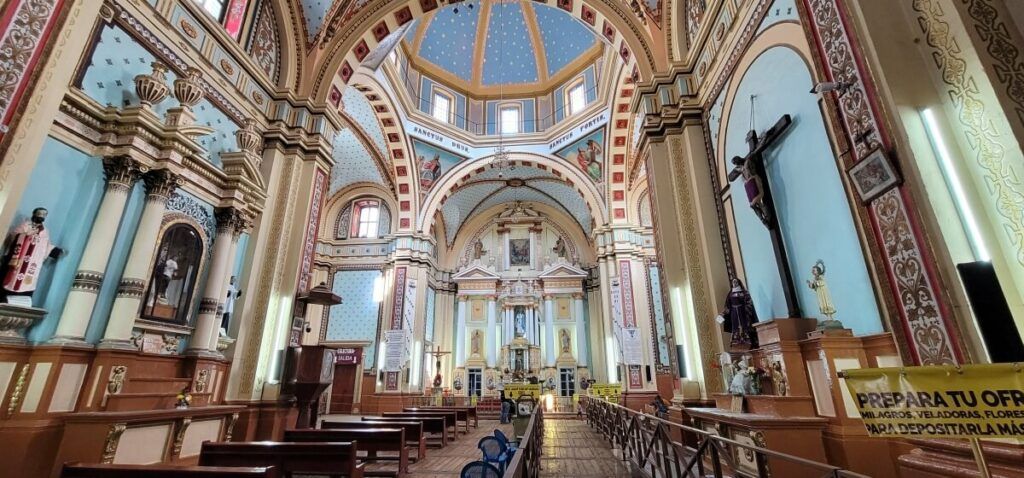 This rustic church draws thousands of Catholics each year. The patron saint is Saint Francis of Assisi. The walls of the church rear are decorated with retablos (altarpieces) that pilgrims leave as offerings for miracles received. The saint's feast is celebrated during the first 5 days of October and is probably the busiest season in town.
This is one of the oldest buildings in town. It has been in operation since 1781. The temple boasts a Neoclassical style and is a must-visit in Real de Catorce.
Antigua Casa de Moneda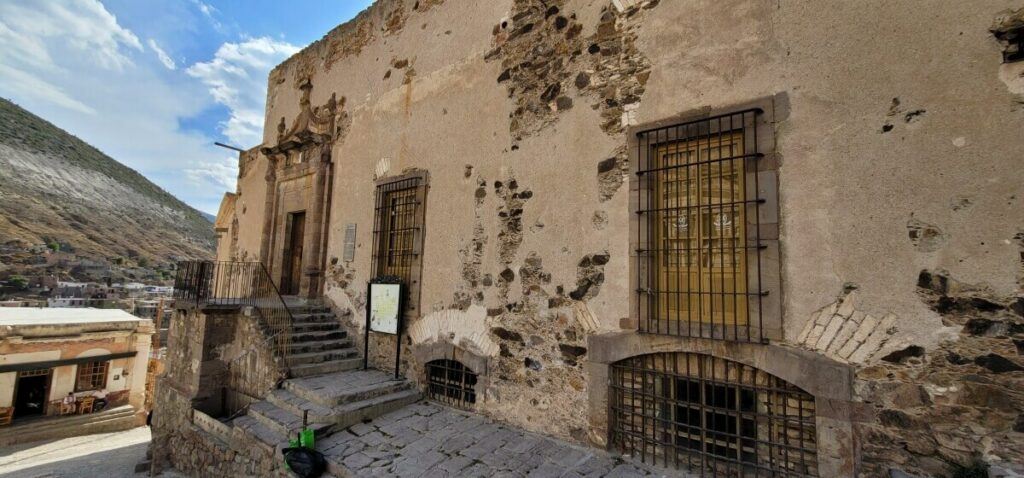 Did you know that Real de Catorce had its own mint house? As we mentioned earlier, this town was once an important mining center, so it made sense to make coins here.
The first coin was minted in 1808. After that, interim copper coins were produced between 1815 and 1823 during the Mexican War of Independence. However, it wasn't until 1863 that the Federal Government authorized the production of coins in this mint house.
This place served that purpose for only fourteen months. It houses now Casa de la Cultura where you can see an impressive collection of coins, photographs, and Huichol art.
Jardín Hidalgo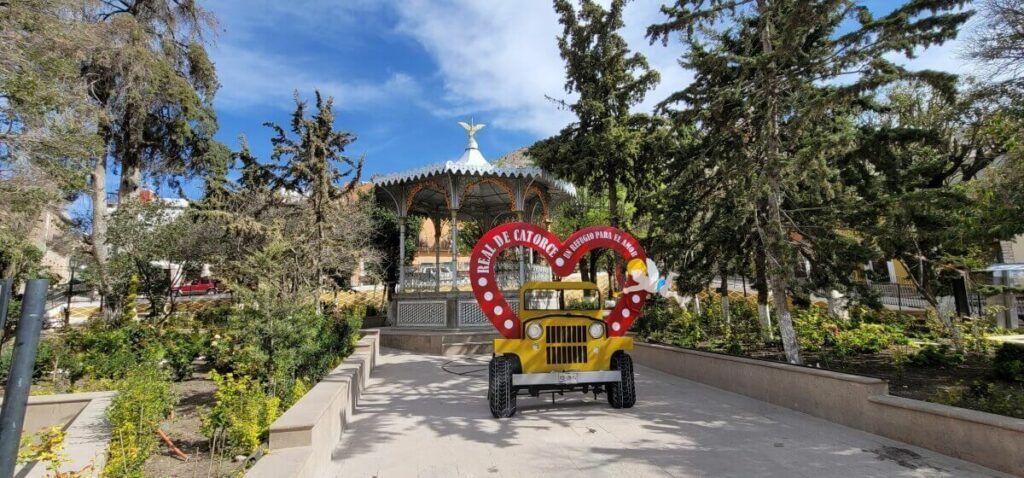 This plaza had a fountain in the center that provided drinking water. It was later replaced by an iron kiosk during Porfirio Díaz's presidential term.
This square represented the economic and social center of the town back then. Well, it still does in some way. There are several businesses around it, and this is the place where locals gather. A particularity is the plaza is uneven as it lies on a hill.
If you want to take a tour of any of the attractions nearby, this is the place to go.
Palenque de Gallos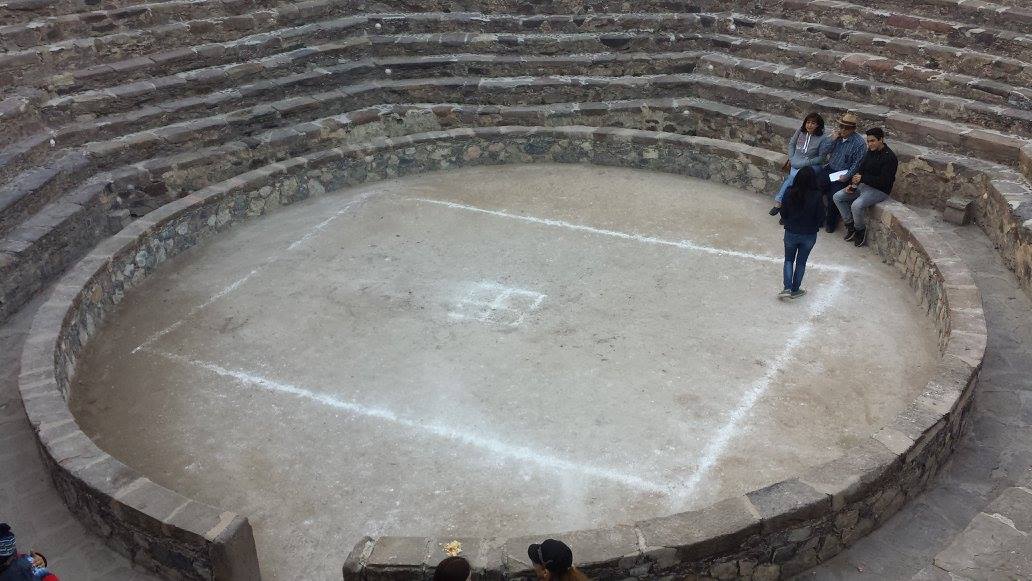 This cockfighting ring was built by Don Diego González Lavín in 1863 to entertain the local population. It is located on the west side of town and boasts a Roman style. It is one of the most beautiful and well-preserved buildings of its kind in Mexico.
Although it no longer serves its original purpose, it is open to the public. It is an important venue for cultural events and festivals.
Cemetery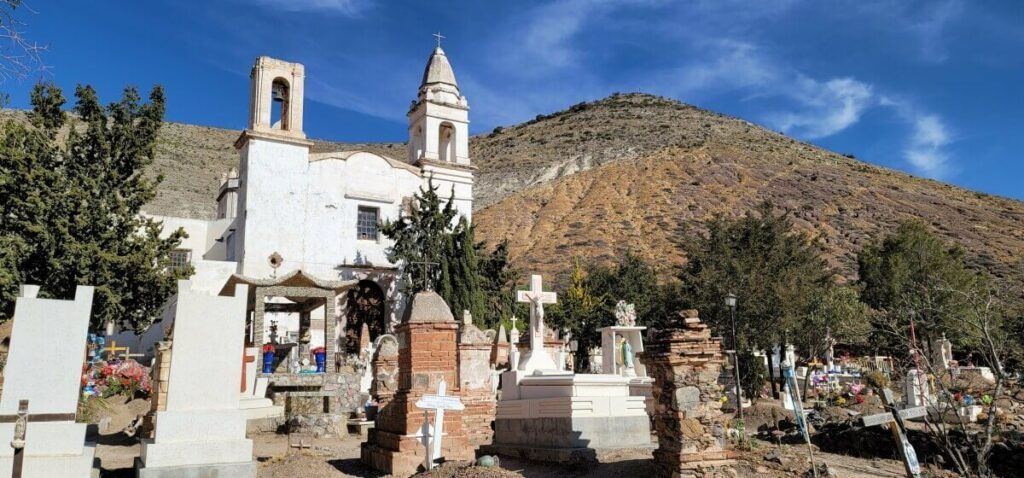 The cemetery is divided into two sections: one dedicated to Saint Francis of Assisi and the other one to the Virgin of Guadalupe. The former houses old frescoes as well as the tombstones of important people of that time. The oldest part of the cemetery dates back to 1775.
You can take a night tour on weekends to visit this place. They will tell you about legends like "la llorona catorceña" and "el Jergas". By the way, you can set up camp outside…only if you dare, of course.
Ride a Willy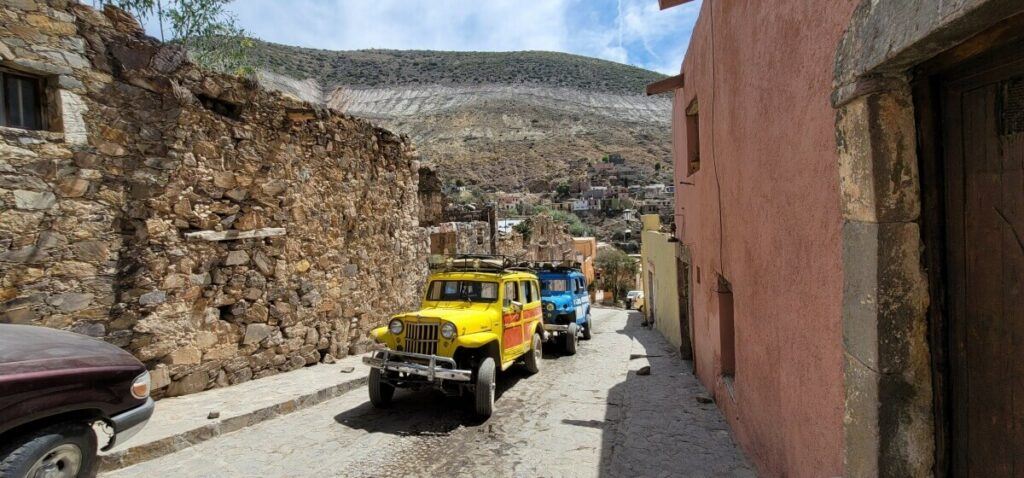 Willy's are iconic in Real de Catorce. They are restored 4×4 vehicles used by tourists to visit the surrounding areas of town. You ride atop the jeep, and they will drive you through rough terrain and steep inclines.
You can visit an abandoned mine, the old train station, and the Peyote desert. The latter is home to an endangered cactus that is sacred to Huichol.
If you're into adrenaline, you will love it. Private tours cost between 500 and 1,500 pesos ($22-$68) per vehicle. Just head over to Jardín Hidalgo, and you will find the tour operators there.
Pueblo Fantasma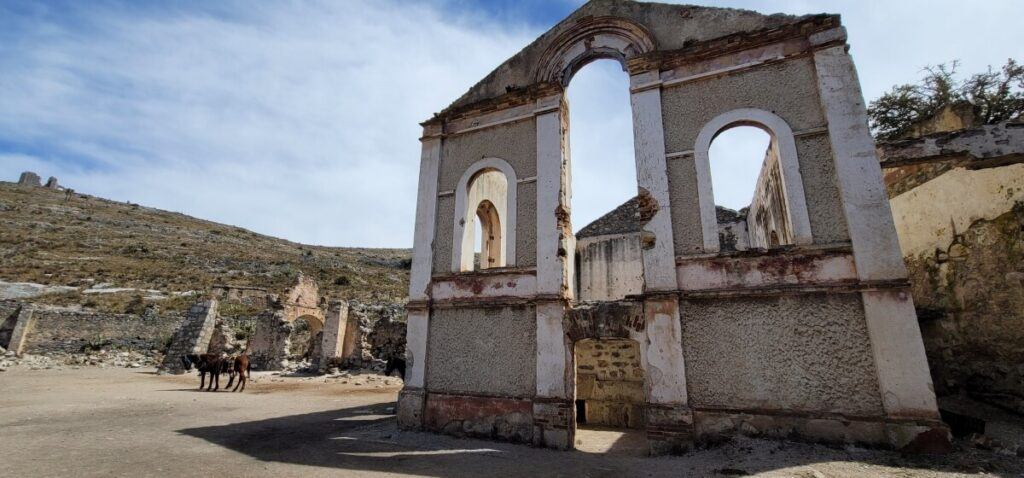 These are the ruins of the Concepción Hacienda. You can still see the shafts there. The views of the town seen from this place are spectacular!
If you are in good shape, you can walk up there. It will take you about an hour depending on your pace. Another option is taking a horseback riding tour from Jardín Hidalgo. The tour is 300 pesos ($15) per person. Just be warned: some areas of the way are too narrow as you advance up the hill, so you have to be careful with your horse.
Cerro del Quemado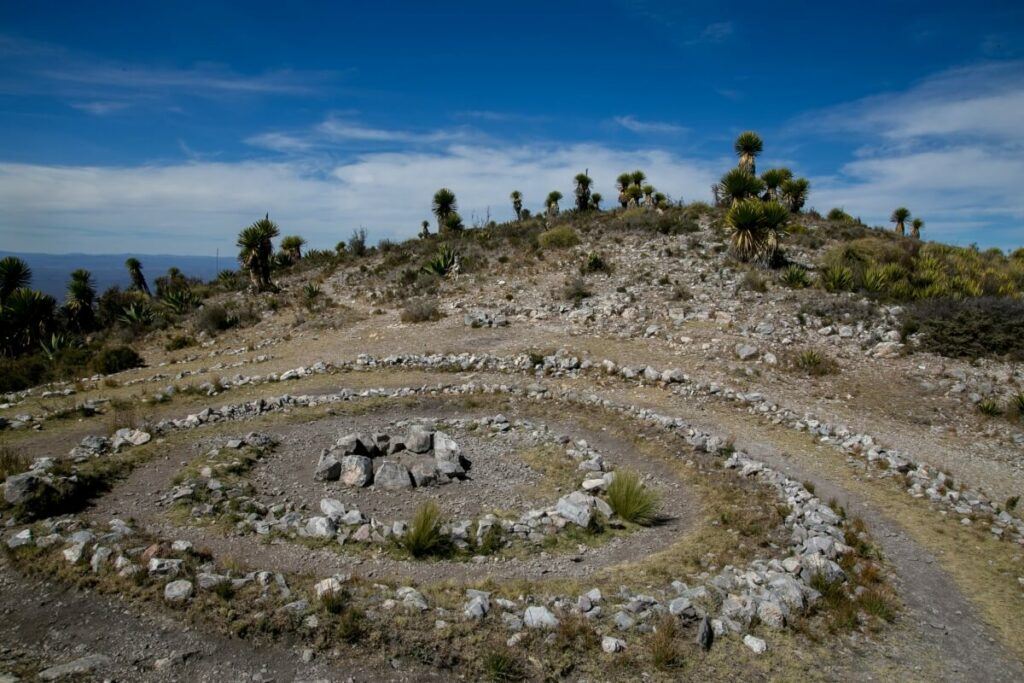 This hill is located in Wirikuta and is a sacred place to the Huichol. This place is believed to be the site where everything in the world originated. Each year the Huichol peregrinate to this place walking across miles of desert from the neighboring states of Nayarit, Durango, Jalisco, and Zacatecas.
Buy Huichol Handicrafts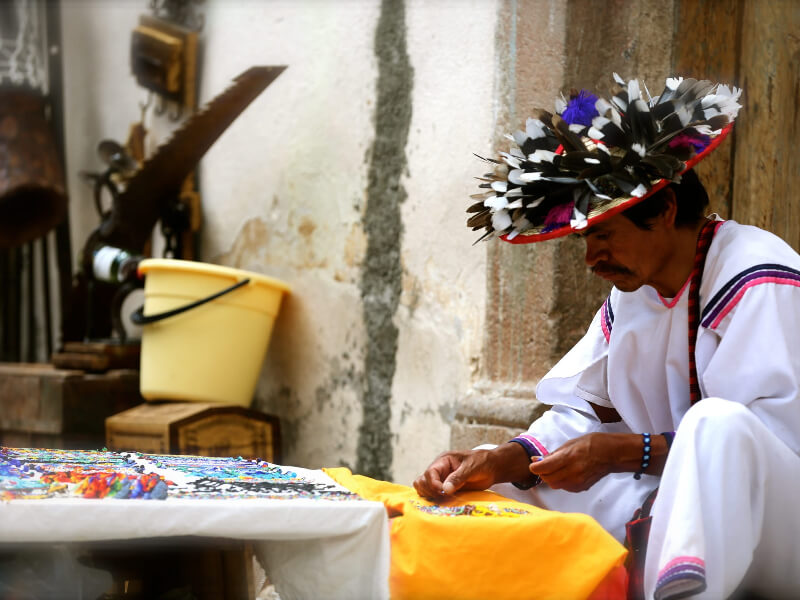 The Huichol are known for their art and handicrafts with colorful designs. You can find jewelry, toys, decor items, among other things. Women love Huichol jewelry, which includes earrings, necklaces, rings, and bracelets. If you want to get something unique, you can't go wrong with Huichol handicrafts.
Please, please, don't haggle! All of these things take a lot of time to make as they are made by hand. It's becoming harder to compete against Chinese mass production, so let's appreciate the time and effort that artisans put into their work.
 Enjoy the Local Cuisine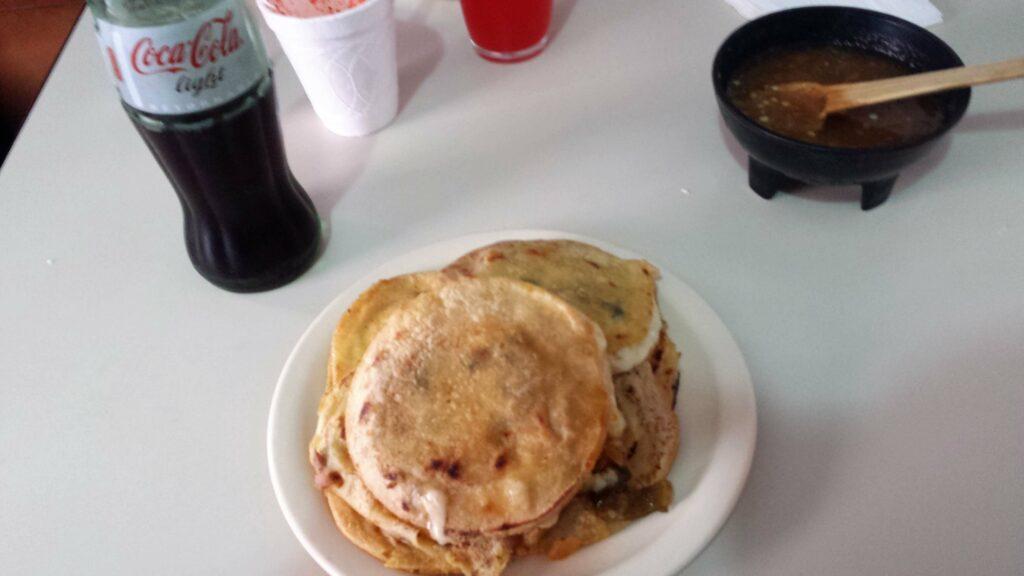 Just like Mexican cuisine, the regional cuisine of Real has indigenous and Spanish influences. You can find barbacoa (slow-cooked beef), pork with chile ancho, enchiladas potosinas, cabuches (a type of cactus), and nopales (another type of cactus). Oh, and don't forget their delicious gorditas! If I were to choose just one dish, I'd pick gorditas without hesitation. My favorites are the cabuche (palm flower) and flor de calabaza (pumpkin flower) ones, although you can order them with cheese, beans, or eggs too. Delicious!
Real is also famous for its alcoholic beverages. You can try aguardiente (made from sugar cane), colonche (made from nopal), or the worldwide famous mezcal. If you don't like alcohol, you can drink champurrado, aguamiel, or café de olla. Thank me later.
For dessert, you can try sweets made of goat milk such as cajetas and natillas or you can also try some delicious chocolate.
Did You Know?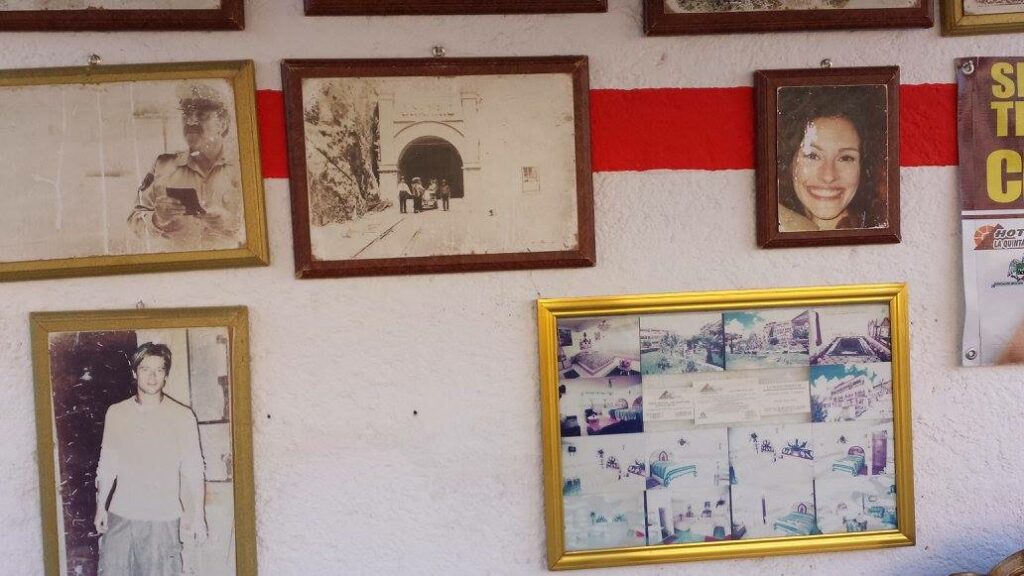 Real was such an important mining center that it was called "the second or third highest silver producing mine in New Spain" by explorer Alexander von Humboldt. Although it's not what it used to be, you can still buy silver items in Real.
You can get in trouble with the authorities for buying or removing peyote from its location. Its use is restricted to the Huichol people. Peyote is sacred to them and it's protected under Mexican law.
Real has been the setting for Hollywood films such as The Mexican, starring Brad Pitt and Julia Roberts, and Bandidas, starring Salma Hayek and Penélope Cruz. In fact, it was because of these productions that the town has now phone service and cellular coverage. There was none before that.
How Do We Get There?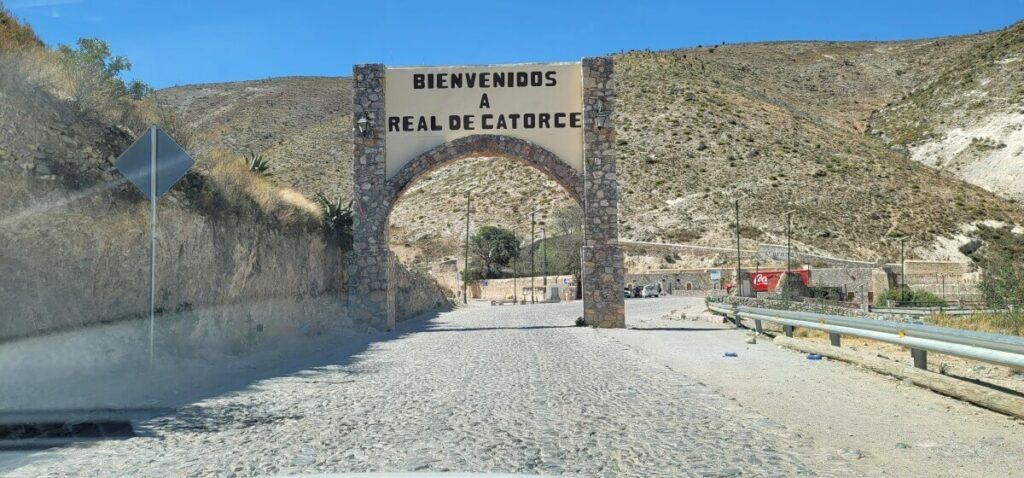 Real de Catorce is located in the northern part of the state of San Luis Potosí, more specifically, about 160 miles (260 km) north of the capital.
If you travel by air, you will have to fly to the San Luis Potosí International Airport and continue the rest of the trip by land. The latter takes around 3.5 hours. That is if you're driving. If you take a bus, it will take you more time.
Real de Catorce is strategically located between Mexico's 3 largest cities: Mexico City, Guadalajara, and Monterrey. The closest one is Monterrey in northern Mexico. Below are the distances and estimate times for each one of them:
Monterrey: 220 miles (354 km), 5 hours
Guadalajara: 365 miles (587 km), 7 hours and 45 minutes
Mexico City: 405 miles (652 km), 8 hours and 15 minutes
If you love road trips, this can be the perfect opportunity to visit other places on the way.
Remember I said the town is located in the mountains? You have to cross a tunnel to get there, but before doing that, you have to drive up a 1.5-mile cobblestone path. Once you reach the entrance, you will have to pay 30 pesos. Since the tunnel is too narrow, they only allow cars to drive in one direction at a time. They take turns to let people cross from both ends of the tunnel.
==>> Click here to find the cheapest flights!! <<==
Where to Stay
There are several hotels to choose from. Just keep in mind they can fill up fast during the peak season. If visiting during these times, I highly recommend booking in advance. Some of the most famous hotels are Mesón de la Abundancia, Hotel Amor y Paz, and Hotel Ruinas del Real (where Brad Pitt stayed), although they're pricey. More affordable options include:
Hotel Hacienda Encantada
Hotel Rincón Mágico
Hotel Noche Azul
The average double room runs around 600 pesos ($30).
Since Real de Catorce is a small town, hotel location is not a major problem. Most of them are within walking distance of the main square.
Where to Eat
Despite being a small town, there are several dining options for visitors. They are quite varied and range from puestitos (stands) to fondas to pricier restaurants. Don't be afraid to eat at one of the many stands on the street. Their food is the most authentic and inexpensive you will find.
A few steps away from the main parking lot, there are several fondas where you can buy gorditas and other inexpensive dishes. Other places I recommend are:
Mesón de la Abundancia ($$-$$$). Salads, pizza, and Mexican food. Address: Lanzagorta 11, Real de Catorce Mexico.
Realbucks ($$-$$$). Coffee, dessert, and some light dishes. Address: Lanzagorta s/n, Real de Catorce 78550 Mexico.
El Rincón de Chabelo ($$). Pozole, menudo, gorditas, among other Mexican dishes at reasonable prices. Address: Lanzagorta, s/n Corner with Ramón Corona, Real de Catorce 78550 Mexico.
Café Azul ($$-$$$). A great spot for breakfast or just coffee. Address: Langagorta 27, Real de Catorce 78550 Mexico.
El Cactus ($$-$$$). Pasta and pizzas, including vegan options. Address: Jardín Hidalgo, Real de Catorce.
Important Information
Wear comfortable shoes. You will do a lot of walking through uneven streets and inclined roads.
Wear a hat and sunscreen. The sun burns a lot in this area.
You can tour the town and surrounding areas on foot. Just keep in mind that some parts of the journey are difficult due to the terrain and the burning sun. I don't recommend walking out of town if you suffer from a heart condition or asthma or if you're pregnant. The good news is you can ride a horse virtually anywhere around Real.
Due to its altitude, Real experiences chilly nights even during the summer. Bring some kind of sweater or jacket regardless of the time of year you visit. If you visit during winter, you can even see snow!
Some of the busiest times are Semana Santa (the week before Easter) and the first week of October. In terms of weather, practically any time of year is a good time to visit.
Bring plenty of cash as there are no banks or ATMs in town and most merchants don't accept credit cards.
It's best to get there driving your own car. It's a little bit complicated to reach the town by public transportation.
Don't forget to buy travel insurance! You never know what can go wrong.
Conclusion
Real de Catorce is the perfect destination for couples, single travelers, adventure seekers, those seeking a peaceful place, and pretty much everyone else. Its streets and buildings evoke a distant past. It's something hard to describe. You have to witness it in person.
It's a place full of history and culture. The mysticism that envelopes it is out of this world. The town refuses to enter the modern era and preserves its ancestral traditions. This is evidenced by the Huichol people who peregrinate each year to perform their rituals in the hills outside Real and the stone buildings inside that keep a thousand secret stories.
The Catholic religion also plays a vital role here, although it hasn't made the people's ancient traditions disappear as it has done in other parts of Mexico. No wonder it was one of the first places to be classified as a magical town. It didn't come across as a surprise either that Hollywood stars fell in love with it.
Come and see why people from different countries and ages love this place. What are you waiting for?
What do you think? Let me know in the comments below. See you later!
Book your trip now!
Book your flight
The first thing you have to do is find cheap flights. But where do you find those? There are many search engines, but the one I highly recommend is Skyscanner. Here you can compare fares from all over the world and pick the one that suits you best.
Book your accommodation
The next thing you have to do is secure your lodging. Whether you prefer a hostel, a guesthouse, a B&B, or a hotel, you can find them all on Booking. You can find lodging of all kinds ranging from cheap to expensive and somewhere in between. Many people have scored good deals using it.
Another popular option is Hostelworld. This website focuses on hostels as opposed to hotels.
Book a tour
In some places, you might want to hire a tour. Not all places are equally accessible to visit by oneself. It helps enormously when you visit with a local guide who can show you around and answer any questions you might have…all in your native language. My to-go place is Viator as they offer tours of all kinds and have a presence all over the world.
Rent a car
Public transportation is usually cheaper than renting a car, but it's sometimes more complicated and time-consuming. That's a reality. In some cases, it's more convenient to rent a car. My recommendation is Rentalcars.com. Here you can compare rates and choose the one that fits you best.
Book your bus tickets
You can save money by booking bus tickets online. My favorite site to do this is Busbud.
Get travel insurance
Never travel without a travel insurance policy, especially during these days! Travel insurance can save your life. My recommendations are World Nomads and Insured Nomads. Both companies cover COVID-19 related incidents, which is crucial these days.
More resources
Just click on the "Plan your trip" tab at the top of this page, and you will find more resources like getting Mexican insurance for your foreign car, buying travel accessories, and learning Spanish. And, of course, don't forget to check back often to read about more tips on Mexico travel.