Updated 2022
Located in northern/central Mexico, San Luis Potosi City has played a significant role in the history of the country. It is situated along the Camino Real de Tierra Adentro (Inland Royal Road) also known as the Silver Route, that connected Mexico City and Santa Fe, New Mexico during the Spanish Colonization Era. Due to its commercial and cultural significance, it was declared a World Heritage Site by UNESCO in 2010, being the first Mexican state in obtaining such recognition.
When people think of San Luis Potosi, most of them immediately think of La Huasteca in the southern region of the state (both the state and capital share the same name). It's understandable. La Huasteca has beautiful lagoons, waterfalls, rivers, and nature all around. The truth is, the state's capital may not even be among the top options for tourists. That is indeed a shame. San Luis Potosi City is a jewel in the center of the country. Let's discover the best things to do in San Luis Potosi City, shall we?
Table of Contents
Walk Around the Historic Center
One of the must-sees in any destination you visit is undoubtedly its Historic Center. San Luis Potosi City's is really beautiful. It's filled with old, cantera stone buildings and you can see a contrast between antiquity and modernity. By law, buildings in the downtown area cannot change the style of their facades. This is to preserve the colonial touch that so many of us love.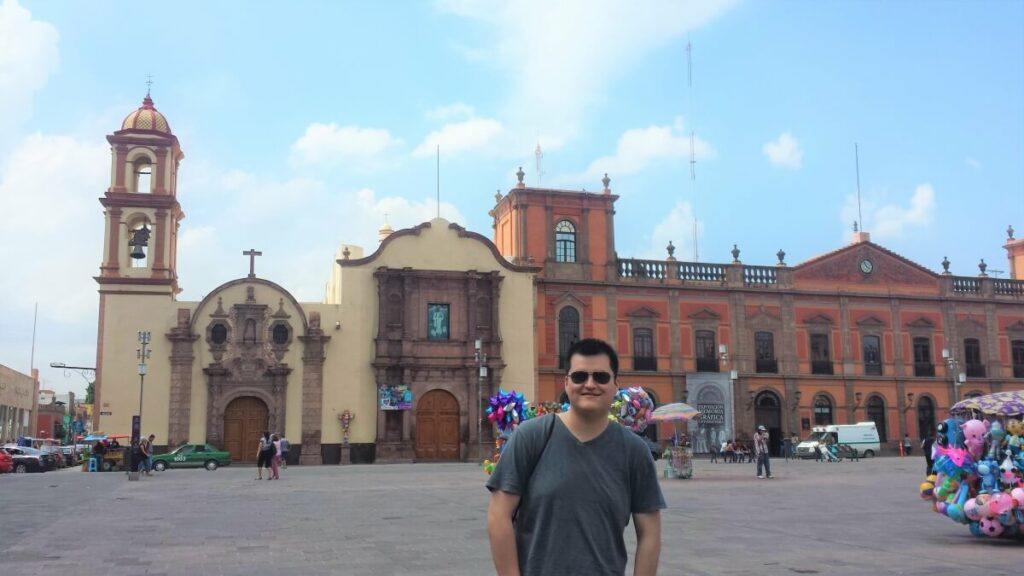 Plaza de Armas or main square. It has a beautiful kiosk in the center. Most Mexican cities have one in their main squares. There are several benches all around where you can sit under a shady tree. You can sit down and relax while you watch little kids playing around or grown-ups enjoying a lively conversation. It's a gathering place for locals, especially on weekends. If you're lucky, you can even watch a musical performance or a comedy show. And don't forget to grab an elote (corn on the cob) while you're there. Just don't put too much chile if you're not used to it.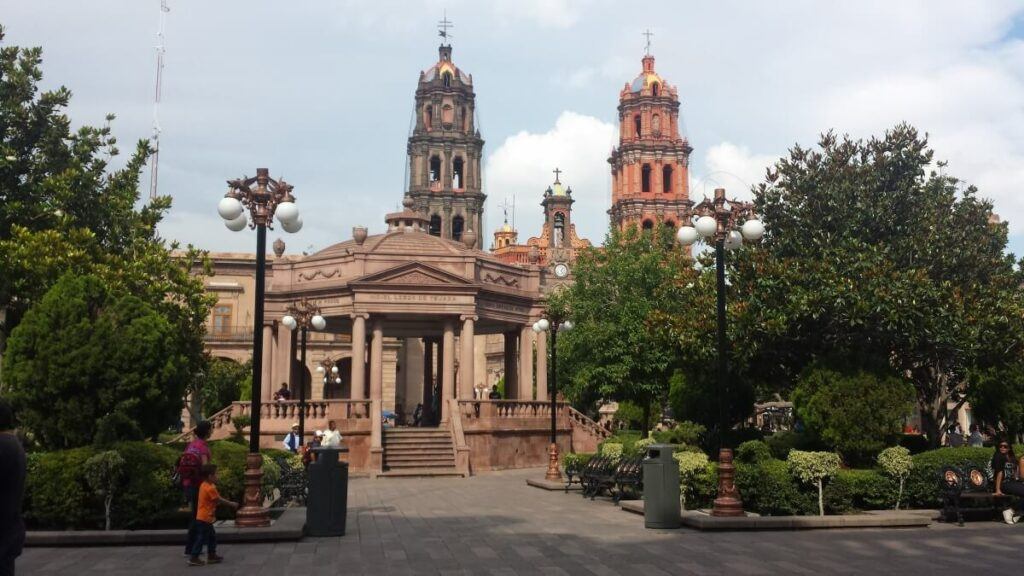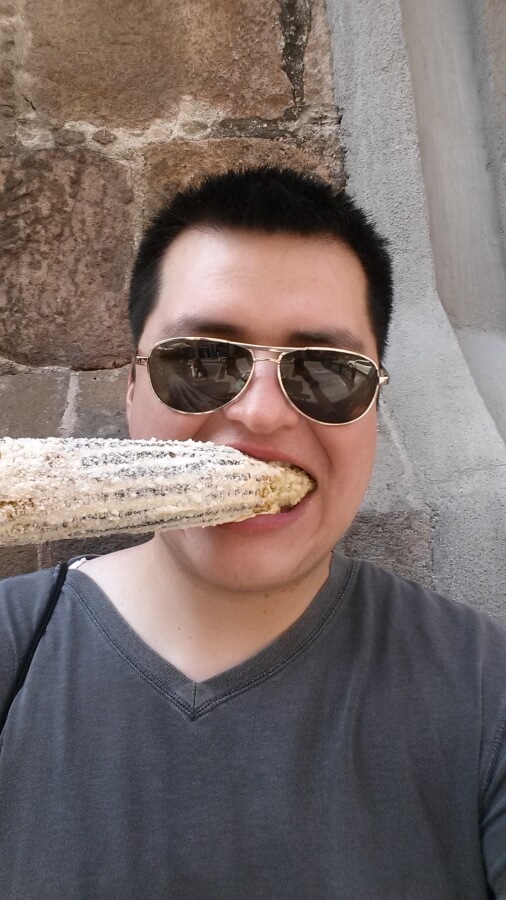 Learn About the History of the City
San Luis Potosi City played a major role in Mexican history. Every corner witnessed some important event. Take your time to read the explanations around monuments and buildings. Travel is about having fun and learning at the same time.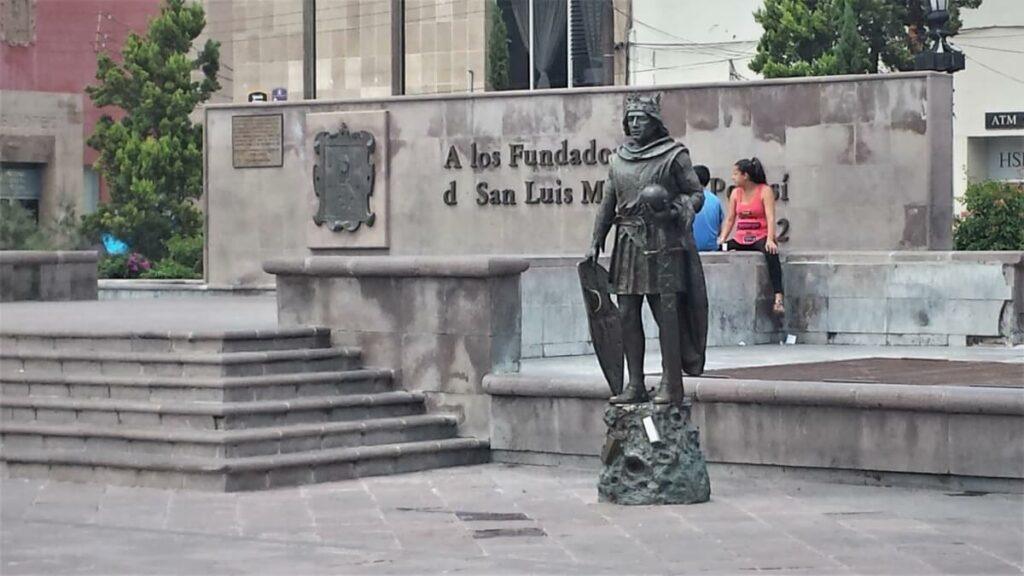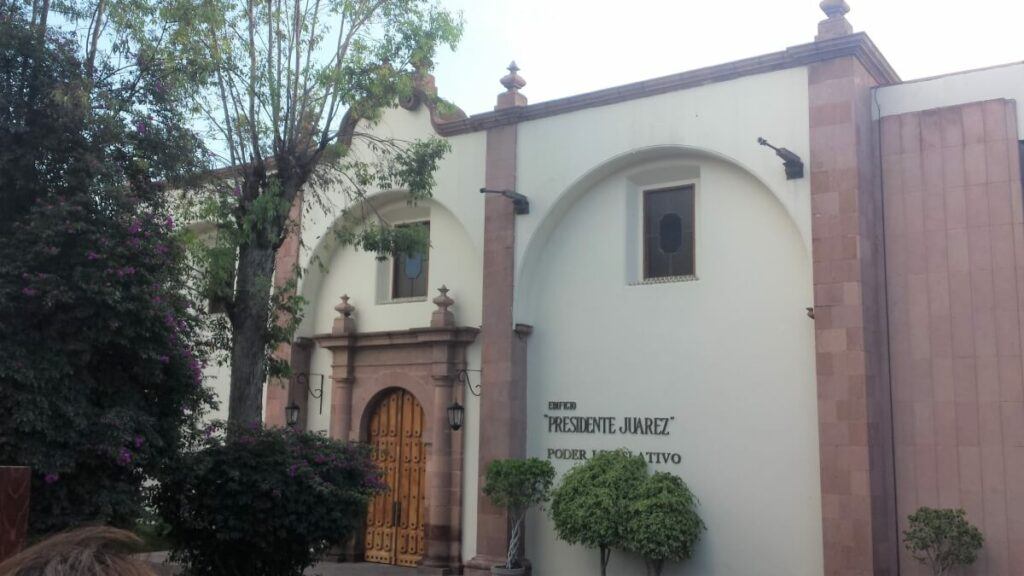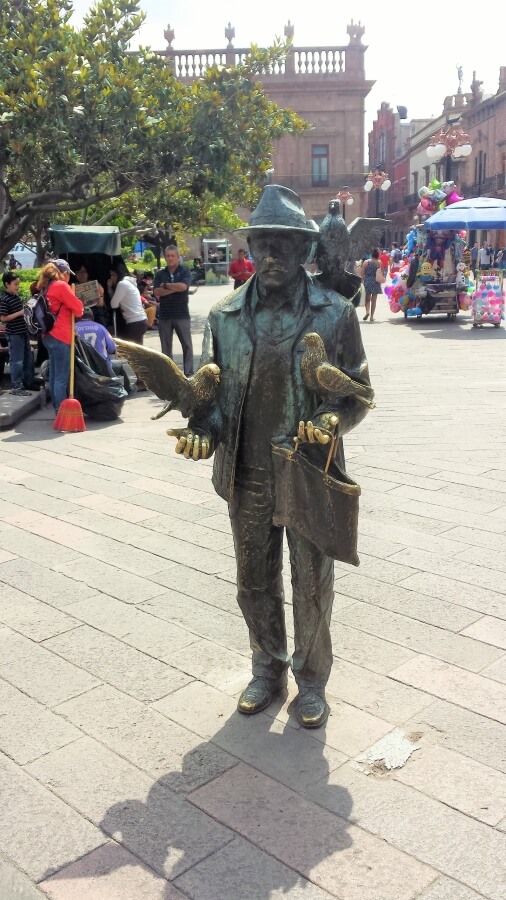 Not to miss:
Government Palace, where President Juárez established the Supreme Court in 1862.
Teatro de la Paz, a beautiful theater with French influences.
Plaza de los Fundadores, plaza surrounded by buildings that were important for the social and economic development of the state.
Edificio Ipiña, a building that was too modern for the time it was built.
Jardín de San Francisco, a garden in front of a beautiful Baroque temple.
Admire the Architecture and Take a Lot of Pictures
Pick a pace while walking around the Historic Center. Whether you're a professional or amateur photographer, you will find lots of photo opportunities all over the place. There are beautiful cantera buildings that date many years back. They were built by the Spanish and have witnessed many important events in Mexican history.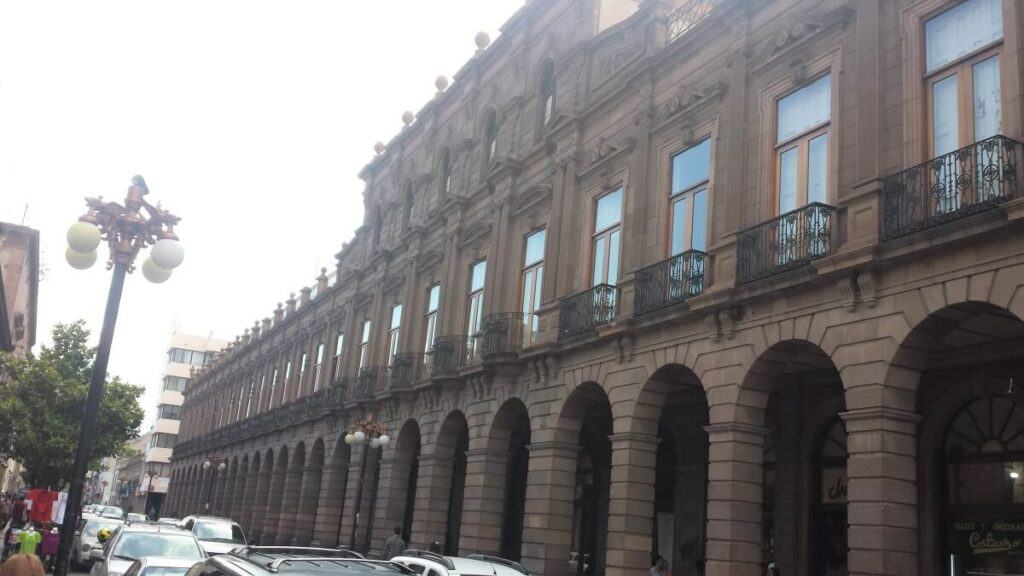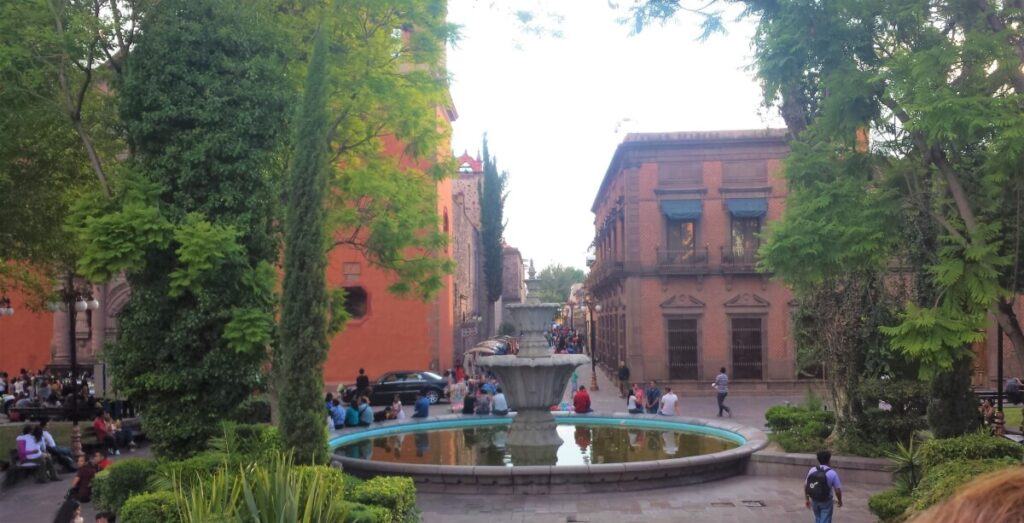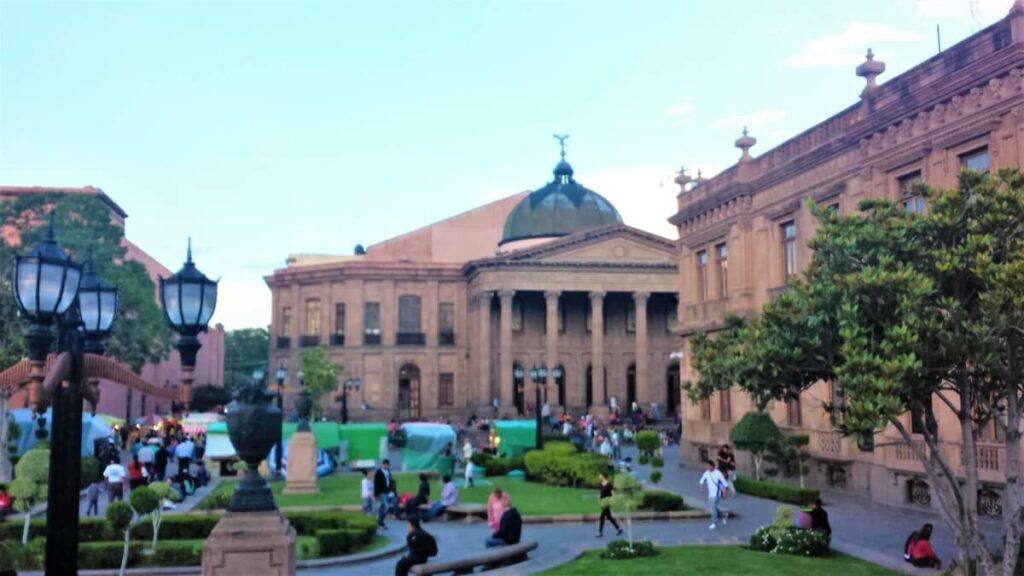 Visit the Cathedral
Right next to the main square is the Cathedral. It's one of the most beautiful churches in Mexico. This cathedral has a Baroque facade. Among its most notable attributes are the 24 statues of the Apostles (no other cathedral in the world has that): 12 made of marble and 12 made of cantera stone. Its two bell towers were made of different materials due to having been built in different periods. The inside of the church is also very beautiful. You are going to love it.
Visit a Museum
Very close to the main square, you will find the Museo Nacional de la Mascara (National Mask Museum). It's a former mansion that houses an enormous collection of masks and costumes from pre-Hispanic times to the present from all over the country. It's the second-largest museum of its kind, only being surpassed by the one in Zacatecas City. In addition to its permanent exhibit, the museum also hosts temporary exhibits. Both kids and adults will have a fun, learning experience. I highly recommend it.
Another place I recommend visiting is the Centro Cultural de las Artes. It's on the outskirts of the Historic Center. The museum looks like a castle from the outside. It was originally a prison and served that purpose for many years, but it was eventually converted into a museum. It's not only a museum but also an arts center where people interested in the arts can study to become a painter, sculptor, writer, etc. Inside you will find the Leonora Carrington Museum, with surrealist works of art.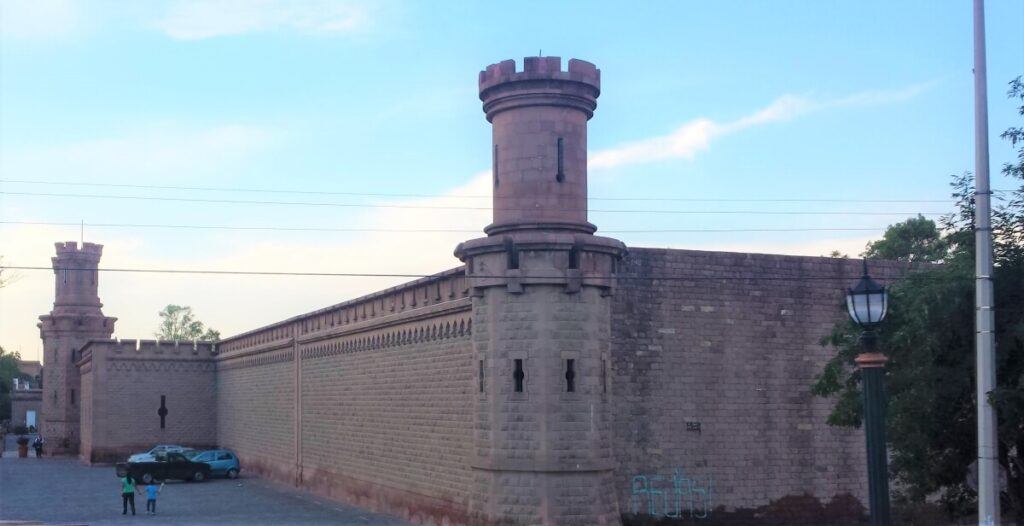 Other museums worth checking out include:
Museo del Ferrocarril Jesus Garcia Corona, with lots of railroad stuff.
Museo Regional Potosino, a nice little museum with pre-Hispanic artifacts from the area.
Museo Federico Silva, a modern museum with interesting architecture and lots of sculptures.
Museo Francisco Cossio, a former mansion converted into a museum with interesting paintings and sculptures.
Museo del Virreinato, a former Carmelite convent.
Museo Othoniano, birthplace of one of the most important writers of San Luis Potosi.
Museo de Arte Contemporaneo, museum with contemporary works of art.
Museo Laberinto, a modern art and science museum.
Hop on a Bus or Trolley
Back to the main square, let's say you would like to explore a little more, but you may feel tired by now. Don't worry. There are trolleys and buses that you can hop on to tour the city. I recommend doing this activity at night to avoid sun exposure plus you will get a better view of the illuminated city. They give you a tour around important places in the Historic Center and provide detailed information on each one. It's very informative and a cool activity to do with the whole family.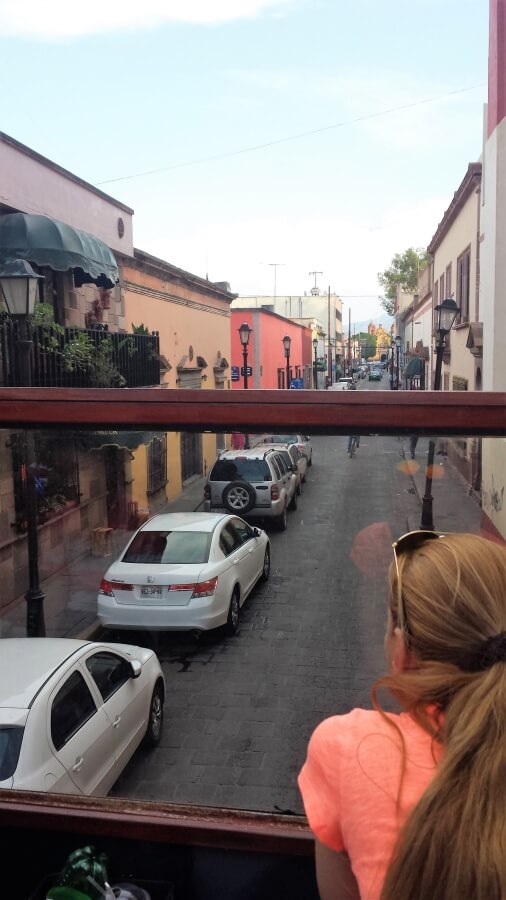 Connect with Nature
San Luis Potosi City has several options for nature lovers. For starters, you can visit the Parque Tangamanga, the second-largest park of its kind in Mexico. It's only surpassed by Bosque de Chapultepec in Mexico City. This park has picnic areas, sports fields, museums, among other facilities.
If you want to break a sweat, then head over to La Ventana. This rock formation is 2,000 meters (6,562 ft) above sea level and is a challenge for trekkers.
Now, if adventure is your thing, then Sierra de Álvarez is for you. There are camping areas on site and caves where you can practice rappelling.
Visit a Hacienda and Mezcal Factory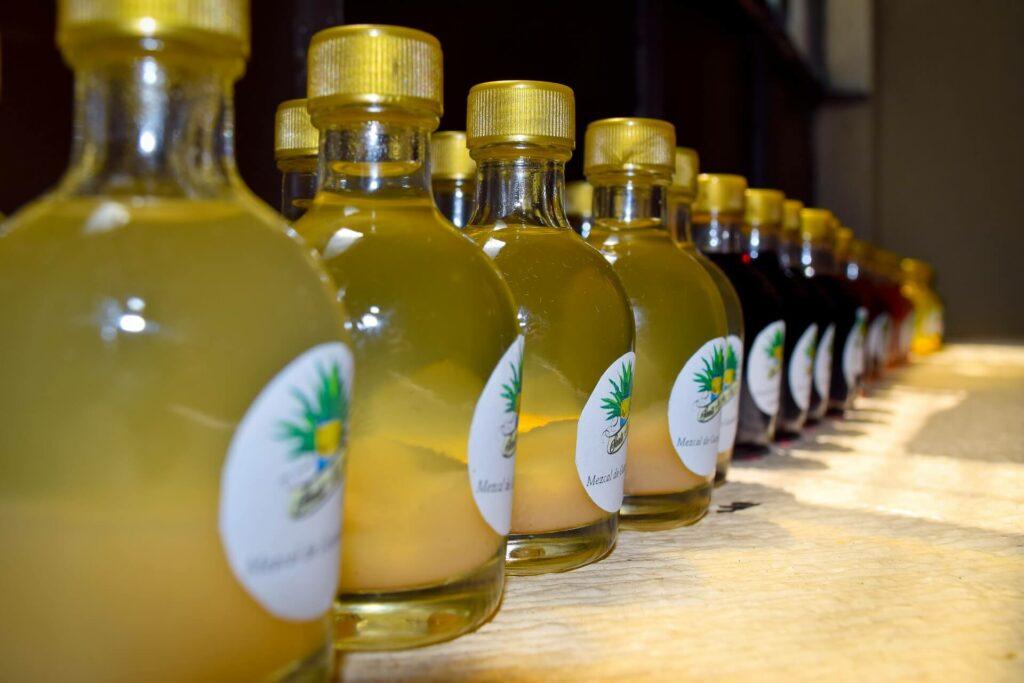 Did you know that San Luis Potosi is one of Mexico's top producers of mezcal? This alcoholic beverage comes from maguey, just like tequila.
You can visit a hacienda along with its maguey plantation. Afterward, you can visit a factory to learn about the making process of mezcal. Whether you're a connoisseur or an amateur drinker, you will find this fascinating. In the end, you can buy some mezcal to bring back home. Cheers!
Best Time to Visit
There isn't one. It depends on your preferences. The rainiest months are July, August, and September. For clear, rainless days the best time of the year for outdoor activities according to tourists is from late April to mid-June.
In terms of special events, some good times for visiting are:
The Procession of Silence on Good Friday, an event to remember the passion of Christ.
Fiesta de Luz, a video mapping show with lights and sound about the history of the state. Only available during holidays.
Feria Nacional Potosina, in August. Good food, fireworks, rides, and concerts for the whole family.
How to Get There
The Ponciano Arriaga International Airport is the airport that serves this Mexican capital. It is located about 16.5 km (25 miles) or 25 minutes from the city center. Domestic routes include Mexico City, Monterrey, Puerto Vallarta, Cancun, Queretaro, and Tijuana. As of October 2019, the only international routes operated out of this airport are Houston and Dallas. United Airlines operates direct flights between these two American cities and San Luis Potosi City.
San Luis Potosi City is conveniently located in the center of the country and has access to three major cities by land: Mexico City (417 km/259 mi.), Guadalajara (330 km/205 mi.), and Monterrey (515 km/320 mi.).
==>> Click here to find the cheapest flights!! <<==
Where to Eat
La Parroquia Potosina is one of the most well-known places to eat in San Luis Potosi City. It's just a couple of blocks away from the main square. They serve breakfast, lunch, and dinner at reasonable prices. They also serve a breakfast buffet Thursday through Sunday from 7 a.m. to 12 p.m. If you order a la carte, you have to try the enchiladas potosinas. They're spicy corn tortillas filled with cheese and accompanied with beans, cream, and avocado, although they serve them with cecina (cured beef) in several places as well. The average check is between 100 and 300 pesos ($5-$15) per person. Address: Avenida Venustiano Carranza # 303 Downtown, San Luis Potosi 78000 Mexico.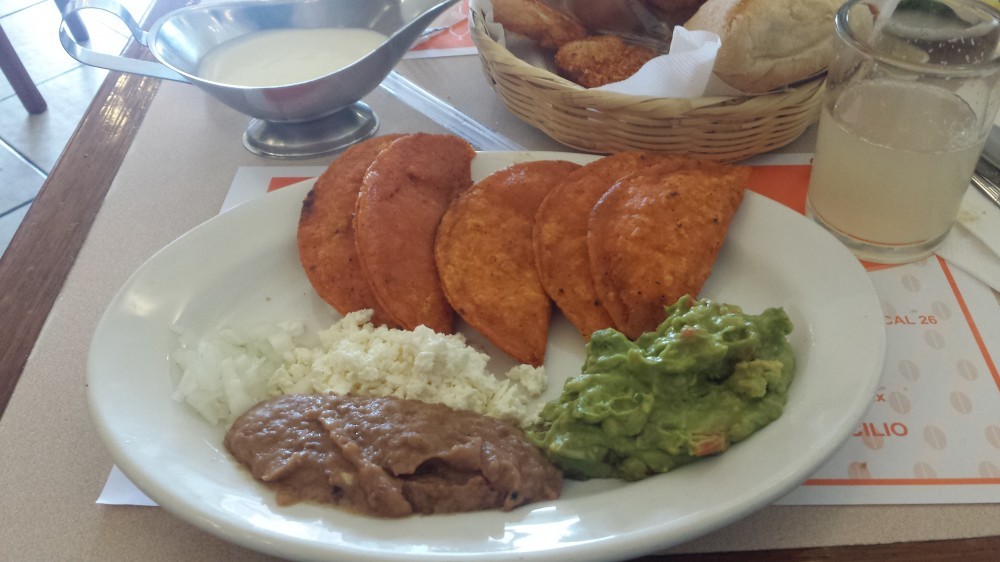 Other places worth checking out include:
La Oruga y La Cebada. A nice restaurant with a rooftop in the heart of the Historic Center. The menu is varied and includes a lot of drink options. The average check is between 120 pesos and 400 pesos ($6-$20). Address: Callejon Lozada 1 Plaza Aranzazu, San Luis Potosi 78349 Mexico.
Rincon Huasteco. A traditional restaurant serving dishes from the Huasteca region such as tamales, enchiladas, and bocoles. The average check is between 140 and 220 pesos ($7-11) per person. They also offer buffet for parties of two or more (217 pesos or $10.85 per person). Address: Cuauhtemoc 232 Col. Moderna, San Luis Potosi Mexico.
El Rincon de Don Pancho. A favorite among locals. Mexican food at its best. Live music, city views, and excellent service. Try the chilaquiles! The average check is 150 pesos ($7.50) and up per person. Address: Avenida Universidad 145, Centro Historico, 78000 San Luis, S.L.P., México.
Café Corta'o. A great place to go eat breakfast or drink some coffee. The average check is between 100 and 150 pesos ($5-$7.50) per person. Address: Calle Independencia 1150 Frente a explanada de Plaza Aranzazú, Centro Histórico, San Luis Potosi 78280 Mexico.
Tacos El Vaquero. A hidden gem to the south of the Historic Center. Delicious tacos! The average check is between 100 and 150 pesos ($5-$7.50) per person. Address: Prol Pedro Vallejo 426-Int. A, San Luis Potosi, Mexico.
For dessert, you can't miss Chocolates Constanzo. They're iconic in this Mexican city. You can find several locations throughout the city, but one of the biggest is downtown. You will find all kinds of chocolate for all tastes.
Where to Stay
A good option would be the Gran Hotel Concordia. It's right in the heart of the Historic Center with access to several major attractions. Prices are very reasonable starting from 50 USD. This hotel is a protected historic building with all the facilities and services you expect from a modern hotel. They even provide transportation to/from the airport.
Of course, there are cheaper and pricier options at your disposal. But for me, Gran Hotel Concordia does the job. You can't go wrong with it.
Other options recommended due to their location, prices, and reviews are:
Maison Pascual
Sukha Hostel San Luis
11:11 Hostal
Hotel Casa Tequis
Hotel Posada del Carmen
Azabu Hotel Collection
Hotel Casa Catalina
Hotel Arista 1026
Transportation
There are many bus routes that cover the whole city. Most buses start operating around 5 a.m. and finish around 10 p.m. The wait time for most buses is between 5 and 10 minutes. You can check bus schedules and routes here. Fares are around 11 pesos one way.
Suggested Budgets
If you're backpacking, you're looking at around 1,050 pesos ($52.50) per day. This includes accommodation at a hostel/cheap hotel, a combination of street food and home-cooked food, local transportation, and a few attractions per day (museums, parks, etc).
A mid-range budget is around 1,700 pesos ($85) per day. This includes accommodation at a 2-star hotel/Airbnb, cheap restaurants, a few more attractions than the backpacker budget, and a taxi if need be.
Finally, if you don't want to limit yourself, then a luxury budget will cost you at least 4,100 pesos ($205) per day. This includes staying at a 4-star hotel, eating at nice restaurants, taking taxis/Uber everywhere, and taking tours/guided trips.
Keep in mind these figures are just estimates. Some days you will spend less, while others you will spend more. This will give you a foundation to plan your budget and adjust it as necessary.
For your convenience, I created a table comparing the budgets we mentioned above. The prices are in Mexican pesos ($1 = 20 pesos).
| | | | | | |
| --- | --- | --- | --- | --- | --- |
| | Lodging | Meals | Transportation | Attractions | Average Cost per Day |
| Backpacker | 300 | 250 | 100 | 400 | 1,050 |
| Mid-range | 500 | 400 | 200 | 600 | 1,700 |
| Luxury | 1,000 | 1,500 | 400 | 1,200 | 4,100 |
Tips for Saving Money
There are several things you can do to save up. For instance:
Stay at a hostel or use Couchsurfing (an app that connects travelers looking for free lodging).
Eat street food. Food stands are easy to find and are an affordable option. Other excellent options are visiting the city markets or mall food courts.
Use public transportation as much as possible.
Although Uber is generally cheaper than taxis, fares can increase considerably due to surge pricing. This usually happens on weekends and weekdays before/after work hours. In that case, a regular taxi might be a better option.
Look for free walking tours online. Some good options are freetour.com and guruwalk.com. You just have to tip your guide at the end of the tour.
How to Stay Safe
In recent years, San Luis Potosi (the state) has been in the spotlight due to an increase in violence and crime. However, generally speaking, its capital is relatively safe. The local government is trying to increase security there to convert the city into an attractive destination for tourists. Therefore, downtown is the safest area to be in. Avoid the south part of town, namely, neighborhoods such as Satélite, Progreso, Tequis, Soledad, and Villa de Pozos.
Be mindful of your surroundings and keep your belongings with you at all times. Petty theft and mugging are not uncommon. Exercise caution when walking on the street or while on a bus. Avoid being outside during late hours, especially by yourself.
Don't take street taxis. Only take authorized taxis de sitio or Uber. If you ever find yourself in an emergency, you can dial 911.
Don't forget to buy travel insurance. You never know when you will need it.
Apps to Download
To make the most of your visit, I recommend downloading the following apps:
Google Maps. Find driving directions and download maps for offline use.
Parkopedia Parking. Find the nearest garage/parking lot.
Uber. The most important rideshare service in Mexico.
Moovit. Get the ins and out of public transportation. Just enter your origin and destination and find out which bus to take.
Google Translate. If you don't speak fluent Spanish, then make sure you have this app.
TravelSAFE. Connect to an emergency hotline by just pressing the SOS button.
MyCurrency. Find the latest exchange rate to know how much something is costing you.
Tripadvisor. Learn about other travelers' experiences and recommendations for hotels, restaurants, and other places in town.
Busbud. Find bus schedules (when traveling to other cities) and book cheaper tickets online.
Travello. Find other travelers on the road and make new friends.
Conclusion
San Luis Potosi City is often overlooked by travel guides and tourists alike. Just like I've said plenty of times that there's more to Mexico than just Cancun, I say the same thing about San Luis Potosi: There's more to San Luis Potosi than just La Huasteca! The majority of visitors are Mexicans living in the U.S., although it seems that's starting to change with the inflow of tourists from other parts of the world. This Mexican capital has so much to offer everyone you won't be disappointed.
That's it for today. As always, feel free to comment or ask any questions you may have. See you soon!
Book your trip now!
Book your flight
The first thing you have to do is find cheap flights. But where do you find those? There are many search engines, but the one I highly recommend is Skyscanner. Here you can compare fares from all over the world and pick the one that suits you best.
Book your accommodation
The next thing you have to do is secure your lodging. Whether you prefer a hostel, a guesthouse, a B&B, or a hotel, you can find them all on Booking. You can find lodging of all kinds ranging from cheap to expensive and somewhere in between. Many people have scored good deals using it.
Another popular option is Hostelworld. This website focuses on hostels as opposed to hotels.
Book a tour
In some places, you might want to hire a tour. Not all places are equally accessible to visit by oneself. It helps enormously when you visit with a local guide who can show you around and answer any questions you might have…all in your native language. My to-go place is Viator as they offer tours of all kinds and have a presence all over the world.
Rent a car
Public transportation is usually cheaper than renting a car, but it's sometimes more complicated and time-consuming. That's a reality. In some cases, it's more convenient to rent a car. My recommendation is Rentalcars.com. Here you can compare rates and choose the one that fits you best.
Book your bus tickets
You can save money by booking bus tickets online. My favorite site to do this is Busbud.
Get travel insurance
Never travel without a travel insurance policy, especially during these days! Travel insurance can save your life. My recommendations are World Nomads and Insured Nomads. Both companies cover COVID-19 related incidents, which is crucial these days.
More resources
Just click on the "Plan your trip" tab at the top of this page, and you will find more resources like getting Mexican insurance for your foreign car, buying travel accessories, and learning Spanish. And, of course, don't forget to check back often to read about more tips on Mexico travel.