Oaxaca City: a magical place from old times. A place that hasn't succumbed to globalization like other places have done. That is probably why it has been on the radar of savvy travelers in the last few years. You can see its name all over the place. It is unquestionably one of the best places to travel to in Mexico. Don't take our word for it. Earlier this year, it was featured on Travel + Leisure, one of the most prestigious travel magazines worldwide.
But what's the hype about it? What is there to do and see? Isn't it just any typical Mexican destination? What's so special about it? Don't worry. I understand your doubts. That's why today I'll present you with a list of things to do in Oaxaca City. By the end of this post, you will be able to draw your conclusions and decide if it's a place worth visiting.
Table of Contents
Its Beautiful Church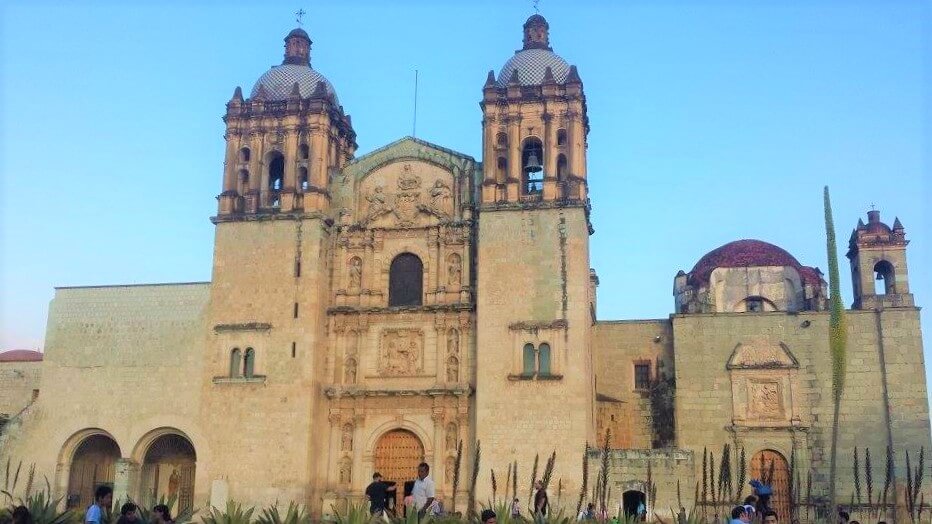 The Church of Santo Domingo de Guzmán in its historic center is one of the most beautiful churches, if not the most beautiful, in all of Mexico. No wonder it's one of the most photographed churches online. If you like what you see on the outside, you will love its interior even more.
The church was part of a complex along with a monastery under the Dominican order. Its construction began in 1575 and took 200 years to finish. It boasts a Baroque style. The interior is decorated with golden motives and impressive paintings. Take your time to admire the ceiling medallions and all the details around you. The whole place takes on a different look at night when they lit up the hundred of candles inside.
Would you like to get married there? Well, you will have to sign up for a waiting list, and the wait could take up to 2 years! So, if you've made up your mind about getting married in this church, the sooner you register, the better.
Address: Calle de Macedonio Alcalá s/n, Centro, 68000 Oaxaca de Juárez, Oax., Mexico.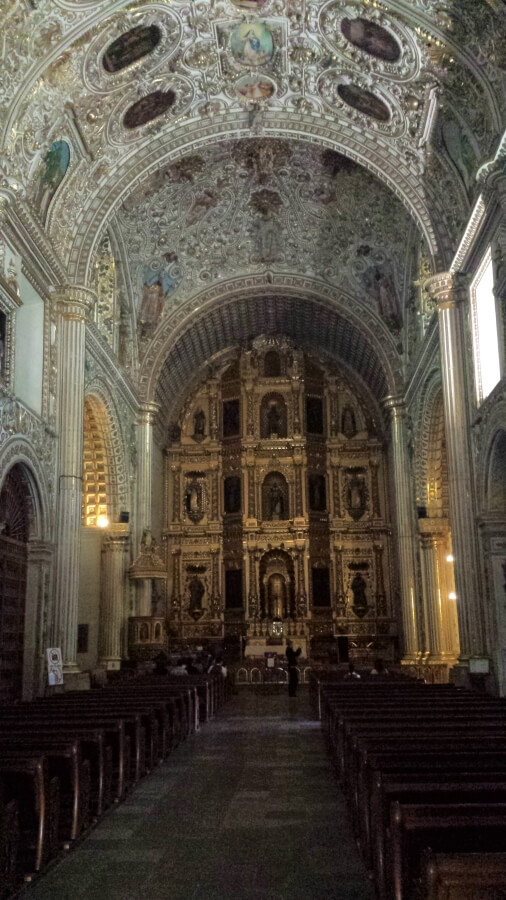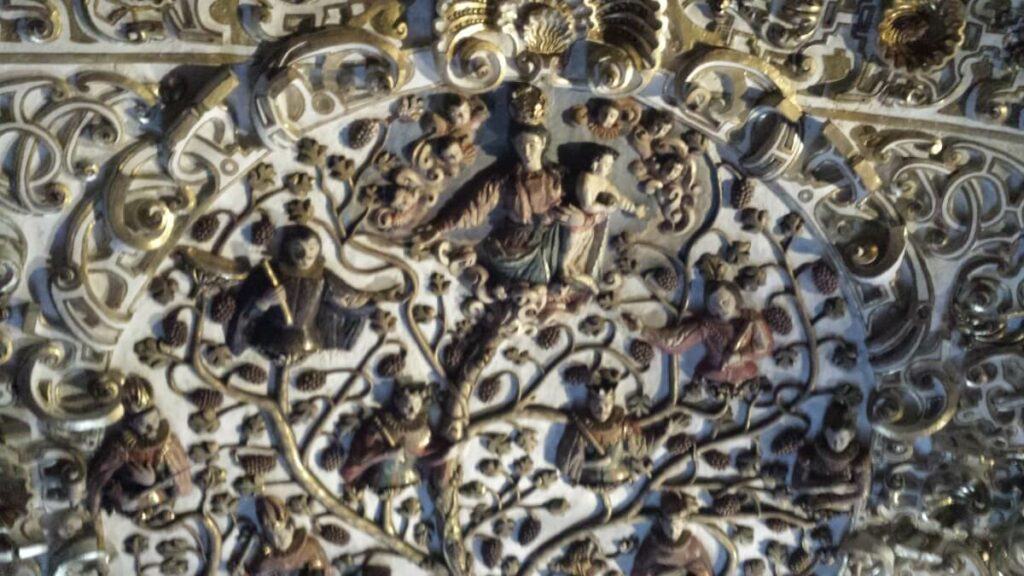 Museo de las Culturas de Oaxaca
You will find this museum right next to the church. It occupies what was once a convent. There are exhibits from various periods in Mexican history, starting from pre-Hispanic times up to our days.
The architecture is simply amazing. Lose yourself in its various halls and rooms. It's a huge museum. You will need at least 2 hours to tour it all.
The museum is open Tuesday through Sunday, from 10 a.m. to 6:30 p.m. Admission costs only 80 pesos ($4). Sundays are free for Mexican residents.
Address: 1a. Cerrada de Macedonio Alcala s/n, RUTA INDEPENDENCIA, Centro, 68000 Oaxaca de Juárez, Oax., Mexico.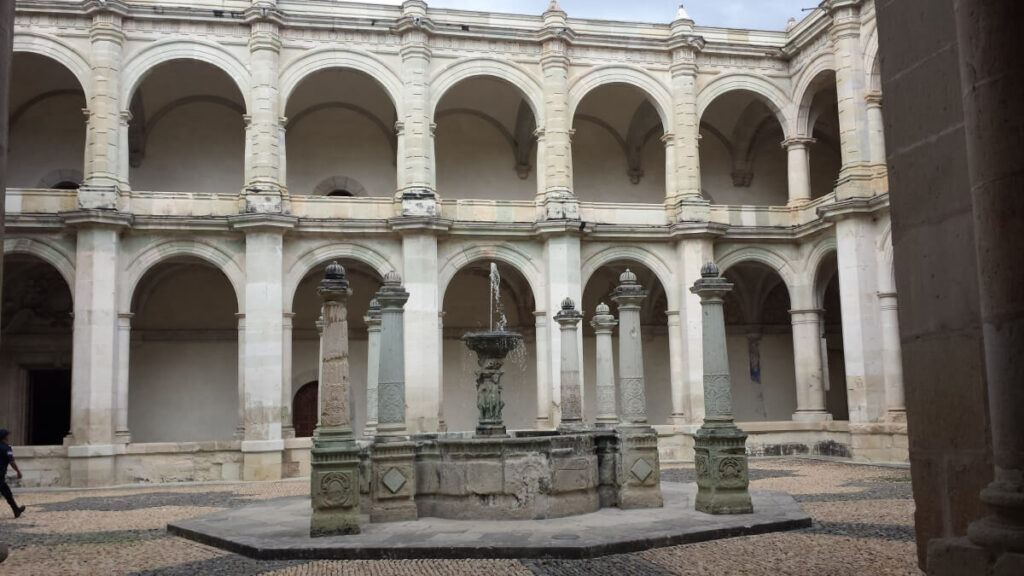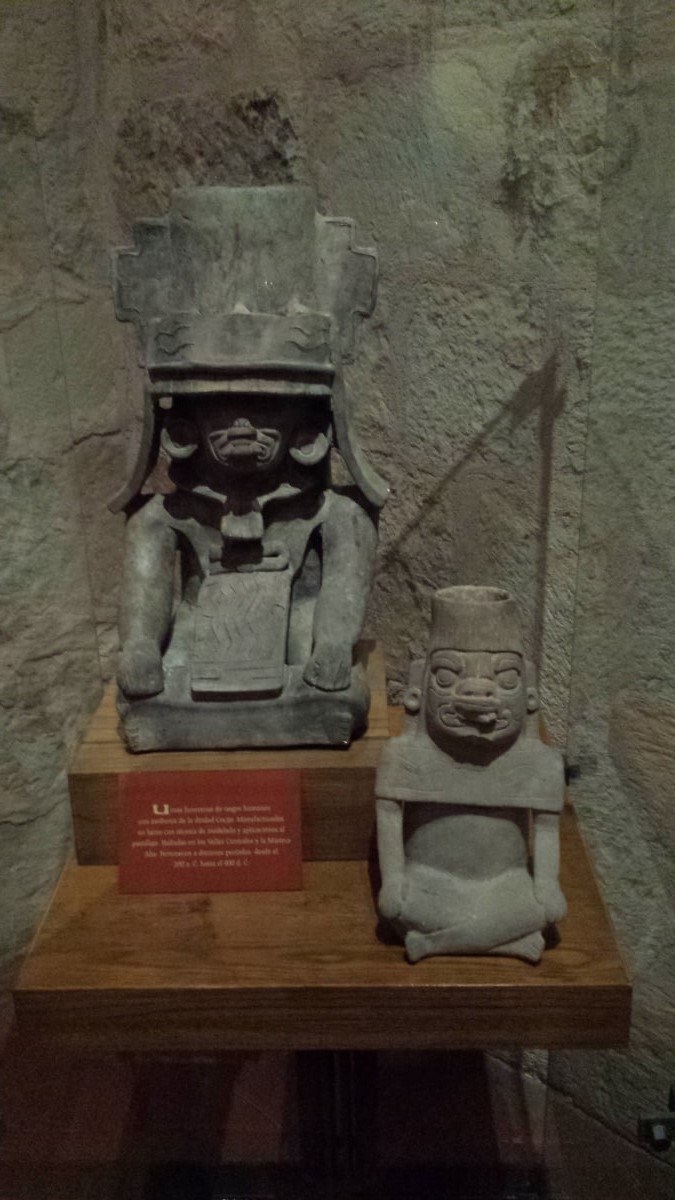 Jardín Etnobotánico
You will find the Jardín Etnobotánico behind the museum. This ethnobotanical garden offers spectacular views for plant lovers and non-lovers alike. Many couples choose this place for their wedding photos.
The garden occupies 2.32 acres of land. All the trees and plants found here come from various parts of Oaxaca, which is one of the most biodiverse states in Mexico.
All the visits are guided to preserve the facilities. There are tours in English, French, and German. Below are the exact days and times for your reference:
English tours: Tuesdays, Thursdays, and Saturdays at 11 a.m.
French tours: Tuesdays at 5 p.m.
German tours: Wednesdays at 5 p.m.
The tour lasts one hour. Admission is 100 pesos ($5) per person and is free for minors under 12.
Address: Reforma Sur n, RUTA INDEPENDENCIA, Centro, 68000 Oaxaca de Juárez, Oax., Mexico.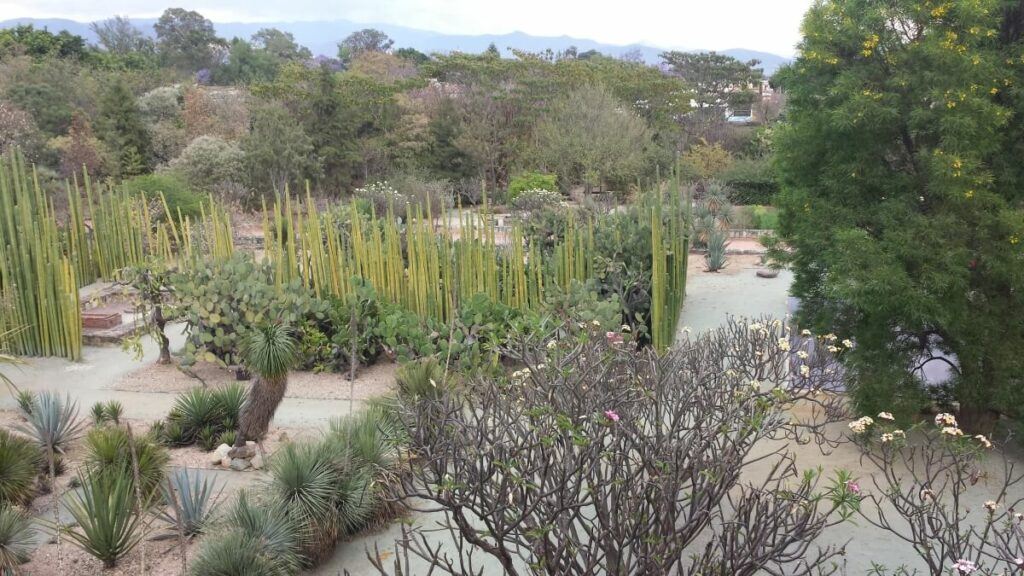 Its Historic Center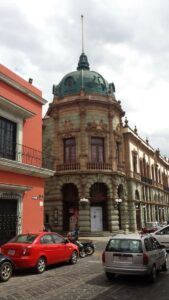 Due to its cultural and historical significance, Oaxaca's historic center was named a World Heritage Site by UNESCO in 1987.
The 3 places mentioned above are all located in the historic center, but the historic center has way more things. Other points of interest include:
Casa de Benito Juárez, one of Mexico's most renowned presidents.
Museo Belver Jiménez, hosting a private jewelry collection.
Casa de las Artesanías de Oaxaca, where you can get cool handicrafts.
MACO, Museum of Contemporary Art.
Zócalo, the city main square.
Teatro Macedonio Alcalá, one of the most beautiful theaters in Mexico.
Centro Cultural San Pablo, a cultural center.
Luckily, you can tour all these attractions on foot as the city is highly walkable. Take your time to admire the views and take lots of photos. Chill at a coffee shop or amuse yourself at one of the art galleries. Be it day or night, the historic center is a must when visiting Oaxaca.
This walking tour is a good start. You don't have to follow it to the letter. Feel free to add or delete places from the list.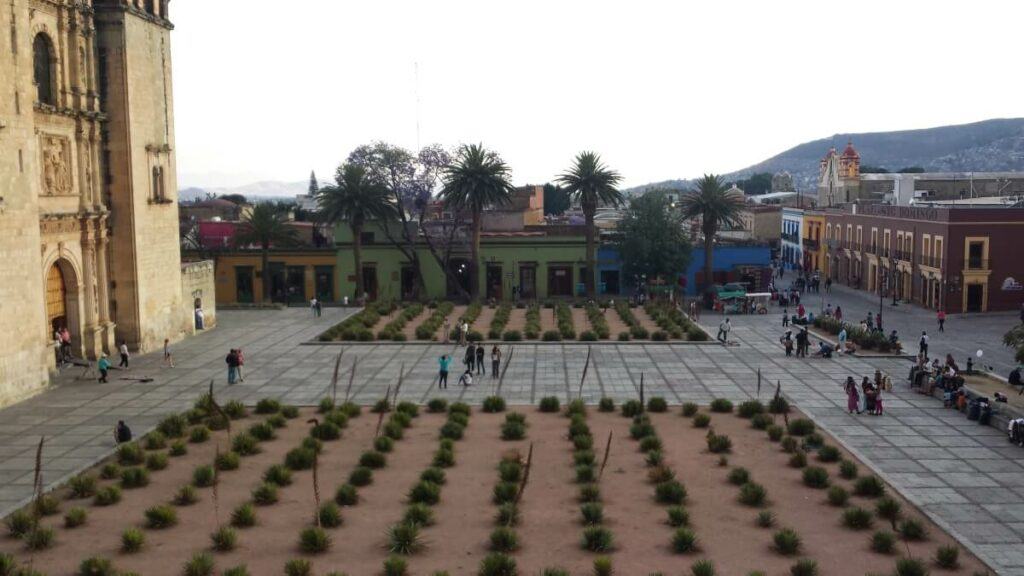 Monte Albán
Monte Albán is Oaxaca's most important archaeological site. It's located on a low mountainous range in the Valley of Oaxaca and can be seen from a long distance.
Monte Albán was an important socio-political and economic center in the Zapotec civilization. The original name is unknown. Its current name is attributed to the Spanish conquerors, who claimed it looked like the Alban Hills in Italy.
Something that characterizes this site is the number of carved stone monuments throughout the main plaza as well as the symmetry in its structures.
Monte Albán is one of Oaxaca's most visited attractions. It's located barely 10 km (6.2 miles) from the city center.
For history buffs like me, there is an onsite museum where you can learn more about the ancient civilizations that occupied this territory as well as some exhibits with tools, jewels, and other artifacts.
Monte Albán is open Monday through Sunday, from 8 a.m. to 6 p.m. Admission is 80 pesos ($4) per person. Sundays are free for Mexican residents.
Address: Carretera a Monte Albán s/n, San Pedro Ixtlahuaca, Oaxaca, Oax.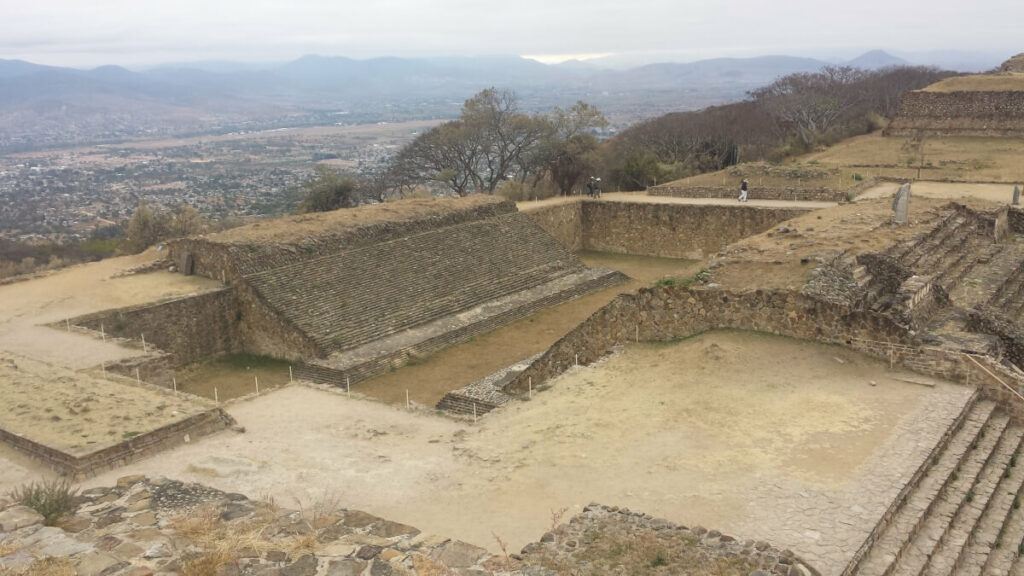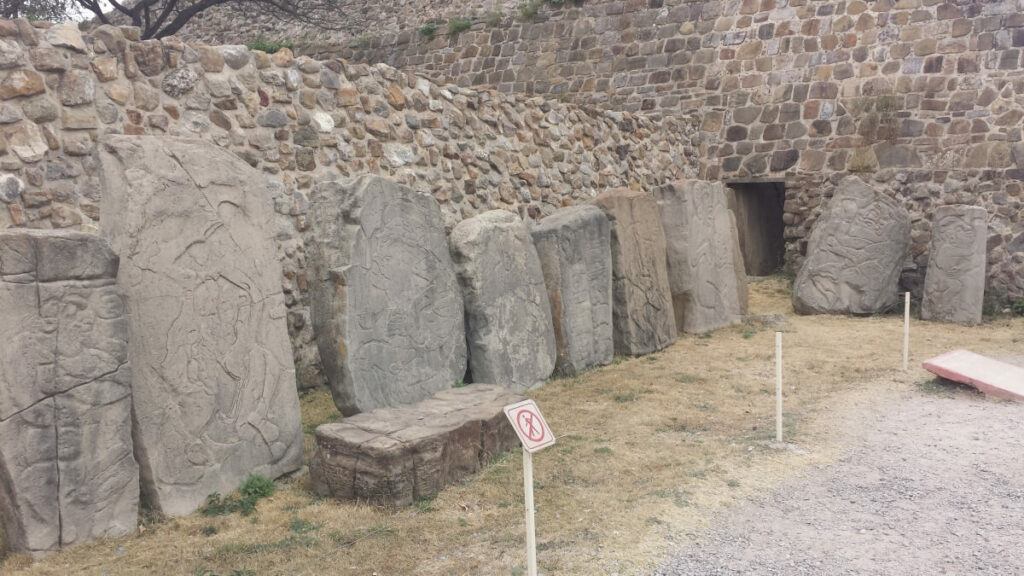 ==>Check out available tours!<==
Mitla
The second most important archaeological site in the state is a little farther from Oaxaca City, about 44 km (27.3 miles).
Unlike other archaeological sites, there are no pyramids in Mitla. Instead, you will find palace ruins with lots of details in their facade. It's incredible how the Zapotecs were able to build such amazing patterns with perfect symmetry given the technology they had at the time.
While Monte Albán was an important economic center, Mitla was an important religious center. Its name comes from Nahuatl Mictlán, which means "underworld" or "place of the dead."
Mitla is open Monday through Sunday, from 8 a.m. to 5 p.m. Admission costs 75 pesos ($3.75) per person.
Address: Camino Nacional, Los Presidentes, Centro, 70430 San Pablo Villa de Mitla, Oax., Mexico.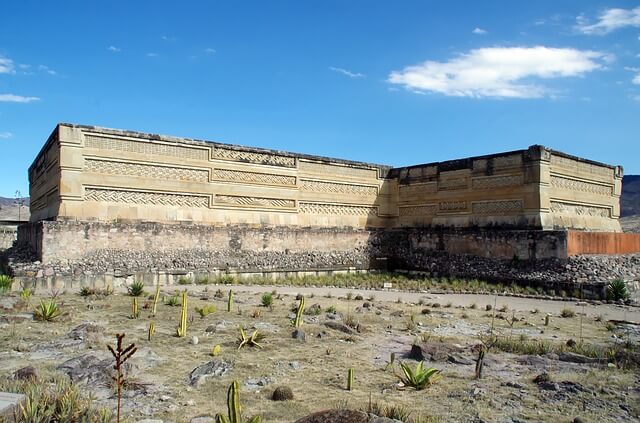 El Tule
El Árbol del Tule is a Montezuma cypress (known in Mexico as ahuehuete) that is famous for being the largest girth tree in the world. It has a circumference of 42 meters (137.8 ft).
The age of the tree is unknown, although most experts agree it is between 1,200 and 3,000 years old.
El Tule, as it is known by locals, is nicknamed "The Tree of Life" due to the number of animals you can see in its trunk, with some imagination that is.
The tree is located on the church grounds in the town center of Santa María del Tule, about 11 km (6.8 miles) from Oaxaca City. Admission is 10 pesos ($0.50).
Address: 2 de Abril, 8va Etapa IVO Fracc el Retiro, Santa María del Tule, Oax., Mexico.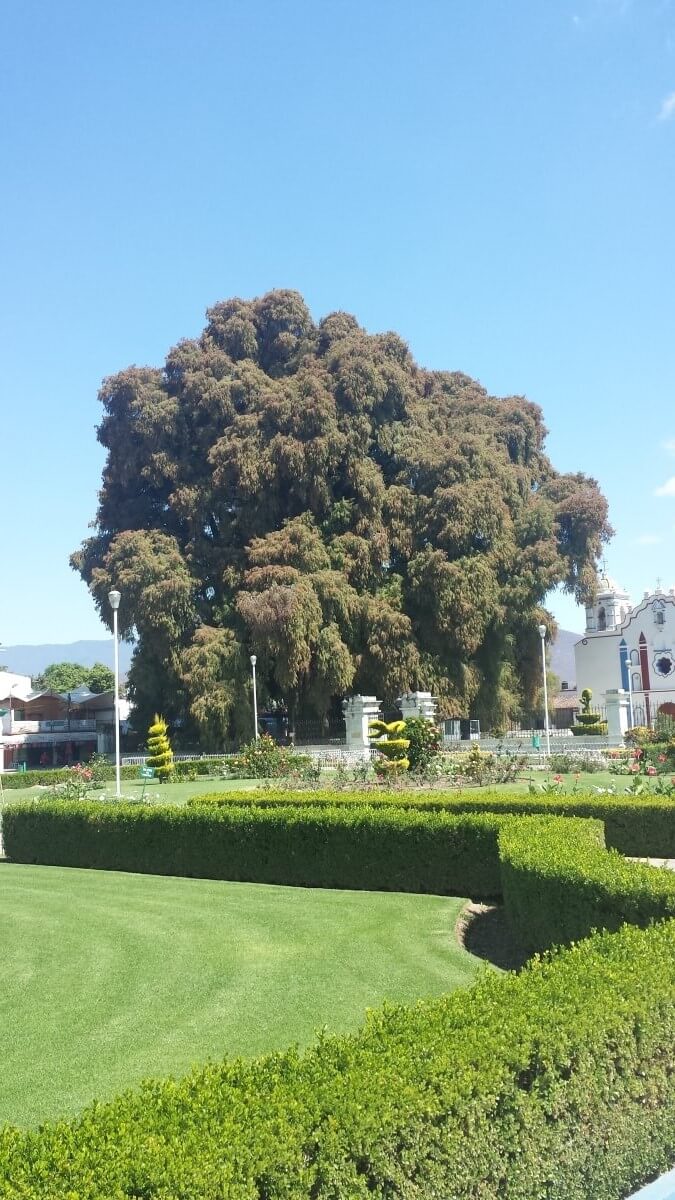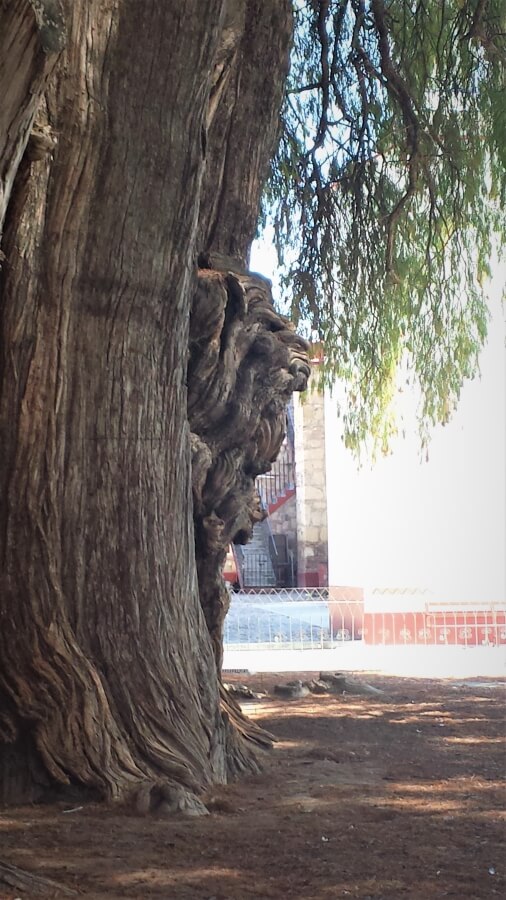 Hierve El Agua
Hierve El Agua is famous for having the only petrified waterfalls in the world besides Turkey. On top of the falls, there are a couple of natural pools where you can relax. Some claim the water is a little cold, but once you enter you get used to it.
The views of the valley are stunning, to say the least. No wonder it's one of the most photographed attractions all over the world. Just do a quick Instagram search, and you will find tons of incredible photos.
If you're into hiking, there is a hiking trail you can take. The walk takes about 20 minutes each way. Just make sure to wear comfortable, non-slipping shoes.
Hierve El Agua is one of Oaxaca's most visited attractions. To avoid the crowds, I recommend visiting on weekdays as weekends tend to see a lot of activity.
Hierve El Agua is open Monday through Sunday from 9 a.m. to 6 p.m. You have to pay 10 pesos ($0.50) to the locals, and then 25 pesos ($1.25) for admission, making a total of 35 pesos (around $4) per person.
This attraction is located about 62 km (38.5 miles) from the capital, and it takes around 1 hour and 40 minutes to get there.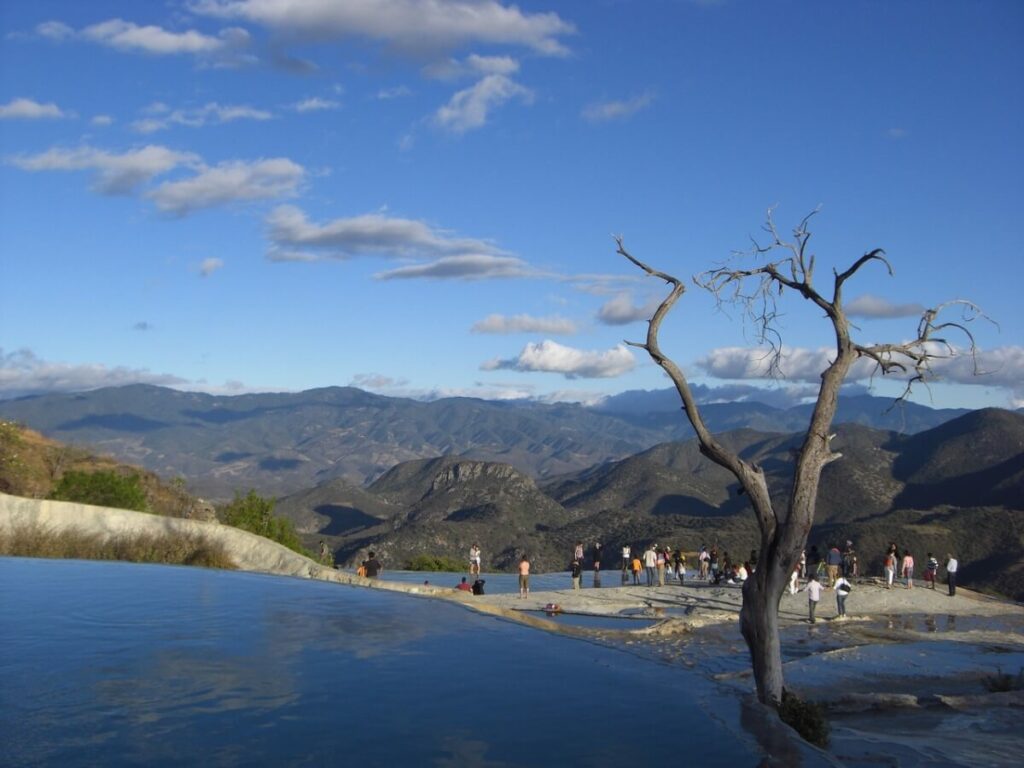 Its Impressive Handicrafts
Oaxacan handicrafts are famous for their designs and colors. The artisans are highly skillful and make beautiful decorations from various materials such as wood, metal, stone, paper, and leather. The quality of the products is amazing.
Out of all the handicrafts available, there are two that stand out above the rest: alebrijes and barro negro pottery.
Alebrijes are colorful Mexican folk art sculptures of fantastical creatures. They were originally made from paper, but the current alebrijes are carved from wood.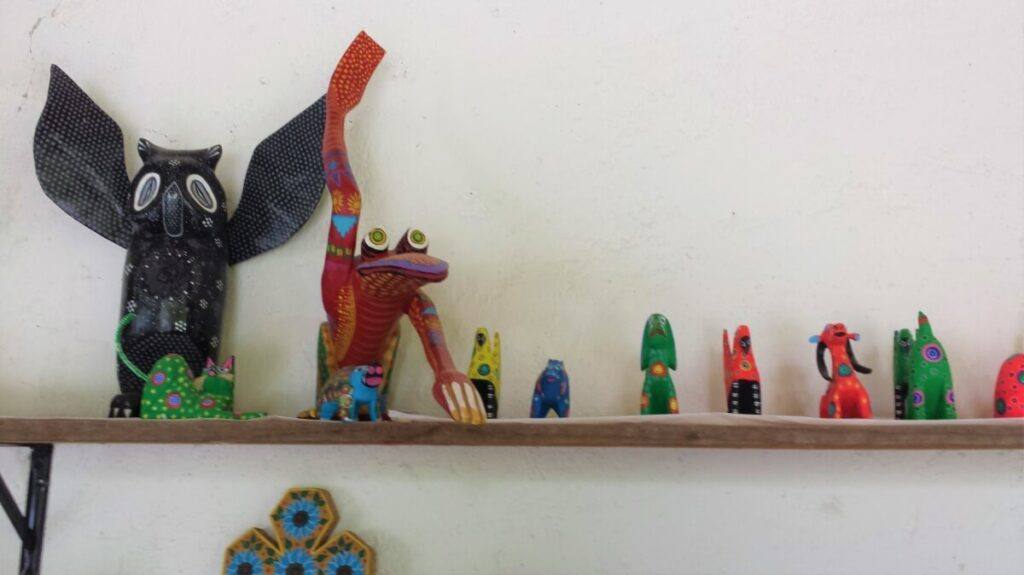 Regarding barro negro pottery, it is a style of pottery where each piece is polished before firing. The result is a piece with a shiny black, elegant look. You can find all sorts of things made of barro negro.
Some tours take you to various local shops so you can watch the making process. Don't forget to buy a few items. These souvenirs aren't something you get to see on every corner.
The Guelaguetza
The Guelaguetza is a cultural festival that takes place in Oaxaca City every year. The word Guelaguetza comes from Zapotec and means "reciprocal exchanges of gifts and services."
The Guelaguetza is all about celebrating and preserving Oaxaca's past. it includes traditional dances, walking bands, parades, native costumes, and local foods. People from all over the state gather in the capital during these days to proudly show their local culture.
This festival draws thousands of Mexican and international tourists and is probably Oaxaca's busiest season. It is held in mid-July.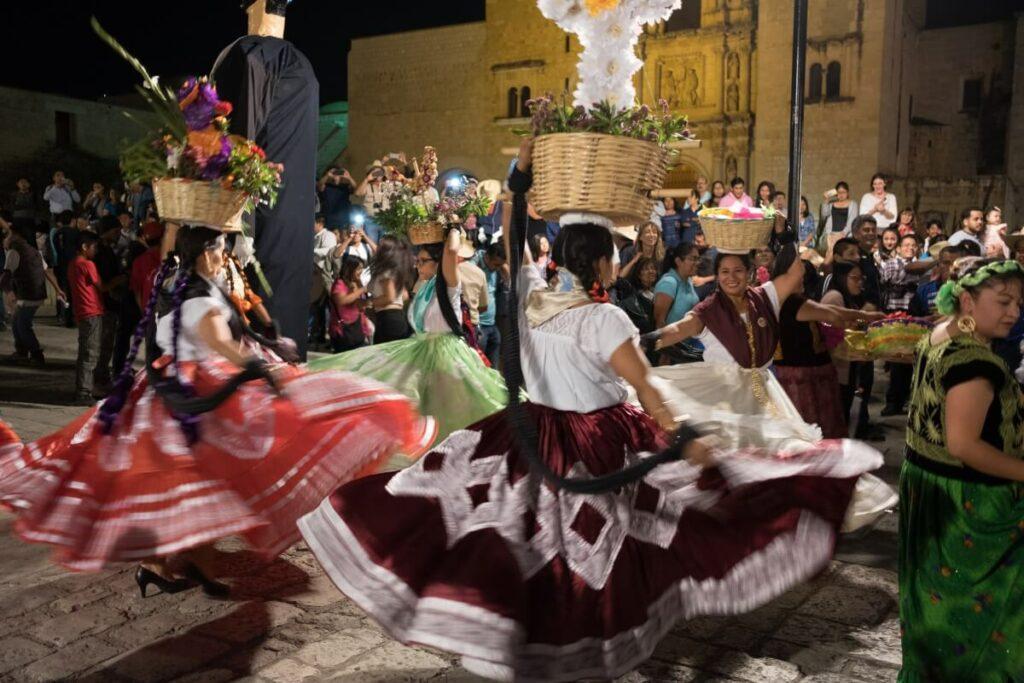 Enjoy the Local Cuisine
Oaxaca's gastronomy deserves a whole article of its own. It's one of the richest and most varied cuisines in Mexico. It's considered Mexico's best regional cuisine by many.
When visiting Oaxaca City, you shouldn't miss:
Mole. A kind of sauce made from various ingredients such as peppers, nuts, and chocolate and served with chicken or pork. Moles can be sweet, spicy, or somewhere in between. Oaxaca is famous for mole negro, which is on the sweeter side.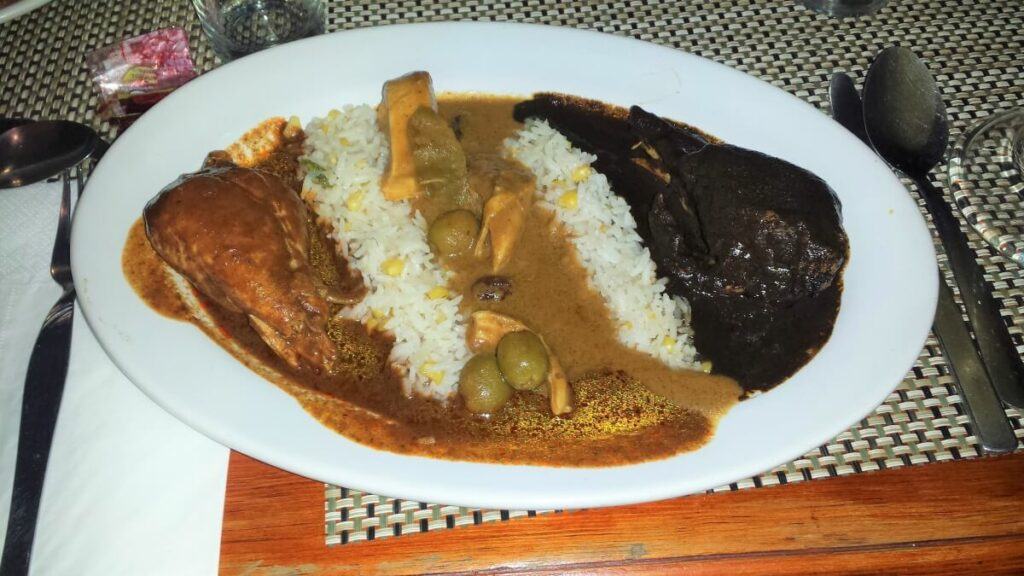 Tlayuda. A kind of large tortilla topped with black beans, meat, and cheese. Known as the Mexican pizza.
Caldo de piedra. A kind of soup made with fish, shrimp, and vegetables.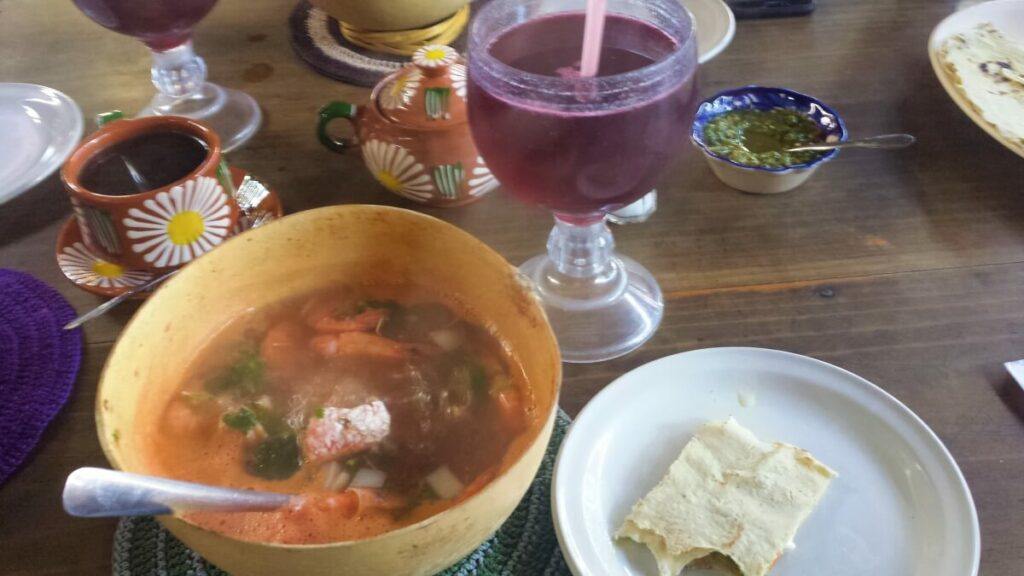 Oaxaca is also famous for its cheese (they call it quesillo, not Oaxaca cheese), chocolate, and mezcal.
There is so much we could say about Oaxaca's cuisine that this post would be super long. I'd rather do it in another post.
Just so you have an idea about the popularity of Oaxacan cuisine, TV and internet celebrities have visited Oaxaca City and become enamored with it. The list includes Anthony Bourdain, T.J. Steele, Mark Wiens, and Trevor James.
==>Click here to book a food tour!<==
Best Time to Visit
The best times to visit Oaxaca in terms of weather are the periods of January-April and November-December. The temperatures then are milder and there are lower chances of rain.
One of the busiest times is the last week of July. That's when the Guelaguetza is held.
Another popular season is the time around Día de Muertos during the first week of November.
How to Get There
Oaxaca City is located in southern Mexico, approximately 462 km (287 miles) from Mexico City. The drive takes about 6.5 hours.
Oaxaca City is served by Xoxocotlán International Airport. The airport has only one terminal that handles both national and international flights.
All the major Mexican airlines fly to Oaxaca. There are also direct flights from Houston, Chicago, and Los Angeles operated by Volaris and United.
The bus lines that serve Oaxaca are ADO, Fipsa, and Estrella de Oro.
Where to Stay
Quinta Real Oaxaca is a beautiful boutique hotel that occupies the restored 16th-century ruins of the Convent of Santa Catalina de Siena. The amenities include Wi-Fi, a swimming pool, a gym, a business center, a restaurant, a bar, and meeting rooms. You can rent the main hall for a wedding or another big event. Oh, did I say their breakfast buffet is to die for?
The average price per night starts from $170, but keep in mind that it varies depending on the season.
Address: 5 de Mayo 300, RUTA INDEPENDENCIA, Centro, 68000 Oaxaca de Juárez, Oax., Mexico.
Hotel Abu is a 3-star hotel that offers stylish rooms with free Wi-Fi and cable TV. There is a restaurant on the first floor where you can eat at affordable prices. The average night costs $50. It's strategically located, and the staff is super nice.
Address: Murguía 104, RUTA INDEPENDENCIA, Centro, 68000 Oaxaca de Juárez, Oax., Mexico.
There are also many hostels available for those looking for cheaper options. I recommend using Booking to get the best prices available.
Where to Eat
With so many delicious options to choose from, only the sky is the limit. There are food options for all budgets, whether you're looking for cheap eats or gourmet options.
For those looking for a gourmet experience, I recommend Casa Oaxaca. This restaurant is located in the downtown area and offers local dishes with a gourmet touch. The average check per person is between 300 and 600 pesos ($15-$30). Address: C/ de la Constitución #104-A, RUTA INDEPENDENCIA, Centro, 68000 Oaxaca de Juárez, Oax., Mexico.
Another great option is Las Quince Letras. Prices are a little lower than Casa Oaxaca, but the food is delicious nonetheless. The average check per person is between 150 and 300 pesos ($7.50-$15). Address: Calle de Mariano Abasolo 300, RUTA INDEPENDENCIA, Centro, 68000 Oaxaca de Juárez, Oax., Mexico.
However, if you want the real thing, there's no better place than the local markets. You can head out either to Mercado Benito Juárez or Mercado 20 de noviembre in the downtown area. You will find lots of traditional dishes at super affordable prices. Try the tray with meat and sausage! If you like to try new things, then you can try grasshoppers and mezcal worms. They're a delicacy in Oaxaca.
Mercado Benito Juarez's address: Las Casas S/N, OAX_RE_BENITO JUAREZ, Centro, 68000 Oaxaca de Juárez, Oax., Mexico.
Mercado 20 de noviembre's address: 20 de Noviembre 512, OAX_RE_BENITO JUAREZ, Centro, 68000 Oaxaca de Juárez, Oax., Mexico.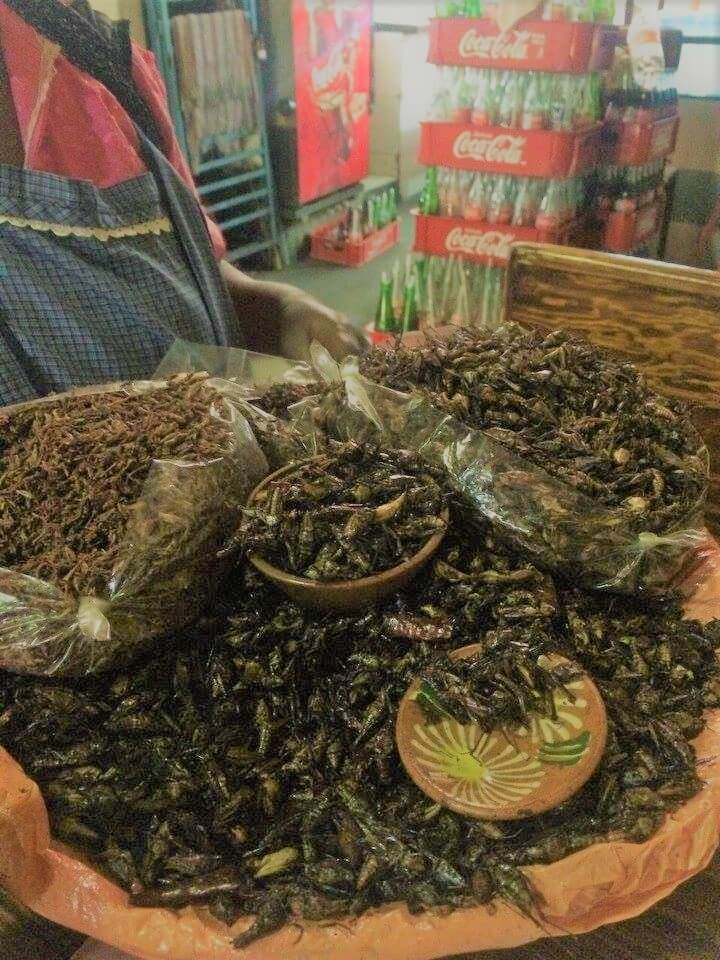 How to Move Around
To get from the airport to downtown, you have 4 options:
Take a private taxi for 350-480 pesos ($17.50-$24).
Take a shuttle bus for 90 pesos ($4.50) per person.
Share a taxi with others outside the airport for 10 pesos ($0.50). If you want a private ride, it will cost you around 120 pesos ($6).
Take a Halcones bus outside the airport for 8 pesos ($0.40).
Once downtown, it's easy to move around on foot. If you need to take a bus, the fare is 8 pesos ($0.40). On average, they run from 6 a.m. to 10 p.m. You can check the various routes here.
Taxis are plentiful, but they're not metered. They charge per city zone. Depending on your origin and destination, you should expect to pay between 40 and 90 pesos ($2-$4.50). You can check the rates per zone here.
There is no Uber in Oaxaca.
If you would like to rent a car, there are many options available at the airport.
Suggested Budgets
If you're backpacking, you're looking at around 990 pesos ($49.50) per day. This includes accommodation at a hostel/cheap hotel, a combination of street food and home-cooked food, local transportation, and a few attractions per day (museums, parks, etc).
A mid-range budget is around 1,850 pesos ($92.50) per day. This includes accommodation at a 2-star hotel/Airbnb, cheap restaurants, a few more attractions than the backpacker budget, and a taxi if need be.
Finally, if you don't want to limit yourself, then a luxury budget will cost you at least 5,100 pesos ($255) per day. This includes staying at a 4-star hotel, eating at nice restaurants, taking taxis everywhere, and taking tours/guided trips.
Keep in mind these figures are just estimates. Some days you will spend less, while others you will spend more. This will give you a foundation to plan your budget and adjust it as necessary.
For your convenience, I created a table comparing the budgets we mentioned above. The prices are in Mexican pesos ($1 = 20 pesos).
| | | | | | |
| --- | --- | --- | --- | --- | --- |
| | Lodging | Meals | Transportation | Attractions | Average Cost Per Day |
| Backpacker | 280 | 210 | 100 | 400 | 990 |
| Mid-range | 600 | 450 | 200 | 600 | 1,850 |
| Luxury | 2,000 | 1,500 | 400 | 1,200 | 5,100 |
Tips for Saving Money
If you'd like to save some money when visiting Mérida, you can try some of the following:
Stay at a hostel or use Couchsurfing (an app that connects travelers looking for free lodging).
For cheap eats, head over to the city markets or look for food stands. They're the cheapest option you will find, and the food is delicious.
Use public transportation as much as possible. Mostly everything downtown is within walking distance, so consider walking if you want to save money.
Look for free walking tours online. You just have to tip your guide at the end of the tour.
For free activities, visit the markets and churches. Even a couple of museums are free such as the Museo Textil de Oaxaca and the Museo de Filatelia de Oaxaca.
For cheap souvenirs, visit the local markets.
How to Stay Safe
Oaxaca is one of the safest cities in Mexico. I recommend staying downtown not only for safety but also for convenience. Just take the normal precaution you would when you visit other places far from home, and you will be fine.
If you ever find yourself in an emergency of any kind, dial 911.
Don't forget to buy travel insurance! You never know when you might need it.
Wrap-up
This list of things to do in Oaxaca City is but a glimpse of what you can do and see during your visit. Oaxaca City is rich in history and culture. Its people strive to survive and preserve their identities in a globalized world.
It doesn't surprise us that this destination made it to the top of travel lists in recent years. With so much to offer, it would surprise us if it didn't.
Oaxaca City has it all. Whether you're a history buff, a foodie, an adventure seeker, a solo traveler, a regular tourist, a backpacker, or someone in between, you will fall in love with this destination. The thousands of people that have visited it and sung its praises can't be wrong.
Have you been to this amazing city? If not, did I convince you to go? Let me know in the comments below. Also, feel free to leave any questions and comments, and I will be more than happy to help. Bon voyage!
Book your trip now!
Book your flight
The first thing you have to do is find cheap flights. But where do you find those? There are many search engines, but the one I highly recommend is Skyscanner. Here you can compare fares from all over the world and pick the one that suits you best.
Book your accommodation
The next thing you have to do is secure your lodging. Whether you prefer a hostel, a guesthouse, a B&B, or a hotel, you can find them all on Booking. You can find lodging of all kinds ranging from cheap to expensive and somewhere in between. Many people have scored good deals using it.
Another popular option is Hostelworld. This website focuses on hostels as opposed to hotels.
Book a tour
In some places, you might want to hire a tour. Not all places are equally accessible to visit by oneself. It helps enormously when you visit with a local guide who can show you around and answer any questions you might have…all in your native language. My to-go place is Viator as they offer tours of all kinds and have a presence all over the world.
Rent a car
Public transportation is usually cheaper than renting a car, but it's sometimes more complicated and time-consuming. That's a reality. In some cases, it's more convenient to rent a car. My recommendation is Rentalcars.com. Here you can compare rates and choose the one that fits you best.
Book your bus tickets
You can save money by booking bus tickets online. My favorite site to do this is Busbud.
Get travel insurance
Never travel without a travel insurance policy, especially during these days! Travel insurance can save your life. My recommendations are World Nomads and Insured Nomads. Both companies cover COVID-19 related incidents, which is crucial these days.
More resources
Just click on the "Plan your trip" tab at the top of this page, and you will find more resources like getting Mexican insurance for your foreign car, buying travel accessories, and learning Spanish. And, of course, don't forget to check back often to read about more tips on Mexico travel.