Many people seem to be interested in travel itineraries. This is especially attractive when your time is limited. With so much to do and see at a particular destination, it's essential to prioritize your activities. That's why I decided to include more posts of this kind in my blog. The first one was about Zacatecas City. If you still haven't read it, you can do so here.
Today we will focus on another popular destination: Querétaro City. But what is there to do? What do we recommend? When is the best time to visit? Let's answer these and other questions you may have. Would you like to find out what you can do in 3 days in Querétaro City? Let's get started!
Arrival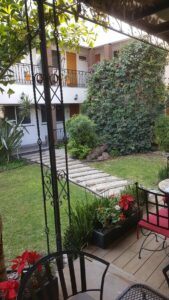 If you have been following me for some time, you know by now that I usually travel from Monterrey. For this trip, we decided to rent a car from a local agency and drive. We had to leave a day later than expected since there was a lot of fog on the toll road, and they closed it for several hours.
Anyway, such a trip usually takes around 8.5 hours, but we got lost at some point, and it took us 10 hours instead 😅.
We hadn't booked a hotel (something I don't usually recommend), but it's one of those spontaneous trips one makes in life. Besides, it was not a busy season, so it was only a matter of looking for something affordable.
I always like to stay in the downtown area since it's close to everything. This was not the exception. We found a hotel and left our stuff in the room. We were tired and hungry, so we ventured out to find something to eat. Having satisfied our appetite, we headed back to our hotel to get some rest. It was almost 10 p.m., and the following day would be long.
Day 1
9 a.m. Our hotel offered a free continental breakfast. There were tables overlooking a beautiful garden, so it's perfect to start off your day. We had some bread, fruit, coffee, and juice and headed out to explore the city.
10 a.m. Our first stop was Jardín Zenea. It's a cute park with benches, a fountain, and a gazebo. As with most Mexican plazas, there was a church in the back, although unfortunately, it was under renovation due to a recent earthquake.
The park is a gathering place for locals. If you love people watching, this is the perfect place. You can watch elders chatting, kids playing around, couples eating a snack together, you get the picture.
We took some pictures and then just sat down and relaxed. The ambiance was so peaceful that we could spend hours there, but we had to continue. So off we went.
Address: Calle 16 de Septiembre 8-24, Centro, 76000 Santiago de Querétaro, Qro., Mexico.
11 a.m. Since we hadn't planned anything out, we asked at the hotel what there was to do in town, and they offered us several tours. The city tour was the one that caught our attention. It was just 300 MXN (around $15) per person and lasted for 3 hours or so. We killed some time at Jardín Zenea in the meantime.
11:15 a.m. Main square. This beautiful plaza is lined with trees, statues, small cafes, and colonial buildings. You can see the city hall, the Casa de la Corregidora, a handcraft shop, just to name a few places. As you can imagine, there are lots of photo ops here.
Address: Av. Prol. Luis Pasteur S/n, Centro, 76000 Santiago de Querétaro, Qro., Mexico.
Fact: Did you know that Querétaro City played a vital role in the fight for independence? It was here that the plan to separate from Spain originated.
12 p.m. Templo de Santa Rosa de Viterbo. This beautiful temple boasts a Baroque style. The interior is decorated with gold, but the guide explained to us that unfortunately, much of it was stolen throughout the temple's history.
The most notable feature of the temple is a pair of buttresses attached to the facade. It turns out the architects made a few mistakes in their original design, and this was the only way they found to support the weight of the sinking structure.
Address: José María Arteaga 89, Centro, 76000 Santiago de Querétaro, Qro., Mexico.
12:45 p.m. Cerro de las Campanas (literally Hill of the Bells). Many people believe this hill was given this name because it resembled a bell. There is nothing further from the truth. It turns out the name derives from the rocks found in this area. They're composed of an alloy of bronze, silver, copper, and antimony, and it's precisely those properties that make them sound like a bell when hit.
This is another important place in Mexican history. After gaining its independence from Spain, an empire was established with the aid of France, although it was short-lived. It was here where Maximilian I, the only Mexican emperor, was arrested and executed by the liberals.
Maximilian I's remains were buried here, but they were later sent to France. The chapel still remains atop the hill.
There is an observation deck with a giant statue of Benito Juarez, one of the most popular Mexican presidents. You get a nice view of the city from this point, but get ready for climbing several steps before.
A must-stop when visiting Querétaro City.
Address: Cerro de las Campanas, Centro Universitario, 76010 Santiago de Querétaro, Qro., Mexico.
1:45 p.m. Panteón de los Queretanos Ilustres. This was the first cemetery in the city. It has witnessed several battles throughout its history and currently hosts the remains of important figures in Mexican history.
Outside the cemetery, there is an observation deck where you get a superb view of the city along with its pink stone aqueduct. Yes, many cities in Mexico still keep those old structures, and they add an interesting mix to the city architecture.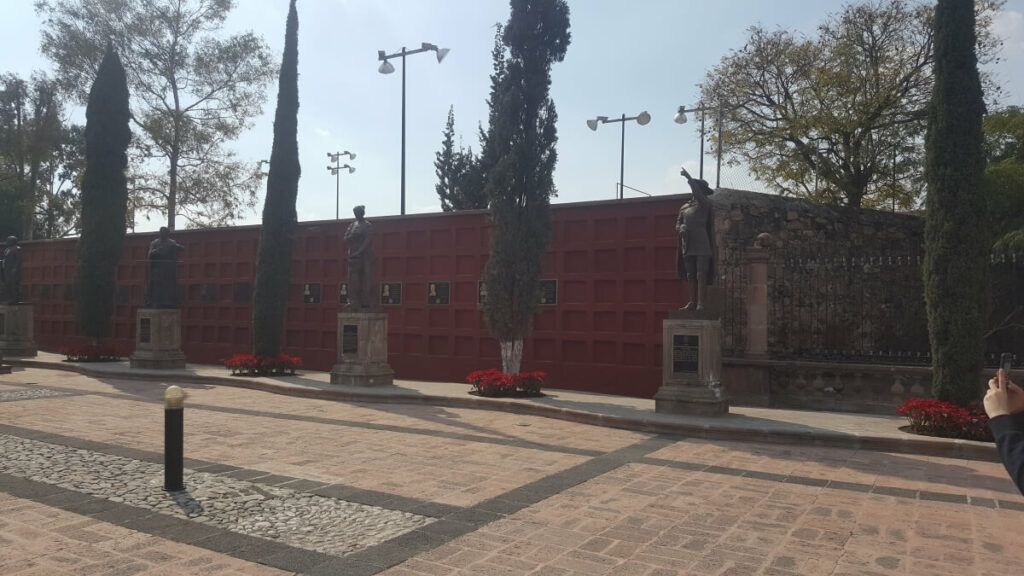 Address: Ejército Republicano, La Santa Cruz, La Cruz, 76020 Santiago de Querétaro, Qro., Mexico.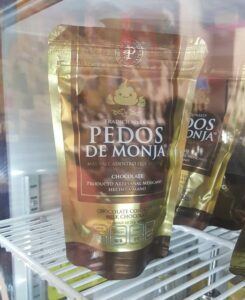 2:15 p.m. The last stop of the tour was Dulce Querétaro, a candy shop. There are all kinds of traditional sweets you can get, but something you have to try are the pedos de monja (literally nun's farts). It turns out an Italian chef created these sweets in Barcelona and named them petto di monca (nun's breasts, due to their shape). The Spanish pronounced pedo instead of petto and the mispronounced name remains until our days.
The pedos de monja are made from a mixture of flour, eggs, sugar, lemon zest, and chocolate. They're delicious!
Address: 76020, Calle Independencia 129, La Cruz, Santiago de Querétaro, Qro., Mexico.
3:15 p.m. We were starving by this time. We looked up a few places online and found out there was a market within walking distance. We walked up there, but we didn't find any options to eat, so we had to go back. We were hungry and tired, so we took an Uber. The driver recommended a place to us, and we asked him to take us there.
4 p.m. La mariposa. It turns out this is a popular place in the city center. There was a short line to get a table. Once seated, we looked at the menu, and we ordered some enchiladas and a lemonade. They didn't disappoint.
The menu includes tacos, tamales, tortas, fried chicken, pozole, salads, cake, and even shakes. It seems to be a popular place among local and foreign tourists alike.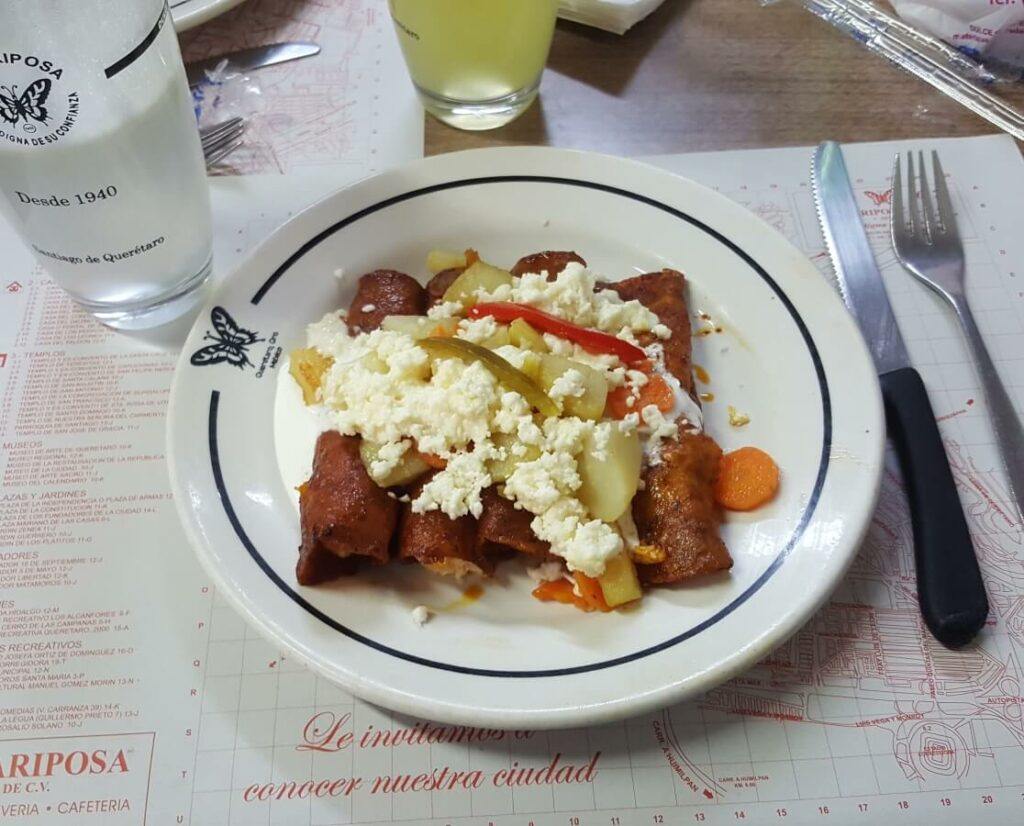 Average ticket per person: 100-150 MXN ($5-7.50).
Address: Angela Peralta #7, Centro, 76000 Santiago de Querétaro, Qro., Mexico.
5:30 p.m. We went back to our hotel to rest a little. It felt good to take our shoes off after all that walking under the sun.
7:30 p.m. We left our room to walk around the city center. It takes on a different look at night. If the city looks beautiful by day, it looks even better by night.
9 p.m. Gorditacos. While walking in the city center, we came across a small, old house with a sign that read Gorditacos. The smell was delicious, and even though we were not starving, we decided to enter and eat something. The menu was simple: tacos and gorditas. We tried the gorditas de migaja (some kind of fried pork belly) with cheese. Boy were they delicious!
The gorditas are huge and reasonably priced. Each gordita costs between 22 MXN ($1) and 29 MXN ($1.50). A person can easily eat for less than 100 MXN ($5), but that will obviously depend on how much someone eats.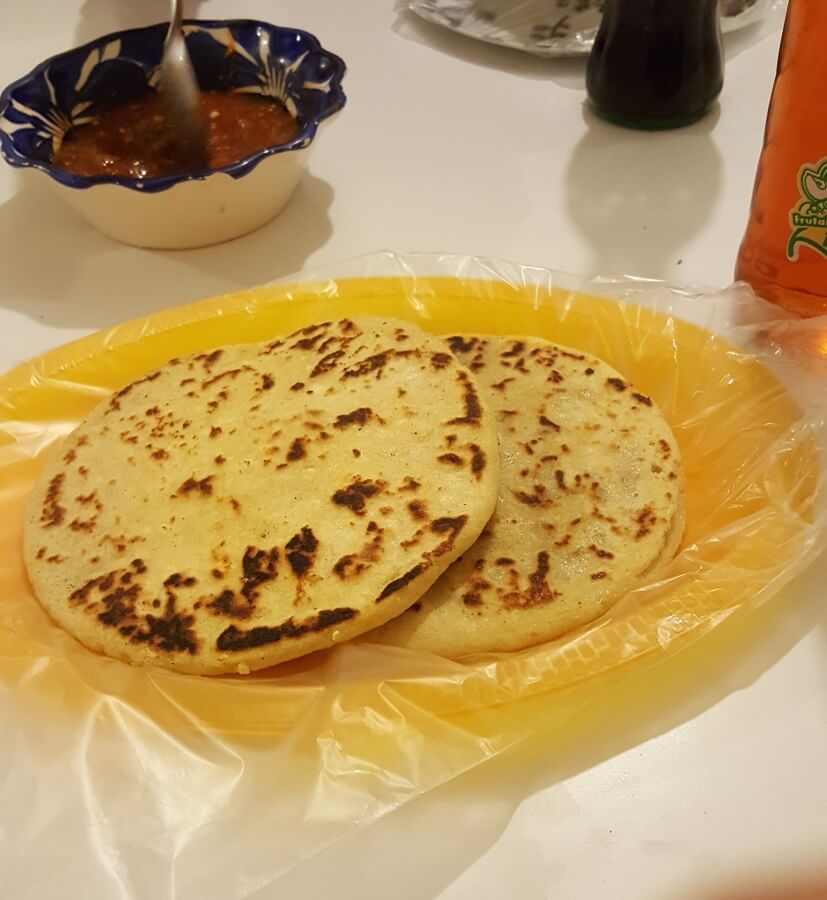 Address: Calle Benito Juárez Nte. 86, Centro, 76000 Santiago de Querétaro, Qro., Mexico.
10 p.m. Back at our hotel. Time to sleep.
Day 2
9 a.m. Breakfast at the hotel. Today we will go on a day trip. Yay!
10:30 a.m. Finca VAI. This dairy farm is located along the "ruta del arte, queso y vino" (art, cheese, and wine route) about 30 minutes away from Querétaro City. They have a beautiful garden and a small farm where you can watch some animals like cows, goats, and chickens.
They explain the cheese-making process to you, and you can even participate in the demonstration. Best of all, there is a cheese tasting at the end. If you're a cheese lover like me, you will love this!
You can visit Finca VAI on your own but be advised there are no English tours onsite. If you don't speak Spanish, I recommend you visit with someone who does.
There are two types of tours: the one that focuses on cheese and another one that includes a tour of a vineyard and a wine and beer tasting. We skipped the latter since we were going to visit another vineyard nearby.
Don't forget to stop by the shop before leaving! There are lots of cheese and other dairy products to choose from.
Admission: cheese tour (75 MXN, approximately $3.75) and cheese/wine tour (195 MXN, approximately $9.75).
Address: Carr. Querétaro-Tequisquiapan, Km. 30, 76270 Colón, Qro., Mexico.
1 p.m. Cavas Freixenet. This is one of the largest vineyards/wineries in the region. Their wines are exported and renowned internationally.
They offer several tours. The classic tour allows you to visit the enormous cellar where you can learn the whole wine-making process and attend a wine tasting at the end. Another tour allows you to ride a streetcar to visit the vineyard in addition to the other activities. The third tour allows you to ride a horse through the vineyard, great for a romantic getaway.
All the tours include a wine tasting at the end, and you get to keep your glass as a souvenir. If you liked the wine, you can buy it at their well-stocked shop.
Unlike Finca VAI, Cavas Freixenet does offer English tours but only at 12 p.m. and 4 p.m.
Tour prices:
Classic tour: 150 MXN ($7.50) per person.
Streetcar tour: 275 MXN ($13.75) per person.
Horseback riding tour: 900 MXN ($45) per person.
Address: Carretera San Juan del Río – Cadereyta Km. 40.5 Los Perez, 76686 Ezequiel Montes, Qro., Mexico.
4 p.m.-7 p.m. Bernal. This is one of the many pueblos mágicos you can visit in Mexico. It's one hour away from Querétaro City.
Peña de Bernal, or simply Bernal as it is known, is a small, charming town. Its main feature is its monolith, one of the tallest in the world.
Don't be fooled, though. Even though it's a small town, there are tons of activities you can do. For starters, you have to visit the monolith. You can walk up there or take a bike taxi. The view from the top is spectacular.
There are a few museums, wineries, a botanical garden, lots of beautiful buildings, a ranch, a planetary, a waterpark…You can even ride a hot air balloon!
The cobblestone streets and colorful buildings make you feel welcomed upon arrival. Unfortunately, we didn't have much time, so we did what we could.
We bought some gorditas, and they were delicious! The people in Querétaro know how to make their gorditas.
Bernal is also famous for its cheese bread. It's filled with cream cheese and blackberries. It's to die for!
They also have many varieties of corn. You can get them on the cob or in a cup.
Don't leave the town before buying a local handcraft. There are so many items to choose from!
We found out there were legend tours and pre-Hispanic dances at night, but we had to go back to Querétaro City. I highly recommend you spend at least a night here if you can. You won't regret it.
8 p.m. Back in Querétaro City, we took a stroll through the city center and what did we find? The locals gather at Jardín Zenea every night to dance. They danced to different rhythms like country, cumbias, and more. I participated in one of them. It was quite an experience!
9: 30 p.m. After walking and dancing, we were hungry again. While walking, we smelled burgers in the distance. They smelled so good. We had to try them. The place is called Hamburguesas al Karbon. Those grilled burgers were the bomb!
Average ticket per person: 150 MXN ($7.50).
Address: Av. 15 de mayo #114, Colonia Centro, 76000 Santiago de Querétaro, Querétaro de Arteaga, Mexico.
10:30 p.m. Back at our hotel. Tomorrow we will go on another adventure!
Day 3
9 a.m. Breakfast at our hotel.
10:30 a.m. We found out there is an archaeological site about 15 minutes away from the city, so we had to go. It's called El Cerrito. Besides the pyramid and plazas, there is a small museum on site. If you're into archaeology and history, I recommend you add this place to your list.
There is no parking inside, so you have to park on the street.
Admission: Free until further notice.
Address: Miguel Hidalgo s/n, El Pueblito, 76900 Santiago de Querétaro, Qro., Mexico.
1 p.m. Tequisquiapan. We wanted to visit another pueblo mágico, and someone recommended we visit this one. It's about one hour away from the capital.
We were starving, as usual, lol, therefore, our first task was finding a place to eat. There are several options in the city center, but based on some reviews we found online, we decided to go to Pozoleria Kauil. Their menu includes pozole, tostadas, pambazos, quesadillas, enchiladas, coffee, and aguas frescas.
Average ticket per person: 100-150 MXN ($5-$7.50).
Address: Guillermo Prieto 10, norte, 76750 Tequisquiapan, Qro., Mexico.
2 p.m. Historic Center. No visit is complete without visiting the historic center. There is a large plaza in the city center with benches, gardens, a gazebo, and beautiful buildings with portals around it. There's also a beautiful pink church in the back where you can get lots of photos. This is a gathering place for locals and gets busy in the evening and on weekends.
I love visiting Mexican plazas because you can find things you don't find somewhere else. There was a guy playing the marimba, a photographer that took pictures and then converted them into cool souvenirs with glass bottles, people selling handcrafts, and much more. Oh, there was also a guy with a little bird that tells you your fortune. I don't believe in that, but they're cute. The guy lets the bird out of the cage, and then the bird picks a paper and gives it to you. It's an old Mexican tradition that's unfortunately disappearing.
3:30 p.m. Time to freshen up. The sun was burning, so we wanted something cool. We stopped at a dessert place, and we found out they sold red wine sorbets! We bought one each, and we loved them! Don't worry, if you don't like red wine, they have other flavors.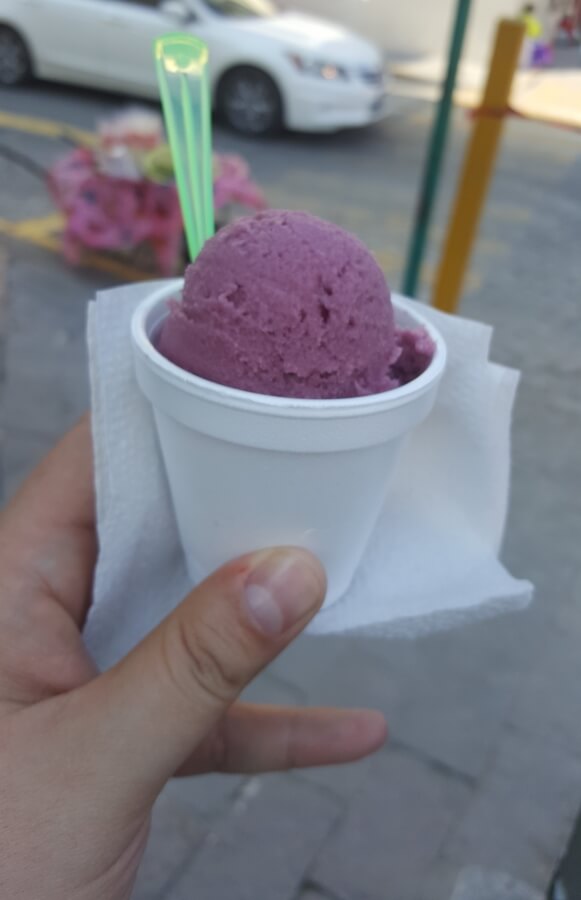 3:45 p.m. Shopping time! To buy local handcrafts, I recommend visiting Mercado Artesanal Telesforo Trejo Uribe. You can find all kinds of handcrafts from magnets, to dolls, to clothes, and everything in between.
There's another market a few steps away named Mercado Guadalupano. While you can find some handcrafts and other items, this market is better for finding food, both fresh and ready to eat.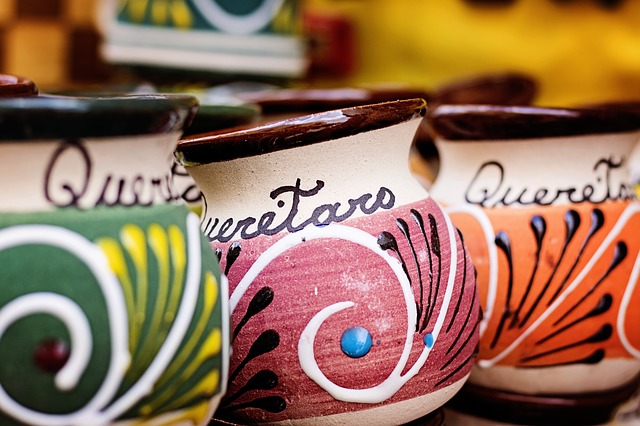 Addresses:
Mercado Artesanal Telesforo Trejo Uribe: Centro, 76750 Tequisquiapan, Querétaro, Mexico.
Mercado Guadalupano: Calle Ezequiel Montes SN-C LOCALES, Centro, 76750 Tequisquiapan, Qro., Mexico.
5:45 p.m. Streetcar. We toured the city aboard a streetcar, and they explained the history of the city to us. There are a few tour operators to choose from. The city tours are not expensive.  They're less than 100 MXN ($5) per person.
Some tours can take you to a cheese factory and a vineyard beside the city. We didn't ask about those but know that they're another option.
8 p.m. Back in Querétaro City. This was our last night in town, so we had to make the most out of it.
We went to Plaza de la Constitución and found out there was a legend tour that night. I love history and legends, so I couldn't pass on this opportunity. The tour lasted 1.5 hours and cost 130 MXN ($6.50) per person.
They took us to different parts of the city and gave us some interesting facts. For instance, did you know that the aqueduct was a gift of love from a nobleman to a nun?
The tour was really interesting and fun. They dressed up as people from old times, so we felt like we were watching a play. Highly recommended.
9:30 p.m. We were hungry after too much walking. Fortunately, there was a night market by Jardín Zenea, and there were lots of food options. I got some tacos dorados. They were delicious. We spent some time afterward walking and looking around.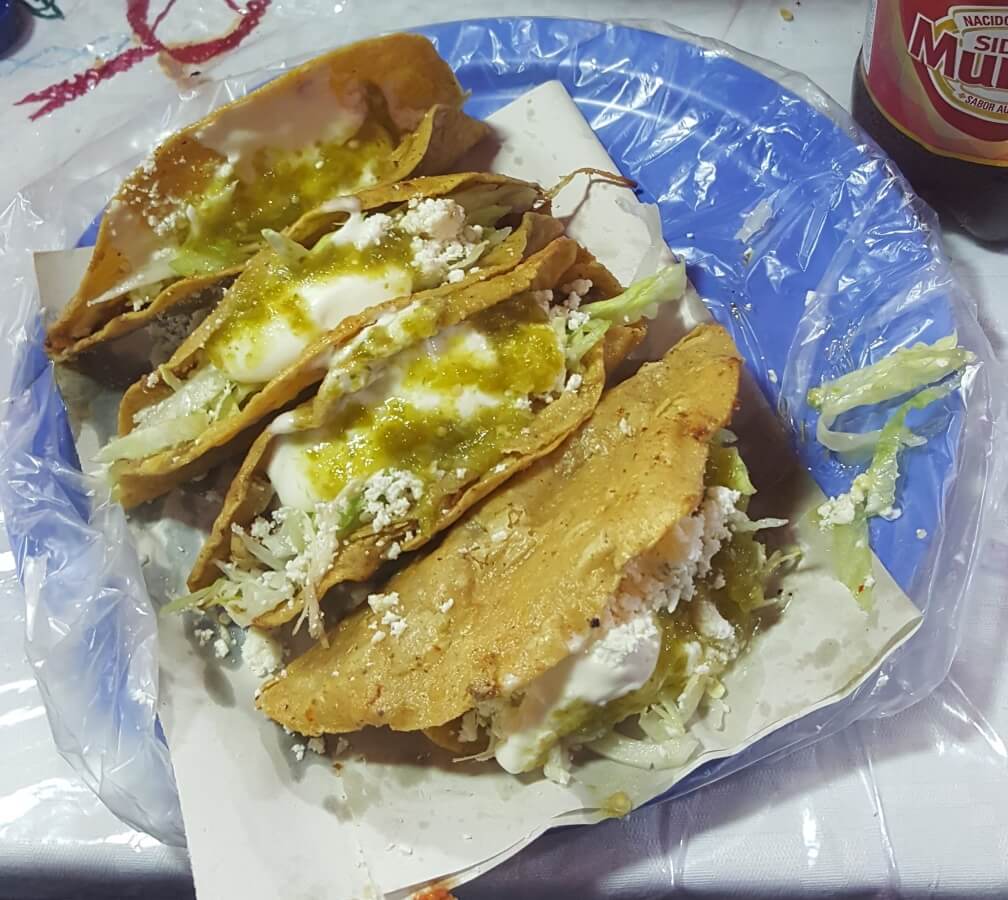 10:30 p.m. Time to go to bed. We had to leave early the following day.
Location
Querétaro City is located in the central part of the country. It's served by the Querétaro Intercontinental Airport. There are direct flights to and from Houston, Dallas, and Chicago.
The closest major cities are:
Mexico City, 218 km (135 miles) away.
Guadalajara, 363 km (225 miles) away.
The drive from Mexico City takes around 3 hours, and from Guadalajara, around 4.
Lodging
For our stay, we chose Quinta Lucca. It's a nice hotel in the downtown area that offers cable TV, Wi-Fi, free breakfast, and free parking. The beds are comfortable, and the rooms are fresh during the day and warm at night. I guess it's due to the materials they're made from.
The staff members were very attentive and provided us with lots of recommendations to visit in town. You can also book tours directly with them, so it saves time.
The only thing I didn't like was that they don't have a parking lot in their facilities. They have an agreement with a public lot a block away where you can leave your car for free as long as you're a hotel guest. Other than that, I don't have any complaints.
Room prices start at $33 per night. Highly recommended.
Address: Calle Benito Juárez Nte. 119-A, Centro, 76000 Santiago de Querétaro, Qro., Mexico.
A Few Tips
The weather in Querétaro City is not extreme. The average temperature is 18°C (65°F) all year round. However, keep in mind that mornings are a little bit chilly, even in the summer. I recommend you bring a light sweater.
During the winter, the lowest temperature is around 6°C (43°F), but it rises quickly during the day up to the mid-'20s (around 75°F). Pack your clothes accordingly.
If you would like to visit the vineyards when they're green, the best time to do so is around August. By the way, in mid-August, they host the traditional vendimia, a traditional event where they step on the grapes. There are also lots of food and music. You don't want to miss out.
If you're only planning to stay in Querétaro City, I don't recommend renting a car. However, if you're planning to visit nearby towns such as Bernal and Tequisquiapan, then go for it. They're each located about one hour away from Querétaro City. If you have the chance to stay in each town for a night at least, I encourage you to do it. There is so much to see and do in those places.
Conclusion
Querétaro City is a great option for history buffs, foodies, expert/amateur travelers, couples, families, and everyone in between! You will get to admire the beautiful Colonial architecture, meet the locals, taste the delicious cheeses and wines locally produced, and much more!
The city is beautiful and has tons of activities for everyone. You can't go wrong with it.
Querétaro City and its surroundings are some of the most authentic, traditional places in Mexico you can visit. I highly recommend you visit and discover it yourself.
Have you been there? If you haven't, you're missing out on a lot. I hope you visit soon. Let me know if you have any questions, and I'll be more than glad to answer them. Bon voyage!
Book your trip now!
Book your flight
The first thing you have to do is find cheap flights. But where do you find those? There are many search engines, but the one I highly recommend is Skyscanner. Here you can compare fares from all over the world and pick the one that suits you best.
Book your accommodation
The next thing you have to do is secure your lodging. Whether you prefer a hostel, a guesthouse, a B&B, or a hotel, you can find them all on Booking. You can find lodging of all kinds ranging from cheap to expensive and somewhere in between. Many people have scored good deals using it.
Book a tour
In some places, you might want to hire a tour. Not all places are equally accessible to visit by oneself. It helps enormously when you visit with a local guide who can show you around and answer any questions you might have…all in your native language. My to-go place is Viator as they offer tours of all kinds and have a presence all over the world.
Rent a car
Public transportation is usually cheaper than renting a car, but it's sometimes more complicated and time-consuming. That's a reality. In some cases, it's more convenient to rent a car. My recommendation is Rentalcars.com. Here you can compare rates and choose the one that fits you best.
Get travel insurance
Never travel without a travel insurance policy, especially during these days! Travel insurance can literally save your life. My personal recommendations are World Nomads and Insured Nomads. Both companies cover COVID-19 related incidents, which is crucial these days.
More resources
Just click on the "Plan your trip" tab at the top of this page, and you will find more resources like getting Mexican insurance for your foreign car, buying travel accessories, and learning Spanish. And, of course, don't forget to check back often to read about more tips on Mexico travel.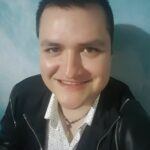 I'm just an average guy that loves to travel. Let's discover new places together and share our travel stories. Follow me to keep up with my adventures and find new items to add to your list.