Have you ever visited the Yucatán Peninsula? It's one of the most popular spots in Mexico. It hosts beautiful destinations like Cancún and Mérida. However, some people find them too touristy and try to avoid them altogether. With the increase of international tourism, escaping the crowds is harder than ever. What if I told you there is a place in Mexico with the same attractions but way fewer people? It's called Campeche! What? Why haven't I heard about it? What is there to do?
The best things to do in Campeche, Mexico include a walled city, impressive archaeological sites, sunny beaches, colorful handicrafts, and exquisite cuisine. Would you like to learn more about this underrated destination? Keep on reading to learn more.
Table of Contents
Campeche City Historic Center
Let's start with the Historic Center. After all, if you're flying in, this will be the first place you'll set foot on. There are two things about Campeche City that stand out: it was once a walled city and the houses are all different colors.
Wait! A wall? Yes, Campeche was the frequent target of pirate attacks, and the Spanish had to fortify the city to protect it. You can still see the remnants of the wall and even walk on it. Due to its historical importance, it is part of the UNESCO World Heritage List.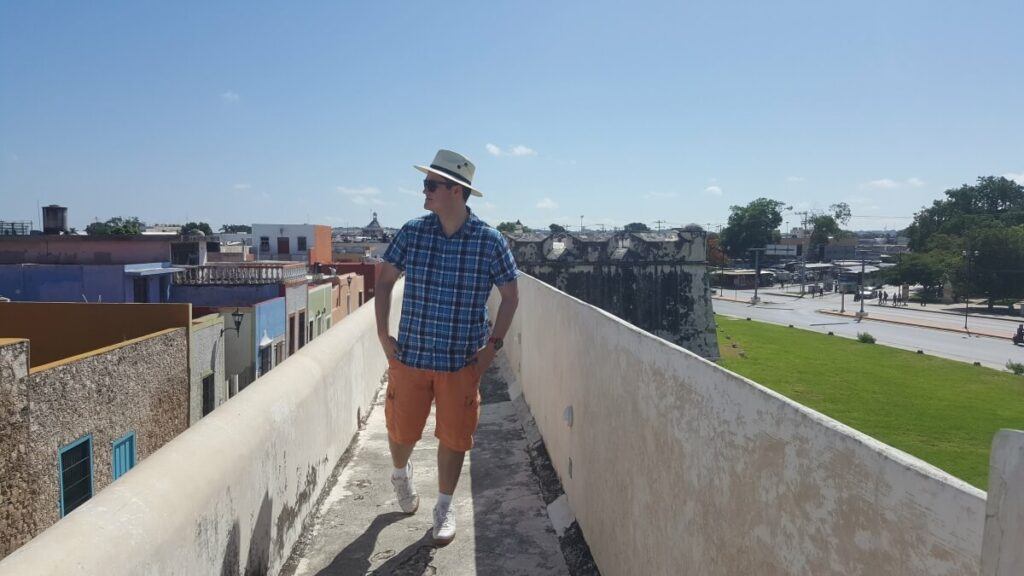 Campeche is one of the most colorful cities I've ever visited. Each house is a different color. You will see lots of photo ops throughout town. Take your time to tour the city and admire your surroundings.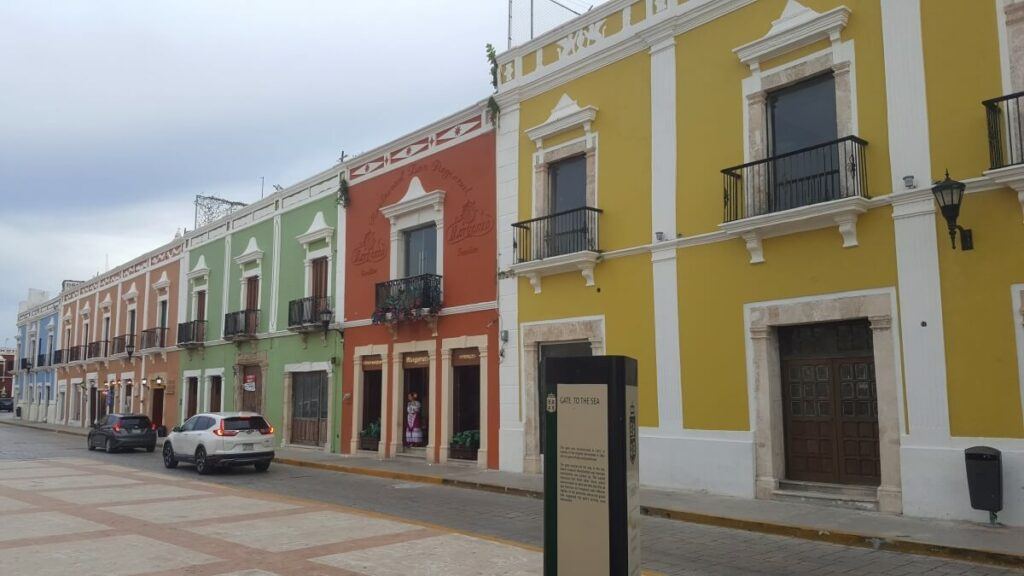 The most popular street is Calle 59, where you will find lots of bars, cafes, restaurants, and souvenir shops. Whether you visit by day or night, you will find something going on.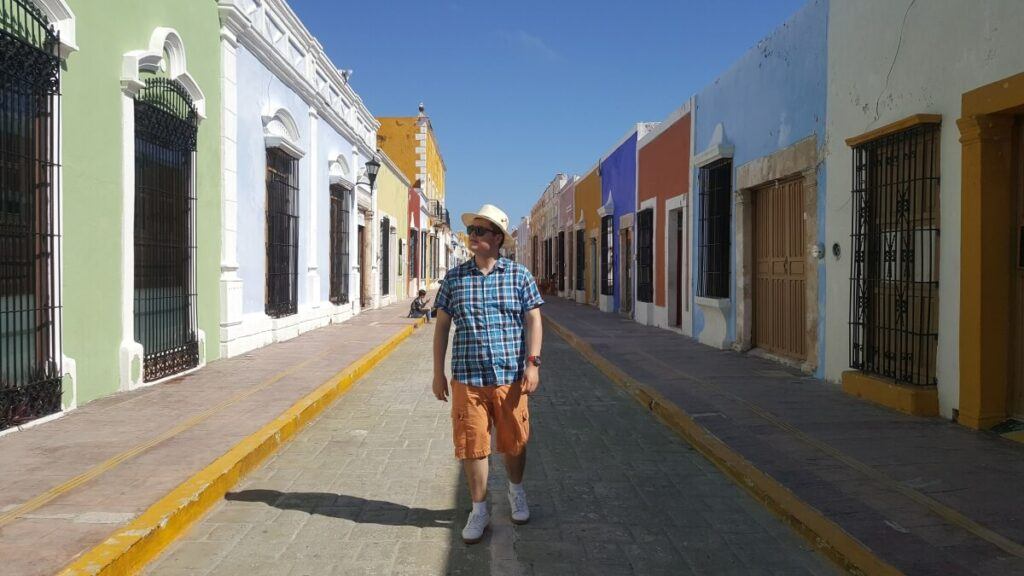 Don't forget to visit the Cathedral of Campeche, a beautiful whitewashed building, and the main plaza dating back from the 16th century. On weekends, you can watch a video mapping show on the City Hall facade where they explain the history of Campeche. It's a must-see!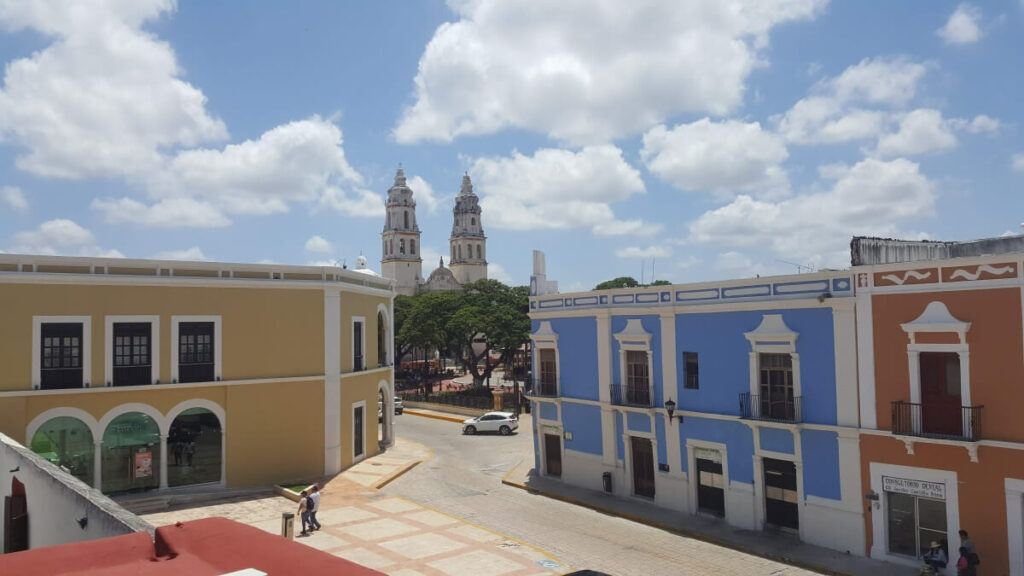 Other popular attractions include a 3.42-mile seawall (malecón) with beautiful monuments; the fortresses of San Miguel and San José; Museo de Arquitectura Maya, a museum with Maya artifacts; Centro Cultural Casa No. 6, where you will learn more about the lifestyle of the locals many years ago; among others.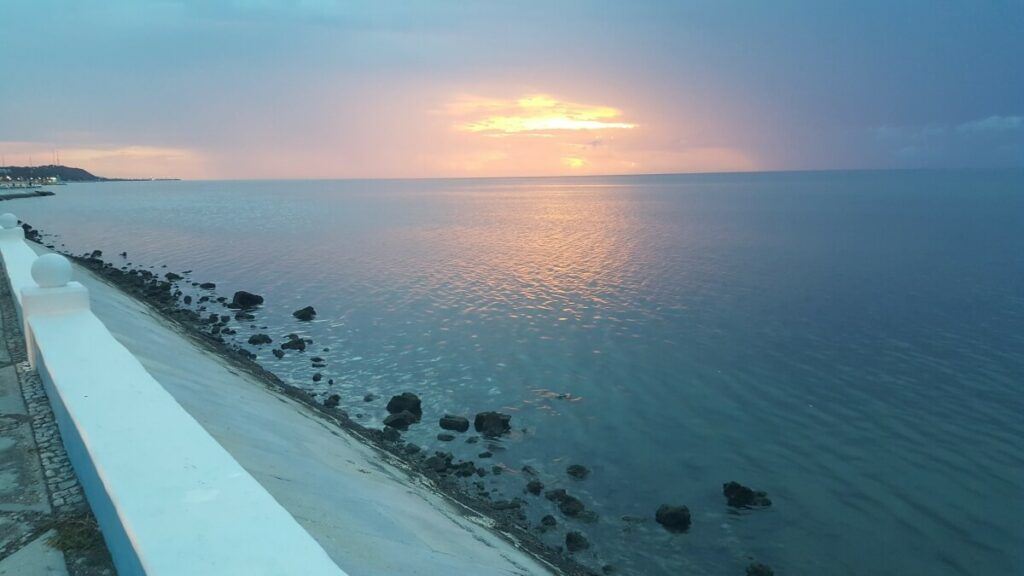 Maya Archaeological Sites
When people hear about the Maya culture in Mexico, most of them will instantly think of Chichén Itzá or Tulum. But did you know Campeche has many Maya sites as well?
The closest site to the capital is Edzná, but there are several others on the highway between Escárcega and Chetumal. I think the most important Maya site in the area is Calakmul. It is right in the middle of the rainforest. Getting there is quite an adventure as it's off the beaten path, but it's certainly doable. The easiest and most convenient way is renting a car.
Calakmul is a natural reserve, so it is also a great place for those interested in ecotourism. You can camp on site, go hiking, visit a bat cave, and admire a wide variety of birds and other endangered species. Just don't faint if you run into a jaguar lol. I will write more about Calakmul in a future post.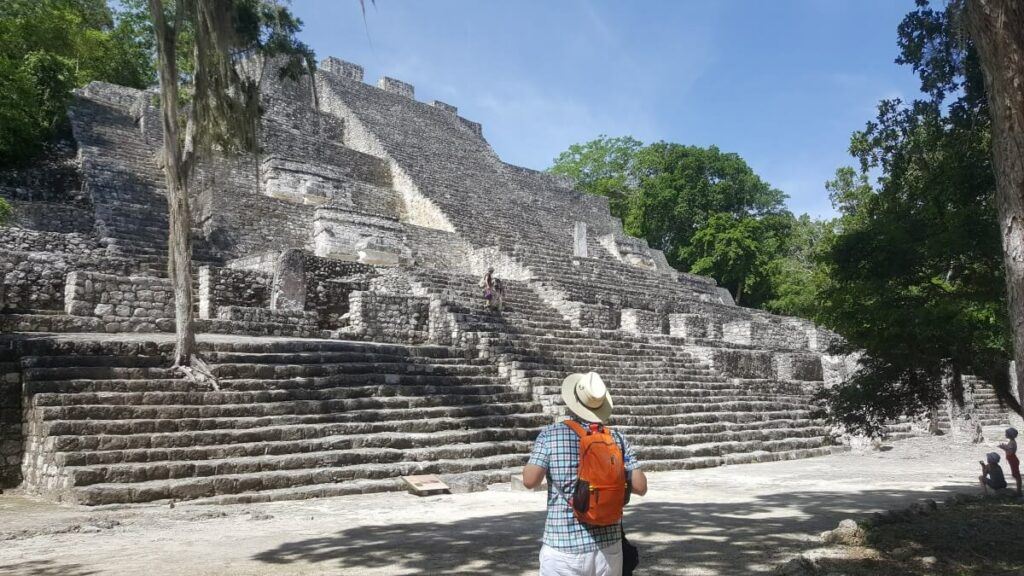 Other nearby archaeological sites include Balamkú, Becán, Chicanná, Xpujil, and Río Bec. You can visit them all on the same day, just make sure you start your day early. In fact, some people make them a day trip from Bacalar, Quintana Roo although I think it's a little rushed.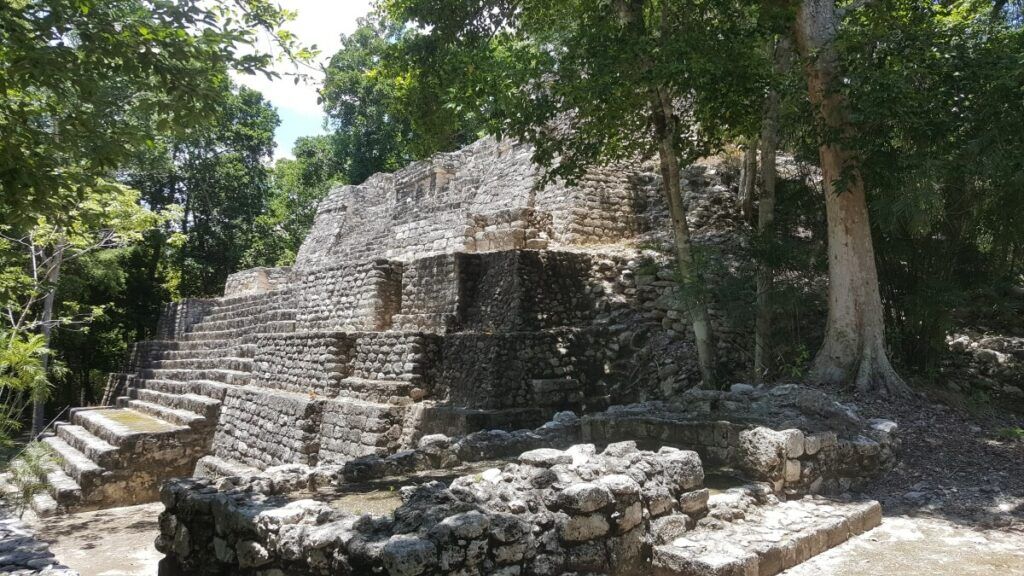 The one thing I loved about Campeche's archaeological sites is that, unlike those in Yucatán and Quintana Roo, they are not crowded. When I visited with my family, we had the whole place to ourselves. Oh, and did I mention it's still allowed to climb to the top of the pyramids? How awesome is that?
Champotón
Champotón is an hour away from Campeche City. It is a charming small fishing town. Once you get there, you will be welcomed by the breeze of the sea and the smell of fresh seafood. The locals are laidback, and the atmosphere of the whole place is so peaceful and relaxing.
Book a nice hotel in front of the beach and lay in a hammock. Watch the pelicans fly by while you drink a refreshing cocktail or read your favorite book. A nice way to disconnect from the daily routine.
The town has a small seawall with a pier where you can admire beautiful sunsets. Locals go there to work out or simply take a walk with the family.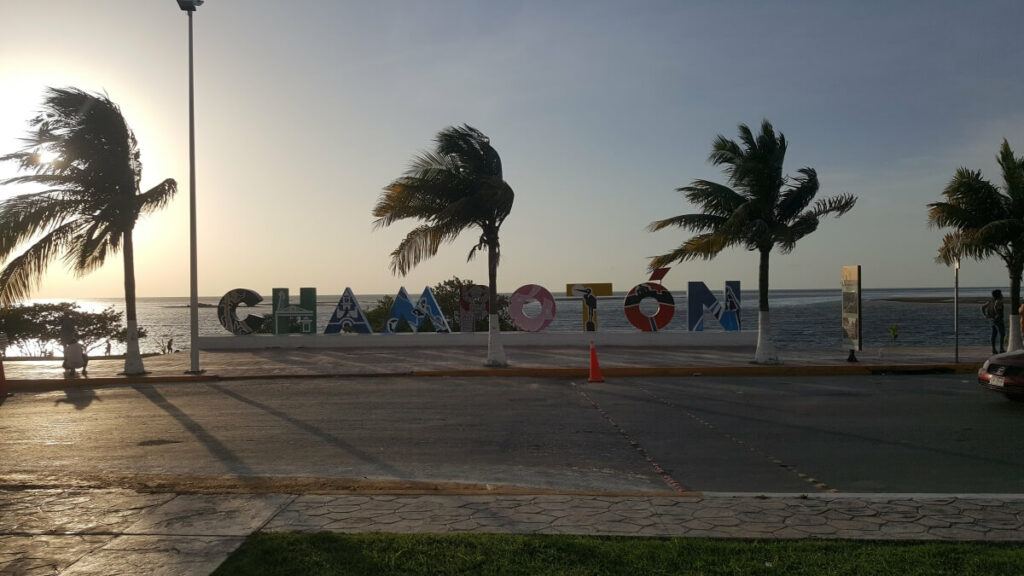 You can also ask one of the fishermen to take you on a boat ride. You will need your best negotiation skills here.
Since it is a fishing town, you don't want to miss out on the fresh seafood, especially the small shrimp. It is one of the best I've ever had.
Not too far you can visit Miguel Colorado, a cenote. Activities include swimming, kayaking, hiking, and zip-lining.
Drop by the local market and take your time to buy some souvenirs or just watch. It is also a good option if you're looking for cheap eats. Don't forget to visit the main plaza and the church, as they are always bustling with activity. Then head back to your hotel and just relax to get ready for the following day.
Hit the Beach
Although Campeche is not known for its beaches, it has several places worth visiting along its coast. The closest beach to the capital is Playa Bonita. It is barely 20 minutes away from downtown. You can bring your own food and drinks or buy some on site. They also have umbrellas, chairs, tables, and hammocks for rental.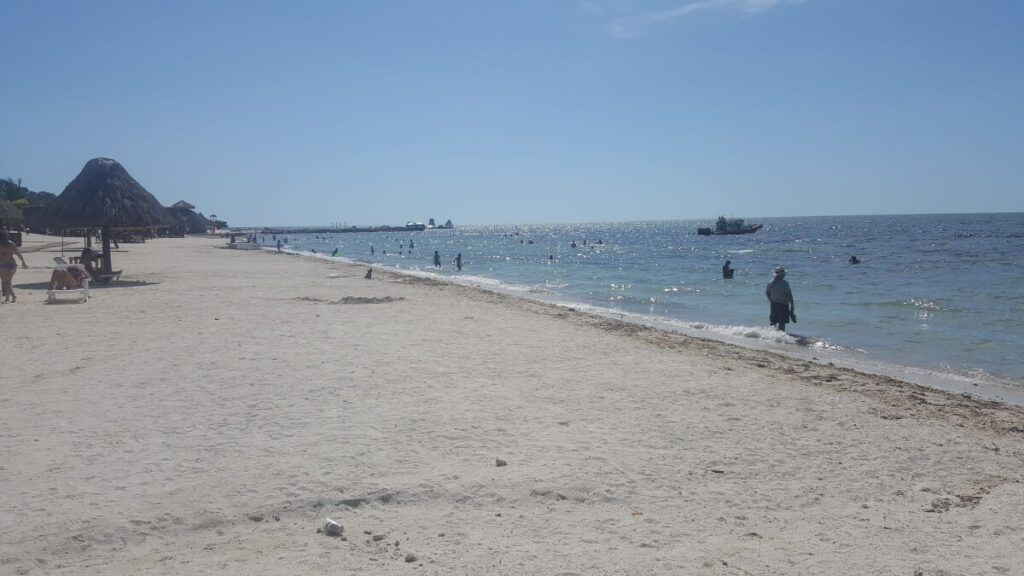 If you continue driving further south, you can find other beautiful beaches. The list includes Seybaplaya, Sabancuy, Playa Caracol, Playa Paraíso, among others. Some beaches are great for swimming, while others are better for water sports. Whatever it is you're into, there's something for you.
And yet, you can also visit a turtle camp in Chenkan or admire the bioluminescence in Xpicob. As you can see, the list of beaches and things to do in Campeche is endless!
Visit the Small Towns Nearby
There are several small towns between Campeche City and Mérida. The list includes places like Tenabo, Pomuch, Hecelchakán, Calkiní, and Bécal. On the highway, you will see several shops offering hammocks, guayaberas, sweets, and various handicrafts. Take your time to do some shopping or just see around.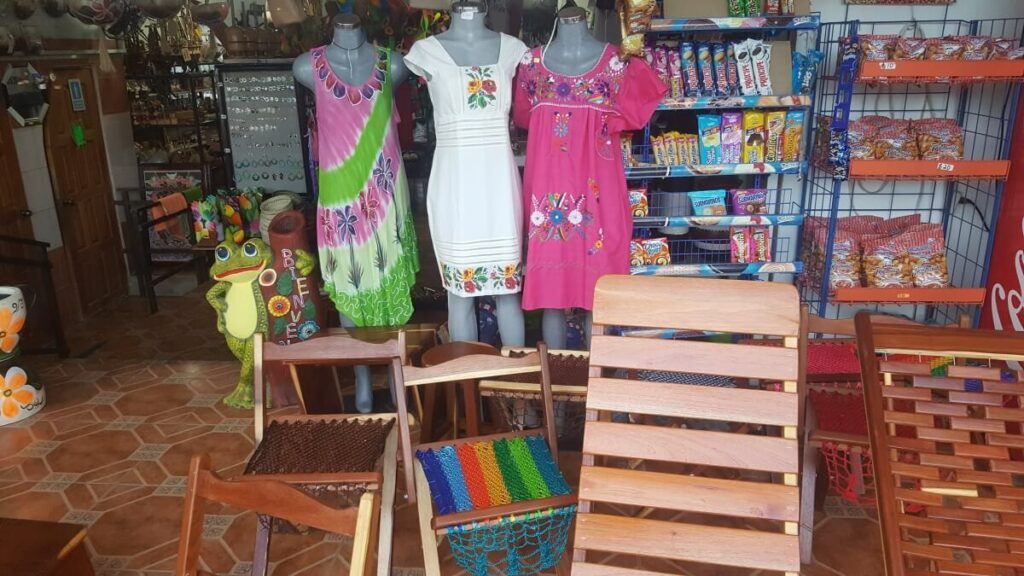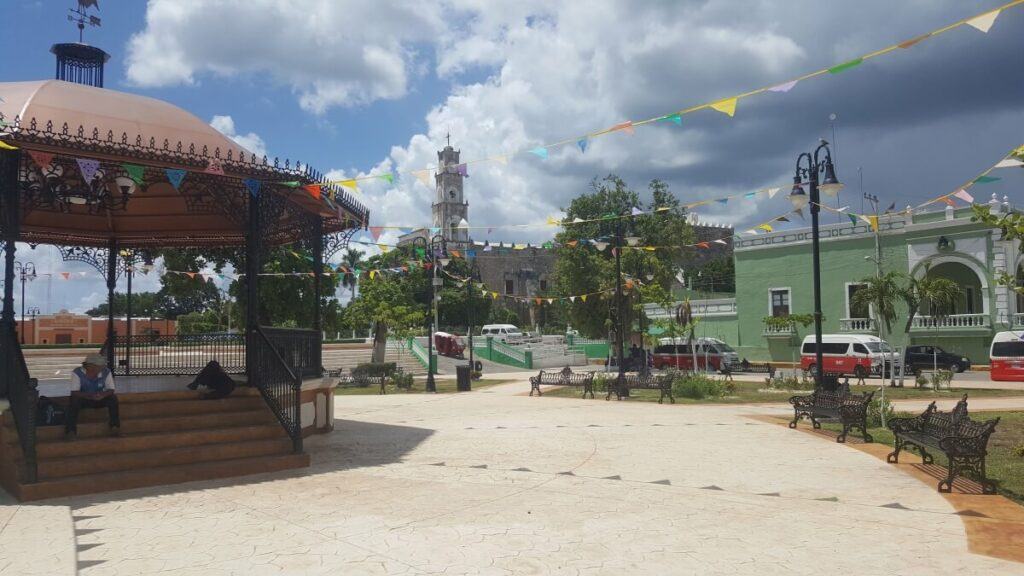 In Pomuch, don't forget to stop at a bakery to try the "pichones". It's a kind of bread with ham, cheese, and jalapeños. Delicious!
Near Hecelchakán, you can visit Hacienda Blanca Flor, where they used to grow henequén, a plant used by the Maya to make clothes.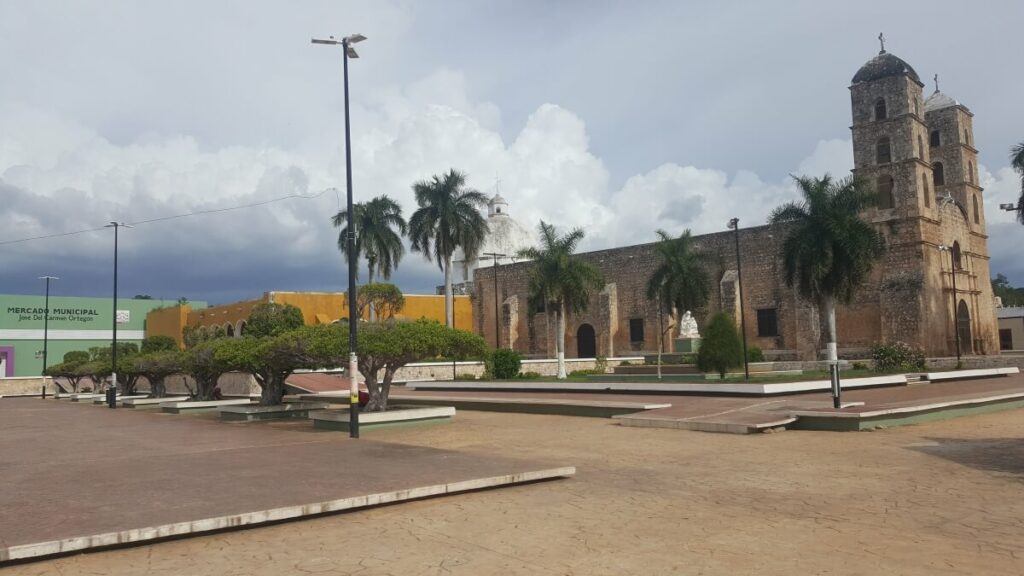 Bécal is known for its jipijapa hats. Artisans make them inside subterranean caves to preserve humidity. They let you go inside and explain the making process to you.
Each small town has its own charm to it. Get lost in their streets and look at buildings that have been there for centuries. Each one of them has a story to tell. Walk along the streets and get to know the locals. You will learn so much from them. They are very friendly people, always willing to give a hand to whoever needs it.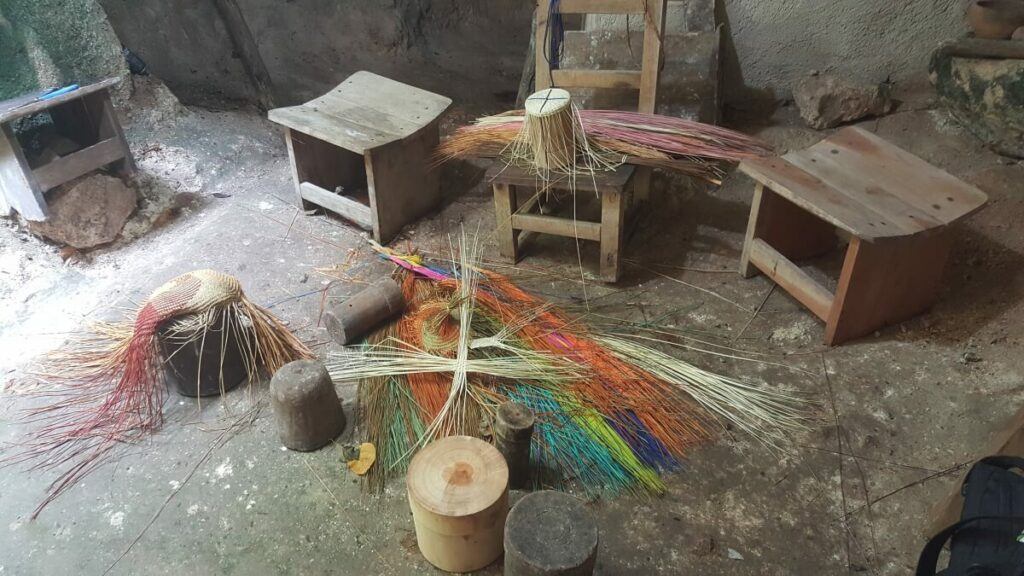 The only pueblo mágico (magical town) in Campeche is Palizada in the southwestern part of the state. If you have time to go there, do it, but if not, there are several charming towns you can visit and enjoy during your trip.
Mérida is just a 2-hour drive from Campeche City. You can visit it too, but consider it is a large city, and it will take you several days to get to tour it all.
Try the Local Cuisine
Due to their proximity, Campeche and Mérida have similar dishes like panuchos (refried tortillas with beans, pulled chicken/turkey, tomato, pickled onion, avocado, and topped with cabbage) and relleno negro (turkey/pork covered in a sauce of various peppers). Many Campeche dishes are based on chicken, turkey, and pork. Beef is not very popular there.
Two dishes I highly recommend are camarones al coco (breaded shrimp with coconut) and pan de cazón (refried tortillas with beans, cazón, which is a kind of shark, covered in habanero sauce and topped with avocado).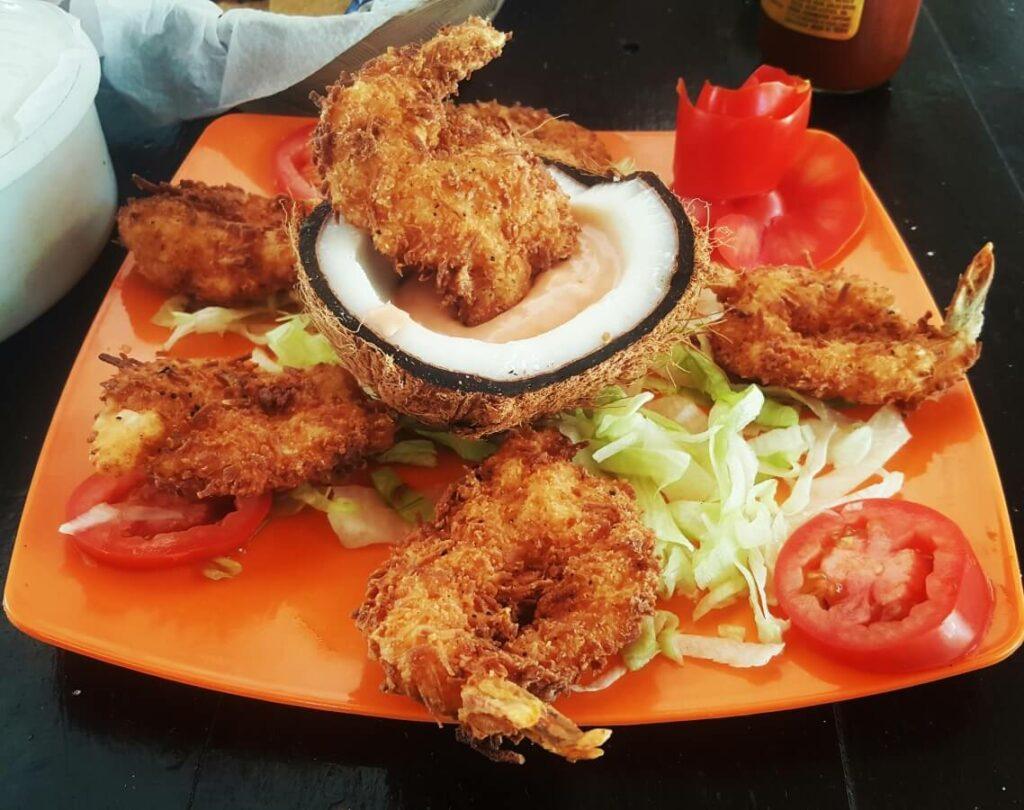 Oh, and don't forget to try the trancas! It's a kind of torta with cochinita pibil or pulled pork. And there is nothing more refreshing than agua de chaya, a drink made with a local plant usually mixed with pineapple.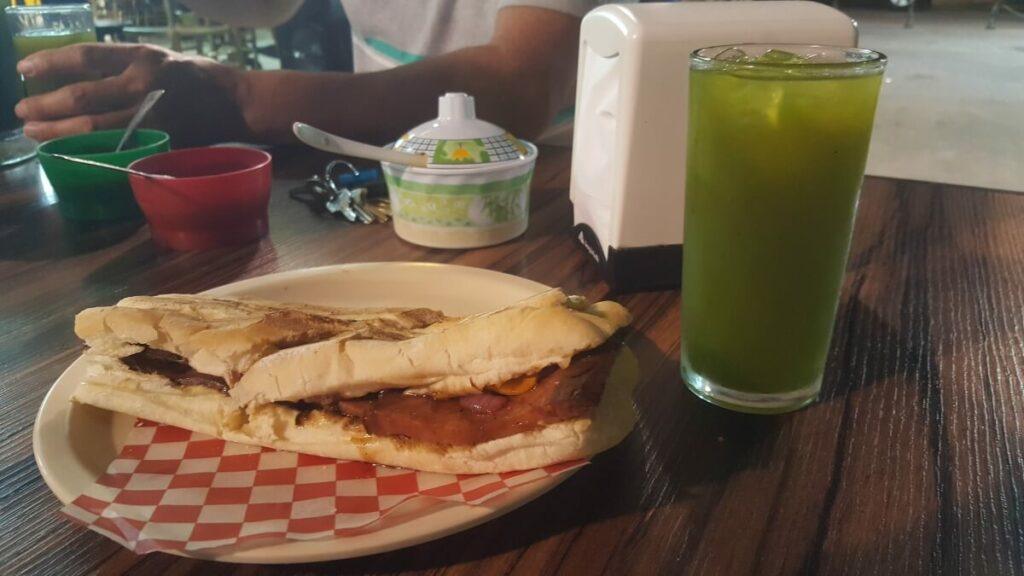 The most popular pepper is the habanero, so you can already tell Campeche's dishes are hot. Campeche's cuisine is also characterized by its use of spices, and that's why its dishes come off as spicy or too strong for many. However, I recommend you try the dishes and then judge for yourself.
Best Time to Visit
Campeche's weather is just like Mérida's. It's hot most of the year, especially during the summer months. The rainiest months are June-September, and there's a lot of humidity as well. Therefore, the best time to visit Campeche, in terms of weather, is the period between November and April, when temperatures are milder and rain chances are low.
Campeche also has an annual carnival. If you would like to attend, you have to visit town the week before Ash Wednesday.
Moneywise, flight prices are stable throughout the year compared to Mérida and Cancún. However, there are a few exceptions. The most expensive month to travel is January. Other dates to avoid if you want lower prices are Semana Santa (the week before Easter) and the dates around Christmas and New Year's.
How to Get There
Campeche is served by Ing. Alberto Acuña Ongay International Airport. It is located barely 7 km (4.35 miles) from downtown.
All the major Mexican airlines (Aeroméxico, Viva Aerobus, Volaris) fly into and out of Campeche. The airport is small, and it only operates flights to and from Mexico City.
The bus companies that serve Campeche are ADO and OCC.
How to Move Around
Once at the airport, you will have to take a taxi to go downtown. If you take a taxi inside the airport, it will charge you around 200 pesos ($10). However, many people walk outside the airport and take a street taxi for just 50 pesos ($2.50).
Campeche City is one of the most pedestrian-friendly cities I've ever visited. You can easily walk everywhere around downtown. If you need to go somewhere farther, you can always take a colectivo (a kind of van). You can ask the locals, and they will gladly help you. Depending on the distance, the fare can range between 10 and 50 pesos ($0.50-$2.50).
Taxis are inexpensive. The minimum fare is 35 pesos ($1.75). On average, it will cost you between 35 and 50 pesos to move around town.
There is no Uber in Campeche.
Another viable option is renting a car. This comes in handy, especially if you're planning to visit remote places like Calakmul. There are several options at the airport. I recommend booking in advance to get a good price.
Where to Stay
For my visit, I stayed at the Hotel Francis Drake in the Historic Center. It's a nice hotel with A/C, free Wi-Fi, and free parking. Oh, and breakfast is included as well. The hotel is a restored colonial building and is popular among couples. Prices start at $40/night.
If you're looking for something cheaper, there are also hostels available. I recommend using Booking to satisfy your lodging needs.
Where to Eat
Campeche shares many dishes with Yucatán such as the relleno negro and the cochinita pibil. There are dining options for all budgets and preferences.
For cheap eats, head over to Mercado Campeche. You will find lots of cheap eateries to satisfy your hunger. Address: Barrio de Sta Ana, 24050 Campeche, Mexico.
Another popular and affordable option is Cenaduría Portales de San Francisco. Try the tranca and the agua de chaya! Address: C. 10 No. 86, Barrio de San Francisco, 24010 Campeche, Camp., Mexico.
If you would like to eat fresh seafood, there are several options on the way to Mérida. They include El Langostino, Los Delfines, among others. They are moderately priced, but they're worth it. Try the pan de cazón and the camarones al coco! Address: Pedro Sainz de Baranda s/n-Local 9, Área Ah, 24028 Campeche, Camp., Mexico.
Not sure what you want to eat? Then head over to Calle 59. You will find lots of options to choose from. There is Mexican food, Italian food, seafood, cocktails, you name it. Prices vary, but they are moderate.
Suggested Budgets
If you're backpacking, you're looking at around 1,050 pesos ($52.50) per day. This includes accommodation at a hostel/cheap hotel, a combination of street food and home-cooked food, local transportation, and a few attractions per day (museums, parks, etc).
A mid-range budget is around 1,750 pesos ($87.50) per day. This includes accommodation at a 2-star hotel/Airbnb, cheap restaurants, a few more attractions than the backpacker budget, and a taxi if need be.
Finally, if you don't want to limit yourself, then a luxury budget will cost you at least 4,300 pesos ($215) per day. This includes staying at a 4-star hotel, eating at nice restaurants, taking taxis everywhere, and taking tours/guided trips.
Keep in mind these figures are just estimates. Some days you will spend less, while others you will spend more. This will give you a foundation to plan your budget and adjust it as necessary.
For your convenience, I created a table comparing the budgets we mentioned above. The prices are in Mexican pesos ($1 = 20 pesos).
| | | | | | |
| --- | --- | --- | --- | --- | --- |
| | Lodging | Meals | Transportation | Attractions | Average Cost Per Day |
| Backpacker | 250 | 300 | 100 | 400 | 1,050 |
| Mid-range | 500 | 450 | 200 | 600 | 1,750 |
| Luxury | 1,200 | 1,500 | 400 | 1,200 | 4,300 |
Tips for Saving Money
Looking for ways to save money? Then I recommend you follow these tips:
Stay at a hostel or use Couchsurfing (an app that connects travelers looking for free lodging).
Eat street food. Food stands are easy to find and are an affordable option. You can also visit the local markets and cenadurías. The latter are numerous and offer delicious, authentic, and cheap dining options.
Walk and/or use public transportation as much as possible.
Look for free walking tours online. You just have to tip your guide at the end of the tour.
The video mapping show in the main square is free. It takes place on Fridays, Saturdays, and Sundays at 8 p.m.
Other free activities include the malecón, churches, parks, and markets.
Visit the main square on weekends, and you will find something going on.
How to Stay Safe
Campeche is one of the safest places in Mexico. The risk of being kidnapped, killed, or mugged is low or non-existent. You can check the U.S. travel advisory for Campeche here.
Just exercise normal precautions, and you will be fine.
If you ever find yourself in an emergency, you can dial 911.
Download maps for offline use since the signal is spotty in some areas.
Tap water is not safe to drink. Buy bottled water or bring a water filter with you.
Don't forget to buy travel insurance! You never know what can go wrong. Better safe than sorry.
Apps to Download
To make the most out of your visit, I recommend downloading the following apps:
Google Maps. Find driving directions and download maps for offline use.
Google Translate. If you don't speak fluent Spanish, then make sure you have this app.
TravelSAFE. Connect to an emergency hotline by just pressing the SOS button.
MyCurrency. Find the latest exchange rate to know how much something is costing you.
Tripadvisor. Learn about other travelers' experiences and recommendations for hotels, restaurants, and other places in town.
Busbud. Find bus schedules (when traveling to other cities) and book cheaper tickets online.
Travello. Find other travelers on the road and make new friends.
Conclusion
There you have it. The list of the best things to do in Campeche, Mexico is extensive. Campeche is such an underrated destination, but it has the same attractions as its neighbors Quintana Roo and Yucatán. If you don't like the crowds, but you want the best of both worlds, then I recommend you visit Campeche.
I hope you liked this guide. As always, feel free to leave your questions and comments in the section below, and I will be more than glad to answer them. Bon voyage!
Book your trip now!
Book your flight
The first thing you have to do is find cheap flights. But where do you find those? There are many search engines, but the one I highly recommend is Skyscanner. Here you can compare fares from all over the world and pick the one that suits you best.
Book your accommodation
The next thing you have to do is secure your lodging. Whether you prefer a hostel, a guesthouse, a B&B, or a hotel, you can find them all on Booking. You can find lodging of all kinds ranging from cheap to expensive and somewhere in between. Many people have scored good deals using it.
Another popular option is Hostelworld. This website focuses on hostels as opposed to hotels.
Book a tour
In some places, you might want to hire a tour. Not all places are equally accessible to visit by oneself. It helps enormously when you visit with a local guide who can show you around and answer any questions you might have…all in your native language. My to-go place is Viator as they offer tours of all kinds and have a presence all over the world.
Rent a car
Public transportation is usually cheaper than renting a car, but it's sometimes more complicated and time-consuming. That's a reality. In some cases, it's more convenient to rent a car. My recommendation is Rentalcars.com. Here you can compare rates and choose the one that fits you best.
Book your bus tickets
You can save money by booking bus tickets online. My favorite site to do this is Busbud.
Get travel insurance
Never travel without a travel insurance policy, especially these days! Travel insurance can save your life. My recommendations are World Nomads and Insured Nomads. Both companies cover COVID-19 related incidents, which is crucial these days.
More resources
Just click on the "Plan your trip" tab at the top of this page, and you will find more resources like getting Mexican insurance for your foreign car, buying travel accessories, and learning Spanish. And, of course, don't forget to check back often to read more tips on Mexico travel.