Located in northern/central Mexico, San Luis Potosi City has played a significant role in the country's history. It is situated along the Camino Real de Tierra Adentro (Inland Royal Road) also known as the Silver Route, that connected Mexico City and Santa Fe during the Spanish Colonization Era. Due to its commercial and cultural significance, it was declared a World Heritage Site by UNESCO in 2010, being the first Mexican state in obtaining such recognition.
When people think of San Luis Potosi, most immediately think of La Huasteca in the southern region of the state (both the state and capital share the same name). It's understandable. La Huasteca has beautiful lagoons, waterfalls, rivers, and nature all around. The truth is, the state's capital may not even be among the top options for tourists. That is indeed a shame. San Luis Potosi City is a jewel in the center of the country. Let's find out a few things it has to offer.
Best Time to Visit
There isn't one. It depends on your preferences. The rainiest months are July, August, and September. For clear, rainless days the best time of the year for outdoor activities according to tourists is from late April to mid-June.
How to Get There
Ponciano Arriaga International Airport is the airport that serves this Mexican capital. It is located about 16.5 km (25 miles) or 25 minutes from the city center. Domestic routes include Mexico City, Monterrey, Puerto Vallarta, Cancun, Queretaro, and Tijuana. As of October 2019, the only international routes operated out of this airport are Houston and Dallas. United Airlines operates direct flights between these two American cities and San Luis Potosi City.
San Luis Potosi City is conveniently located in the center of the country and has access to three major cities by land: Mexico City (417 km/259 mi.), Guadalajara (330 km/205 mi.) and Monterrey (515 km/320 mi.).
What to Do in a Day
One of the must-sees in any destination you visit is undoubtedly its historic center. San Luis Potosi City's is really beautiful. It's filled with old, cantera stone buildings and you can see a contrast between antiquity and modernity. By law, buildings in the downtown area cannot change the style on their facades. This is to preserve the colonial touch that so many of us love.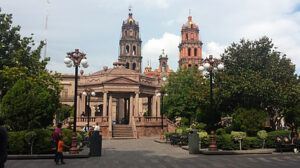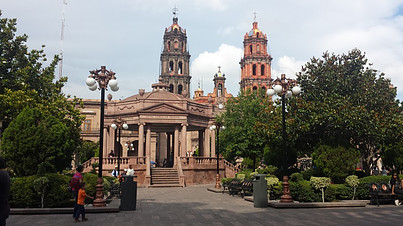 The first stop is the Plaza de Armas or main square. It has a beautiful kiosk in the center. Most Mexican cities have one in their main squares. There are several benches all around where you can sit under a shady tree. You can sit down and relax while you watch little kids playing around or grown-ups enjoying a lively conversation. It's a gathering place for locals, especially on weekends. If you're lucky, you can even watch a musical performance or a comedy show. And don't forget to grab an elote (corn on the cob) while you're there. Just don't put too much chile if you're not used to it.
Right next to the main square is the Cathedral. It's one of the most beautiful churches in Mexico. This cathedral has a Baroque facade. Among its most notable attributes are the 24 statues of the Apostles (no other cathedral in the world has that): 12 made of marble and 12 made of cantera stone. Its two bell towers were made of different materials due to having been built in different periods. The inside of the church is also very beautiful. You will be able to take a lot of pictures. You are going to love it.
Very close to the main square, you will find the Museo Nacional de la Mascara (National Mask Museum). It's an ex-mansion that hosts an enormous collection of masks and costumes from pre-Hispanic times to the present from all over the country. It's the second-largest museum of its kind, only being surpassed by the one in Zacatecas City. In addition to its permanent exhibit, the museum also hosts temporary exhibits. Both kids and adults will have a fun, learning experience. I highly recommend it.
Back to the main square, let's say you would like to explore a little more, but you may feel tired by now. Don't worry. There are trolleys that you can hop on to tour the city. I recommend doing this activity at night to avoid sun exposure plus you will get a better view of the illuminated city. They give you a tour around important places in the Historic Center and provide detailed information on each one. It's very informative and a cool activity to do with the whole family.
Where to Eat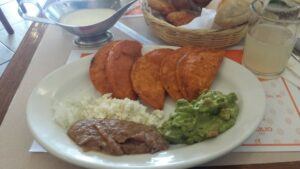 La Parroquia Potosina is one of the most well-known places to eat in San Luis Potosi City. It's just a couple of blocks away from the main square. They serve breakfast, lunch, and dinner at reasonable prices. They also serve breakfast buffet Thursday through Sunday from 7 a.m. to 12 p.m. If you order a la carte, you have to try the enchiladas potosinas. They're spicy corn tortillas filled with cheese and accompanied with beans, cream, and avocado, although they serve them with cecina (cured beef) in several places as well.
For dessert, you can't miss Chocolates Constanzo. They're an institution in this Mexican capital. You can find several locations throughout the city, but one of the biggest is downtown. You will find all kinds of chocolate for all tastes.
Where to Stay
A good option would be the Gran Hotel Concordia. It's right in the heart of the Historic Center with access to several major attractions. Prices are very reasonable starting from 50 USD. This hotel is a protected historic building with all the facilities and services you expect from a modern hotel. They even provide transportation to/from the airport.
Of course, there are cheaper and pricier options at your disposal. But for me, Gran Hotel Concordia does the job. You can't go wrong with it.
Conclusion
San Luis Potosi City is often overlooked by travel guides and tourists alike. Just like I've said plenty of times that there's more to Mexico than just Cancun, I say the same thing about San Luis Potosi: There's more to San Luis Potosi than just La Huasteca! The majority of visitors are Mexicans living in the U.S., although it seems that's starting to change with the inflow of tourists from other parts. This Mexican capital has so much to offer everyone you won't be disappointed.
That's it for today. As always, feel free to comment or ask any questions you may have. See you soon!
Please follow and like us: