With the worldwide lockdown going on these days, most of us are trapped at our homes and can't go out except to buy groceries or due to some emergency. Furthermore, travel has been severely restricted with the closing of international borders and changes in the availability of flights. Many tourist attractions like museums, theaters, and parks have been closed for weeks. 
Luckily, with all the advancements of modern technology, we can now explore attractions that are located thousands of miles away just by clicking a few buttons and best of all for free! All we need is the Internet and a computer or mobile device. That's why we came up with a list of cool options to travel to without leaving your home. Check it out and pick your favorite free virtual tour of Mexico. Let's get started!
Museums
Chapultepec Castle (Mexico City)
The castle was built at the time of the Spanish Viceroyalty and was the official residence of Emperor Maximilian I and the succeeding presidents until 1939 when it was turned into a museum. 
It requires some good physical condition to get to the top of the hill where it's located, but thanks to this tour, you can watch it all from the comfort of your home. Once there, you can watch Maximilian's chamber as well as some other historical pieces.
This tour is guided and contains audio tracks with useful information. Unfortunately, the information is only in Spanish. Check it out.
Palacio de Bellas Artes (Mexico City)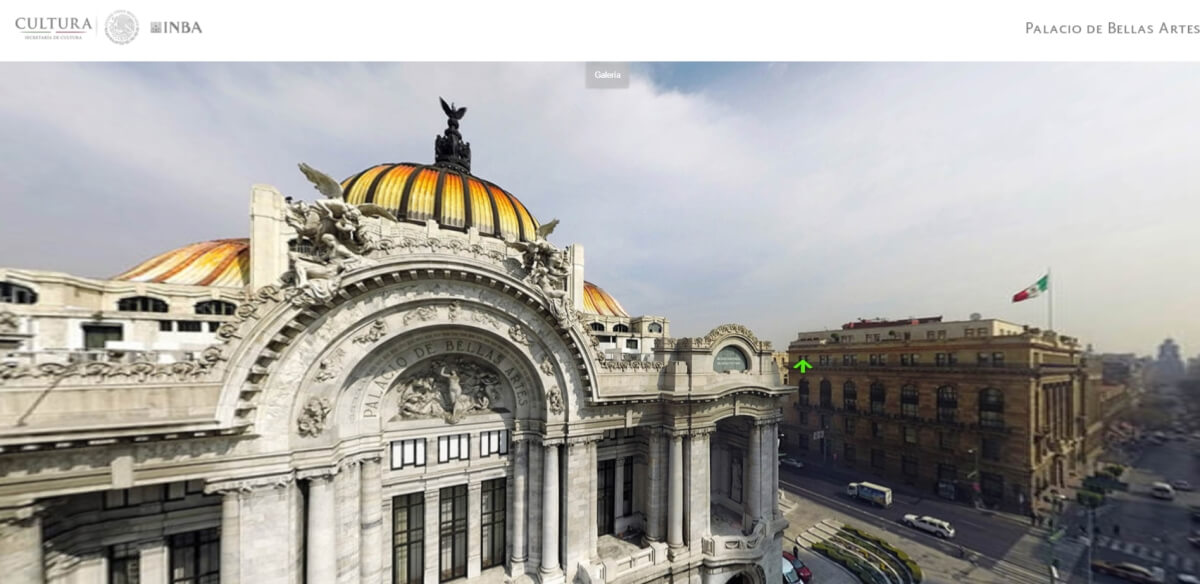 The Palacio or simply Bellas Artes as it's more commonly known was built in the early years of the last century and boasts an impressive Beaux-Arts style. It's one of the most beautiful and easily recognizable buildings not only in Mexico City but the whole country as well.
On this virtual tour, you can admire its magnificent architecture from both the exterior and interior, its terraces, its murals, its dome, its spectacular theater, and its interesting museum. The photography quality is superb. You even get aerial views of the place! I highly recommend it.
Museo Nacional de Arte – MUNAL (Mexico City)
This museum hosts works of art spanning from the middle 16th century up to 1954. It's considered one of the most important architectural buildings from the early 20th century. Its primary focus is to offer a global vision and synthesize the history of Mexican art of this period. 
Admire the beautiful architecture and the impressive works of art located inside. You can watch it all here.
Dolores Olmedo (Mexico City)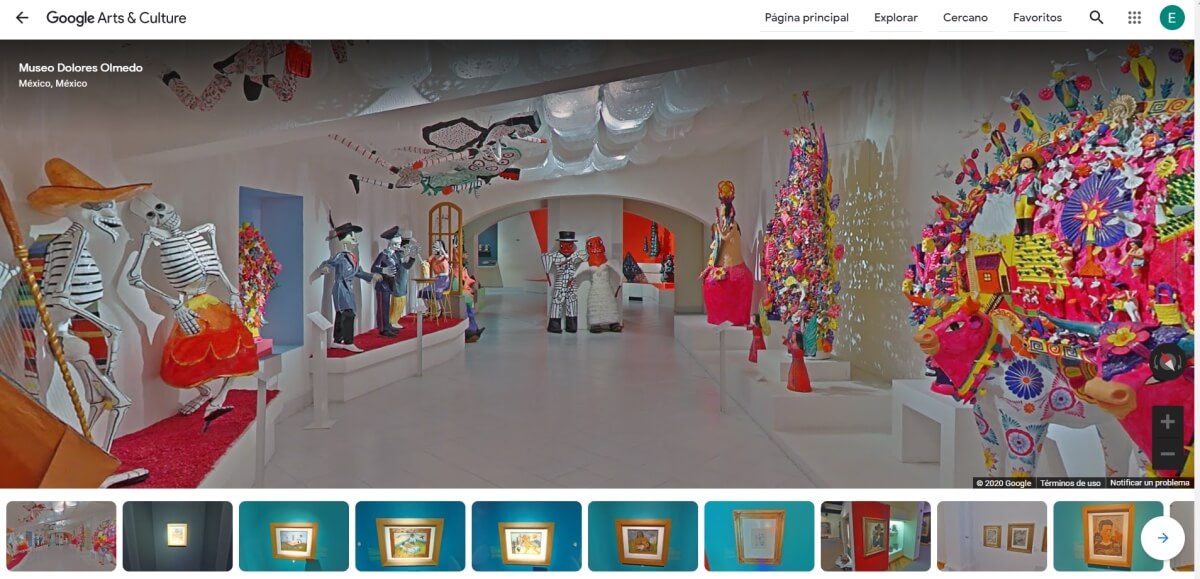 The museum was founded by María de los Dolores Olmedo in 1908 and hosts around 200 works of art by artists Diego Rivera and Frida Kahlo. It also hosts around 900 pre-Hispanic pieces. 
The main artistic styles found here are Cubism, Post-Impressionism, Primitivism, Symbolism, Surrealism, Magic Realism, and Social Realism.
You can watch this tour here.
Antiguo Colegio de San Ildefonso (Mexico City)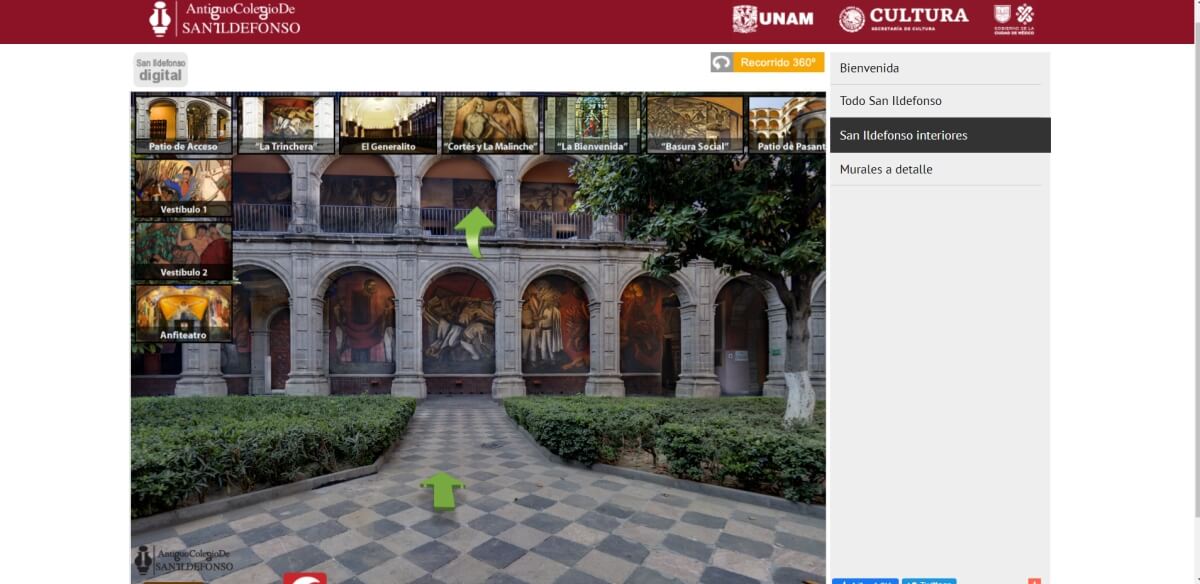 This museum was once a Jesuit college, but after the expulsion of the Jesuits in 1767, it served different purposes: military barracks, the Law College, a high school, among others. It was later renovated and opened to the public in 1992. 
On this tour, you can admire the interior of the former college and more importantly, the impressive murals that decorate its walls. Artists include José Clemente Orozco and Diego Rivera. 
The tour is divided into All the college, Interiors, and Murals. Take your time and admire every detail. It's a must-watch.
Museo de Arte Moderno (Mexico City)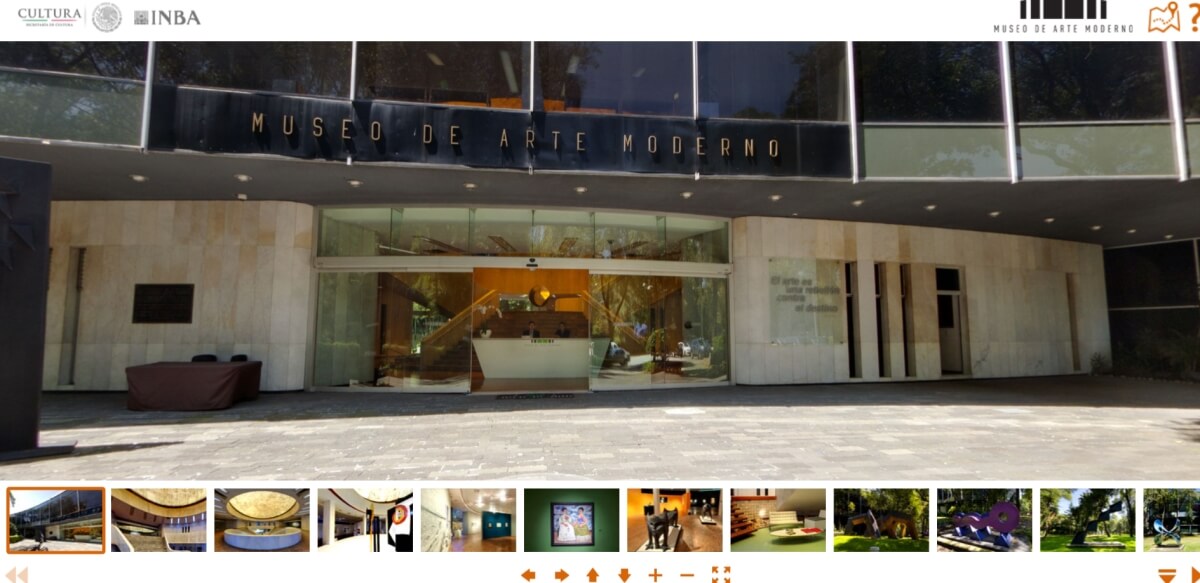 If you want to look at modern art, this is the place to go. The museum hosts a permanent collection of works by renowned artists such as Frida Kahlo, David Alfaro Siqueiros, José Clemente Orozco, Diego Rivera, Rufino Tamayo, Leonora Carrington, and Remedios Varo, among others. The gardens and lobby are lined with sculptures from national and international artists. And guess what? You can watch it all for free!
Templo Mayor (Mexico City)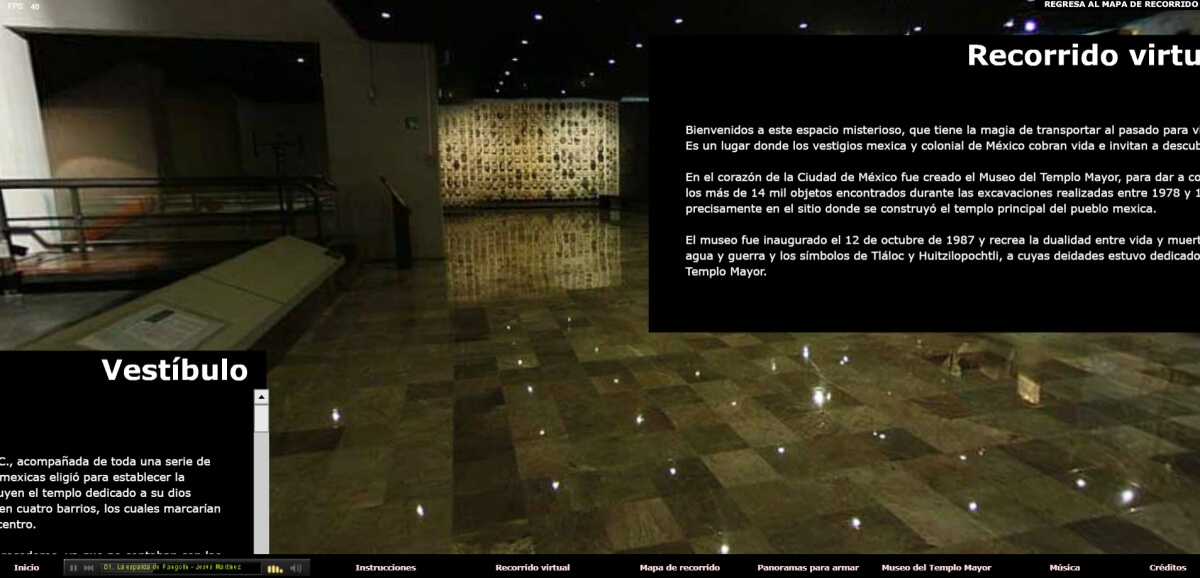 The museum was inaugurated in 1987 and recreates the duality between life and death, water and war, and the symbols of Tlaloc and Huitzilopochtli. 
It's divided into 8 halls: Archaeological Antecedents, Rituals and Sacrifices, Tribute and Commerce, Huitzilopochtli, Tláloc, Flora and Fauna, Agriculture, and Colonial and Modern Periods.
A very cool feature of this tour is the inclusion of black floating signs as you move through the museum. It's important to mention this tour only includes the museum, not the archaeological site.
Museo Nacional de San Carlos (Mexico City)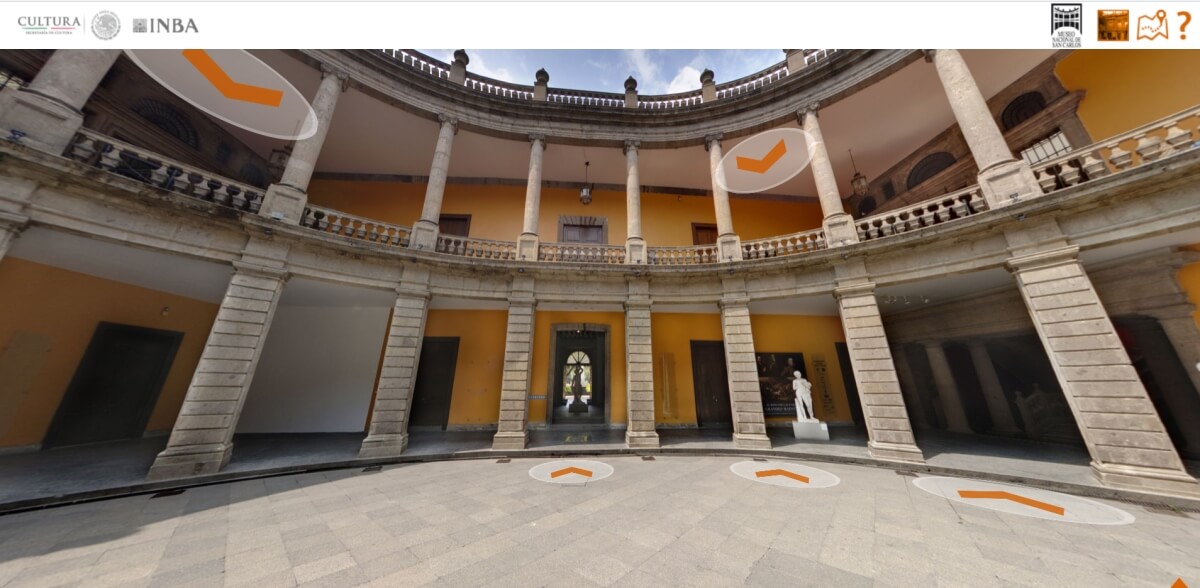 This museum hosts an ample collection of European paintings spanning from the 14th century up to the beginning of the 20th century. There are nine art styles you can admire: Gothic, Renaissance, Mannerism, Baroque, Rococo, Neoclassical, Romantic, Impressionist, and Academia en Mexico. It's important to mention you get an excellent view of the paintings as compared to other virtual tours. You can access this free tour here. 
Museo de Arte Indígena Contemporáneo (Cuernavaca)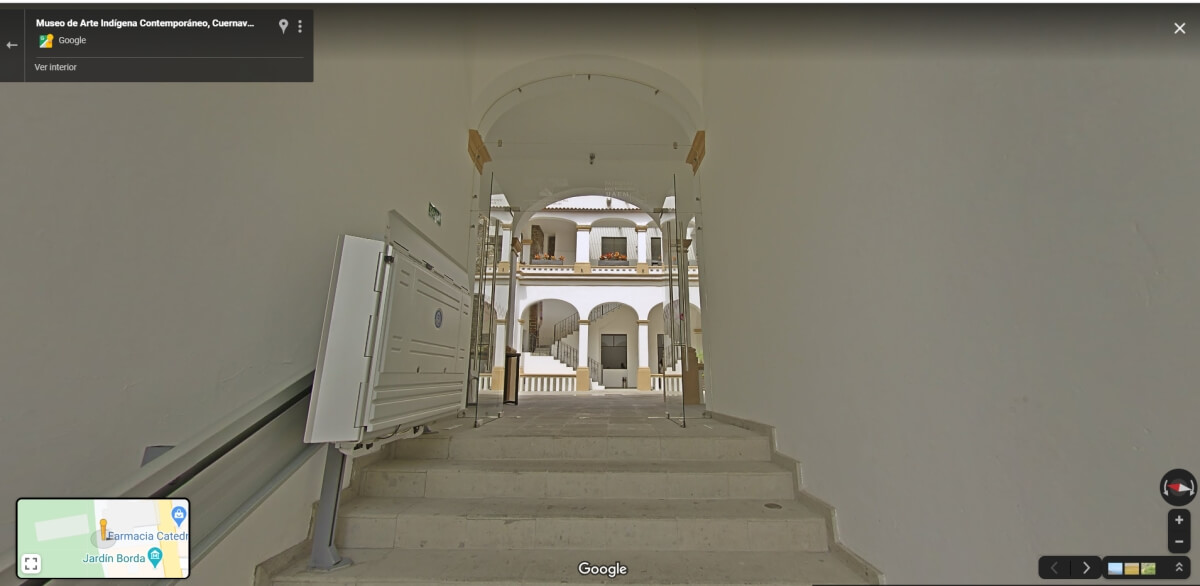 This museum hosts around 300 works that include pottery and wooden pieces, among others, by Indigenous cultures such as the Rarámuri, the Yoreme, the Zapotecs, the Tzeltal, the Tzotzil, the Mixtecs, the Yaqui, the Purépecha, the Mazahua, the Huichol, the Nahua, and the Otomí. You can access this tour here.
The quality of this tour is not as good as others, but it's a great option if you're interested in looking at some great art by the Indigenous people of Mexico.
Museo del Pueblo Maya (Yucatán)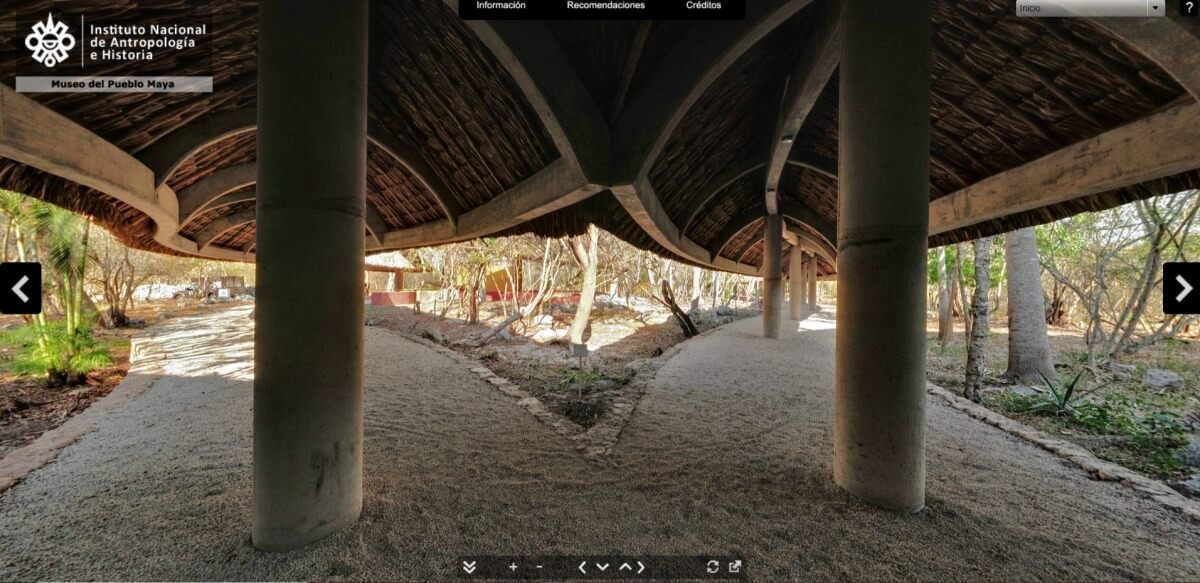 The primary purpose of this museum is to show the development of the Maya culture in all aspects. Respect for nature was an important element to consider before starting construction. 
The museum is divided into 4 halls where you can watch sculptures and other artifacts coming from Yucatán, Campeche, Quintana Roo, and Chiapas.
You can check it out here. 
Museo Regional de Guanajuato (Guanajuato)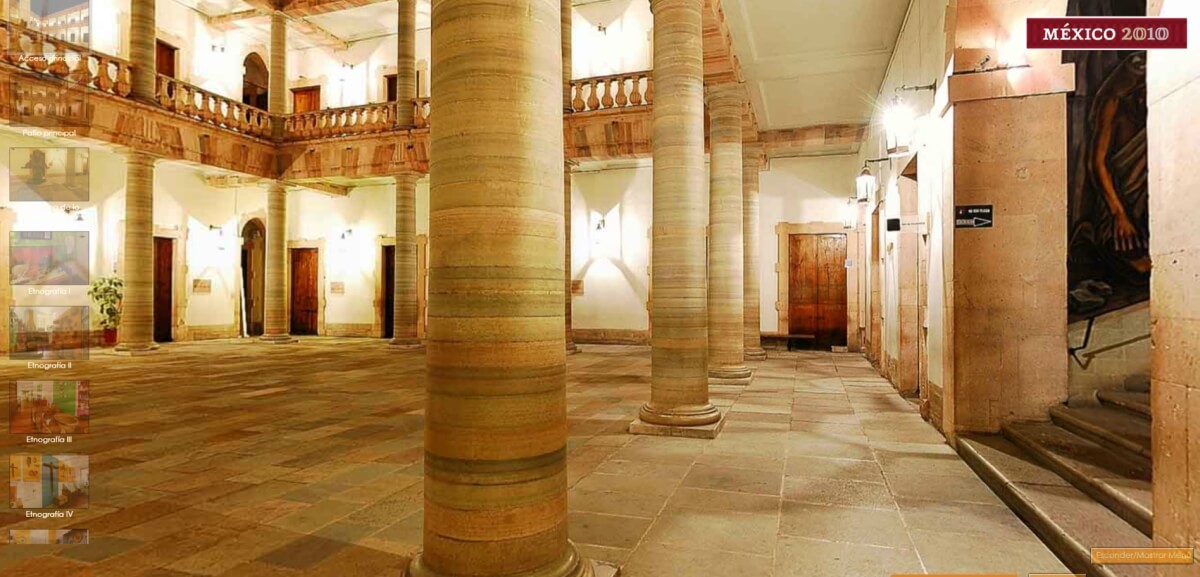 Also known as the Alhóndiga de Granaditas (Grain Warehouse), this is one of the most important museums in Mexico due to its significance in the Mexican War of Independence. Besides telling the story that happened there, the museum also hosts several pre-Hispanic pieces.
The tour offers an audio guide but it's only in Spanish. Check it out.
Other notable museums include:
Museo Regional de Michoacán

Museo Regional de Querétaro

Museo de las Culturas de Oaxaca

Museo de Guadalupe

Museo Regional de Aguascalientes

El Obispado

Museo Regional de Guadalajara

Museo Regional Potosino
Archaeological Sites
Monte Albán (Oaxaca)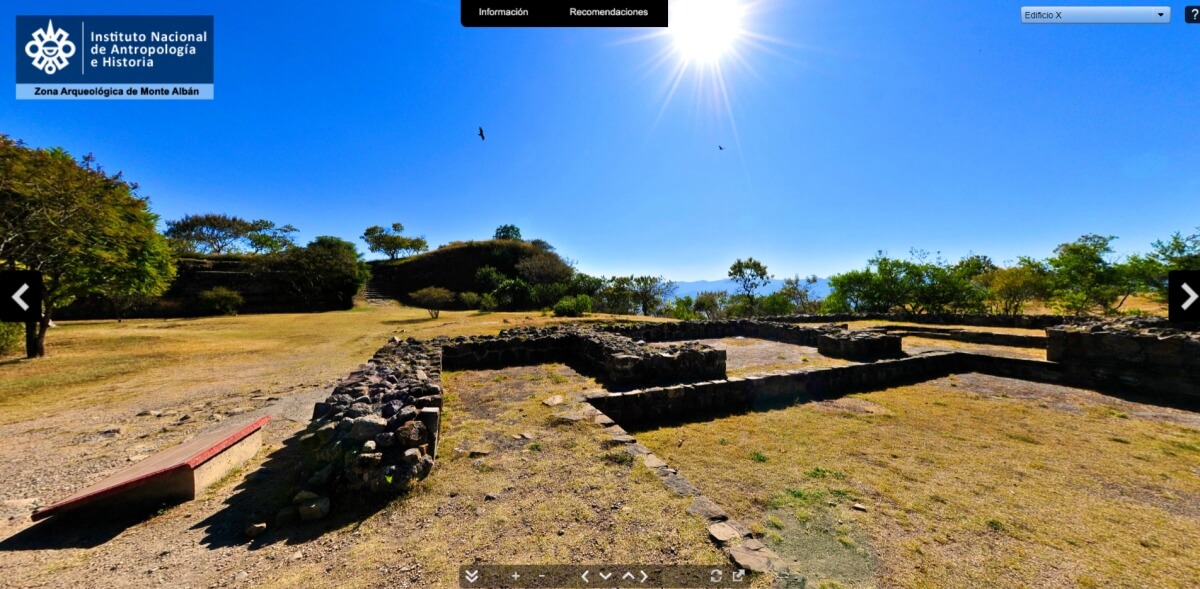 It was founded in 500 BC and reached a population of 35,000 inhabitants. They had connections with the people from Teotihuacán.
Compared to other pre-Hispanic sites, the structures in Monte Albán are smaller. The ruins were restored between 1931 and 1948. 
You can tour both the archaeological site and the on-site museum.
Teotihuacán (Estado de México)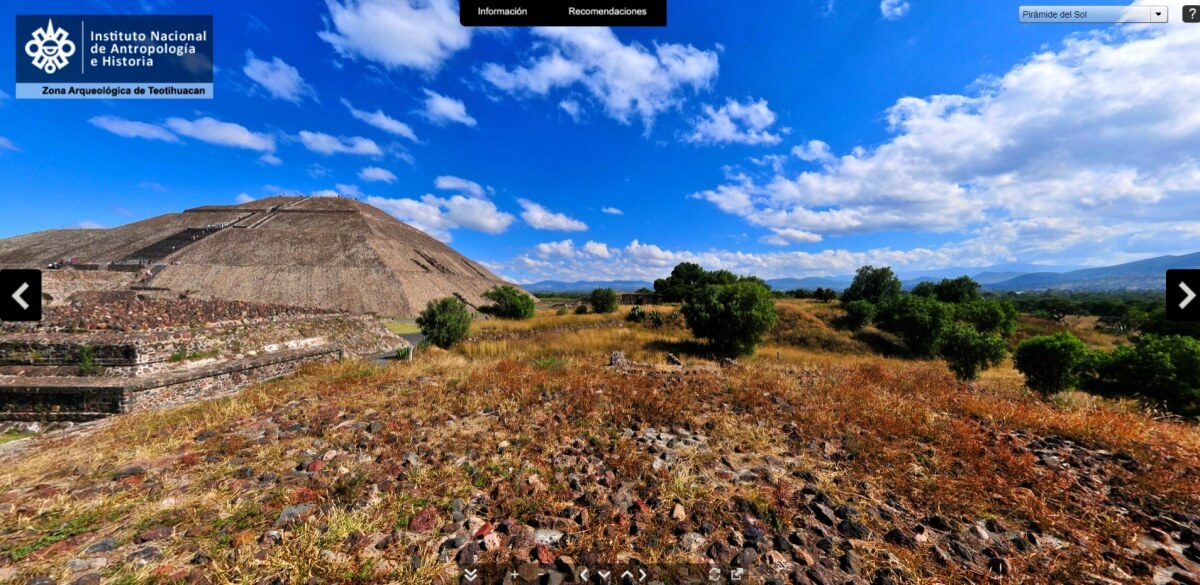 Along with Chichén Itzá, this is one of the most visited archaeological sites in Mexico, especially around the date of the spring equinox. 
On this tour, you can watch the archaeological site as well as its two on-site museums: Museo de la Cultura Teotihuacana and the Museo de los Murales Teotihuacanos. The two most famous structures are the Pyramid of the Sun and the Pyramid of the Moon. Check them out!
Chichén Itzá (Yucatán)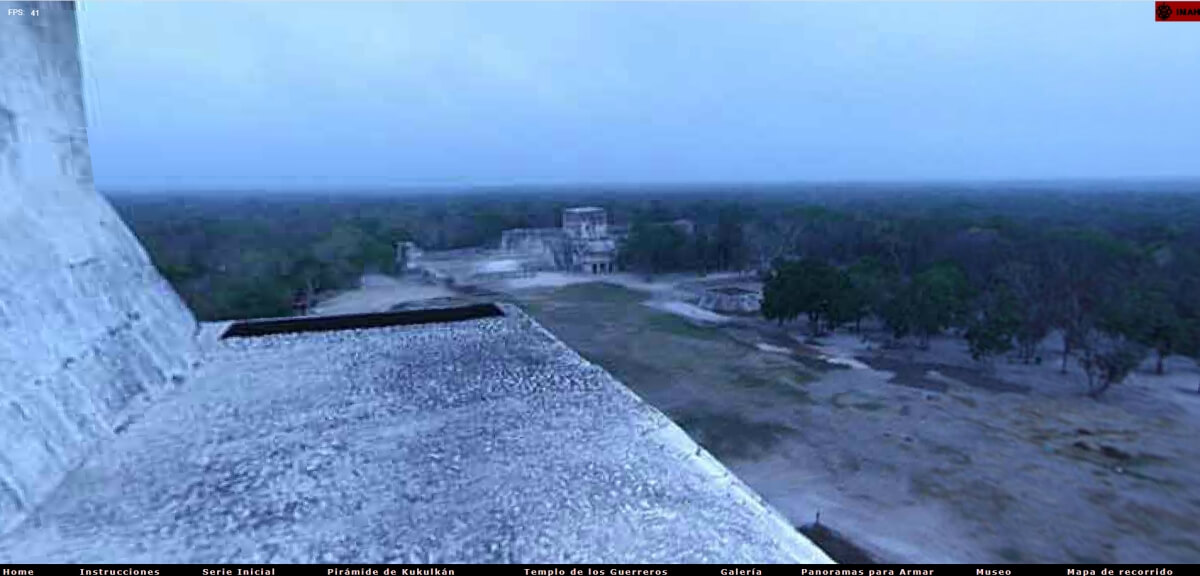 This is undoubtedly the most visited archaeological site in the country. It's internationally known for the Pyramid of Kukulcán "the Feathered Serpent" and the Temple of the Warriors. You can check it out here.
Tulum (Quintana Roo)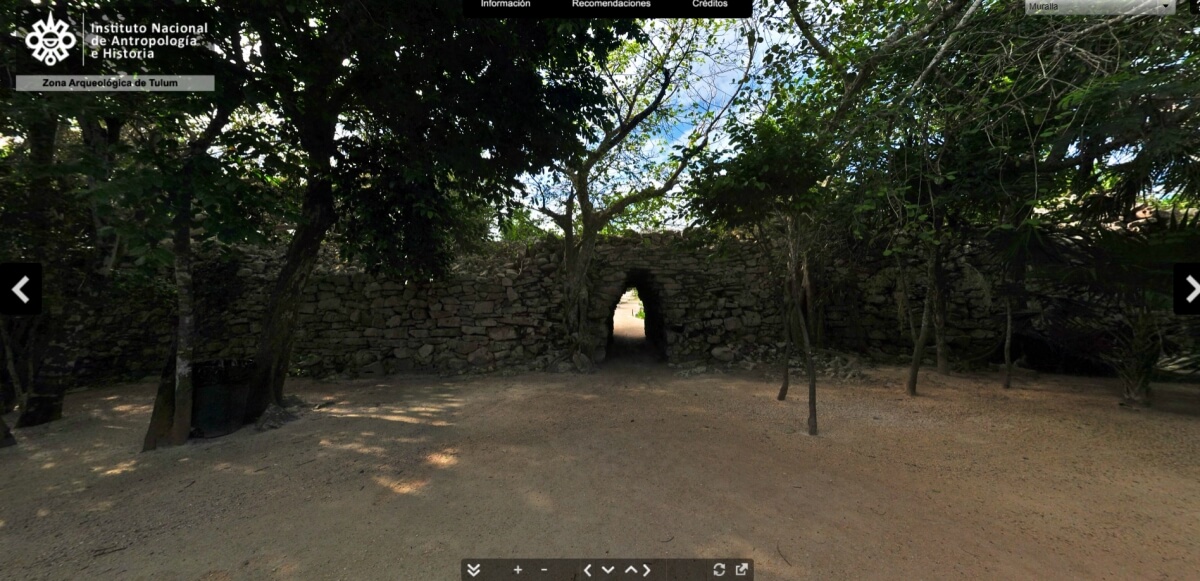 Formerly known as Zama (meaning tomorrow), this is the only archaeological site located right next to the sea. The most famous structures are its wall, the Temple of the Frescoes, the Temple of the Descending God, and El Castillo. You can go on this tour here. 
Paquimé (Chihuahua)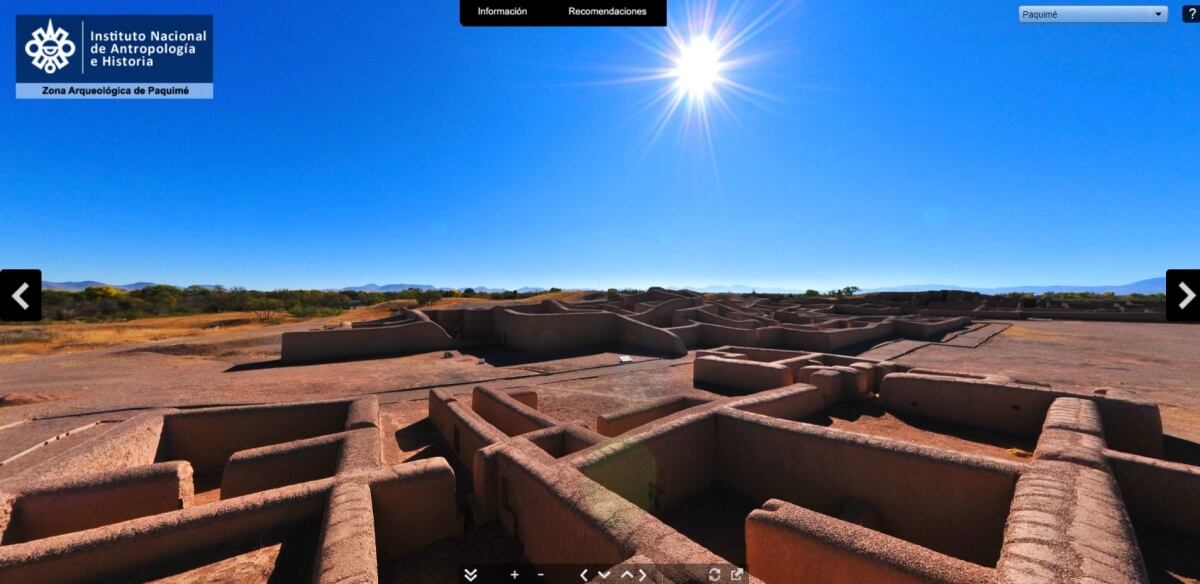 Also known as Casas Grandes (Great Houses), this is one of the few archaeological sites in the north of Mexico. However, unlike other sites, Paquimé is known for its architecture composed of sun-dried blocks of mud and gravel, circular/semi-circular houses, and T-shaped doorways. There are similar ruins in New Mexico, Arizona, and Colorado in the U.S.
You can tour both the archaeological site and the on-site museum.
Bonampak (Chiapas)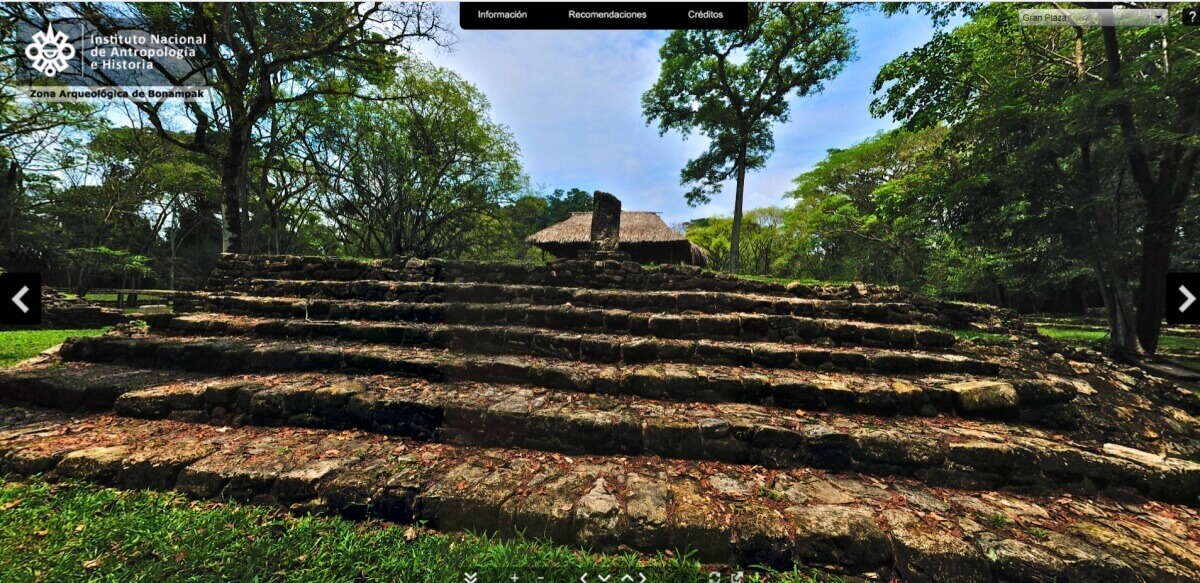 Located in the heart of the Chiapas rainforest in southern Mexico, Bonampak is famous for its Temple of the Murals. The Bonampak murals helped debunk the myth that the Maya were peaceful people.
On this tour, you can admire the murals, as well as the steles, the Acrópolis, and other structures.
El Tajín (Veracruz)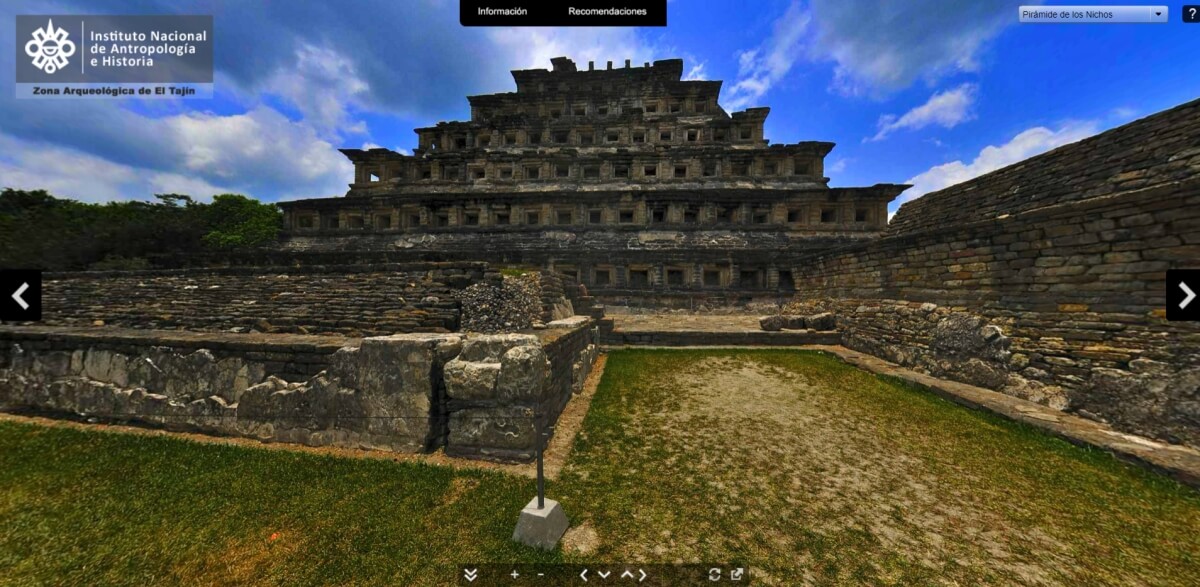 Named after the Totonac rain god, this is the most important site in Veracruz. It was declared a World Heritage Site by UNESCO in 1992. Its most famous structure is the Pyramid of the Niches.
On this tour, you can admire the pyramids, temples, and ballcourts. You can also tour the on-site museum. 
Palenque (Chiapas)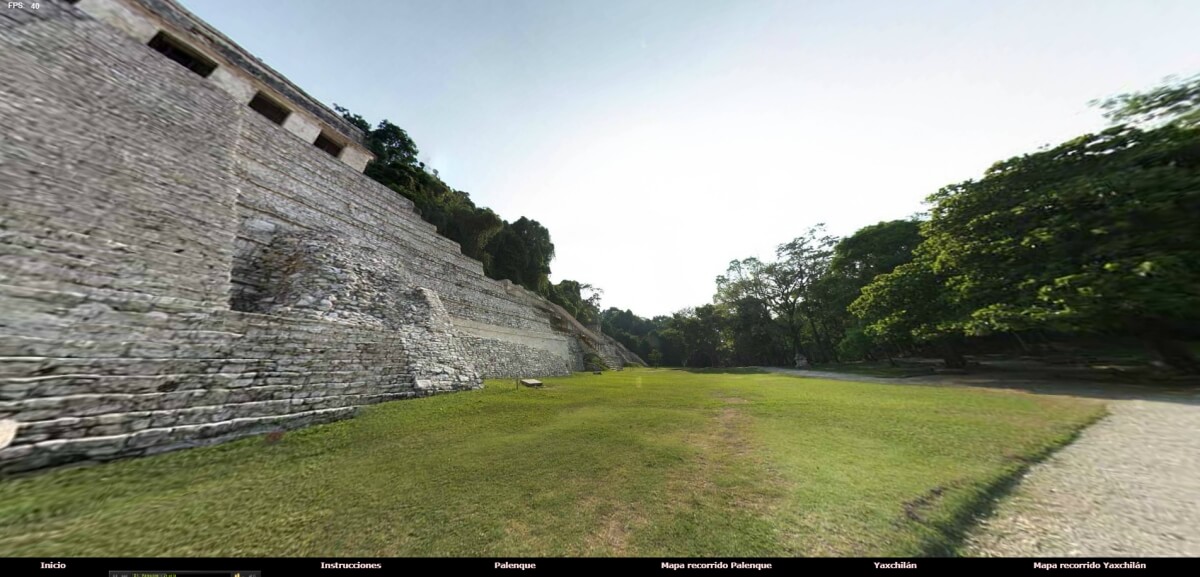 Not as big as Chichén Itzá or other Maya sites, but still Palenque boasts fine architecture, sculptures, and carvings. Its most famous structures are the Temple of the Inscriptions, the Temples of the Cross, and the Palace.
You can check it out here.
Other notable sites include:
Uxmal

Cob

á

Tonin

á

Calakmul

Edzn

á

La Venta

Comalcalco

Xochicalco
What Tools to Use
Most of the tours mentioned above come from the INAH (National Institute of Anthropology and History) website or the INBA (National Institute of Fine Arts) website. They offer many tours with 360 photos, and a few of them even include audio. 
However, did you know that Google also offers virtual tours? They partnered up with many museums around the world to offer online exhibitions through Google Arts & Culture. Mexico is no exception. What's even better, compared to other tours, the ones on Google allow you to zoom in on the works of art to look at the smaller details and they also offer useful descriptions so you can better understand the works. On other tours, it can be hard if not impossible to read the description no matter how much you zoom in. That's not the case with Google Arts & Culture.
Another interesting site you could try is Maps of Mexico. It has a sizable amount of interactive maps with 360 photos. Unfortunately, not all links work but you can try your luck. What I like about this website particularly is you can look at attractions other than museums or archaeological sites. Check it out!
For some tours, you will need Flash. If that's the case, I recommend using a computer/laptop, but if you want to use a mobile device there are some workarounds you can take.
Conclusion
We can't travel freely these days, but that's no excuse to not explore the world. There are many virtual tours you can take. You can learn a lot of things about other cultures with just a computer and an Internet connection.
It's not the same thing as going in person, you may think. I know and I agree with you. But this is the perfect opportunity to use our imagination and creativity. You can take virtual tours by yourself or with your family. If you have children, they can learn something new and have fun at the same time instead of just watching YouTube or playing video games. 
We will be able to travel again soon. But in the meantime, check out the myriad of virtual tours available.
What tours would you like to take? Have you taken any already? How did you like it? Let me know in the comments below. See you soon!
Book your trip now!
Book your flight
The first thing you have to do is find cheap flights. But where do you find those? There are many search engines, but the one I highly recommend is Skyscanner. Here you can compare fares from all over the world and pick the one that suits you best.
Book your accommodation
The next thing you have to do is secure your lodging. Whether you prefer a hostel, a guesthouse, a B&B, or a hotel, you can find them all on Booking. You can find lodging of all kinds ranging from cheap to expensive and somewhere in between. Many people have scored good deals using it.
Another popular option is Hostelworld. This website focuses on hostels as opposed to hotels.
Book a tour
In some places, you might want to hire a tour. Not all places are equally accessible to visit by oneself. It helps enormously when you visit with a local guide who can show you around and answer any questions you might have…all in your native language. My to-go place is Viator as they offer tours of all kinds and have a presence all over the world.
Rent a car
Public transportation is usually cheaper than renting a car, but it's sometimes more complicated and time-consuming. That's a reality. In some cases, it's more convenient to rent a car. My recommendation is Rentalcars.com. Here you can compare rates and choose the one that fits you best.
Book your bus tickets
You can save money by booking bus tickets online. My favorite site to do this is Busbud.
Get travel insurance
Never travel without a travel insurance policy, especially during these days! Travel insurance can save your life. My recommendations are World Nomads and Insured Nomads. Both companies cover COVID-19 related incidents, which is crucial these days.
More resources
Just click on the "Plan your trip" tab at the top of this page, and you will find more resources like getting Mexican insurance for your foreign car, buying travel accessories, and learning Spanish. And, of course, don't forget to check back often to read about more tips on Mexico travel.