Updated 2022
I'm pretty sure every Mexican has visited Guanajuato City at least once in his life. Guanajuato City is such a lively city with colorful homes and narrow alleys all over it. It is a perfect destination for a romantic getaway or a weekend with friends. The list of the best things to do in Guanajuato City is extensive!
You will love the architecture of this city. Every corner and every landmark is a photo opportunity. You won't be able to put your camera down.
But what makes this city so special? Well, that's what we will discuss today. Let's get started!
Table of Contents
Callejón del Beso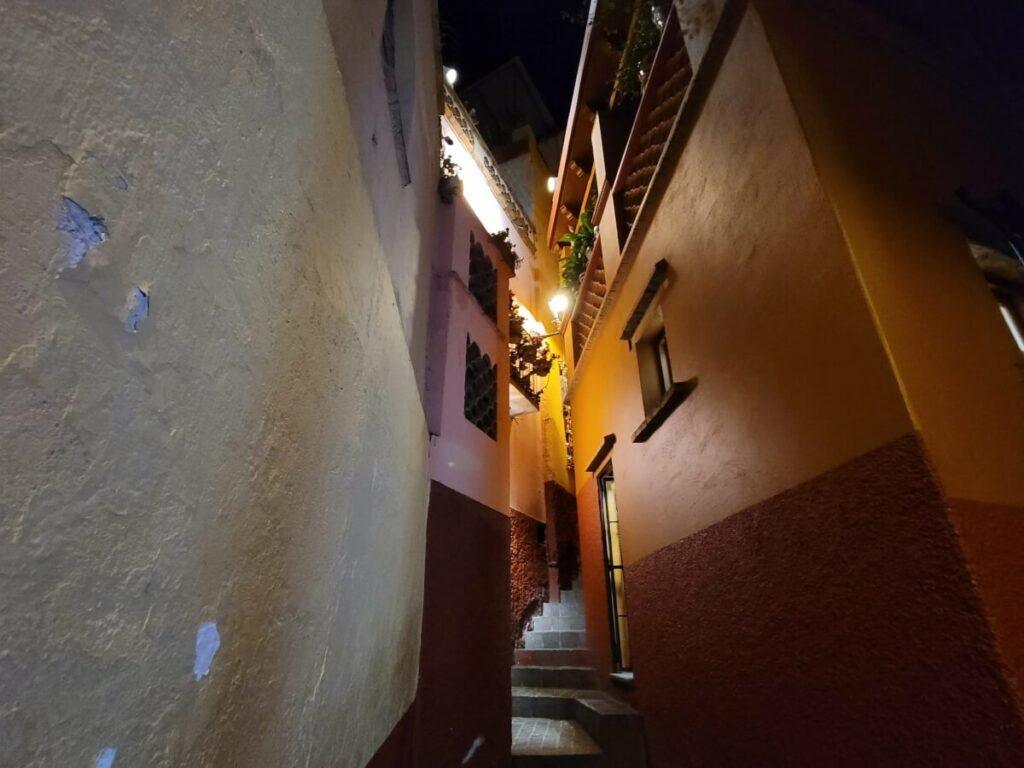 The most famous alley in town and its distinctive icon by far is the Callejón del Beso (Alley of the Kiss). This place is known for a tragic love story that goes back to the Spanish Colony times. According to the legend, a young lady and a young man fell in love. The problem was, she was rich but he was poor. At that time, social classes were extremely important, and thus, her father didn't approve of their relationship.
Their rooms were on opposite sides of a narrow alley. They stepped out onto their balconies and would see each other in secret. One night, her father caught them kissing, and blinded by anger, he stabbed her. The young man escaped in fear and was never seen again.
It is said that if you visit this place with your significant other, you have to stand on the third step of the narrowest part of the alley and kiss each other. Otherwise, you would bring 7 years of bad luck upon yourself. Ever since, lots of couples visit this alley and capture this moment in a beautiful picture.
Callejoneadas
Speaking of alleys, did you know Guanajuato has approximately 3,600 in total? One of the best ways to explore the city is through callejoneadas. They are walking tours where you get to visit some of the most representative spots of Guanajuato.
This tradition goes back to 1962 when a group of university students found out about the music by the Spanish Students. They received support from their local university and created the first tuna (Spanish Student group) in Guanajuato.
You can easily spot these groups. They dress in dark robes and breeches, like the ones people used to wear during Renaissance times. Each one of them carries a guitar or some other musical instrument.
They will guide you through the alleys, including the iconic Callejón del Beso, where men serenade women. People sing, dance, and have a good time.
To participate, head over to the area around Teatro Juárez and Jardín de la Unión. Callejoneadas start around 8 p.m. almost every night. Depending on demand, there are two or more per night.
Tunnels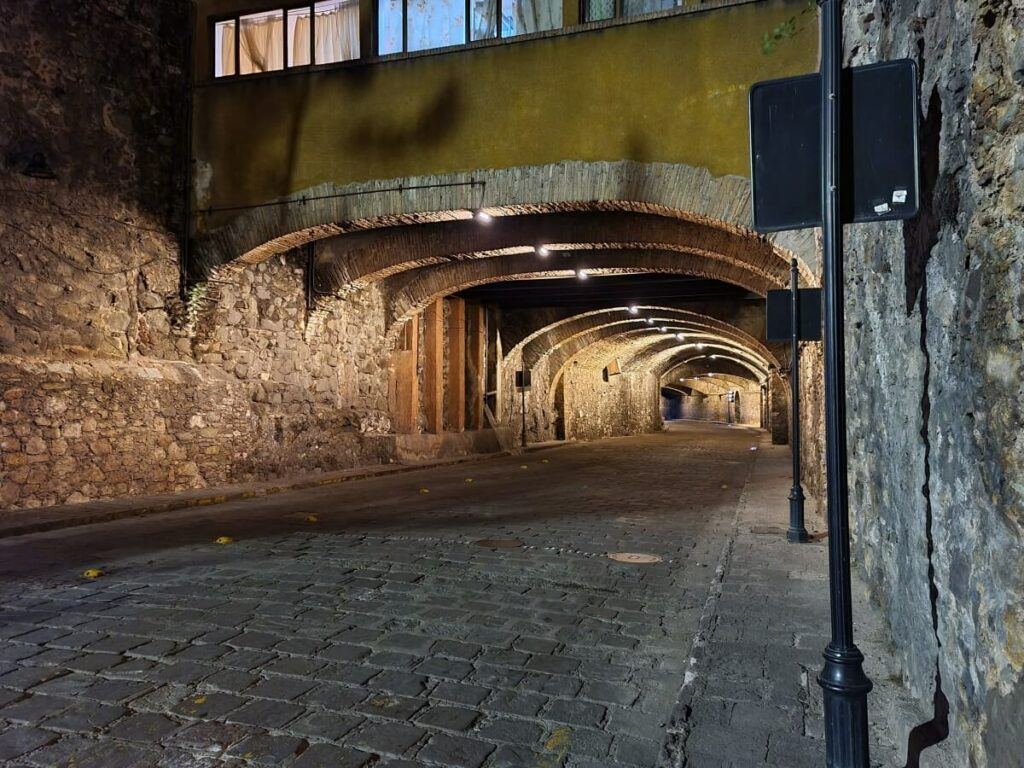 Besides its alleys, Guanajuato is also known for its extensive network of tunnels. These tunnels were originally built to prevent flooding from the river nearby, but now they are used to divert traffic away from downtown.
There are several entrances and some parts have sidewalks for your convenience. If you're not familiar with the area, it may be challenging to drive here even if you have GPS.
By the way, it is here where many locals and visitors park their cars since there isn't too much space above.
Take your time to explore your surroundings and admire this engineering masterpiece. It's a unique place in Mexico!
Museum of the Mummies of Guanajuato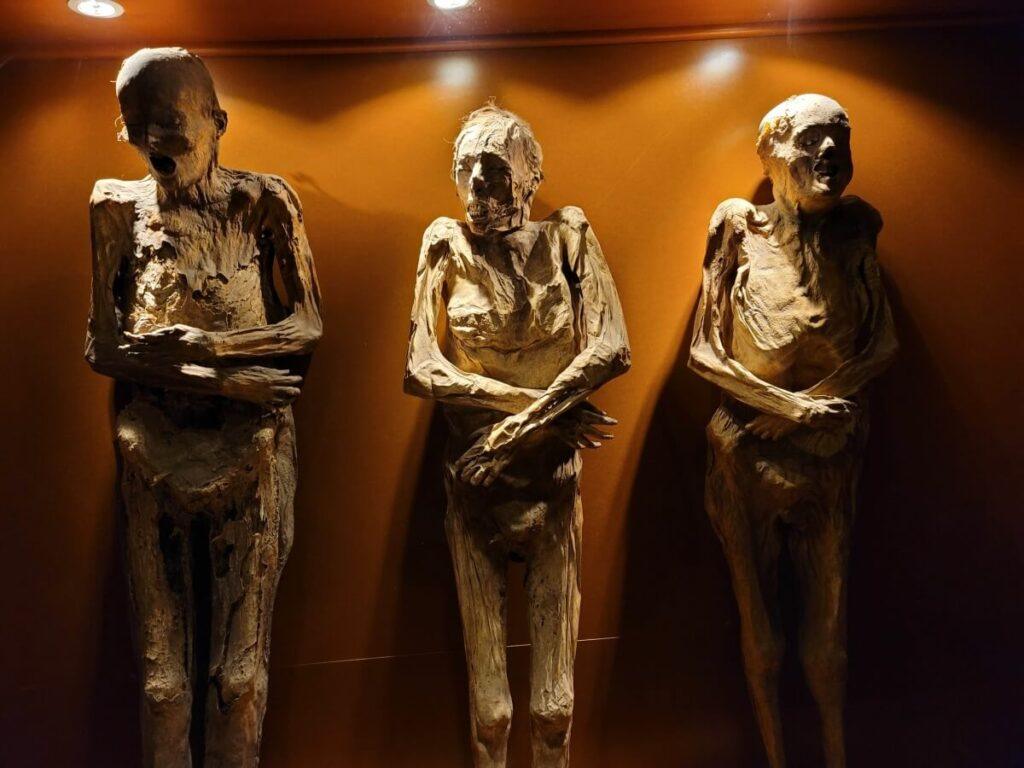 This is the most famous museum in Guanajuato. It houses a collection of over 50 naturally mummified bodies that date back to 1833. At that time, a cholera epidemic broke out in Guanajuato. To control the spread of the disease, the bodies were buried immediately. A lot of cemeteries were opened as a result.
Many years later, the local government established a fee that had to be paid for perpetual burial. If this fee was not paid, then they disinterred the body. Since not everyone paid, they started exhuming bodies. Some of them were still in excellent condition. and were kept in a nearby building.
Studies have shown that the climate of Guanajuato is ideal for the mummification of corpses. Unlike the mummies in Egypt and Sudan, most of them were not embalmed.
People became interested in these mummies, and they became an internationally known tourist attraction. They have been on display in museums in the U.S., Europe, and China.
Alhóndinga de Granaditas
The Alhóndiga de Granaditas, the former Grain Exchange building, is one of the most important buildings not only in Guanajuato but in all of Mexico as well. It was the witness of a decisive victory during the Mexican War of Independence.
According to history, Spaniards locked themselves up in this place. To enter the building and attack those inside, one of the insurgents decided to tie a huge rock to his back, run to the entrance, and set fire to it. This guy is known as "El Pípila".
The Alhóndiga was converted into a prison in 1867 and served that purpose for almost a century. Due to its cultural and historical significance, it became a museum in 1958.
El Pípila Lookout
El Pípila is a huge stone monument of a man holding a torch in his right hand. It stands on top of the Cerro de San Miguel at the edge of the city. At the base of the monument, there is a huge plaza with a lookout that offers superb views of the city.
To get to the top, you can walk up a steep stairway or you can take a funicular. The ride costs 30 pesos ($1.50) one way or 60 pesos ($3) the round trip.
At the top, you will find many souvenirs and food stands in case you want to buy something.
Teatro Juárez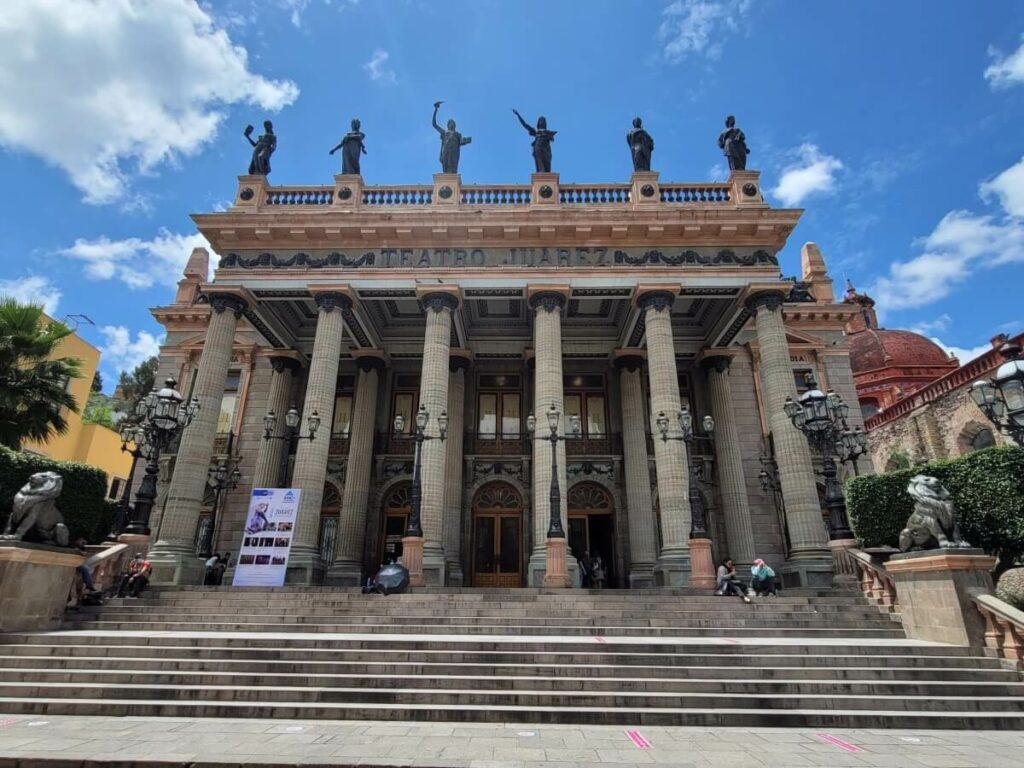 The Teatro Juárez is a majestic 19th-century theater in downtown Guanajuato. It was inaugurated in 1903 by the then-president Porfirio Díaz. The opening performance was Verdi's Aida, by an Italian company.
The theater boasts beautiful Doric columns and an Oriental style in the interior. The entrance is flanked by two bronze statues of lions. On the roof above the entrance, you can see the statues of eight of the nine Greek muses.
Since 1972, this building has been the main venue of the Festival Cervantino (an international art festival) in October of each year.
The theater is open to the general public Tuesday through Sunday from 10 a.m. to 1:45 p.m. and from 5 p.m. to 7:45 p.m. That is unless there is an event going on. In that case, they close the theater and only open it during show hours.
Jardín de la Unión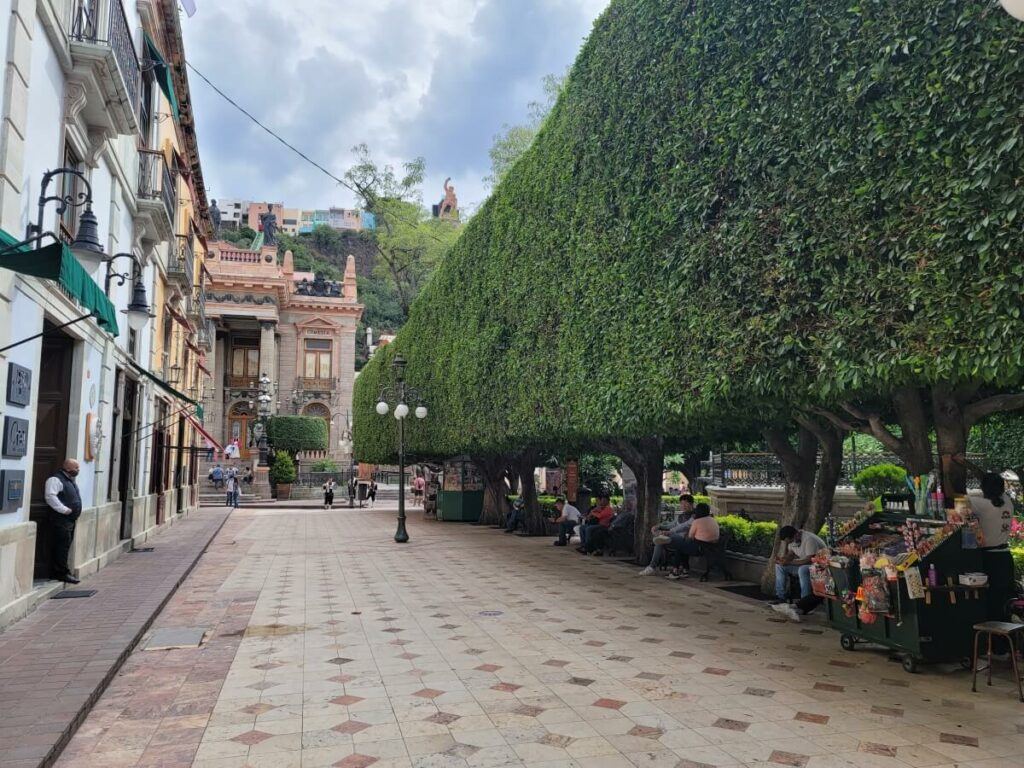 Jardín de la Unión is the heart and soul of town. It is a gathering place for locals and visitors alike. it consists of a triangular plaza with benches and lots of shade to escape those hot days.
The plaza is lined with restaurants, bars, and cafes with outdoor seating. It's the perfect place to spend a romantic evening or a fun night with friends.
At night, you will find mariachi bands competing for customers. They can play your favorite Mexican songs for about 50 pesos ($2.50) each. Many people head over to this plaza to start the night and then continue partying somewhere else.
Guanajuato Basilica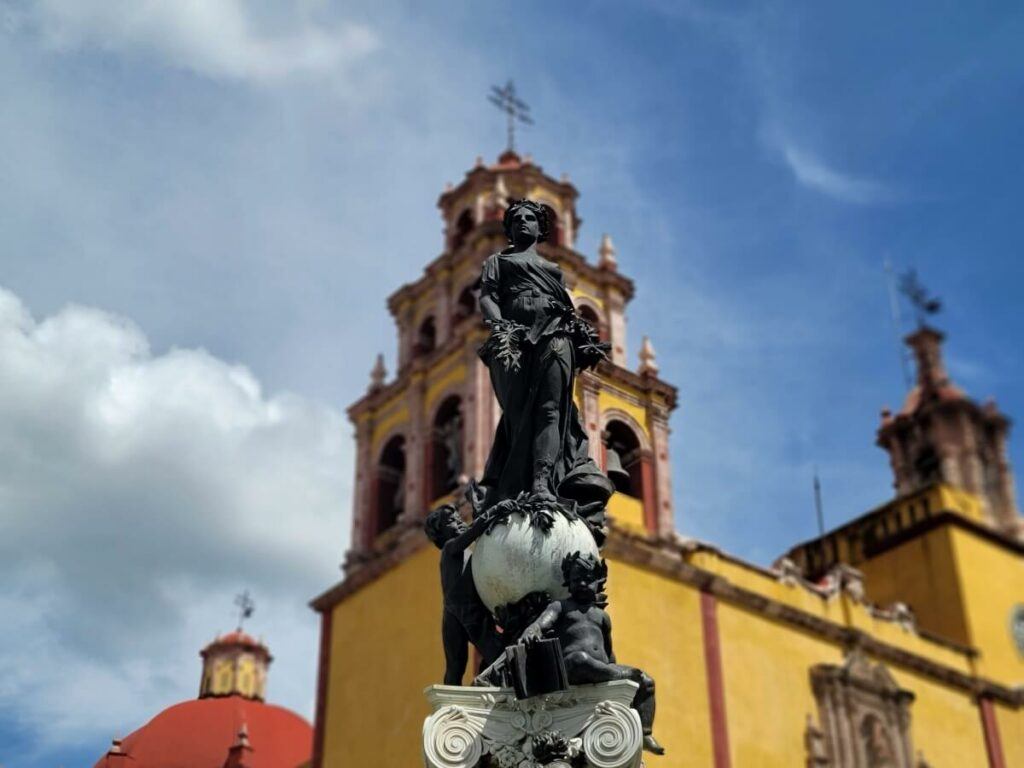 The basilica was built between 1671 and 1696, but it wasn't given this title until 1957. It boasts Baroque and Neoclassical styles with a yellow facade and red motifs. It is dedicated to Our Lady of Guanajuato.
By the way, this basilica houses the oldest sculpture of the Virgin in America. It was brought from Spain during the 16th century. The sculpture dates back to 714 but was hidden for centuries during the Arab occupation of Spain. When it was found many years later, King Philip II sent it to Guanajuato as a token of gratitude.
If you pay close attention, you will notice that the basilica is slightly elevated above the surrounding buildings. That is because they placed it upon a small hill to enhance its magnificence.
Universidad de Guanajuato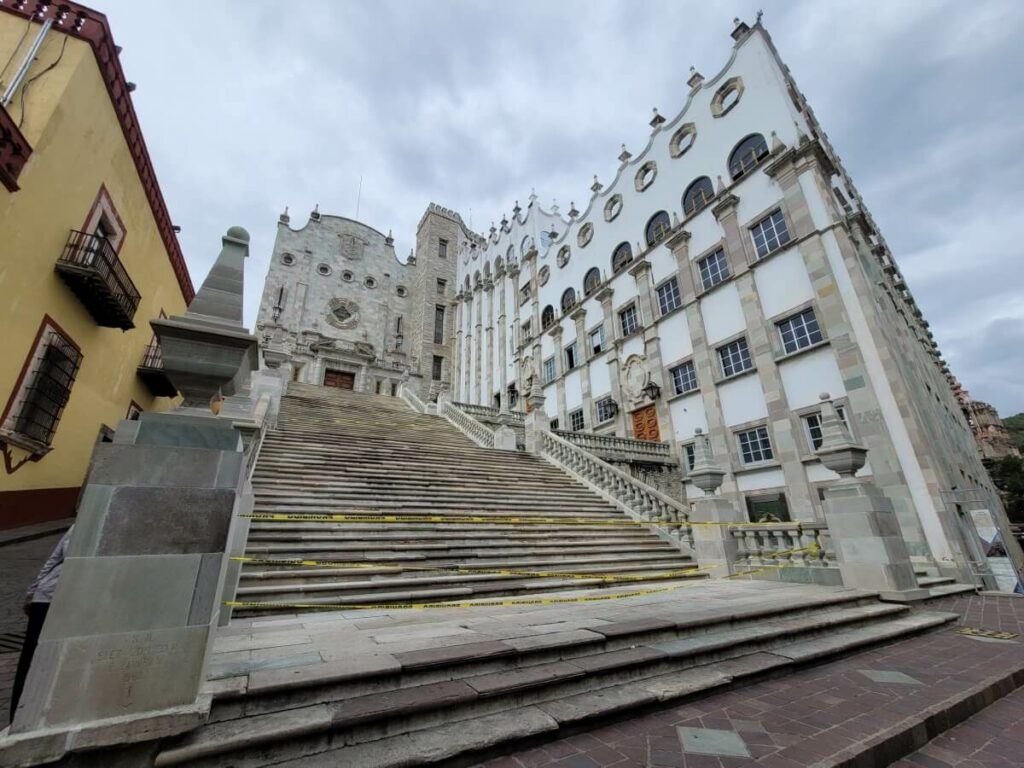 The local university was established in 1732. It has undergone several name changes until it adopted its current name in 1945. In 1944, it was granted autonomy by the state legislature.
The building boasts a Neoclassical style facade made of green quarry. Its distinctive long stairway can be seen from El Pípila lookout and is one of the most famous landmarks in town.
The university is open to the general public. If you would like to visit, you can do so through free guided tours. They are available Tuesday through Friday from 12:30 p.m. to 3 p.m. They are only offered in Spanish, but you will find QR codes and photos with information in English.
Mercado Hidalgo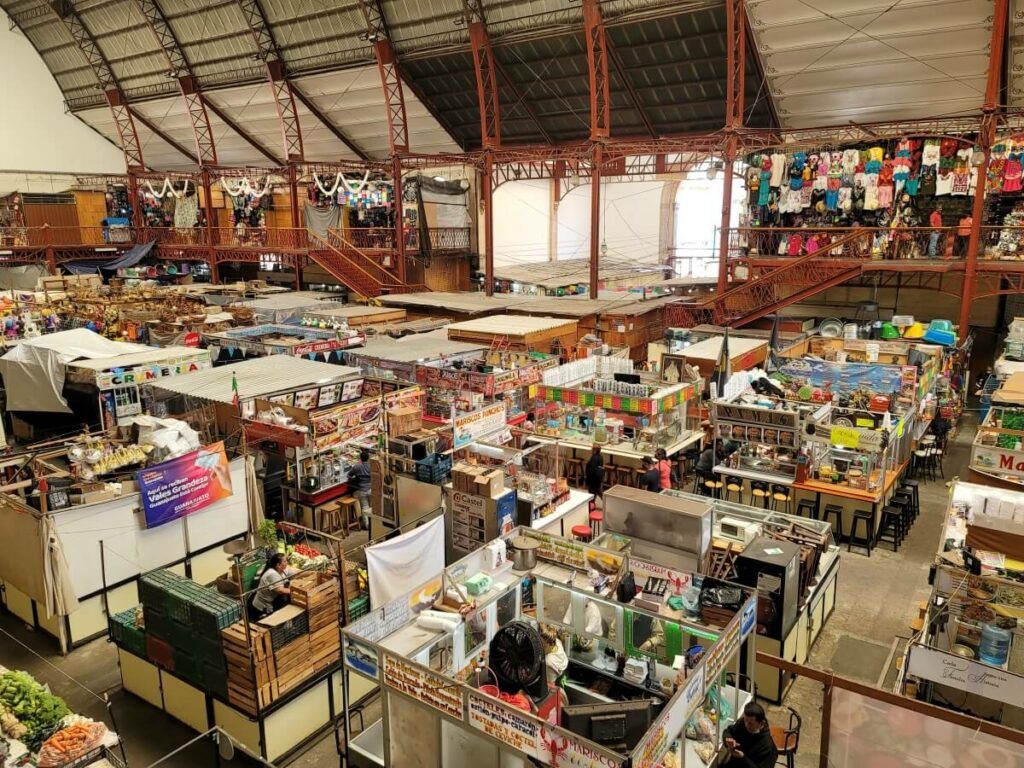 Mercado Hidalgo is the local city market. It was inaugurated in 1910 by president Porfirio Díaz. Originally, it was planned to be the local train station, but they decided to turn it into a market instead since the town needed a new market urgently.
Most of the building is made of iron. The main entrance boasts an arch made of pink quarry. Over the entrance, there is an elegant clock with four dials.
The market covers an area of 70 m x 35 m (230 ft x 115 ft). There are three entrances to it.
Inside you will find lots of handicrafts and food stalls at great prices. It is the best place to go eat breakfast or lunch and buy souvenirs of all kinds.
Presa de la Olla
Presa de la Olla is a small dam at the top of the Guanajuato Valley. It is the main source of freshwater for the town.
The dam is a cool spot off the beaten path where locals go relax on weekends. There are rowboats available for rental (just 40 pesos/$2) and a park beside it. It's the perfect place to escape the hustle of downtown (especially on weekdays) and take a stroll or go work out. You can also buy corn on site to feed the ducks. The kids will love it!
There are restaurants in the area in case you want to grab a bite or you can bring your own food and have a picnic.
To get there, you can take a taxi or a bus with the sign "Presa". It's a 20-minute drive from downtown.
Museo Ex-Hacienda San Gabriel de Barrera
This beautiful hacienda belonged to Captain Gabriel de Barrera, a member of a noble family. It was built at the end of the 17th century.
It is now a museum with spacious gardens open to the general public. Inside the museum, you will find elegant furniture and other decorative items that will give you a glimpse of how rich people lived back then.
The hacienda is about 3 km (1.86 miles) west of downtown. You can take a taxi or a bus that reads "Marfil" to get there. Ask the driver to drop you off at Hotel Misión Guanajuato.
La Valenciana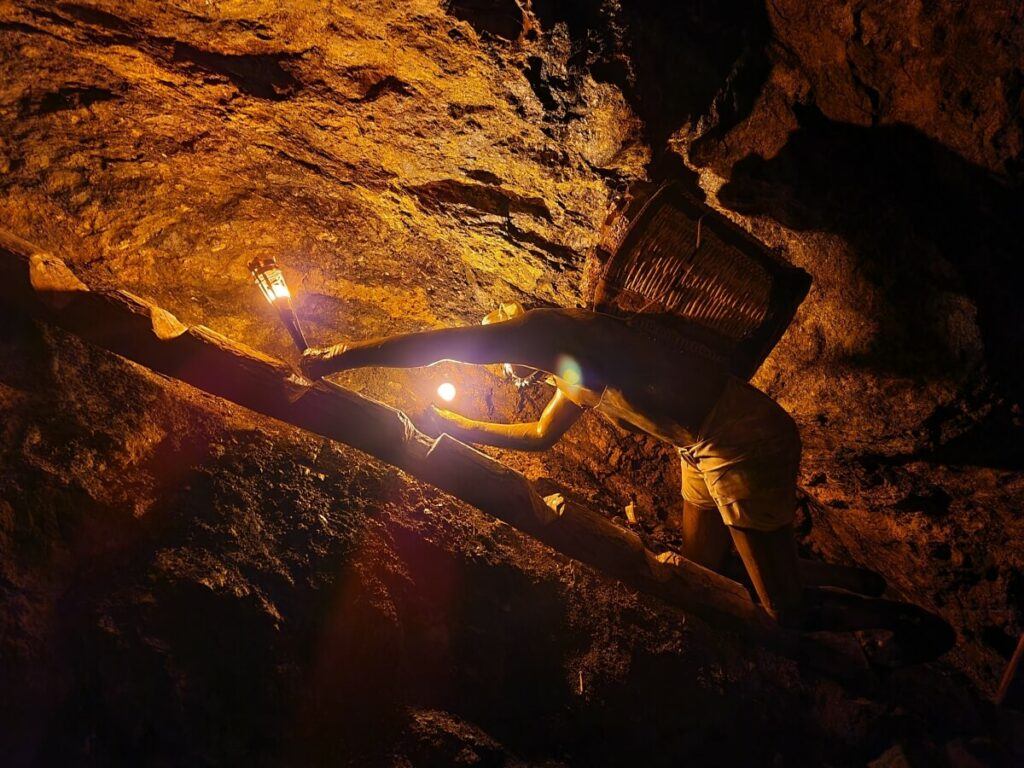 Guanajuato was once a rich mining town. Most of the rich people of the Colonial Era were involved in the mining business.
La Valenciana District is a witness of Guanajuato's past grandeur. Two mines on site are open to the public: San Ramón and San Cayetano. At San Ramón, you can descend to a depth of 60 m (197 ft).
To get to the mines, head over to the corner Alhóndiga and Calle 28 de Septiembre in downtown Guanajuato. You have to ride a bus that reads either "Valenciana" or "Cristo Rey". Get off at Templo La Valenciana and follow the signs or ask the locals. You can also negotiate with a taxi or take a guided tour.
Cristo Rey
Cristo Rey is a huge statue of Christ on top of the Cerro del Cubilete. At the foot of the statue, there is a sanctuary shaped like a globe. This church is one of the most visited in Mexico after the Basilica of Our Lady of Guadalupe and Cathedral Basilica of San Juan de los Lagos.
Cristo Rey is considered an icon of Guanajuato and was created to honor the bravery of those who fought for religious freedom during the Cristero War between 1926 and 1929.
What stands out about this statue, is that it's the biggest statue of Christ made of bronze. Other similar statues in other cities are usually made of marble or concrete but not this one.
To get there, you can take a bus at the bus station, a taxi, or a guided tour.
Enjoy the Local Cuisine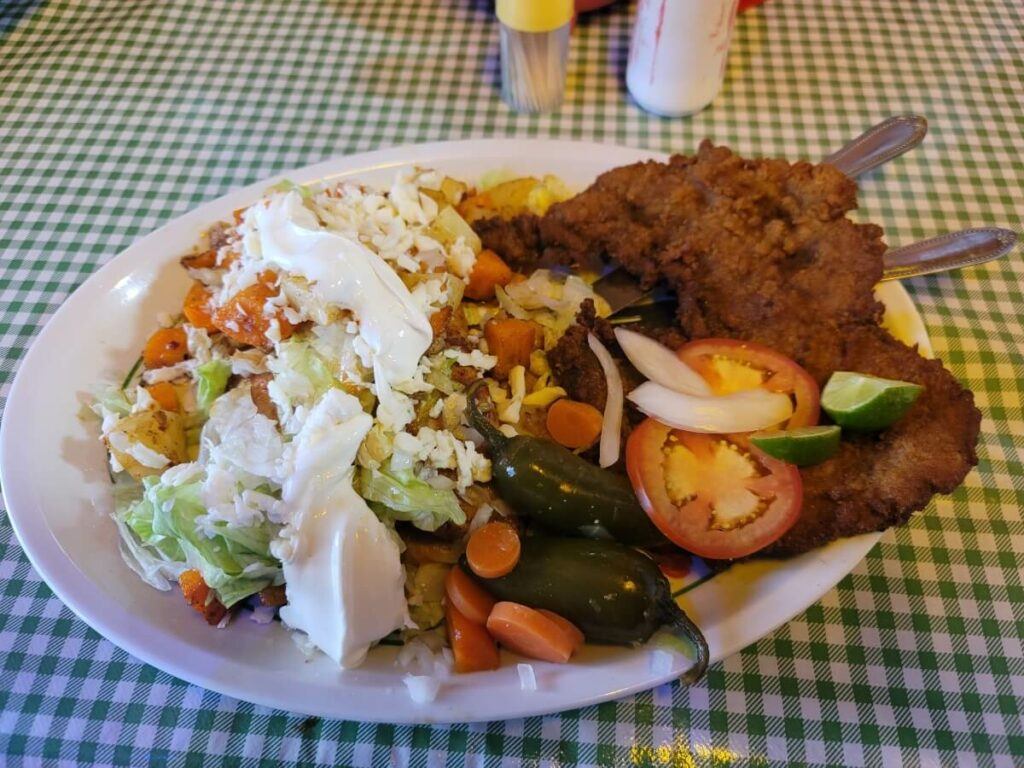 No vacation is complete without trying the local cuisine. The local dish par excellence is enchiladas mineras. They're fried corn tortillas filled with ranchero cheese and soaked in guajillo pepper sauce. They're served with potatoes, carrots, lettuce, tomatoes, and sometimes a piece of chicken. You don't want to miss out!
Guacamayas are another famous dish. Although they were first invented in León, they're also famous in Guanajuato. They're a kind of torta filled with pork rinds, avocado, lime, salt, and spicy pico de gallo. They're to die for!
You can also try Guanajuato-style tamales which are filled with pork meat or ranchero cheese.
Guanajuato City, being the capital of Guanajuato, has dishes from other regions nearby. If you have the chance, try the fiambre (mix of beef tongue, beets, olives, and peanuts), the gorditas of Atotonilco, charamuscas (candy made from sugar cane and other ingredients like coconut and nuts), the cajeta candy from Celaya, and the nieves of Dolores Hidalgo which have exotic flavors like rose petals and mole. Oh, and regarding drinks, try mezcal. Tequila's cousin is not as famous, but it's a really good drink.
Buy Unique Souvenirs
Due to its mining tradition, silver jewelry is still a popular souvenir in Guanajuato City. Pottery is another famous souvenir. You can buy plates, spice racks, among other things.
Yet a third option would be key chains with traditional figures like Don Quixote, El Santo, and catrinas. You can find these made of paper mache and other affordable materials. If you don't want to spend too much on souvenirs, this could be an excellent option. I still have the Don Quixote figure I bought about ten years ago. Don't forget to buy typical candy from the region. Charamuscas and trompadas are delicious. You can also buy many other types of candy. You will find them in Mercado Hidalgo.
Best Time to Visit
Guanajuato does not experience hot summers like other destinations. The average yearly temperature is between 23°C and 31°C (73.4°F – 87.8°F). The wettest months are June, July, August, and September. Therefore, the best times to visit, in terms of weather, are January-May and October-December.
If you want to escape the crowds, then avoid visiting during the following dates:
Semana Santa (the week before Easter).
July and August.
October (Festival Cervantino).
Mid-December through mid-January.
Holidays such Día de la Independencia or Día de la Revolución Mexicana.
==>> Click here to find the cheapest flights!! <<==
How to Get There
The airport that serves Guanajuato is Bajío International Airport (BJX). It is located about 31 km (19 miles) from downtown. Depending on the traffic conditions, the drive takes between 30 and 40 minutes.
It receives flights from major Mexican destinations such as Mexico City, Monterrey, and Cancún, as well as international destinations such as Los Angeles, Chicago, Dallas, Houston, and San Antonio.
Once you get to the airport, you have three ways to get to downtown Guanajuato:
Take a bus to Silao and then another one to Guanajuato.
Take a taxi.
Rent a car.
I don't recommend the first option if you have a large suitcase. The buses don't have luggage compartments below. However, if you're traveling light and want to save some money, then go for it. All you have to do is walk out of the airport and cross a pedestrian bridge. Across the street, you have to take the Flecha Amarilla bus. It costs 12 pesos ($0.60). Get off at the bus station and then take a bus to Guanajuato (30 pesos = $1.50).
A taxi will cost you around 500 pesos ($25) but is more convenient if you're traveling in a group or with a large suitcase.
If you would like to rent a car, there are several agencies at the airport where you can rent one. I recommend doing this online.
Moving Around
Guanajuato is one of the most pedestrian-friendly cities you will ever find. If you stay downtown, most attractions are within walking distance. Make sure to bring comfortable shoes as you will do a lot of walking.
You can take a bus to visit attractions that are a little further. The fare is 9 pesos ($0.45). You can catch most of them on Avenida Juárez or the tunnels. You can ask the locals and someone will be able to help you. They're nice people, but you will need to speak some Spanish.
Taxis are another option, and they're not too expensive. However, be advised they're not metered. Instead, they usually charge per zones. Rides within downtown are around 50 pesos ($2.50), but always ask the driver before getting in.
Although there is Uber available, its presence is not significant. It seems there are not many drivers in Guanajuato.
I do not recommend renting a car here since driving and especially parking can be complicated, especially inside the tunnels.
Where to Stay
Guanajuato is super affordable, and lodging is no exception. There are options for all budgets and preferences. It's just a matter of looking in the right places.
The cheapest options are around 250-300 pesos ($12.50-$15) per night. Keep in mind not all places advertise online.
On my last visit, I stayed at Casa San Roque on Calle Positos. It is a nice, modest hotel with clean rooms, private bathrooms, and good Wi-Fi, not to mention it's centrally located.
Due to their location, price, and reviews, these are other recommendations you might consider:
Manzano B&B
Casa El Ombligo de la Luna
El Zopilote Mojado
The House of Cinema
Las Alamedas
Las Enredaderas
Hotelito Privada del Chan
Cactus Hostel
Hostal Casa de Dante
Where to Eat
Guanajuato has lots of dining options to choose from. Its cuisine is delicious, and the prices are super affordable. Some of my recommendations are:
Mercado Hidalgo, the best place to have breakfast or lunch hands down. There are many stalls that offer dishes like chilaquiles, tacos, and tortas. The average check varies, but it's one of the cheapest options to eat in town. Address: Av. Benito Juárez Mercado, Hidalgo, 36000 Guanajuato, Gto., Mexico.
Tortas Mi Lugar, wide selection of delicious tortas at affordable prices. The average check is between 60 and 100 pesos ($3-$5). Address: Positos 11, Zona Centro, 36000 Guanajuato, Gto., Mexico.
Casa Grande, unpretentious restaurant that offers a modest breakfast buffet for only 100 pesos ($5). Lunch options are also available. Address: Av. Benito Juárez 220, Zona Centro, 36000 Guanajuato, Gto., Mexico.
Restaurante Tulum, a cozy place to go eat chilaquiles, omelets, or other Mexican dishes. The average check is between 80 and 140 pesos ($4-$7). Address: Positos 24, Zona Centro, 36000 Guanajuato, Gto., Mexico.
La Notaria Rooftop Terraza, restaurant with a view. The menu includes pizza, seafood, and Mexican dishes. The average check is between 200 and 300 pesos ($10-$15). Address: cajero Santander, Sopeña No. 5 Guanajuato, Gto. Centro A media cuadra del Teatro Juárez frente al, 36000 Guananjuato, Gto., Mexico.
Suggested Budgets
If you're backpacking, you're looking at around 1,050 pesos ($52.50) per day. This includes accommodation at a hostel/cheap hotel, a combination of street food and home-cooked food, local transportation, and a few attractions per day (museums, parks, etc).
A mid-range budget is around 2,050 pesos ($102.50) per day. This includes accommodation at a 2-star hotel/Airbnb, cheap restaurants, a few more attractions than the backpacker budget, and a taxi if need be.
Finally, if you don't want to limit yourself, then a luxury budget will cost you at least 4,600 pesos ($230) per day. This includes staying at a 4-star hotel, eating at nice restaurants, taking taxis/Uber everywhere, and taking tours/guided trips.
Keep in mind these figures are just estimates. Some days you will spend less, while others you will spend more. This will give you a foundation to plan your budget and adjust it as necessary.
For your convenience, I created a table comparing the budgets we mentioned above. The prices are in Mexican pesos ($1 = 20 pesos).
| | | | | | |
| --- | --- | --- | --- | --- | --- |
| | Lodging | Meals | Transportation | Attractions | Average Cost Per Day |
| Backpacker | 300 | 250 | 100 | 400 | 1,050 |
| Mid-range | 800 | 450 | 200 | 600 | 2,050 |
| Luxury | 1,500 | 1,500 | 400 | 1,200 | 4,600 |
Tips for Saving Money
Guanajuato is one of the most affordable destinations in Mexico. Here are some tips to help you save some money:
Avoid visiting during the peak season. We discussed the dates above.
Stay at a hostel or use Couchsurfing (an app that connects travelers looking for free lodging).
Eat street food or at the local market.
Use public transportation as much as possible.
For cheap souvenirs, head over to Mercado Hidalgo.
Look for free walking tours online. You just have to tip your guide at the end of the tour.
Ask the locals for recommendations. You can do this at your hotel or a tourist information booth. They will be able to help you out.
How to Stay Safe
Although the state of Guanajuato has been in the spotlight in recent years due to violence and conflicts between opposing cartels, its capital remains a safe place to visit. Downtown Guanajuato is the safest area in the city. That being said, use common sense and avoid leaving downtown at night.
If you plan to visit other towns nearby, only travel during daylight hours, especially if you're driving by yourself.
When taking a taxi, always ride in the back seat. This not only applies to Guanajuato but everywhere, in general.
As to COVID, please follow the local authorities' instructions/recommendations. Generally speaking, in Mexico, it's standard practice to check your temperature and require you to wear a facemask and put on disinfectant in public places, whether indoors or outdoors.
If you ever find yourself in an emergency, you can dial 911.
Don't forget to buy travel insurance. You never know when you will need it.
Apps to Download
To make the most out of your visit, I recommend downloading the following apps:
Visita Guanajuato. Find hotels, restaurants, attractions, and tours with the app's interactive map. You can also find information about events going on around you.
Google Translate. If you don't speak fluent Spanish, then make sure you have this app.
TravelSAFE. Connect to an emergency hotline by just pressing the SOS button.
MyCurrency. Find the latest exchange rate to know how much something is costing you.
Tripadvisor. Learn about other travelers' experiences and recommendations for hotels, restaurants, and other places in town.
Busbud. Find bus schedules (when traveling to other cities) and book cheaper tickets online.
Travello. Find other travelers on the road and make new friends.
To Wrap Up
As you can see, there are so many activities to do! Guanajuato City is a dream place. You will love admiring its architecture, looking at the colorful houses, roaming its alleys, visiting its plazas, and enjoying its history, culture, and cuisine.
It does not matter if you're a history buff or not, if you're into art or not, there will always be something for everyone.
There's no "best" time to visit. You can do so any time of the year.
Both Mexicans and foreigners love this colonial city. You can never go wrong with Guanajuato City.
As always, feel free to leave your comments below and ask any questions you have. I'd be more than glad to help. See you soon!
Book your trip now!
Book your flight
The first thing you have to do is find cheap flights. But where do you find those? There are many search engines, but the one I highly recommend is Skyscanner. Here you can compare fares from all over the world and pick the one that suits you best.
Book your accommodation
The next thing you have to do is secure your lodging. Whether you prefer a hostel, a guesthouse, a B&B, or a hotel, you can find them all on Booking. You can find lodging of all kinds ranging from cheap to expensive and somewhere in between. Many people have scored good deals using it.
Another popular option is Hostelworld. This website focuses on hostels as opposed to hotels.
Book a tour
In some places, you might want to hire a tour. Not all places are equally accessible to visit by oneself. It helps enormously when you visit with a local guide who can show you around and answer any questions you might have…all in your native language. My to-go place is Viator as they offer tours of all kinds and have a presence all over the world.
Rent a car
Public transportation is usually cheaper than renting a car, but it's sometimes more complicated and time-consuming. That's a reality. In some cases, it's more convenient to rent a car. My recommendation is Rentalcars.com. Here you can compare rates and choose the one that fits you best.
Book your bus tickets
You can save money by booking bus tickets online. My favorite site to do this is Busbud.
Get travel insurance
Never travel without a travel insurance policy, especially during these days! Travel insurance can save your life. My recommendations are World Nomads and Insured Nomads. Both companies cover COVID-19 related incidents, which is crucial these days.
More resources
Just click on the "Plan your trip" tab at the top of this page, and you will find more resources like getting Mexican insurance for your foreign car, buying travel accessories, and learning Spanish. And, of course, don't forget to check back often to read about more tips on Mexico travel.