Just a couple of hours away from Los Cabos, La Paz is the latter's little sister. It's not as famous or touristy as Los Cabos, yet it has so much to offer everyone. It's not uncommonly overlooked by visitors to the Baja Peninsula, which is a real shame.
There are many things to do in La Paz, Mexico. If you start doing some research, you will be amazed by the number of available activities in the area. No wonder it's starting to show up on travelers' radars. But what is there to do? What are the must-sees? Read the post below to find out more.
Table of Contents
Balandra Beach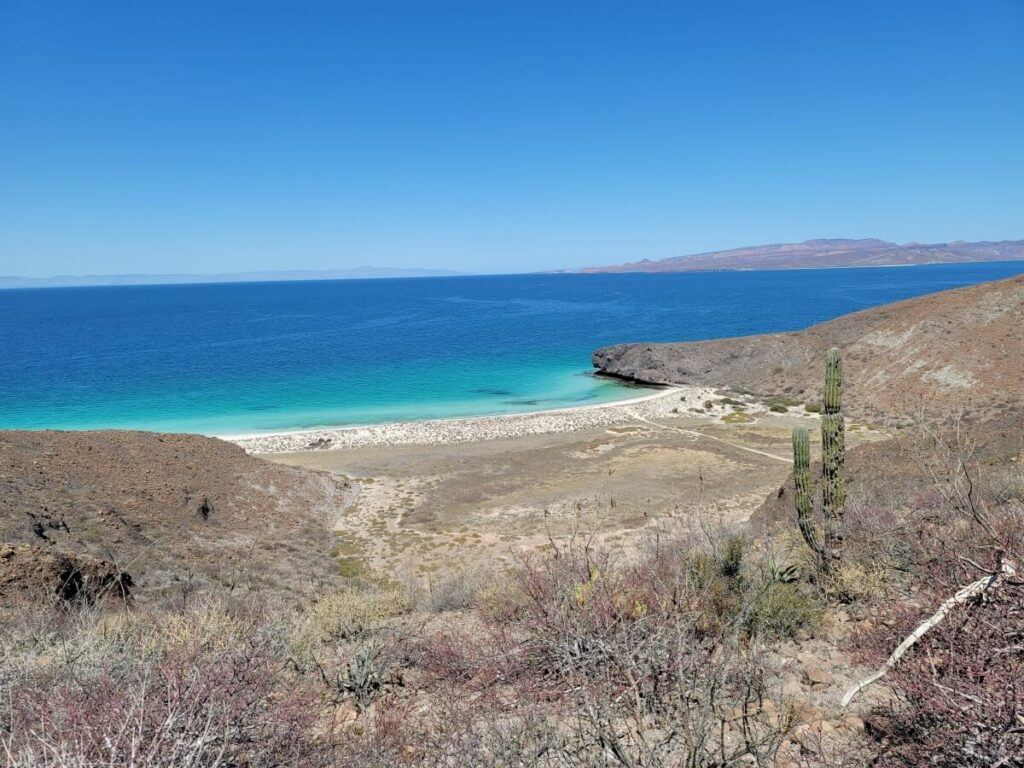 When people hear about Mexican beaches, they usually think of those along the Caribbean Sea or the Pacific Ocean. Names like Cancún, Tulum, Playa del Carmen, Cozumel, Puerto Vallarta, and Sayulita immediately spring to mind. However, did you know one of the most beautiful beaches in Mexico is located in La Paz? Yes, its name is Balandra!
Balandra is La Paz's hidden gem. It's just a few minutes away from downtown. Once you get there, you will be mesmerized by the beauty surrounding you. Balandra is a white-sand beach with turquoise water right next to the desert. The striking contrast between both elements will leave you speechless.
The water is not too deep along the shore. Activities include swimming, kayaking, paddle boarding, and snorkeling. There are also some hiking trails where you can reach lookout points and get amazing views. Don't forget to take a picture with the famous mushroom rock!
Espíritu Santo Island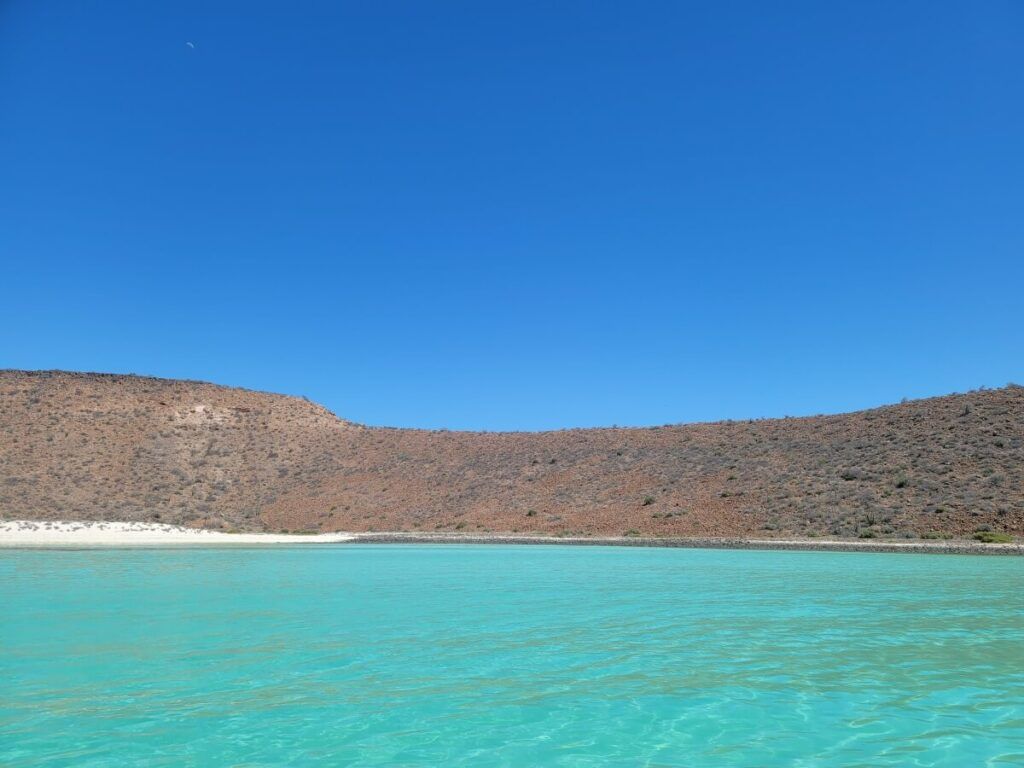 Located in the Sea of Cortez, this island has been a UNESCO World Heritage Site since 2005. It is home to 39% of the world's total number of marine mammals! It is one of the most biodiverse places in the world. No wonder the famous French oceanographer Jacques Cousteau called it "the world's aquarium."
On the way to the island, you can see dolphins, sea lions, turtles, and various species of fish and birds. You need to have your camera/phone ready at all times or you will miss the action.
The island has a beautiful beach where you can relax and swim a little. It's also an excellent place to go snorkeling among the corals and swim with sea lions. Other activities include kayaking, paddle boarding, scuba diving, and fishing.
Since the island is a controlled area, they limit the number of visitors. You have to take a tour to visit this place. Many agencies offer this tour with different activities. Make sure about what's included in your package.
Whale Watching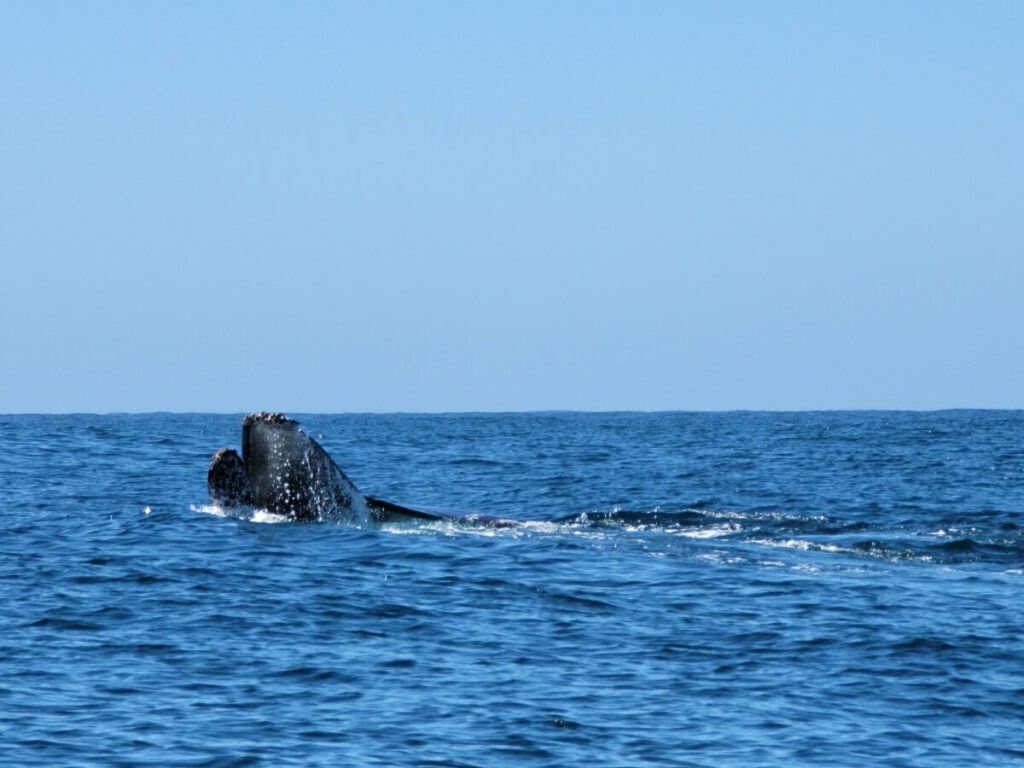 Whale watching season runs from early December through late March. La Paz is relatively close to whale-watching hot spots such as Los Cabos and Magdalena Bay.
You might luck out and see one close to La Paz waters, as I did, but I was told that's not the norm. To watch whales, you have to head either north or south of town. If you have a car, you can drive up to your desired location and hire a tour on-site. If not, you can hire a tour from one of the many agencies in La Paz.
Whale watching is a once-in-a-lifetime experience. If you haven't tried it out yet, I highly recommend you do. You will love it.
Malecón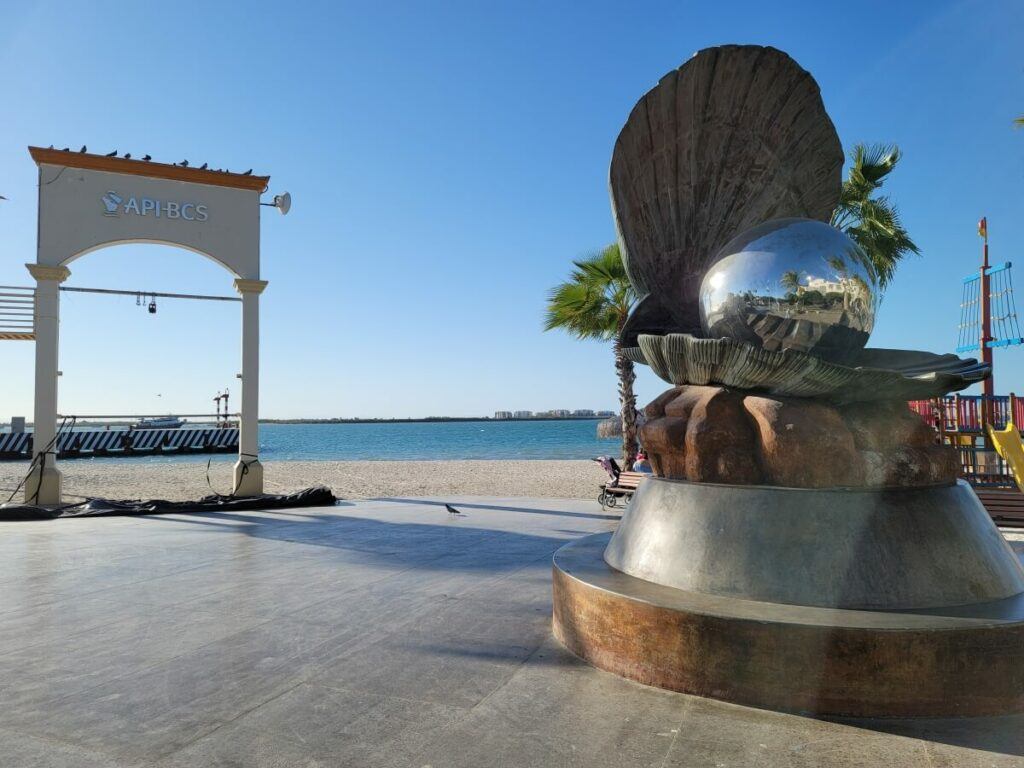 As with all beach towns, La Paz has a malecón or seawall along the shore. It stretches for 1.55 miles (2.50 km) and is a nice place to take a stroll, especially at sunrise or sunset. Many locals visit this place to work out, admire the various sculptures by local artists, eat something, or meet other people.
A good way to tour the malecón is by renting a bike or scooter. There are several shops where you can rent one.
Along the malecón, you will find restaurants, bars, ice cream parlors, souvenir shops, tour agencies, among other businesses. It is the locals' favorite spot to hang out.
It is one of the best spots to admire the sunrise/sunset. Don't miss out when visiting.
Murals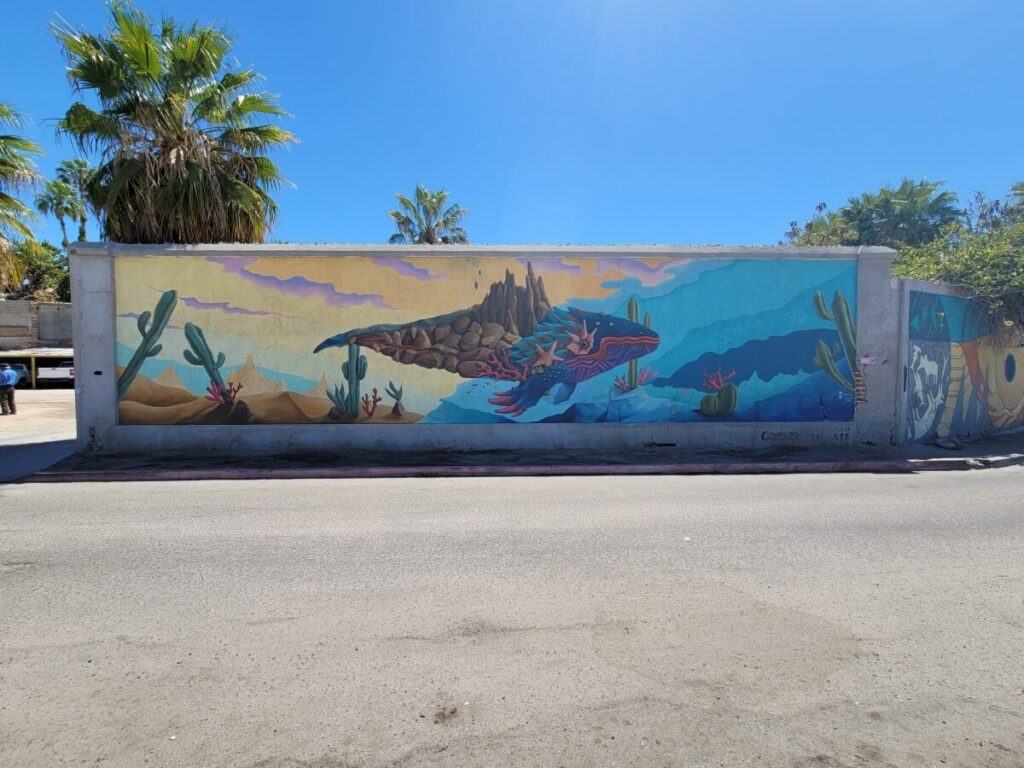 Although La Paz is a relatively small town, the number of murals it hosts is impressive. As of 2021, there were approximately 140 of them throughout town, and that number just keeps growing.
In 2017, a local non-profit launched a project called Ciudad Mural. Local artists were assigned the task of embellishing the streets of La Paz. The program was so successful that the local government authorized more murals, and newer ones are added each year.
Most murals are related to water elements, but some depict traditions like Día de Muertos (Day of the Dead) or Mexicans' indigenous heritage.
There are walking tours that take you to the different murals downtown. They're offered in Spanish, English, and French. However, if you want to do it on your own, I recommend you follow the map below.
Our Lady of Peace Cathedral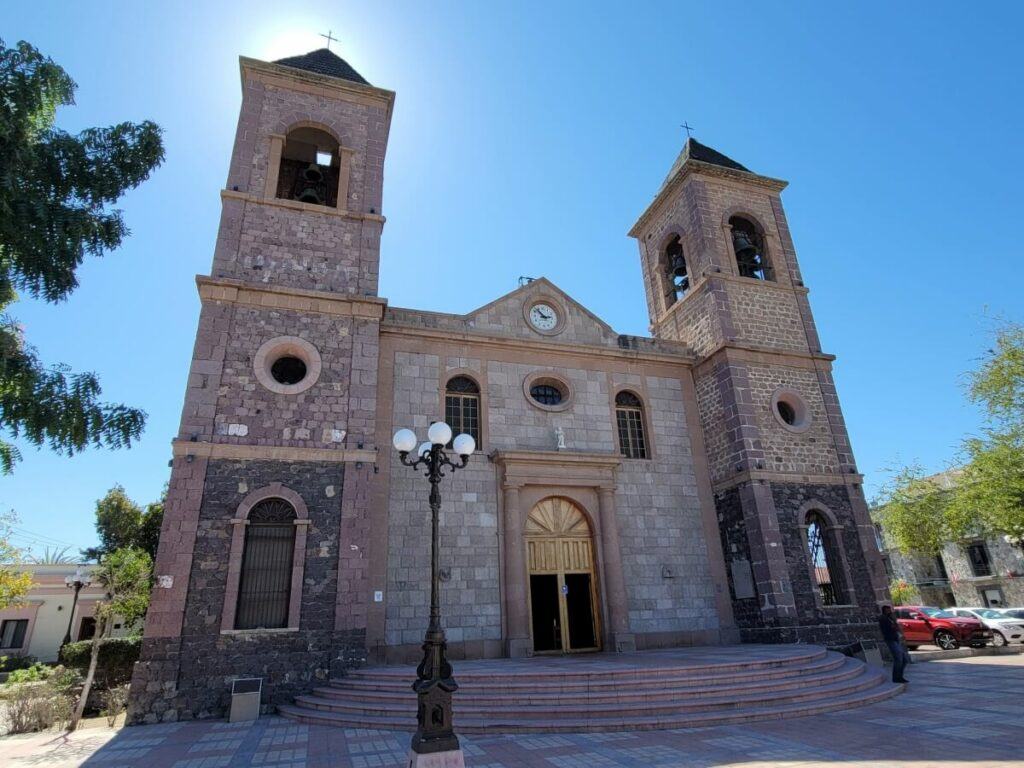 This Catholic church is located in the center of La Paz. It was built during the second half of the 19th century on the grounds of a former Jesuit mission. Unlike other churches in Mexico, the cathedral boasts a sober neoclassical style resembling North American temples.
Inside the cathedral, you can find a replica of the tabernacle of St. Peter's Basilica in Rome. You can also find paintings and altarpieces from the 18th century.
Jardín Velasco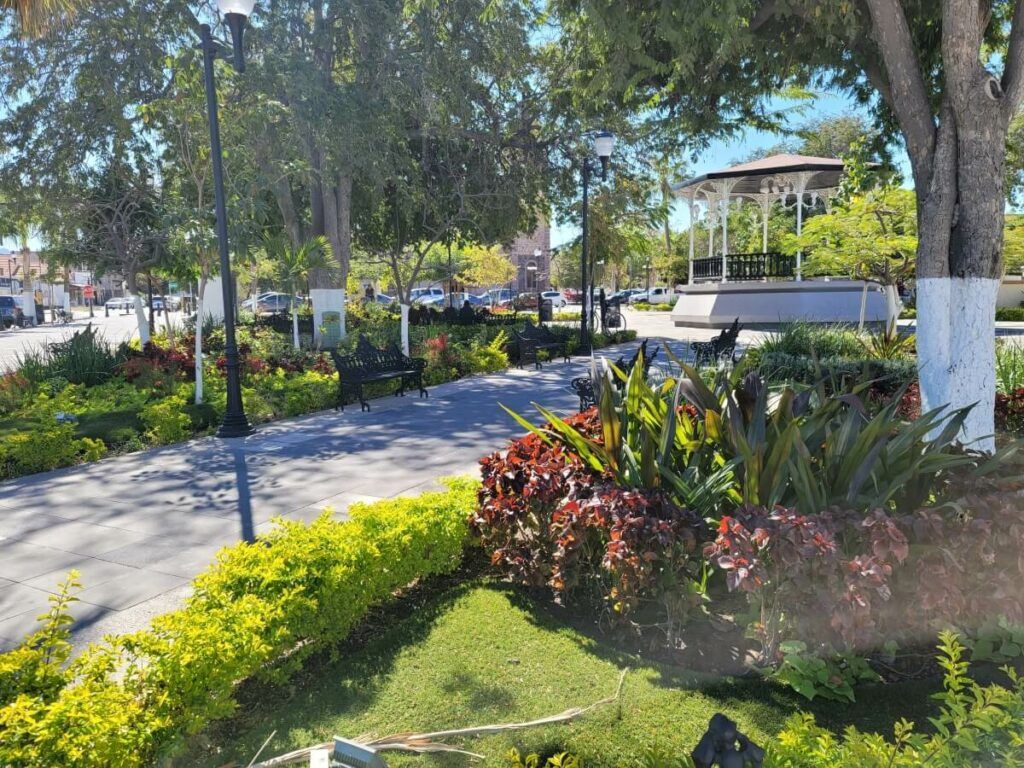 Right in front of the cathedral, you will see this beautiful plaza. It's a gathering place for locals. You can see couples, kids, and elders spending a good time.
It's a good place to spend a quiet evening, eat something, or meet other people. There are dances and other cultural activities from time to time.
The plaza is just a few blocks away from the malecón. Make sure to include it on your list.
Visit a Museum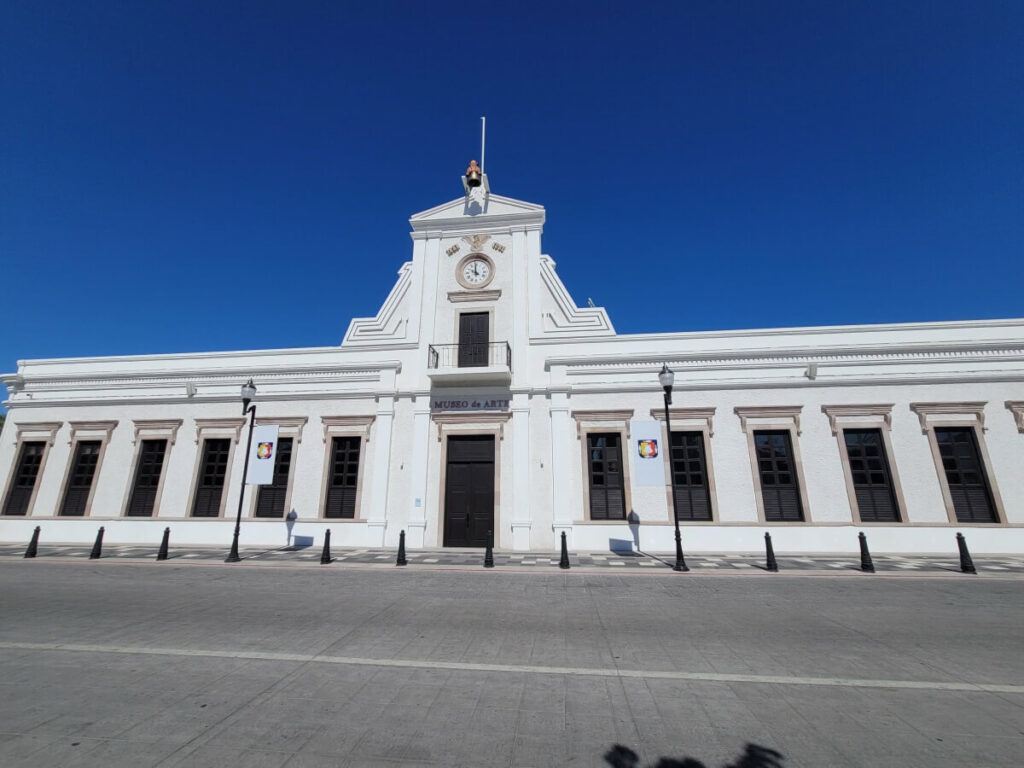 Although La Paz is not precisely known for its museums, there are a few interesting nonetheless. These places are worth taking a look at:
Museo Regional de Baja California Sur, with paintings, photos, and other exhibits about the history of the state.
Museo de Arte de Baja California Sur, a paradise for art lovers.
Casa de la Cultura, an important venue with art exhibits and cultural events.
Museo de la Ballena, where you will learn everything about whales.
There are also several art galleries throughout town where you can admire or even buy impressive works of art.
Visit the Local Markets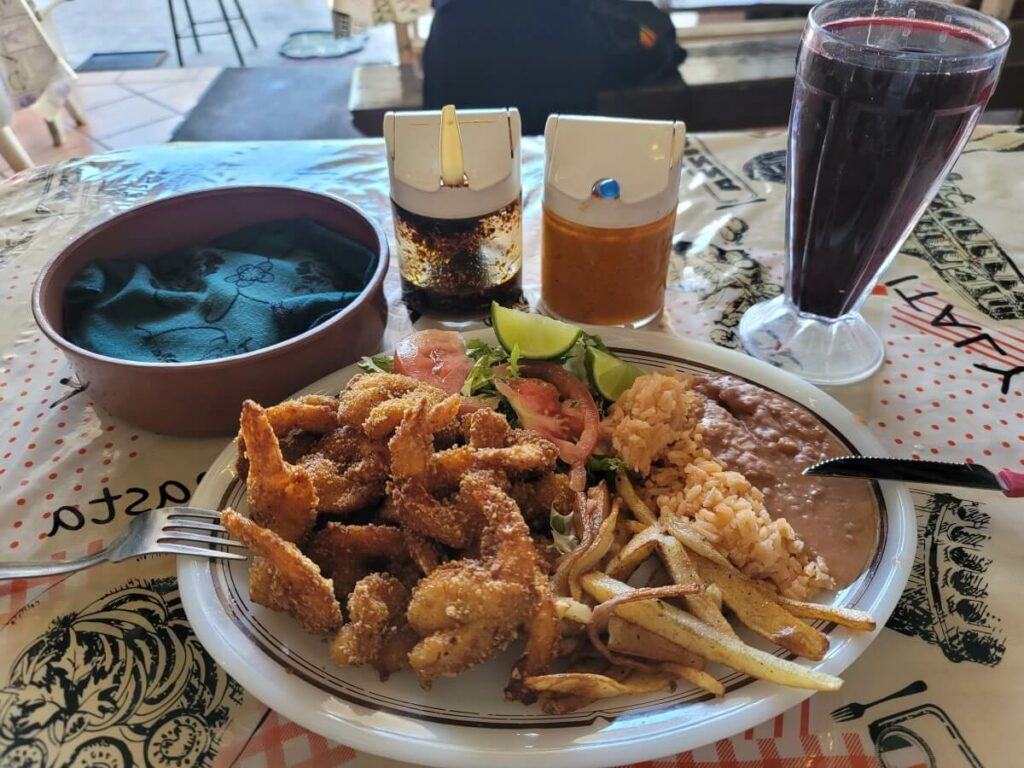 To eat authentic Mexican food at affordable prices, you have to head over to the local markets. If your hotel doesn't offer breakfast, then you can visit these places to eat something. Two places worth visiting are Mercado Municipal General Nicolás Bravo and Mercado Municipal General Agustín Olachea Aviles.
By visiting markets, you can save a significant amount of money. Just be warned that they close early around 3 or 4 p.m. That means you can't have dinner there, but you could do breakfast or lunch. Empanadas, tacos, burritos, fish, shrimp…what are you craving?
Santuario de los Cactus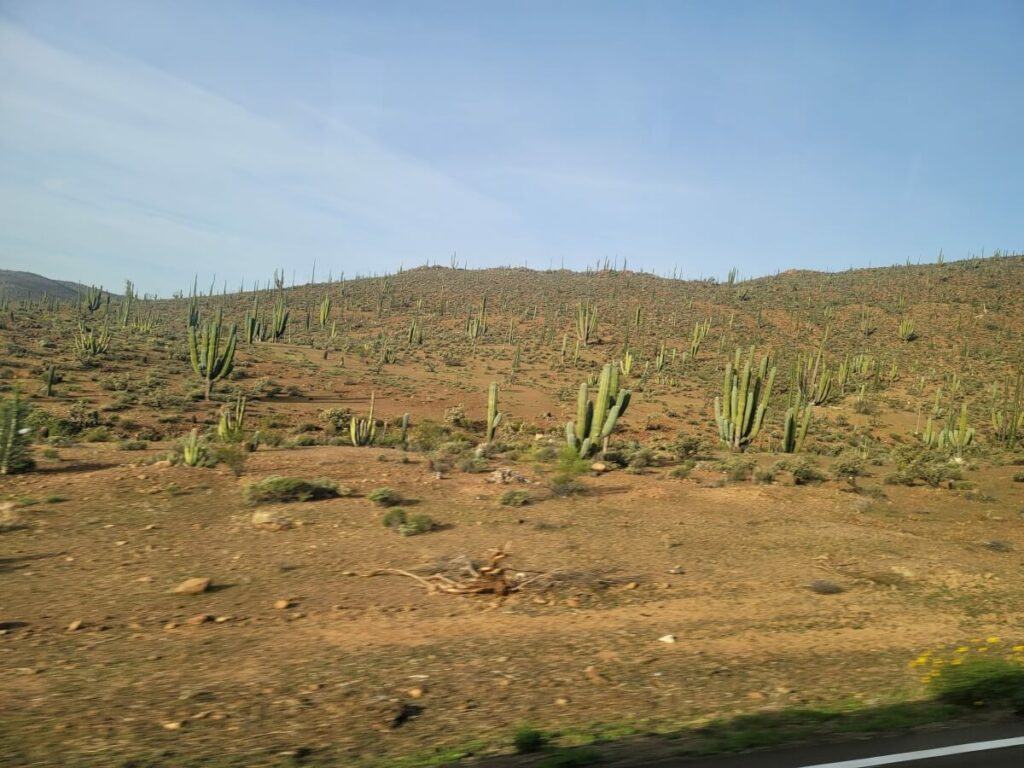 Did you know one of the few cacti reserves in Mexico is located in La Paz? By the way, it also happens to be one of the largest in the world. The reserve spans an area of 6 hectares (almost 15 acres) and houses more than 50 cacti species. Some of them are as old as 500 years old!
The cacti can be seen all year long. Not only can you see cacti here but also some animals like falcons, roadrunners, turtles, squirrels, among others.
The reserve is on the way between La Paz and Los Cabos. It is located 33 miles (53 km) away from La Paz downtown. To get there, you either have to drive or take a tour. Don't miss out!
Todos Santos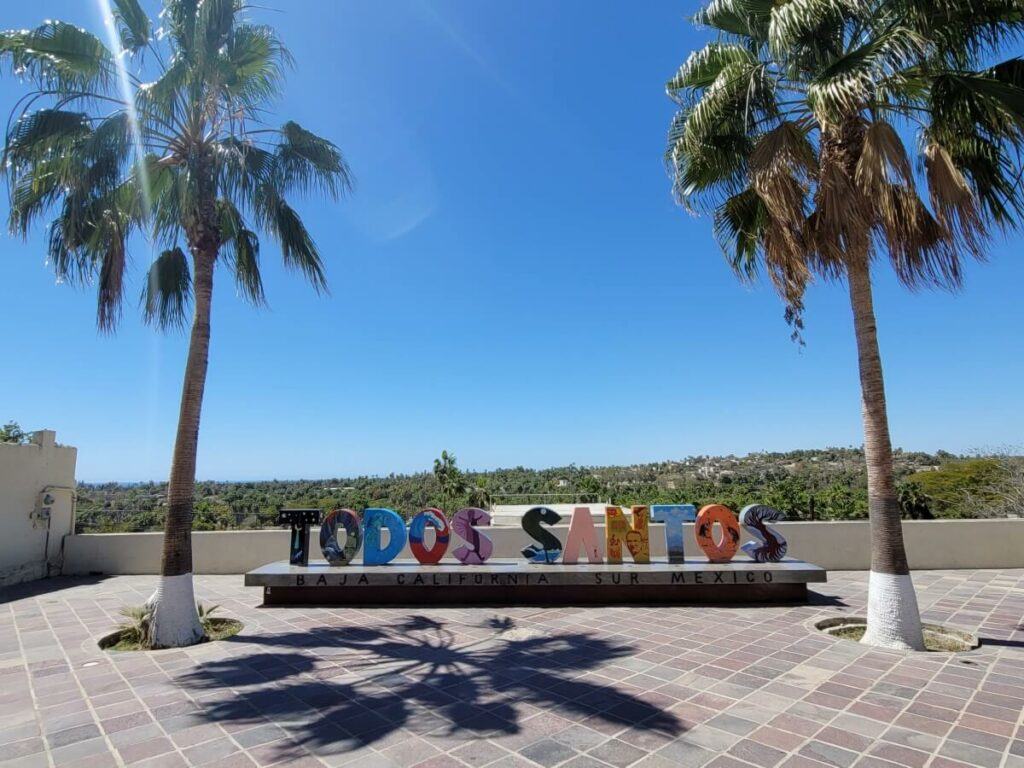 Todos Santos is one of Mexico's pueblos mágicos (magical towns) and is not too far from La Paz. It has tons of activities for everyone.
When visiting this small, charming town, I recommend checking out the following:
Playa Cerritos, a beach perfect for surfing.
Las Playitas turtle camp.
Misión De Nuestra Señora Del Pilar, an old Jesuit mission.
Main square.
Centro Cultural Néstor Agúndez, a small cultural center that houses archaeological and historical artifacts.
Galería de Todos los Santos, art gallery with realist and surrealist works of art.
Hotel California, where it was said the Eagles composed their famous song of the same name.
Spend a day full of fun, history, art, shopping, and good food. You can make this a day trip from either La Paz or Los Cabos.
Los Cabos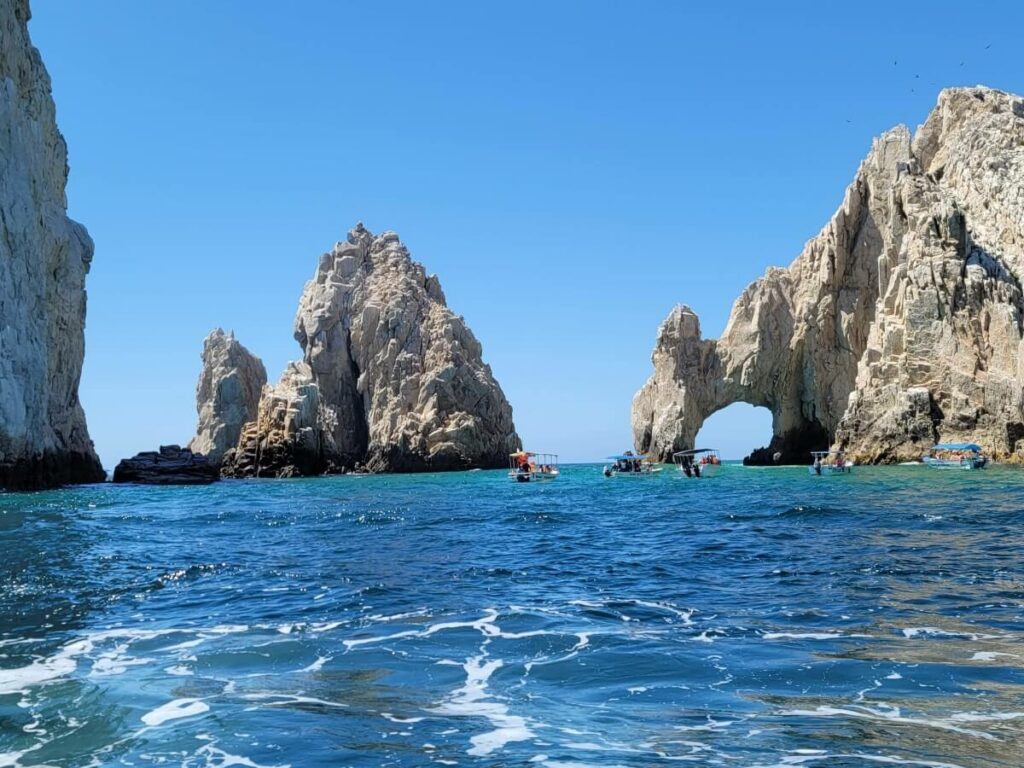 Los Cabos is Baja California Sur's most famous destination by far. I won't get into much detail here since this post is about La Paz and not Los Cabos. However, it's impossible not to include it.
With great beaches, excellent food options, world-class resorts, and vibrant nightlife, Los Cabos is the perfect beach destination for people of all ages. It is a favorite among couples and young travelers who either want a romantic getaway or a crazy fun trip. There's something in store for everyone.
Best Time to Visit
As with all beach destinations, you might be worried about hurricanes. In the case of La Paz, the hurricane season runs from June through October. The rainiest months are July, August, and September. Therefore, the best time to visit, in terms of weather, is between November and March.
Now, if you're looking to save money, the best months to visit are September, October, and November.
As you can imagine, La Paz receives more visitors during whale season. During that time, flights and hotel prices go up.
How to Get There
La Paz is served by Manuel Márquez de León International Airport. It is located 13 km (8 miles) from downtown. The airport receives flights from major Mexican destinations such as Monterrey, Guadalajara, and Mexico City. International destinations include Dallas and Phoenix.
Due to its remoteness from inland Mexico, there aren't many bus companies available. The two main local bus companies that serve La Paz are Águila and ABC.
There is a ferry that connects La Paz and Mazatlán. If you're driving, this will save you a lot of time.
How to Move Around
The only way to get downtown from the airport is by taking a taxi. It can be a private or shared taxi. Expect to pay around 200 pesos ($10) for the ride. Uber is another option, although it's not always available.
La Paz is a small town, and most attractions are within walking distance. If you want to visit, let's say Balandra Beach, you can take a bus at the station on the malecón. It will cost you around 50 pesos ($2.50), but please consider the frequency of buses. To go somewhere further like Los Cabos, the ride will cost you around 300 pesos ($15).
Alternatively, you can negotiate the rate with an Uber or taxi driver. Depending on the distance, many drivers can drop you off and pick you up later, or they can wait for you.
There are many tours available, too. They can be a little bit pricey but come in handy if you don't want to worry about buses and the like.
Last but not least, you can rent a car. The Baja Peninsula is a great place for road trips. The roads are well maintained and safe for the most part.
Where to Stay
You don't have to break your bank to visit La Paz. There are many lodging options available that will satisfy your needs. The best area to stay in is downtown.
For my last visit, I stayed at Hotel Hacienda San José. It's a nice hostel a few blocks away from the malecón. The rooms have a private bathroom, hot water, and free Wi-Fi. You can pay extra if you want a TV and/or breakfast. Rooms start at $15!
There are nicer hotels, of course, if you value comfort over price. Whatever it is you prefer, I recommend using Booking to get the best price.
Where to Eat
There are many options to satisfy your appetite. From cheap eats to fancier dishes, you will find something in La Paz.
For cheap eats, I recommend Mercado Francisco I. Madero downtown. It's a nice place to have breakfast or lunch. You can find chilaquiles, tacos, tortas, burritos, fish, and shrimp at super affordable prices. Address: Revolución de 1910, Zona Central, 23000 La Paz, B.C.S., Mexico.
Another good place is around the cathedral. You can find tacos, tortas, and other cheap dishes. There are food stands (known as carretas), although they're more common at night. However, you can also find restaurants that are open all day, but they cost a little bit more.
As a general rule, the restaurants along the malecón are expensive. However, you can still find cheap food. For instance, I found a guy that sold burgers and hot dogs for less than 100 pesos ($5).
Use Yelp, Foursquare, and Tripadvisor to find recommendations near you.
Suggested Budgets
If you're backpacking, you're looking at around 1,100 pesos ($55) per day. This includes accommodation at a hostel/cheap hotel, a combination of street food and home-cooked food, local transportation, and a few attractions per day (museums, parks, etc).
A mid-range budget is around 2,050 pesos ($102.50) per day. This includes accommodation at a 2-star hotel/Airbnb, cheap restaurants, a few more attractions than the backpacker budget, and a taxi if need be.
Finally, if you don't want to limit yourself, then a luxury budget will cost you at least 5,100 pesos ($255) per day. This includes staying at a 4-star hotel, eating at nice restaurants, taking taxis/Uber everywhere, and taking tours/guided trips.
Keep in mind these figures are just estimates. Some days you will spend less, while others you will spend more. This will give you a foundation to plan your budget and adjust it as necessary.
For your convenience, I created a table comparing the budgets we mentioned above. The prices are in Mexican pesos ($1 = 20 pesos).
| | | | | | |
| --- | --- | --- | --- | --- | --- |
| | Lodging | Meals | Transportation | Attractions | Average Cost Per Day |
| Backpacker | 300 | 300 | 100 | 400 | 1,100 |
| Mid-range | 800 | 450 | 200 | 600 | 2,050 |
| Luxury | 2,000 | 1,500 | 400 | 1,200 | 5,100 |
Tips for Saving Money
If you would like to save as much money as possible during your trip to La Paz, I recommend you follow these tips:
Stay at a hostel or use Couchsurfing (an app that connects travelers looking for free lodging).
Eat street food or go to the local market. Your hotel/hostel might include a simple breakfast, but that will save you one meal at least. Alternatively, you can buy a few groceries and cook yourself to spend less money outside.
Walk and/or use public transportation as much as possible.
Look for free walking tours online. You just have to tip your guide at the end of the tour.
Don't forget to tour the street murals throughout the town. They're free!
Beaches are free! Just put on your swimsuit and grab a towel.
How to Stay Safe
La Paz is one of the safest cities in Mexico. This applies equally to visitors and residents. It shouldn't surprise us since the local government has invested a lot of money to keep the streets safe.
I met a lot of female travelers that were traveling solo, so that should tell us something, too.
In general, just take the normal precautions you would take everywhere you go, and you will be fine.
If you ever find yourself in an emergency, you cal dial 911.
Don't forget to buy travel insurance! You never know when you might need it.
Apps to Download
To make the most out of your trip to La Paz, I recommend downloading the following apps:
Google Maps. Find driving directions and download maps for offline use.
Uber. The most important rideshare service in Mexico.
Google Translate. If you don't speak fluent Spanish, then make sure you have this app.
TravelSAFE. Connect to an emergency hotline by just pressing the SOS button.
MyCurrency. Find the latest exchange rate to know how much something is costing you.
Tripadvisor. Learn about other travelers' experiences and recommendations for hotels, restaurants, and other places in town.
Busbud. Find bus schedules (when traveling to other cities) and book cheaper tickets online.
Travello. Find other travelers on the road and make new friends.
Additional Tips
You should consider several things before planning a trip to La Paz. Some of them are:
La Paz is generally cheaper than Los Cabos. Although it is impractical to do day trips to the latter every day, you can opt for La Paz instead. That is unless you want to party every night. In that case, I recommend Los Cabos.
Unlike the Caribbean or Pacific, the water here is cold during winter. For warmer water, it's recommended to visit between May and October.
Discover cards are generally accepted here. However, it's a good idea to carry a Visa or Mastercard, just in case. Most businesses accept cards, but a few are cash only. Make sure to bring some cash at all times.
Conclusion
As you can see, there are many things to do in La Paz, Mexico. From beaches to ecotourism to art and culture, you're in for a trip full of fun with friends, family, or your significant other.
La Paz is not as touristy as Los Cabos, and it is generally cheaper. It's a great option if you're looking to save money. It may not be as wild or famous as Los Cabos, but it's worth visiting.
There you have it. I hope you enjoyed this article. If you did, please share with others. Let me know if you have any questions or comments. Bon voyage!
Book your trip now!
Book your flight
The first thing you have to do is find cheap flights. But where do you find those? There are many search engines, but the one I highly recommend is Skyscanner. Here you can compare fares from all over the world and pick the one that suits you best.
Book your accommodation
The next thing you have to do is secure your lodging. Whether you prefer a hostel, a guesthouse, a B&B, or a hotel, you can find them all on Booking. You can find lodging of all kinds ranging from cheap to expensive and somewhere in between. Many people have scored good deals using it.
Another popular option is Hostelworld. This website focuses on hostels as opposed to hotels.
Book a tour
In some places, you might want to hire a tour. Not all places are equally accessible to visit by oneself. It helps enormously when you visit with a local guide who can show you around and answer any questions you might have…all in your native language. My to-go place is Viator as they offer tours of all kinds and have a presence all over the world.
Rent a car
Public transportation is usually cheaper than renting a car, but it's sometimes more complicated and time-consuming. That's a reality. In some cases, it's more convenient to rent a car. My recommendation is Rentalcars.com. Here you can compare rates and choose the one that fits you best.
Book your bus tickets
You can save money by booking bus tickets online. My favorite site to do this is Busbud.
Get travel insurance
Never travel without a travel insurance policy, especially these days! Travel insurance can save your life. My recommendations are World Nomads and Insured Nomads. Both companies cover COVID-19 related incidents, which is crucial these days.
More resources
Just click on the "Plan your trip" tab at the top of this page, and you will find more resources like getting Mexican insurance for your foreign car, buying travel accessories, and learning Spanish. And, of course, don't forget to check back often to read more tips on Mexico travel.