If you think you're a Mexican food connoisseur but have never been to Mexico, think twice before making such a statement. You have missed out on the real thing. Forget about Taco Bell, Chipotle, or any national chain you may have visited. There may be a few authentic restaurants in the U.S. and other countries (although the so-called "authentic" restaurants are usually the least authentic), but looking for them is like looking for a needle in a haystack.
Real Mexican food is much different from what you usually get at Mexican restaurants outside of Mexico. It is so rich and varied that it was included on UNESCO's Representative List of the Intangible Cultural Heritage of Humanity in 2010. Its popularity has grown immensely all over the world in the last few years. That's why today we will talk about the most popular (and representative) Mexican dishes. Are you ready?
Mole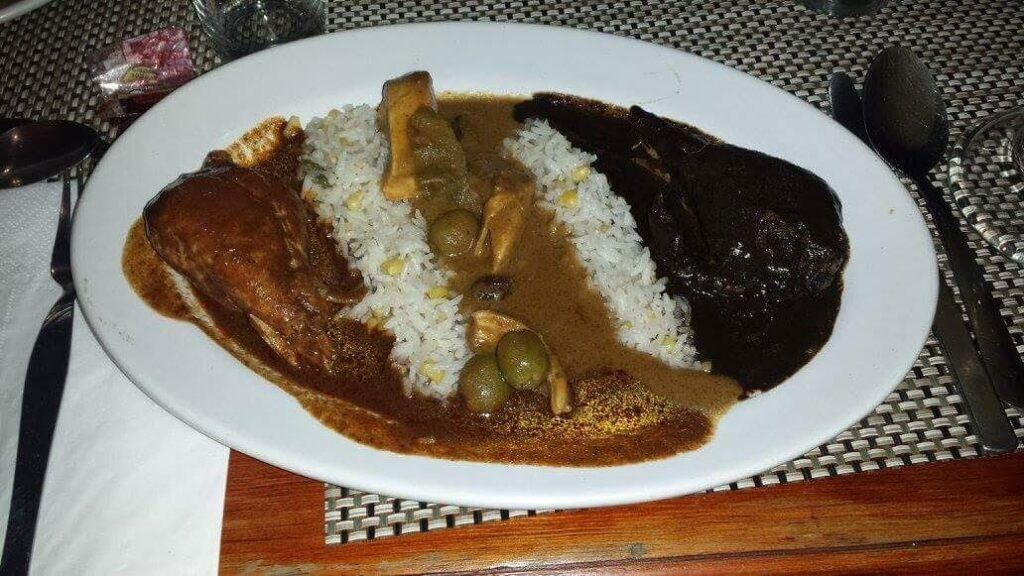 This delicious dish dates back to pre-Hispanic times. Originally, this sauce/gravy was made of chili peppers and was an offering to the gods. Over time, after the arrival of the Spaniards, mole evolved and adopted other ingredients such as chocolate. The origin is a cause of dispute between Puebla and Oaxaca, although many agree it was the nuns of the Convent of Santa Clara in Puebla who came up with the idea of modern mole.
Mole comes in many different flavors. Some are sweet, while others are spicy. It is one of the most sophisticated dishes you can find. Its preparation can include chocolate, bread, nuts, various seeds, plantains, garlic, onions, herbs, and cinnamon.
The most popular mole is probably mole poblano, although the state of Oaxaca alone has seven types: rojo, verde, negro, chichilo, amarillo, coloradito, and manchamantel.
Mole is usually served on chicken or turkey, although it can also accompany beef or pork. It's usually served with rice.
Pozole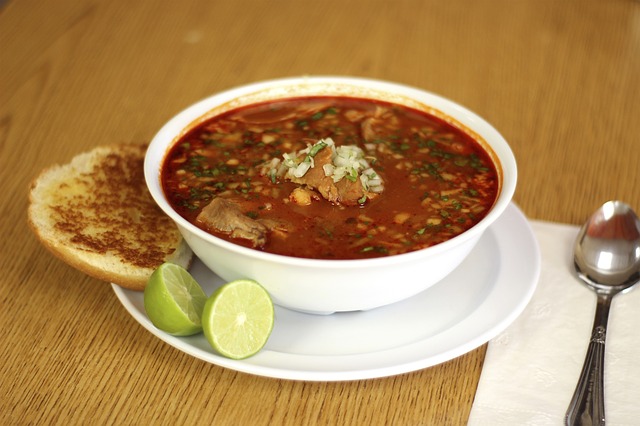 This is another dish that dates back to pre-Hispanic times, although the original version included… human flesh!  Yes, this soup was an offering to the gods. After the arrival of the Spaniards, pork was substituted for human flesh, and it has remained like that ever since.
There are at least 20 types of pozole in Mexico, although the most popular ones are verde/green, blanco/white, and rojo/red. All types of pozole are made from hominy with meat (usually pork, although chicken can be used too) and are garnished with shredded lettuce/cabbage, chili peppers, onion, garlic, radishes, avocado, salsa, and limes. Depending on the type, it can include green or red salsa which gives it a characteristic color. It is usually accompanied by tostadas.
Pozole is traditionally eaten on Independence Day, as well as other festive dates like birthdays, Christmas, and New Year's Eve. It's very common in states like Nayarit, Sinaloa, Michoacan, Guerrero, Zacatecas, Jalisco, and Morelos.
Menudo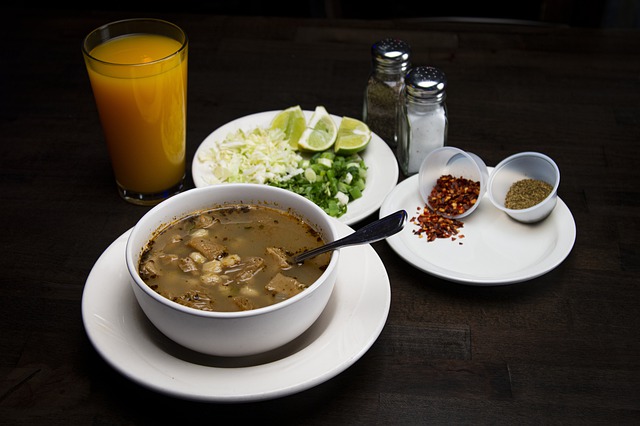 Many people confuse pozole with menudo, but they're different. Pozole is a kind of broth/soup made from pork or chicken, whereas menudo is always made from beef, namely the cow's stomach. It's seasoned with red chili pepper, hominy, lime, onion, cilantro, and oregano. It can be served with tortilla or bread.
People eat it traditionally for breakfast, especially on weekends. In fact, many restaurants only sell it on weekends. It can be hard, if not impossible, to find on weekdays. They say it's good to cure a hangover. Have you tried it yet?
Chile en nogada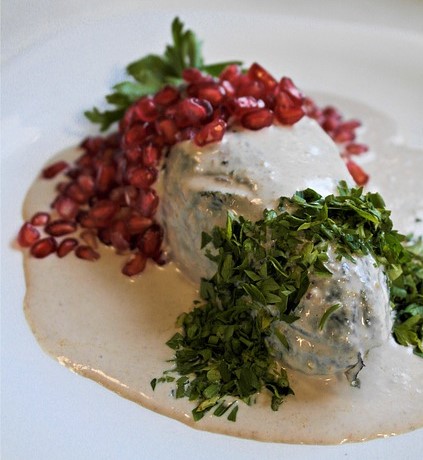 This traditional dish consists of a poblano pepper stuffed with ground meat, fruits, and spices, and topped with a walnut-based creamy sauce (nogada), pomegranate seeds, and parsley.
The chile en nogada is from Puebla and was created by nuns to entertain the then emperor, Agustin de Iturbide. The dish contains the three colors of the Mexican flag: green, white, and red.
Just keep something in mind if you want to try this delicacy: it's a seasonal dish. It's only available from mid-July through mid-September. It's impossible to find it outside those dates. So, next time you're in Puebla around those dates, give it a try!
Cochinita pibil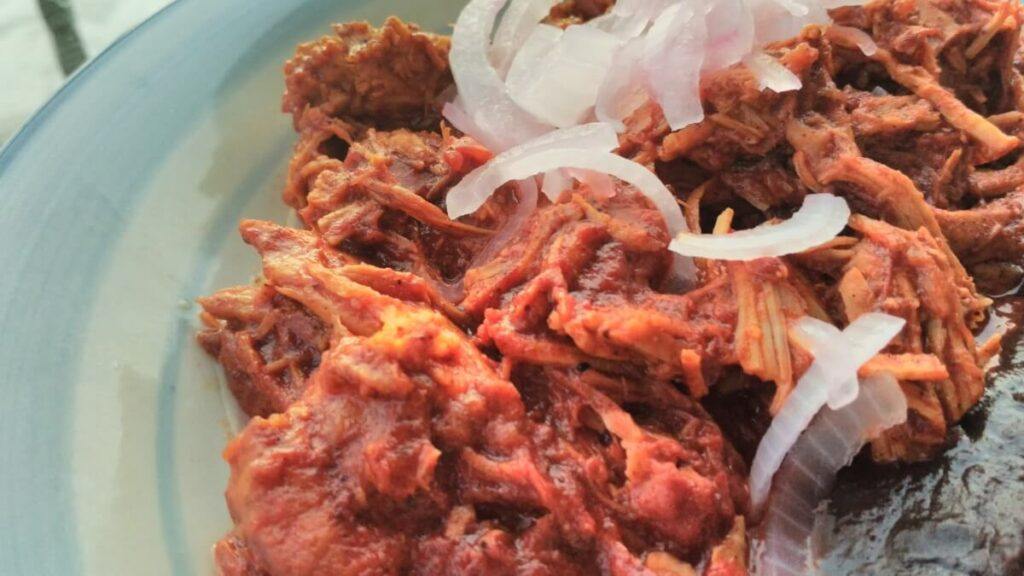 This delicacy from the Yucatan Peninsula is made from pork meat seasoned with achiote. The meat is wrapped in banana leaves and cooked in a deep underground hole. It is then served with red pickled onion, black beans, and habanero peppers.
It's traditionally eaten for breakfast. You can eat it with tortilla or bread.
Tamales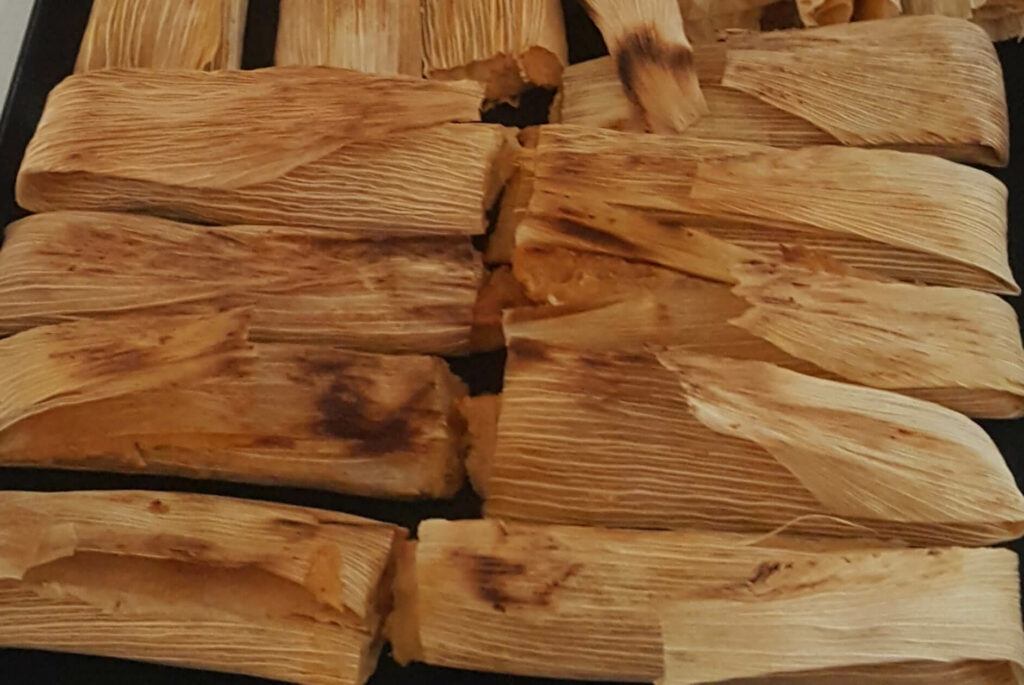 Tamales have been around for ages. They're made of corn-based dough, wrapped in a corn husk or banana leaf, and stuffed with meat, cheese, fruit, vegetables, or chili peppers.
They are considered one of Mexico's comfort foods and can be eaten for breakfast, lunch, or dinner. They are served on special occasions like Independence Day, Christmas, New Year's Eve, birthdays, quinceañeras, weddings, and festivals, although they are not restricted to those events. They are very common in everyday life.
Tamales come in different sizes and their preparation varies depending on the region. They're usually accompanied by hot atole (a kind of cornmeal), champurrado (similar to hot chocolate), or coffee.
Torta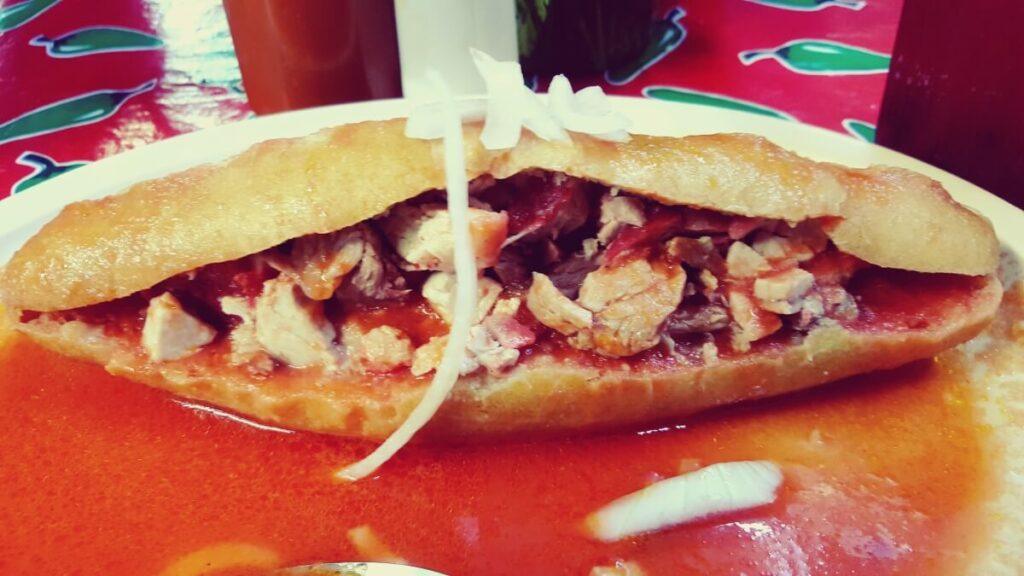 A torta is a kind of sandwich that contains meat, ham, cheese, beans, potatoes, egg, avocado…any combination you can think of. They're usually served in bolillos, teleras, or French bread. The name of the bread varies by region, but the principle is the same.
Tortas are eaten nationwide for breakfast, lunch, or dinner. They're convenient and affordable, hence their popularity. They can be eaten hot or cold.
Tortas are named after their main ingredient. Therefore, we have torta de jamón (ham), torta de milanesa, etc. Probably, the most famous torta is the torta ahogada (drowned) which is stuffed with carnitas (slow-cooked pulled pork) and beans, bathed in a red spicy sauce, and topped with onions. You can find this kind of torta in Guadalajara.
Chilaquiles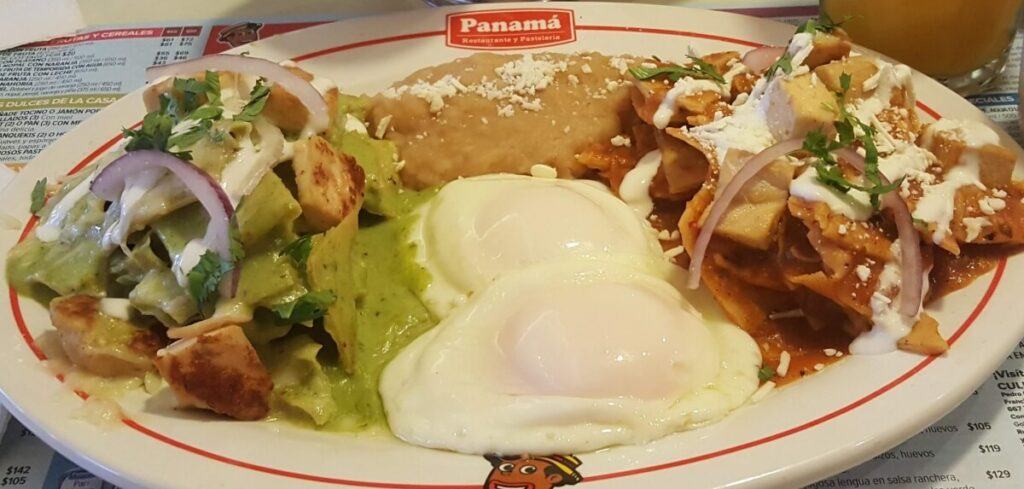 Chilaquiles are fried pieces of tortilla topped with a green or red sauce, cheese, cream, onion, and avocado. They're usually accompanied by refried beans, eggs, chorizo, or some type of meat. They're only eaten for breakfast. You won't find them anywhere later than that.
Chilaquiles are found everywhere from markets to high-end restaurants. If that establishment serves breakfast, they have chilaquiles for sure.
Enchiladas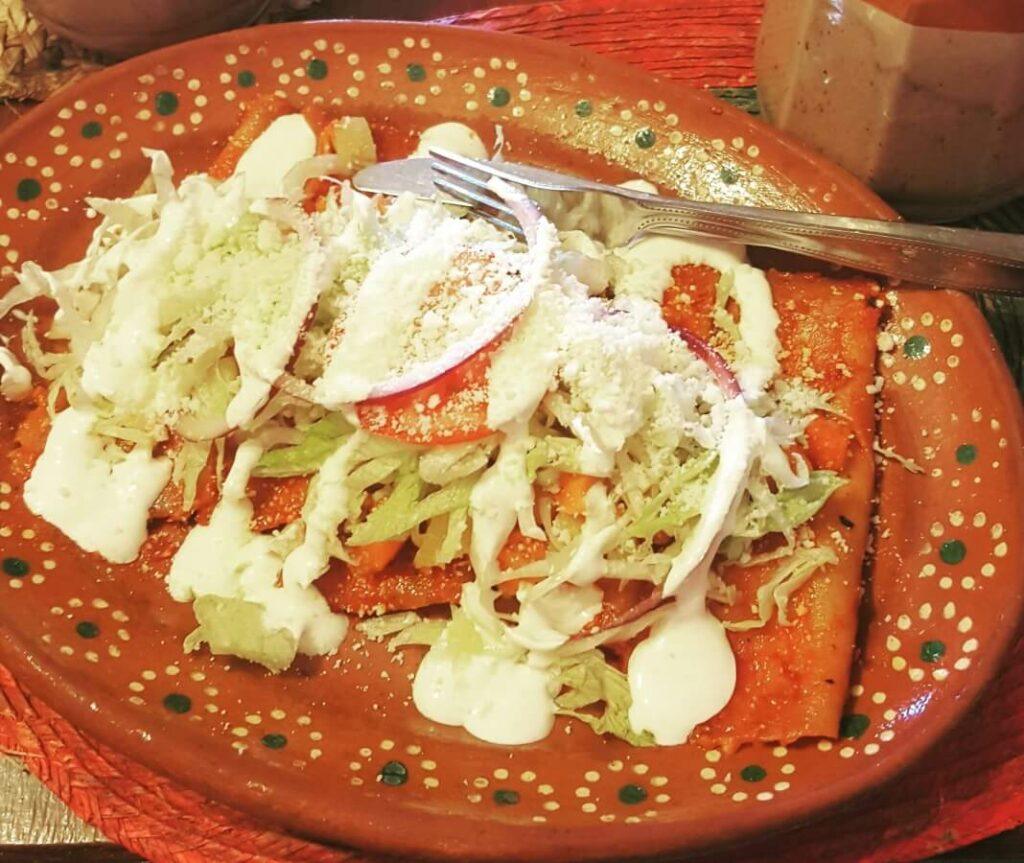 Enchiladas date back to Aztec times. They consist of fried corn tortillas covered with a spicy sauce and stuffed with chicken or cheese. They are NOT stuffed with ground meat like Tex-Mex enchiladas.
Enchiladas are usually served with potatoes, carrots, and lettuce/cabbage. The filling varies by region, but in all cases, it's always a fried tortilla covered with a spicy sauce.
Enchiladas are part of the so-called antojitos mexicanos (literally Mexican little cravings). There are some variations to them like using mole instead of sauce.
Gorditas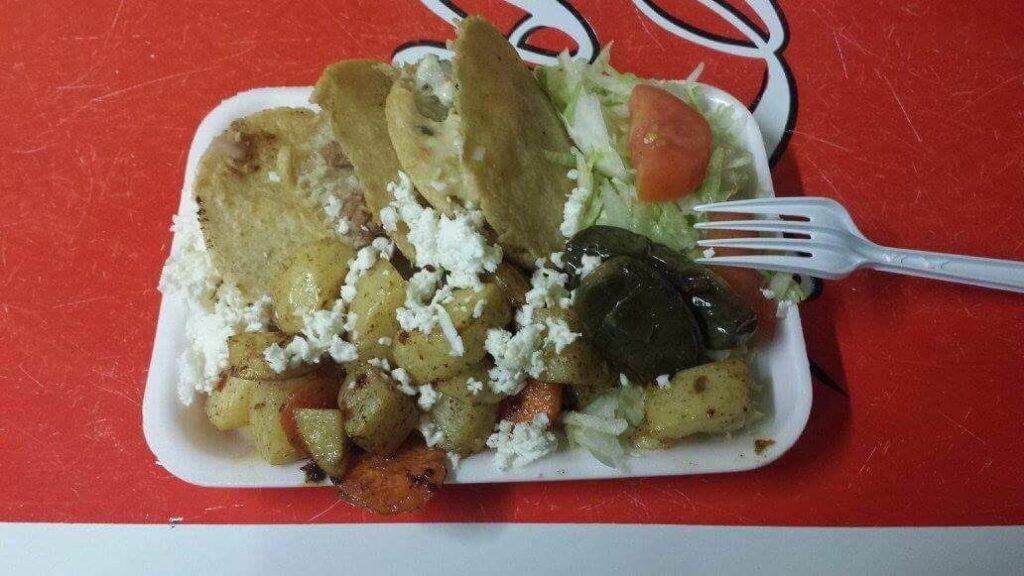 A gordita is a kind of pastry made of corn flour and stuffed with meat, cheese, beans, or whatever you want to put inside. They can be eaten for breakfast, lunch, or dinner.
Gorditas come in various sizes. In some parts of Mexico, they're deep-fried. Some people prefer them baked, but both versions are delicious.
There are variations to gorditas. Some people confuse them with sopes, although they're slightly different. Gorditas are always stuffed, while sopes are shaped like a small pizza and the ingredients go on top.
Tacos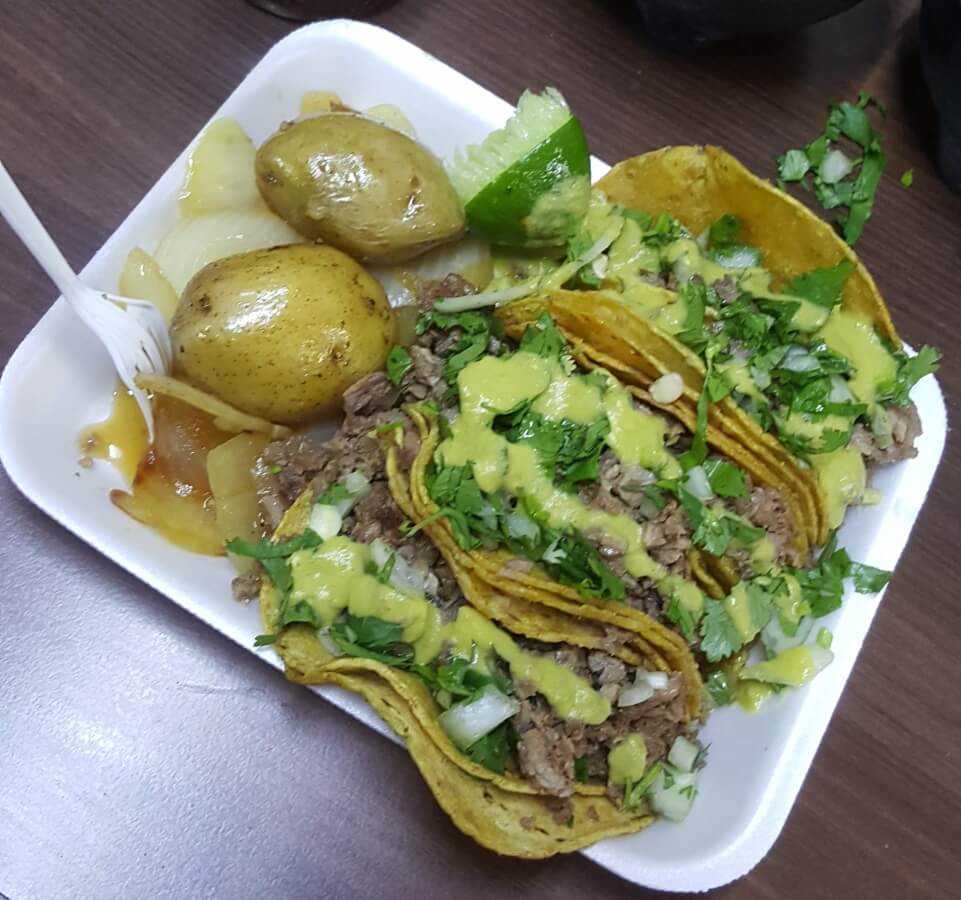 Tacos are the king of Mexican food par excellence. The base of the taco is always a good tortilla. This is usually made of corn, but in some regions, especially the north, it can be made from wheat flour.
Tacos come in various sizes. Even corn tortillas can vary. The most common one is made of white corn, but there are also blue, green, black, yellow, etc.
Tacos are stuffed with beans, cheese, egg, beef, chicken, pork, fish, seafood…anything and everything you can think of. There are no set rules here. The sky is the limit.
Tacos can be eaten for breakfast, lunch, or dinner any day of the week. It doesn't have to be a special occasion. You can find them at any food truck, the city market, a restaurant, everywhere! There are even gourmet versions of them.
And let's not forget the salsa. Whatever kind of taco you eat, a good salsa can improve or destroy the flavor of a taco.
Tacos are so important in Mexican cuisine that they have become synonyms. They have been around for ages and are nowhere close to disappearing
Not even Netflix could resist the temptation. Did you know there is a series about tacos named Taco Chronicles? So, next time you visit Mexico, you have to try them. You're going to love them.
Conclusion
As you can see, there are many popular Mexican dishes. They vary by region even within Mexico, but we can agree they're all delicious.
The ingredients and even the names change when you move to a different region of the country. That's why I always ask how the dish is prepared before ordering.
Many dishes date back to pre-Hispanic times and have evolved over the centuries. Who would have thought that pozole was originally made from human flesh, right?
I hope you enjoyed this post. If you have any questions or comments, please feel free to leave them below, and I will get back to you as soon as possible. This post made me hungry, so I guess I'll go eat something right now. Bon appetite!
Book your trip now!
Book your flight
The first thing you have to do is find cheap flights. But where do you find those? There are many search engines, but the one I highly recommend is Skyscanner. Here you can compare fares from all over the world and pick the one that suits you best.
Book your accommodation
The next thing you have to do is secure your lodging. Whether you prefer a hostel, a guesthouse, a B&B, or a hotel, you can find them all on Booking. You can find lodging of all kinds ranging from cheap to expensive and somewhere in between. Many people have scored good deals using it.
Another popular option is Hostelworld. This website focuses on hostels as opposed to hotels.
Book a tour
In some places, you might want to hire a tour. Not all places are equally accessible to visit by oneself. It helps enormously when you visit with a local guide who can show you around and answer any questions you might have…all in your native language. My to-go place is Viator as they offer tours of all kinds and have a presence all over the world.
Rent a car
Public transportation is usually cheaper than renting a car, but it's sometimes more complicated and time-consuming. That's a reality. In some cases, it's more convenient to rent a car. My recommendation is Rentalcars.com. Here you can compare rates and choose the one that fits you best.
Book your bus tickets
You can save money by booking bus tickets online. My favorite site to do this is Busbud.
Get travel insurance
Never travel without a travel insurance policy, especially during these days! Travel insurance can save your life. My recommendations are World Nomads and Insured Nomads. Both companies cover COVID-19 related incidents, which is crucial these days.
More resources
Just click on the "Plan your trip" tab at the top of this page, and you will find more resources like getting Mexican insurance for your foreign car, buying travel accessories, and learning Spanish. And, of course, don't forget to check back often to read about more tips on Mexico travel.