Mexico City tourist attractions are abundant and varied. They range from parks to art venues to fun of all kinds. Whether you travel with adults only or with kids, you won't have any trouble finding something to do.
Being Mexico's capital as well as one of the largest cities in all of Latin America and one of the most populated metro areas in the world, it shouldn't surprise us this Mexican city has so much to offer everyone.
Let's see what there is to do. Some activities are even free!
Historic Center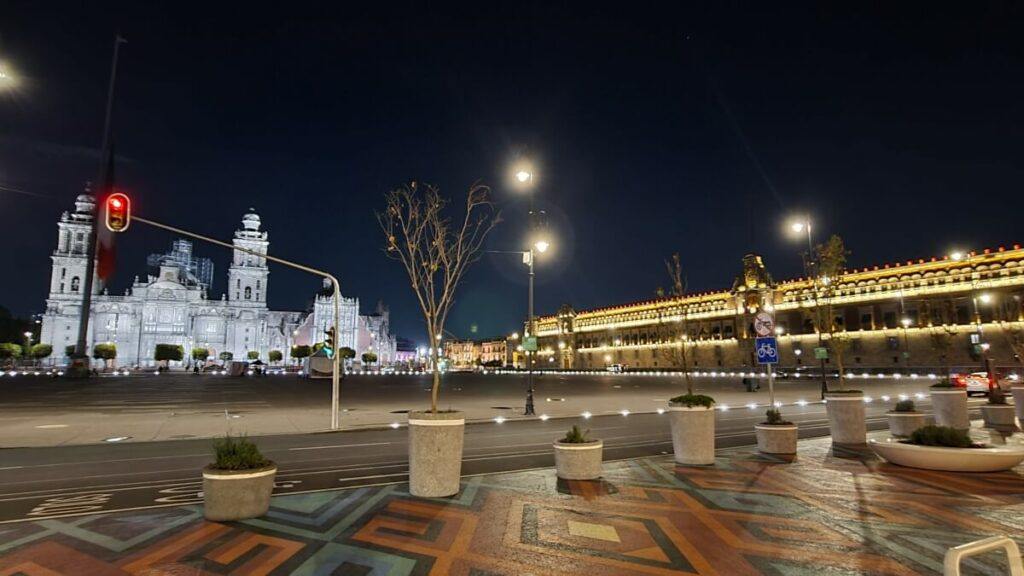 Also known as Centro Histórico, this area is the central neighborhood in Mexico City and is a UNESCO World Heritage Site due to its cultural and historical significance. It was built on top of the ruins of the ancient Aztec city of Tenochtitlan.
The Historic Center hosts many old buildings which include:
The Zócalo. This is the main plaza and has been a gathering place for locals since Aztec times. It's an important venue for cultural, sports, and political events. You can even watch Aztec dances and performances on weekends.

Palacio Nacional. The seat of the federal executive in Mexico. It's an architectural jewel and hosts several murals and art exhibits. It's an interesting walk through history and art.

Metropolitan Cathedral. The largest and oldest cathedral in Latin America. It boasts 3 architectural styles: Baroque, Neo-Classical, and Neo-Renaissance. 

Templo Mayor. It was demolished by the Spanish in the 16th century. According to legend, this is where the Aztecs saw the divine signal of the eagle devouring a serpent on a nopal cactus.

Nacional Monte de Piedad. The national pawn house. There were houses on site that belonged to the last Aztec emperor.
Other notable buildings include churches, museums, government offices, auditoriums, and one of the most important skyscrapers. Architectural styles include Baroque, Neo-Classical, Art Nouveau, among others.
You take a free walking tour or book a tour with an agency.
Parks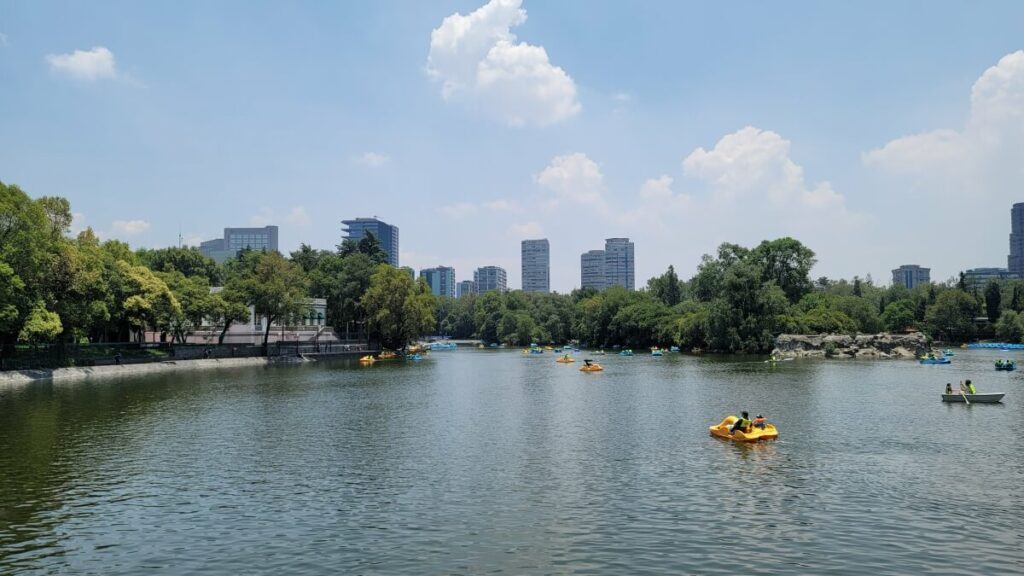 Alameda Central. Its name comes from the alamo tree (poplar). It was a marketplace during Aztec times and was later converted into a park by the Spanish conquerors. It's a beautiful park with paved paths, fountains, and monuments. Many civic and cultural events are held there.
Chapultepec. This park is way bigger than iconic New York Central Park. Chapultepec also offers many attractions which include an artificial lake, a zoo, a botanical garden, monuments, several museums (including the famous Chapultepec Castle, the only one of its kind in Latin America), to name a few. There is entertainment for everyone. It's a popular place for families and couples on weekends.
Parque Nacional Desierto de Los Leones. Great for picnics and connecting with nature. You can even visit an ex-convent while there. 
Parque Bicentenario. Great for walking, jogging, and practicing other sports like soccer and basketball. It also hosts beautiful botanical gardens and is the second-largest park in Mexico City after Chapultepec. 
Six Flags. The only amusement park of this brand in Mexico. 
Museums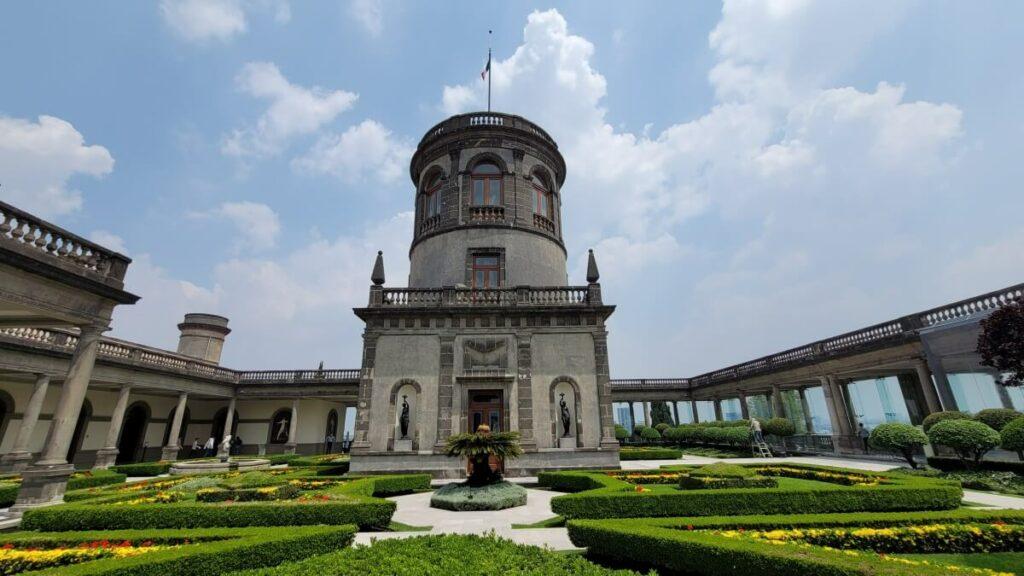 Did you know that Mexico City has more museums than any other city in Mexico? At around 150, Mexico City is also on the ten top list of cities with the most museums.
Some of the most famous museums are:
Museo Nacional de Antropología. Learn about the Aztec, Maya, Toltec, Mexica, and other pre-Hispanic cultures.

Museo Universitario de Arte Contemporáneo. Backed by UNAM, the national university, this impressive museum is famous for its non-permanent exhibitions. Contemporary art at its finest.

Museo Frida Kahlo. Also known as Casa Azul, this is the place where Frida Kahlo was born, lived, and died. The museum not only hosts Kahlo's works, but also some objects that belonged to her.

Museo Nacional de Arte. A museum with a vast collection of works from Spanish times up to the middle of the 20th century. 

Museo Jumex. Private art collection owned by a Mexican beverage company.

Museo del Palacio de Bellas Artes. A beautiful museum built in the early 20th century that hosts several exhibition halls, impressive murals, and an opera house.

Museo Tamayo Arte Contemporaneo. A museum with a vast array of world-renowned artist Rufino Tamayo.

Museo Antiguo Colegio San Ildefonso. This former Jesuit college is home to diverse murals and pieces of art from the viceroy, modern, and contemporary times.

Museo Dolores Olmedo. A museum that hosts several oil paintings, drawings, pre-Hispanic artifacts, and popular art.

Museo de Arte Moderno. An impressive collection of works of art created by famous artists like Diego Rivera, Remedios Varo, Leonora Carrington, and Frida Kahlo.
Live Theaters and Music Venues  
Mexico City is an important cultural hub that includes plays, opera, orchestra, and ballet. The cultural offer is enormous and varied. Regarding plays, you can find all kinds: classic plays, contemporary plays, comedy, horror, just to name a few. 
Mexico City has around 150 live theaters. Some of the most famous ones are:
Palacio de Bellas Artes.

Teatro de los Insurgentes

Teatro de la Ciudad

Polyforum Cultural Siqueiros

Teatro Metropolitan

Teatro Blanquita

Teatro San Rafael

Teatro Aldama

Teatro Jorge Negrete

Teatro Silvia Pinal
Mexico City also hosts important musical events, both national and international. Famous venues include:
Auditorio Nacional

Arena Ciudad de Mexico

Foro Sol

Pepsi Center WTC
If you want to see live mariachi and other kinds of traditional Mexican music, by all means, visit Plaza Garibaldi close to the Historic Center. This area is filled with bars and restaurants where you can drink your favorite cocktail while you listen to some traditional music.
Sports Events
Soccer is the most popular sport in Mexico and Mexico City is no exception. The city has 3 teams. America, its most famous team, is recognized worldwide. If you visit Mexico City you have to catch a game at the Estadio Azteca. This impressive stadium has hosted international events such as NFL games, MLB games, and concerts.
You can also catch a baseball game. It's not as popular as soccer, but it's a good option if you're not into soccer. There used to be 2 teams, but currently, there's only 1: the Diablos Rojos.
One thing you can't miss when visiting Mexico City is lucha libre. Lucha libre is some kind of professional wrestling where luchadores (wrestlers) wear masks to hide their identities. Sometimes they also wear capes, but it's not always the case. They perform impressive maneuvers and acrobatics and put on a show. There's a lot of interaction with the public. It's a show for the whole family, although some critics say it's too violent.
Markets
Mercados (markets) are so popular in Mexico City that the government declared them a cultural heritage. Some of them even date as far back as colonial times. People can buy food, clothes, electronics, plants, and a lot of other items.
Some of the most famous markets are:
Mercado de Sonora. Famous for its offer of magic and esoteric items.

Mercado de la Merced. Also known as "La Meche", this is the longest-running market of the city.

Mercado de Coyoacán. If you ever need a costume, this is the place to go.

Mercado Medellin. You can find products from other countries such as Colombia, Peru, and Argentina.

Mercado de las Flores. All kinds of flowers and plants.

La Lagunilla. Famous for

quinceañera

dresses, antiques, and other items.  

Mercado 24 de agosto. It offers all kinds of fruits, vegetables, meat, cleaning supplies, etc. Oh, and don't forget to try their famous gorditas!

Mercado de Jamaica. This market is famous for its variety of flowers. If you need a flower arrangement for any occasion, this is the place.

Central de Abasto. This is the world's largest market. It offers a little bit of everything. They have both retail and wholesale prices.

Mercado San Juan. Exotic meats such as ostrich, wild pig, skunk, buffalo, spiders, and insects.
Famous Neighborhoods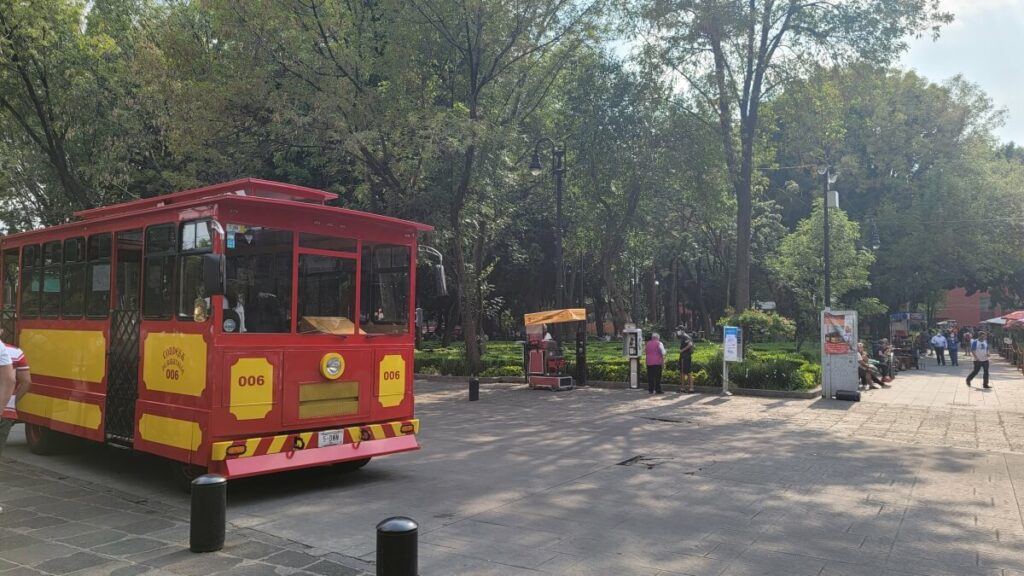 There are many famous neighborhoods as well. We could mention:
Roma/Condesa. Although technically they're two separate neighborhoods, people usually merge them into one. Both neighborhoods share a lot of history. Many buildings boast French architectural styles and were built during Porfirio Díaz's mandate. Their boulevards are lined with street art, cafes, and restaurants. A true hipster place.
Did you know…? Hollywood acclaimed Roma was shot and inspired by this neighborhood.
Polanco. A chic neighborhood with luxurious cafes, bars, restaurants, and shops. Not only does it offer lots of high-end shopping options but it's also considered one of the safest neighborhoods in Mexico City.

Coyoacán. Although it's located within Mexico City, Coyoacan is more of traditional Mexico. You will feel as if visiting a small town somewhere else. You will love its bohemian, small-town atmosphere.

Zona Rosa. This is the place to go party at night. There are tons of bars and clubs in the area. Zona Rosa is especially famous for its gay scene.

San Ángel. Mostly a residential area, this neighborhood is filled with cobblestone streets, old churches, and historic mansions. It's very peaceful out there. Don't miss going to the local market to eat some delicious food.
You can tour these neighborhoods on your own or you can get a tour.
Honorable Mentions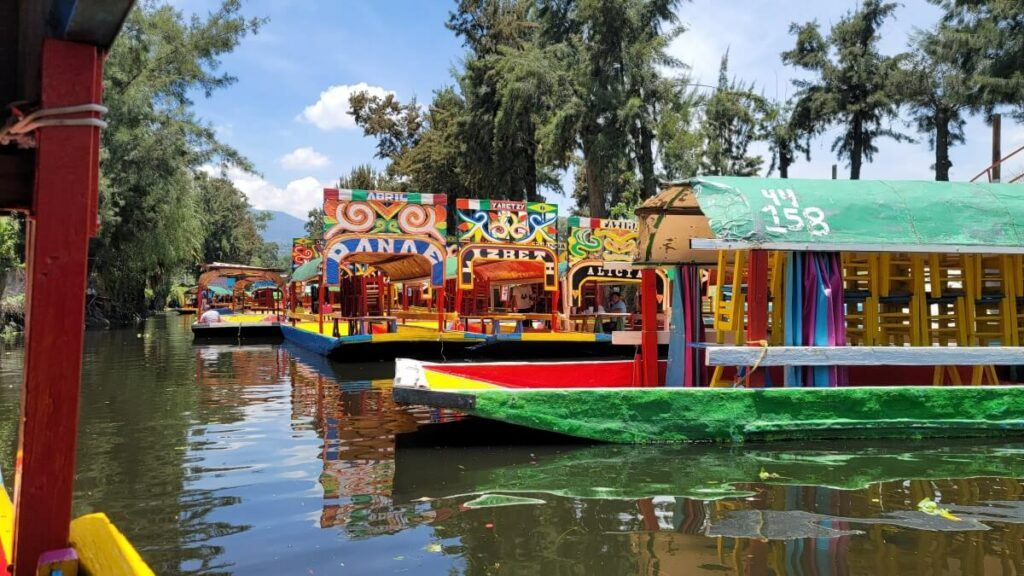 Xochimilco. You can ride a trajinera while you eat, drink, and listen to traditional music. Each trajinera is beautifully decorated and has a different name. All of Mexico City was full of canals. Can you imagine that? You can relive that experience by visiting Xochimilco. If possible, avoid going on weekends as it gets crowded.
Teotihuacán. Although it's not located in Mexico City, it's so close it's considered to be part of it. Teotihuacán is a small town most famous for its archaeological site. Many people visit the pyramids on the spring equinox to load themselves up with energy. You can also ride hot air balloons and try pre-Hispanic foods!
Conclusion
As you can see, there won't be time to get bored. Mexico City is full of history, culture, art, delicious food, and lots of fun for everyone!
Some attractions are quite big and will take you some time to tour them all. You wouldn't be able to visit all of Mexico City in a week, but that's the perfect excuse to come back. You will always discover something new and interesting.
When visiting Mexico, Mexico City has to be on your bucket list. For many people, the first destination that comes to mind is Cancun or the beach in general. Don't disregard Mexico City because you will be greatly surprised.
As always, I would like to know your impressions below. See you soon!
Book your trip now!
Book your flight
The first thing you have to do is find cheap flights. But where do you find those? There are many search engines, but the one I highly recommend is Skyscanner. Here you can compare fares from all over the world and pick the one that suits you best.
Book your accommodation
The next thing you have to do is secure your lodging. Whether you prefer a hostel, a guesthouse, a B&B, or a hotel, you can find them all on Booking. You can find lodging of all kinds ranging from cheap to expensive and somewhere in between. Many people have scored good deals using it.
Another popular option is Hostelworld. This website focuses on hostels as opposed to hotels.
Book a tour
In some places, you might want to hire a tour. Not all places are equally accessible to visit by oneself. It helps enormously when you visit with a local guide who can show you around and answer any questions you might have…all in your native language. My to-go place is Viator as they offer tours of all kinds and have a presence all over the world.
Rent a car
Public transportation is usually cheaper than renting a car, but it's sometimes more complicated and time-consuming. That's a reality. In some cases, it's more convenient to rent a car. My recommendation is Rentalcars.com. Here you can compare rates and choose the one that fits you best.
Book your bus tickets
You can save money by booking bus tickets online. My favorite site to do this is Busbud.
Get travel insurance
Never travel without a travel insurance policy, especially during these days! Travel insurance can save your life. My recommendations are World Nomads and Insured Nomads. Both companies cover COVID-19 related incidents, which is crucial these days.
More resources
Just click on the "Plan your trip" tab at the top of this page, and you will find more resources like getting Mexican insurance for your foreign car, buying travel accessories, and learning Spanish. And, of course, don't forget to check back often to read about more tips on Mexico travel.